Origami Phoenix Monthly Cycle Ride
---
Contents
About the Origami Phoenix Ride
Planned meetings
Reports on past rides
---
About the Origami Phoenix Ride
The 'Origami Phoenix Ride' is a cycle ride usually held in England, normally on the second Saturday of every month. The location varies from month to month. The ride was originally held particularly for the owners of folding (hence the 'Origami' of the ride name) and separable cycles, but anyone riding any kind of cycle is welcome - indeed, you are welcome to join us at the start for breakfast and a chat even if you don't have a cycle or don't feel like riding !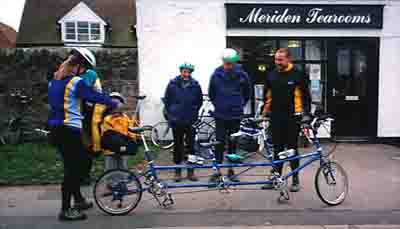 The usual arrangement is to meet from about 10:30, with a ride starting at about 11:00. The distance covered is typically 15 to 25 miles. This is a social ride, and we ride at the pace of the slowest, with plenty of stops along the way to regroup if necessary. Rides usually start and end at the same location, which is generally near a railway station, so that those who do not choose to travel by car can easily get to and from the event.


The Origami ride attracts a wide variety of cycles and riders. You do not even have to come on a folder, as the Marin mountain bike seen here shows!

The first Origami Ride was held in August 1994, but was a one off, and it was not until April 1997 that the ride was revived on a monthly basis (hence the 'Phoenix' of the ride name). The ride was originated and organised until his death in February 2002 by John Pinkerton. Although we no longer have a formal organiser for the rides, they still take place every month, unless the date (second Saturday of the month) coincides with a Bank Holiday, Moulton Bicycle Club BoA Weekend, or another major cycling event.
---
Planned future meetings
For all rides, we meet from about 10:30am, with the ride starting at 11:00am, unless stated otherwise. The planned finishing time will depend on a number of factors, for instance ride length and time of year, but will almost always be before dusk. Riders who need to return for a specific time should consult the ride leader, but be prepared to return under their own navigation.
Note that as the location of these rides varies from month to month, it is important to check the location before travelling to an event - the planned rides are listed on this page (see below). You can also check by contacting the Origami team via email here to see what is planned.
Further details will be added for the rides as they are available, usually about two weeks beforehand.
Planned 2018 rides


October 13th Ely
Meet from 10:30am for an 11:30am prompt start at Lunchbox/Kemptons Restaurant on the corner of Market Street/ Dolphin Street in the centre of Ely (CB7 4PB). They have extra upstairs seating if it gets busy.
Getting there :
By rail:
There are trains to Ely station from Birmingham, Cambridge, Norwich, Peterborough, Liverpool, London. Those travelling from Birmingham might like to investigate the effect of ticket splitting at Stamford.
By road :
Plenty of car parks, Angel Drove and Dock is £3 per day and is near the station. There are free long stays at Barton Road, Newhaven Street, and Ship Lane
From the station turn left to the city centre, at mini island go straight then after a couple of hundred metres turn right onto Broad St. Follow this, it will bear left to Market sq (Saturday is busy market day). Here is the only hill of any note on the route-honest! The Lunchbox is on Market sq.
The ride :
Sights:
Ely is very historic : the Cathedral boasts the Octagon tower, a wonder of medieval engineering. For republicans Oliver Cromwell's house is worth a visit. Ely museum has several early bicycles and exhibits of James Moore who was the Wiggo of his day. He won the first road race, Paris-Rouen in 1869- 70 miles in 10 hours, 25 mins.
The route :
Fen roads are straight and flat but headwind rather than gravity is the biggest factor here. Be mindful of tractors which are very big here and tow large spikey things. Any unplanned solar eclipse is just a Lockheed Galaxy from Mildenhall USAF base.
From Ely we cycle to Littleport then follow the river Great Ouse to Ten Mile Bank. We turn left towards Welney. We cycle along the New Bedford river past Welney wetland centre. At Welney we'll stop at the Lamb and Flag (PE14 9RB, Tel: 01354 610242). The local ales are Elgoods of Wisbeach.
We will then ride back to Ely via Little Downham.

November 10th Watford

December 8th West Midlands


Thank you to everyone who has participated in a ride this year, and very especially to all those who have lead them.

Also, big thanks to those who have volunteered to lead next year !

Origami mailing list
We have a mailing list, who are usually sent details of each ride about 1 - 2 weeks before the event. Normally there will only be one email per month (possibly 2 if there is a real need), and the list is normally only used to give information specifically about the Origami Rides. If you would like to be included on the list, please send an email indicating this to origami@foldsoc.co.uk. No personal details are held apart from simply the email address.
---
Travelling by train to Origami rides
While folding bikes are usually carried as 'luggage' without restrictions carriage of non-folding bicycles by rail in the UK can be complicated. The excellent a to b website has useful information on carriage of bicycles by train here.
---
Reports on past rides
Since we changed to using a more convenient 'blog' system for posting Folding Society news, we will usually report on Origami Rides there rather than below. The news blog is available by accessing The Folding Society web site.
Photographs of more recent rides can be viewed on a FlickR group (UK Origami-Phoenix) that has been set up for this purpose. Anyone joining an Origami ride is encouraged to join the group and upload their photos of the ride.
---