Origami Phoenix Monthly Cycle Ride
---
Contents
About the Origami Phoenix Ride
Planned meetings
How to get to Meriden
Reports on past rides
---
About the Origami Phoenix Ride
The 'Origami Phoenix Ride' is a cycle ride usually held in the English Midlands, normally on the second Saturday of every month. The location varies from month to month. The ride was originally held particularly for the owners of folding (hence the 'Origami' of the ride name) and separable cycles, but anyone riding any kind of cycle is welcome - indeed, you are welcome to join us at the start for breakfast and a chat even if you don't have a cycle or don't feel like riding !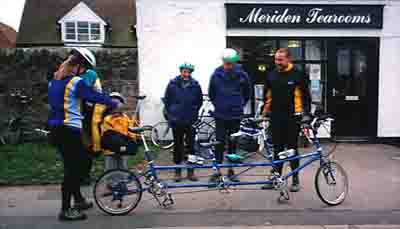 The usual arrangement is to meet from about 10:30, with a ride starting at about 11:00. The distance covered is typically 15 to 25 miles. This is a social ride, and we ride at the pace of the slowest, with plenty of stops along the way to regroup if necessary. Rides usually start and end at the same location, which is generally near a railway station, so that those who do not choose to travel by car can easily get to and from the event.


The Origami ride attracts a wide variety of cycles and riders. You do not even have to come on a folder, as the Marin mountain bike seen here shows!

The first Origami Ride was held in August 1994, but was a one off, and it was not until April 1997 that the ride was revived on a monthly basis (hence the 'Phoenix' of the ride name). The ride was originated and organised until his death in February 2002 by John Pinkerton. Although we no longer have a formal organiser for the rides, they still take place every month, unless the date (second Saturday of the month) coincides with a Bank Holiday, Moulton Bicycle Club BoA Weekend, or another major cycling event.
---
Planned future meetings
For all rides, we meet from about 10:30am, with the ride starting at 11:00am, unless stated otherwise. The planned finishing time will depend on a number of factors, for instance ride length and time of year, but will almost always be before dusk. Riders who need to return for a specific time should consult the ride leader, but be prepared to return under their own navigation.
Note that as the location of these rides varies from month to month, it is important to check the location before travelling to an event - the planned rides are listed on this page (see below). You can also check by contacting the Origami team via email here to see what is planned.
Further details will be added for the rides as they are available.


Planned 2017 rides


May 13th Leicester - note changed start point
We will be meeting from 10.30 for an 11.00 start on Saturday May 13th at Newman's Cafe which is at 33 Market St, Leicester, LE1 6DN.
Getting there :
By rail :
Leicester station is on the Midland Mainline from Sheffield to London, with regular services from Birmingham, Derby, and Peterborough. There are also good National Express connections. The cafe is a short distance from Leicester station. The easiest (and safest) option is to come out of the station, turn right and walk to the crossing (passing the Thomas Cook statue) by the Premier Inn. This crossing will take you over the junction and Granby St will be ahead of you. Granby St has a contraflow cycle lane which will take you into the centre of Leicester. Continue along Granby street up to the traffic lights (Ramada Grand Hotel is on the LH side) Turn left here at the lights onto Belvior St.
Carry on up Belvior St and take the second right onto Market Street. (Market street is a shared space with considerate cycling allowed). Newman's is on the left, opposite the old Fenwicks store.
By road :
Leicester is served by the M1 at J21, and the A6, A46 and A47 all pass through.
If arriving by car there are
numerous car parks close to the station and cafe
, the largest being the East St Car Park.
The Ride
The ride will take us out via NCN6, Watermead Park and country lanes to Swithland Reservoir, where we will take the road around and across the dam. From Swithland we head out to our lunch stop (at around 16 miles) at the
Waterside Inn at Mountsorrel lock
.
After lunch we head back on NCN6 to Rothley down to the Connect2 route, canal/riverside back into Leicester. Anyone wishing to can visit the Richard III visitor centre which is close to the cathedral on our return. The ride will be a reasonably flat with few hills. Distance will be around 26 miles
June 10th Stafford
July 8th Princes Risborough
August 12th Didcot
September 16th Swindon
October 14th Blyth Bridge
November 11th Malvern
December 9th West Midlands
Origami mailing list
We have a mailing list, who are usually sent details of each ride about 1 - 2 weeks before the event. Normally there will only be one email per month (possibly 2 if there is a real need), and the list is normally only used to give information specifically about the Origami Rides. If you would like to be included on the list, please send an email indicating this to origami@foldsoc.co.uk. No personal details are held apart from simply the email address.
---
Travelling by train to Origami rides
While folding bikes are usually carried as 'luggage' without restrictions carriage of non-folding bicycles by rail in the UK can be complicated. The excellent a to b website has useful information on carriage of bicycles by train here.
---
Reports on past rides
Since we changed to using a more convenient 'blog' system for posting Folding Society news, we will usually report on Origami Rides there rather than below. The news blog is available by accessing The Folding Society web site.
Photographs of more recent rides can be viewed on a FlickR group (UK Origami-Phoenix) that has been set up for this purpose. Anyone joining an Origami ride is encouraged to join the group and upload their photos of the ride.
---