Origami Phoenix Ride
September 11th 1999
---
Rather dull and windy weather early in the morning meant that a number of participants arrived rather overdressed for what turned into a sunny, hot and humid day - shorts were definitely more suitable than long trousers. Our 27 mile ride started as usual from the Tea Rooms at Meriden, and meandered via Berkswell and Burton Green to Kenilworth, and then on through Beausale to Baddesley Clinton, our lunch stop. Baddesley Clinton is a National Trust medieval moated manor house in very pleasant grounds, and in the barn is a large and very professionally operated restaurant. There are even five bicycle stands (not dating from medieval times though), but unfortunately the combination of the fact that they are mounted on a slope and the small wheel of the folders meant that they would not hold our bikes, which were leant against handy fences, or in the case of the Bromptons, folded onto their own stands. During our lunch stop we were urged to buy tickets for a raffle, but as the prize was a car, none of us were tempted to part with any money! After lunch we made our leisurely way back to Meriden.
Of our ten riders, 3 were on Bromptons, one on a Brompton SP, 3 on APBs, and there was also a conventional tandem and a conventional bicycle. The ride was incident free, all the machines performing faultlessly. Many thanks to all those who came.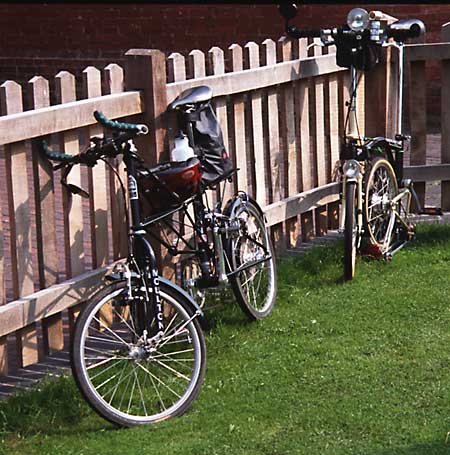 APBs and Bromptons were most numerous at this ride. Here APB No 32 and Peter King's Brompton SP (with Shimano Nexus 7-speed hub gear) relax during the lunch stop.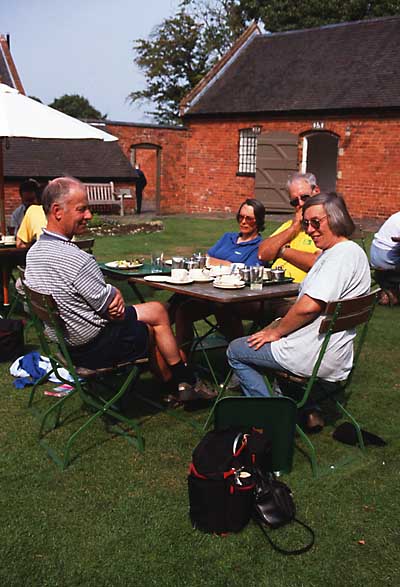 The riders also enjoyed a rest during the lunch stop at Baddesley Clinton. L to R: John Hall, Joan Hall, Peter King and Philippa Wheeler.

---
Copyright (C)1999 Ferrets Anonymous
URL: http://www.whooper.demon.co.uk/origami/orig0999.html
Last updated: 14 September 1999