Origami Phoenix Ride
March 13th 1999
---
After a number of 'away' rides, we returned to our usual Meriden starting point for the March ride, billed as the Spring Flowers Ride. As usual there was a very good turn out of riders for the event, no doubt encouraged by the sunny weather. The bikes included all the main types of Moulton (original '60s type, AMs, APBs and even Chris Ely on his superb New Series machine), two Birdys, a Bike Friday, several Bromptons, and two larger wheeled, non-folding bikes, one being very 'cumbersome' as it was a tandem [:-)]. In a ride of just over 20 miles we saw 17 different varieties of spring flowers, which by a curious coincidence was exactly the same as the number of riders! The lunch stop was at the Navigation at Lapworth, where Chris Eley's New Series Moulton is seen surrounded by some of the remnants of our refreshments - most of the time it was also surrounded by an admiring crowd. Fortunately the weather stayed fine for us and the NS, which is not allowed out in the rain, although it was required to go through two fords during this ride. The ride was uneventful mechanically, apart from one Brompton having a slightly soft tyre. Many thanks to all those who turned up for the ride, and to John Pinkerton for arranging yet another highly successful event.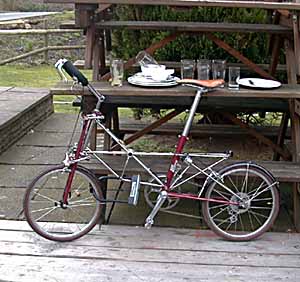 Chris Eley's New Series Moulton was the first of these models to grace an Origami Ride, and very nice it is too. It drew an admiring crowd whenever we stopped, and the photographer had to be very forceful to obtain clear view of it for this picture.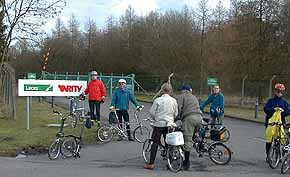 The ride passed the Lucas test track at Honiley. Lucas of course became Lucas Varity a few years ago, and this name will probably disappear soon following a takeover by TRW. Both John Ironside, seen here nearest the sign with the Birdy Elox, and I worked for Lucas for many years.

---
Copyright (C)1999 Ferrets Anonymous
URL: http://www.whooper.demon.co.uk/origami/orig0399.html
Last updated: 13 March 1999