Origami Phoenix Ride
January 9th 1999
---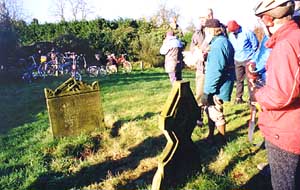 The event started at Bromsgrove Station, and had as a theme the founding of the Institution of Mechanical Engineers (I Mech E). The weather was fine but cold, and indeed icy roads caused one group of early arrivals to abandon their plan of a short preliminary ride. Fortunately the ice had cleared by the time we emerged from coffee at a nearby hostelry to start the ride proper.
This was a relatively short ride, first visiting the grave of William Crueze (see photograph), whose demise brought James McConnell to the local railway. From there we rode to the top of the Lickey Incline, pausing en route at the point where McConnell, Stephenson and others, sheltering in a platelayer's hut from rain, decided that an institution should be established for mechanical engineers. At the top of the incline we took advantage of a viewing point to see just how the railway line disappears abruptly down the hill, and watch a HST start the descent, and a Sprinter making the ascent. After the quite steep ride up to the top of Lickey Incline, the ride back into Bromsgrove downhill was a relief.
15 riders attended the event, and we were particularly pleased to see Gunnar Fehlau. Cycles included 5 Bromptons, 3 Birdys, 3 Moultons, a Micro, one Bike Friday, a conventional Mercian and a Marin mountain bike. The Origami Mince Pie Ride passed off successfully on Saturday 12th December. Our thanks to John Pinkerton for arranging the event, and a particular thank you to Norman Billington who acted as our guide, and in addition to planning the route and providing lots of interesting information also gave us each a copy of the booklet 'Flint and Steel', the story of the birth of the Institution of Mechanical Engineers.
---
Copyright (C)1999 Ferrets Anonymous
URL: http://www.whooper.demon.co.uk/origami/orig0199.html
Last updated: 11 January 1999