Origami Phoenix Ride
11th February - Nuneaton Ride
---
The ride on Saturday 11th was certainly a first for me as there were 10 regular members and a record 9 first time riders, a total of 19. An excellent number for a cold February Origami ride.
Bikes in attendance were 7 Bromptons, 4 Airnimal Rhinos, 4 Moultons, 1 Dahon Classic, 1 Specialized Global and 2 mountain trail bikes.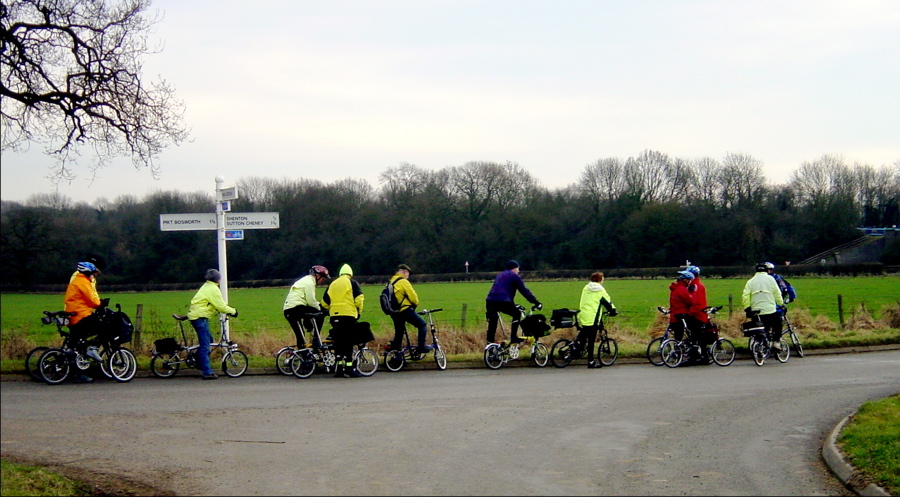 Photograph by Ian and Sue, riders on Sustrans route 52
The ride from Nuneaton into Leicestershire via Sustrans Route 52, criss-crossed both the Ashby Canal and the dismantled Shackerstone railway line. Having kept up a reasonable pace we were able to include an impromptu coffee stop at Sutton Cheney. Market Bosworth was reached by way of the gated road for a sustaining lunch in the Red Lion.
The return ride was via the Battle Field Centre, past the site where Richard III is reputed to have fought his last battle.
On reaching "home" several riders gathered in one of Nuneaton's hostelries for a well-earned drink.
Here is another Ride Report Saturday 11th February 2006 By Ian Bonner

A ride that was different. I had been invited to join the Origami club on one of their monthly bike rides. We met at Nuneaton Railway Station as many arrived by train with their folding bicycles. There were a wide variety of bicycle makes, some I recognised, Bromptons, Moultons and Airnimals, and others I was not so familiar with. The one thing that everyone carried was a smile.

I was introduced as the local CTC representative and also the Sustrans ranger responsible for the cycle track we were heading for. To join the cycle track we first had to negotiate the new one-way system, Leicester Road bridge and Weddington Road. We joined the track after passing through the kissing gate type device, up the ramp onto the track bed of the former Ashby and Nuneaton Railway line. This track is part of route 52 of the National Cycle Network, which is partially completed. Eventually it will link Stratford upon Avon with Coalville and other associated routes to Rugby, Birmingham and many other places in between.

As we approached the A5 trunk road we passed over a new bridge spanning a farm access track and into the sub-way under the A5, which allows a traffic free route onto the quiet lane leading to the village of Higham on the Hill and beyond. The decorative finger milepost at the A5 includes the destinations of Bosworth (our destination) and Grace Dieu which had previously puzzled me and my friends until one day we followed the signs until we found ourselves at the ruins of Grace Dieu Priory.

We paused at Higham for a quick drink from our water bottles and Chris a local resident and cycling friend joined us. We passed through the village and onto Stoke Golding and Daddlington before pausing again at the canal wharf café at Sutton Cheney. Here we enjoyed coffee, tea and cakes (a nick name for the CTC) and chatted with a couple of local cyclists from the village of Fenny Drayton.

We passed through Sutton Cheney and used the gated road to arrive at Market Bosworth where we enjoyed the hospitality and a good lunch at the Red Lion. We returned to Nuneaton via Bosworth Water Centre, the Battle of Bosworth visitor centre and Shenton Station, which is on the Battlefield Line and operates steam trains to Shakerstone

We arrived back at Nuneaton approximately twenty five miles covered, some of us joined Trevor and his wife Irene who had organised the ride for final drink in the Railway Tavern, awaiting trains before dispersing in different directions. A most enjoyable day, good company and all the other ingredients for a good day out on my bike.


Pictures by Janet and Kevin
As the February ride out of Nuneaton has been well documented in other reports I can only say to anyone with a folder who is contemplating cycling on an Origami ride that this is the 4th ride we have been on and that we have found all of them to be very sociable affairs in both pace and conversation and what must be the most positive minded group we have been associated with, so with no further ado, - - -



From the right hand corner,- - -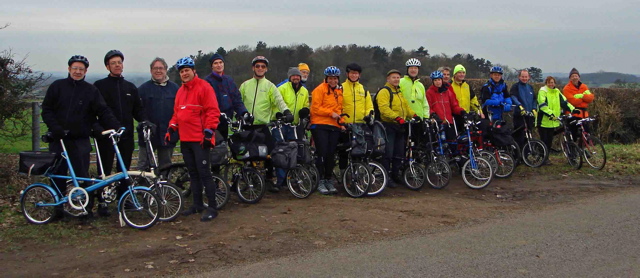 - - - and the left, we can see that this happy band of cyclists here subscribe to the old adage that "there is no such thing as bad weather, only bad clothing". I myself found the cold but dry day
quite pleasant especially with the planned lunch stop at the 'Red Lion' public house and unplanned stop at the - - -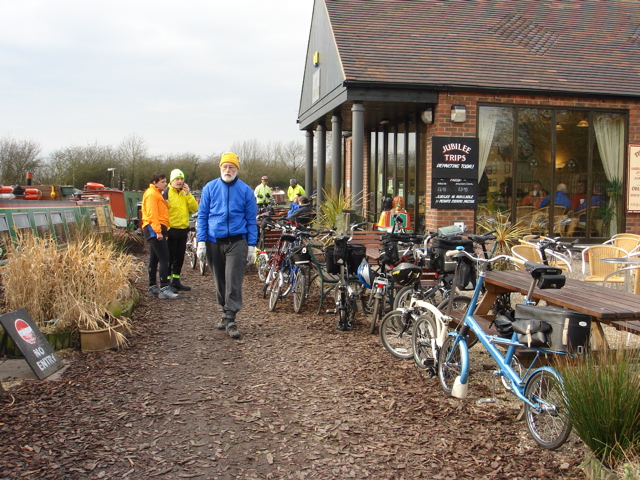 - - - canal wharf café at Sutton Cheney where, over a cup of tea, I could contemplate the possibilities of maybe a few modifications to my old Brompton to, you know, make life easier getting up those long hills and then confidently racing down the other side (I have
experienced the thrill of overheating rims popping off the tyres) - - -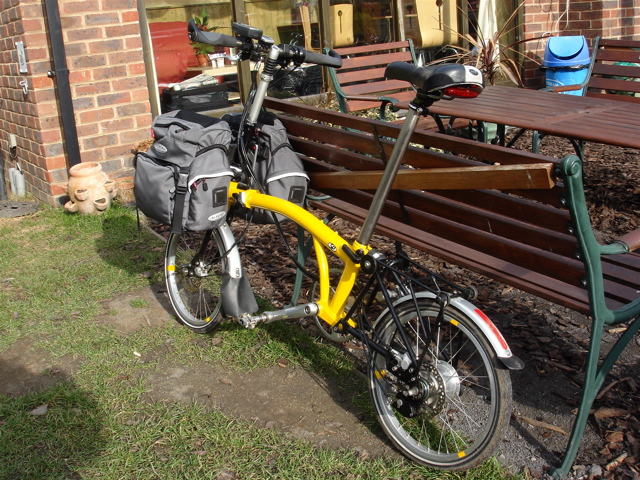 - - - after viewing this SP Brompton to lust after, front & rear disc brakes, rohloff hub, and a bit of handlebar stem cushioning
---
Return to Reports page | Return to Origami Reports Page
---
Copyright (C)2006 The Folding Society
Last updated: 14th Feb 2006