Origami Phoenix Ride
August 14th 1999
---
In the absence of John Pinkerton, Ian Kellaway found himself press ganged into leading this ride when he arrived at the Tearooms in Meriden! A route was made up on the spot, which involved a ride to Middleton Hall. The first mile or so involved some awkward negotiation of main roads, but from then on conditions were very pleasant of generally quiet roads. Middleton Hall was reached in time for lunch, and also heralded the arrival of some heavy rain. After eating in the not very welcoming cafe, we emerged to find it was still raining, though only very lightly. Waterproofs were donned, but within a few miles the weather reverted to being dry and warm, so a brief stop was required to remove the waterproofs, and the weather stayed fine for the remainder of the return journey, which followed our usual return route from Kingsbury Water park, which is near Middleton.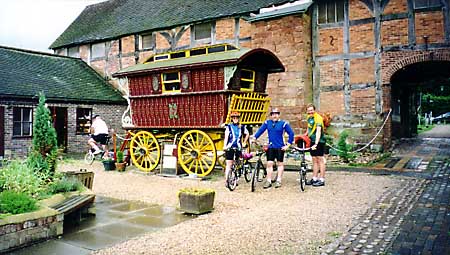 Peter King attempts to tow the caravan away from Middleton Hall, while Lorna and Phil Wray and Ian Kellaway pose for the group photograph.

Probably due to the holiday season, we had a fairly small turn out for this ride - just 6 riders, of whom 5 were regulars and one was a new friend. Two of us were on relatively standard Bromptons, two were riding Brompton SPs (Shimano Nexus 7-speed hub geared for Peter King and 7-speed derailleur for myself), while Lorna Wray was on her usual Moulton APB and Phil Wray had chosen a 1908 Sparkbrook (not a folder) on this occasion.
By the time I got back home I had done 42 miles in the day, although just over 10 of those were getting to and from Meriden.
---
Copyright (C)1999 Ferrets Anonymous
URL: http://www.whooper.demon.co.uk/origami/orig0899.html
Last updated: 2 September 1999