Origami Phoenix Ride
13th November 2004 – Milton Keynes
---
Railway Engineering work earlier in the year meant that one of our other rides also started from Milton Keynes, but while that one went out into the surrounding countryside, the November ride stayed closer to Milton Keynes itself. However, an excellently chosen route and the extensive cycle network in Milton Keynes meant that the ride was almost entirely on the cycleways, or very quiet roads, the scenery was pleasant and there were no hills. On top of this, the weather was really excellent – a bit chilly, but bright sun, good visibility, very little wind and no sign of rain all day.
13 riders met at Milton Keynes station for the ride, although on this occasion not so many of us had travelled there by train – Paul Evans and I made the journey using a combination of Central Trains and Silverlink, having given up all hope of being able to buy sensibly priced tickets to use Virgin (when they do allegedly have sensible prices for early booking etc, there seems no available way to book them); another rider was using a combination of trains and buses. Although some of the Origami regulars were not present for a variety of reasons, we were delighted to welcome two new riders, which added a Bickerton and a Fold-It to the more usual collection of bikes present. So the entire bike range consisted of several Bromptons, an SP-Brompton, 2 fx8 Moultons, an F-frame Moulton, 2 Birdys and a Micro as well as the Bickerton and Fold-It.
Our ride departed just after 11:00, but unfortunately stopped within a kilometre when one of the Bromptons suffered a puncture – fortunately the only mechanical problem we were to experience during the day.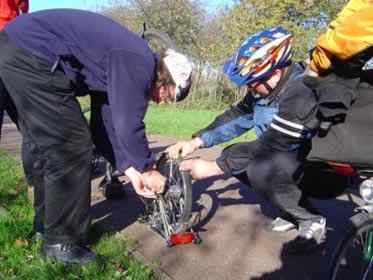 Dave Minter is ably assisted by Phil Wray in repairing the puncture in the rear tyre of Susan Barlow's Brompton. Of course it did have to be the rear tyre! Photograph: Trevor Batchelor.

We meandered gently around the cycle paths, in particular following the various lakes, where an amazing number of coots were to be seen, with the occasional less common bird to make it more interesting. Some excitement was added by the Mercedes driver who did a full-scale emergency stop from fairly high speed to avoid running into the back of another car – probably largely because they were using a mobile phone, which in fact they continued to use while braking, amid clouds of evil-smelling tyre smoke.
Our lunch stop was at a large restaurant based around a (non-working) windmill, where good food was provided quickly – good service. From there we made our way back at a leisurely pace to the station, arriving in comfortable time for those of us who had trains to catch.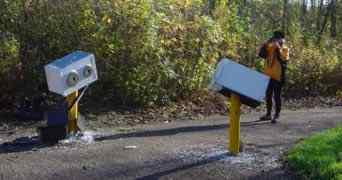 Some of the 'scenery' we encountered was rather odd – these two ovens perched on bollards attracted Lorna's attention, though I'm not sure if this was on the basis of photographic merit or just the oddity of the sight. Photograph: Trevor Batchelor.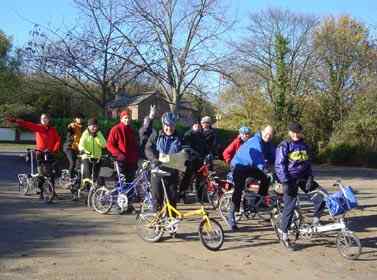 The entire group, or at least all of those of any importance, minus photographer Trevor Batchelor. The route was very well designed, but Phil 'Pathfinder' Wray did have to consult the map a number of times! Photograph: Trevor Batchelor.

The total distance covered was about 32Km (20 miles). It was a most enjoyable day, and we would like to thank all those who came along, and of course especially Phil and Lorna who organised the ride.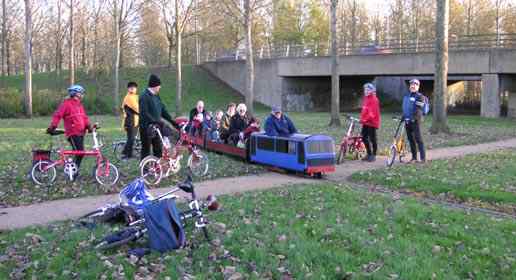 As we crossed this miniature railway, a train came along to oblige the photographer!

---
Copyright (C)2004 Ferrets Anonymous
Last updated: 14 November 2004