Origami Phoenix Ride
11th January 2003
---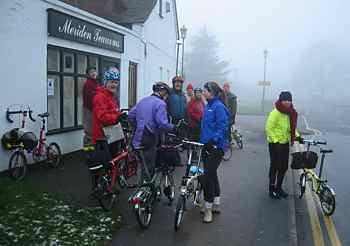 The first Origami ride of 2003 drew a reasonable collection of riders and bikes - 3 Moultons, 3 Birdys, 2 SPs and 5 Bromptons. Conditions around Meriden were quite murky all day, although those travelling from further afield reported that this was a local problem. Or ride took us to nearby Allesley, but via a very circuitous route. The reduced visibility and cold weather meant that suggestions that we should make even more excursions from the direct route in order to avoid arriving early for lunch were greeted with a pronounced lack of enthusiasm. The rather early arrival at our lunch stop had other advantages, as it turned out that they produced their own beer there, and it was also exceptionally cheap - we shall be going there again in the future! On the outward ride we encountered a few icy spots, and also quite a lot of mud; it was interesting to see how some of the bikes seemed to be more prone to collect the mud than others - the SPs and the Moulton Mk III seemed to show the effects more than most. On our return ride we stopped at a local bike shop to have a look around, and, in some cases, to make purchases. To avoid temptation, I stayed outside and guarded the bikes!
Photograph: Cold and murky conditions at the start of the ride. Photograph: Chris Eley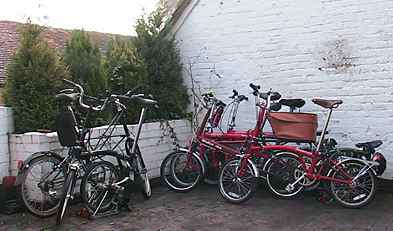 Photograph: Deserted bikes at lunch time. L to R: Mike Roberts' APB, unidentified Brompton, Paul Evans' 'new' Mk III Moulton, Trevor and Irene Batchelors' Birdy Reds, Phil Wray's Brompton T6 and my T6 (folded in the background).

The Rohloff hub of the Birdy Grey seemed to be slightly affected by the cold weather, not changing gear quite as well as usual, but otherwise all the bikes behaved themselves. Many thanks to those who came along for the ride, and particular thanks to Trevor and Irene Batchelor for planning and leading the ride.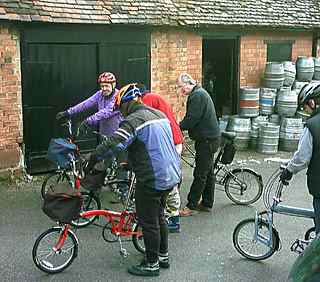 Photograph: Preparing to leave after lunch - no, we didn't empty all the barrels in the background! Photograph by Trevor Batchelor.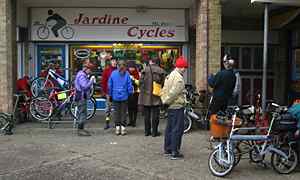 Photograph: A stop at Jardine Cycles on the way back to Meriden. Photograph by Chris Eley.

---
Copyright (C)2003 Ferrets Anonymous
URL: http://www.foldsoc.co.uk/origami/200301.html
Last updated: 14 January 2003