Origami Phoenix Monthly Cycle Ride
---
Contents
About the Origami Phoenix Ride
Planned meetings
How to get to Meriden
Reports on past rides
---
About the Origami Phoenix Ride
The 'Origami Phoenix Ride' is a cycle ride usually held in the English Midlands, normally on the second Saturday of every month. The location varies from month to month. The ride was originally held particularly for the owners of folding (hence the 'Origami' of the ride name) and separable cycles, but anyone riding any kind of cycle is welcome - indeed, you are welcome to join us at the start for breakfast and a chat even if you don't have a cycle or don't feel like riding! Many of those who attend are either members of The Moulton Bicycle Club, the VCC (Veteran-Cycle Club) or The Folding Society, but as mentioned before, anyone, and any kind of cycle, is welcome.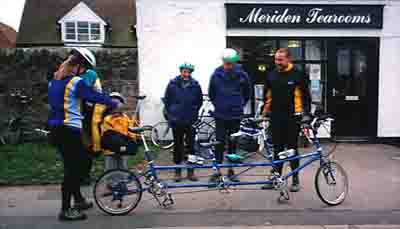 The usual arrangement is to meet from about 10:30, with a ride starting at about 11:00. The distance covered is typically 15 to 25 miles. This is a social ride, and we ride at the pace of the slowest, with plenty of stops along the way to regroup if necessary. Rides start and end at the same location, which is usually near a railway station, so that those who do not choose to travel by car can easily get to and from the event. When the ride is located at Meriden, the starting point is Meriden Tearooms, where a very satisfying breakfast can be obtained at the Tearooms before the ride starts.


The Origami ride attracts a wide variety of cycles and riders. You do not even have to come on a folder, as the Marin mountain bike seen here shows!

The first Origami Ride was held in August 1994, but was a one off, and it was not until April 1997 that the ride was revived on a monthly basis (hence the 'Phoenix' of the ride name). The ride was originated and organised until his death in February 2002 by John Pinkerton. Although we no longer have a formal organiser for the rides, they still take place every month, unless the date (second Saturday of the month) coincides with a Bank Holiday, Moulton Bicycle Club BoA Weekend, or another major cycling event.
---
Planned future meetings
For all rides, we meet from about 10:30am, with the ride starting at 11:00am, unless stated otherwise. The planned finishing time will depend on a number of factors, for instance ride length and time of year, but will always be before dusk. Riders who need to return for a specific time should consult the ride leader, but be prepared to return under their own navigation.
Note that as the location of these rides varies from month to month, it is important to check the location before travelling to an event - the planned rides are listed on this page (see below). You can also check by contacting the Origami team via email here to see what is planned.
Further details will be added for the rides as they are available.

Planned 2015 rides

April 11th Bath Twin Tunnels


Start point is at Bathampton (2.5 miles north-east of city centre). Meet from 10:30am, at the Raft Cafe Boat, Tyning Road, BA2 6TQ (on the K & A Canal 200m E of the George PH, NGR ST778665) with the ride leaving slightly later than usual at 11:15 (to allow extra cycling time for people coming from Bath Spa rail station)


Getting there:
By rail: Bath Spa is the closest station, with frequent services from London and Bristol, and from the south via Westbury. To get to the start, leave the station on the south side, join the Kennet and Avon Canal towpath and ride north-east for 2.5 miles.

By bus: the First no. 4 serves Bathampton (the 265 is currently diverted to avoid the A36)

By road: NB The A36 is CLOSED south of Bathampton, with a long diversion in place! From the east: approaching on A4, go through Batheaston village, then acute L turn over Toll bridge (70p for cars) then 1/3 mile to canal bridge near George PH.
From the north: from M4 J18 follow A46 South to Lambridge roundabout, exit towards Batheaston then turn right to Toll bridge & as above.
From the west: driving through Bath city is not recommended, but the Toll bridge can be avoided by following the A36 eastwards from Bathwick (ignore the Road Closed signs!) turn left into Bathampton village and downhill to the canal bridge.
From the south: approach city centre e.g. on A367 then follow A36 as above.
Parking: Bathampton village (south of canal bridge) has unrestricted on-street parking. Parking alongside the canal cafe-boat is limited to 4 hours.
Note that the total distance is only 13 miles- this is due to the low speeds required on the (normally) busy canal towpath, with its usual hazards- and to allow time to fully appreciate the converted former Somerset & Dorset railway tunnels.
We'll follow the Kennet and Avon canal towpath southwards to Dundas Aqueduct, then turn right to follow the route of the Somersetshire Coal Canal towards the SW. If there's time (and they're not too busy...) we may stop for coffee at the
Angelfish cafe
- there are public toilets here.
There are then a few uphill sections through Monkton Combe school/village on Sustrans route 24 which we follow to Midford village after 5.25 miles.
After lunch, we backtrack 250m then keep left to follow the Two-Tunnels route- in less than a mile we'll enter Britain's longest cycling tunnel (Combe Down, 1700m) with subdued LED lighting and 'Son et Lumiere' installations in its central zone! After a brief interlude through the greenery of Lyncombe Vale we pass through the 400m Devonshire tunnel
which emerges to Bath's Linear Park. This gradually descends to Twerton where we'll join the Avon towpath towards the City centre (those who've come by train can leave when we pass the station) We then follow the K & A canal towpath NE back to Bathampton.
Note that the K & A canal towpath is firm, but unsealed, and can be a bit messy when wet. Also, take special care at its sharp bends and low bridges! The tunnels are lit, but bike lights are recommended so you'll be visible to all. Keep left!
May 9th Milton Keynes





June 13th Rugeley, near Cannock





July 11th Northampton





August 8th Didcot





September 19th

Swindon (

3rd Saturday !

Combined with Swindon Smallwheels)



October 10th Westport lake, Longport, Staffordshire





November 14th Stafford





December 12th West Midlands







Origami mailing list
We have a mailing list, who are usually sent details of each ride about 1 - 2 weeks before the event. Normally there will only be one email per month (possibly 2 if there is a real need), and the list is normally only used to give information specifically about the Origami Rides. If you would like to be included on the list, please send an email indicating this to origami@foldsoc.co.uk. No personal details are held apart from simply the email address.
---
Travelling by train to Origami rides
While folding bikes are usually carried as 'luggage' without restrictions carriage of non-folding bicycles by rail in the UK can be complicated. The excellent a to b website has useful information on carriage of bicycles by train here.
---
How to get to Meriden
By Cycle
See notes below on routes from stations etc. Meriden is on the B4102, just off the A45 Birmingham to Coventry road, OS map 139, SP 239 823 CV7 7LX.
By Train and Cycle
The nearest station to Meriden (for those occasions when the ride is based there) is Hampton in Arden, which is about 2 miles from Meriden - a fairly flat ride on reasonably quiet roads. This is the line from Coventry to Birmingham and Wolverhampton, and is served by local trains every 30 minutes. The local trains carry bicycles free of charge and with no restriction on numbers. If you are travelling by main line train you can either change to the local at Coventry or (from the Birmingham direction) at Birmingham New Street. Alternatively, you may prefer to travel to Birmingham International and cycle 4 miles.
From Hampton in Arden, turn right out of the station, and follow the B4102 to Meriden. Take care at the roundabout where this road crosses the busy A452. Go straight on at the roundabout in Meriden, and you will see the Tearooms almost immediately on your right.
From Birmingham International, descend to ground level and turn left. Bear right at the first small roundabout, and then left at the next, larger, roundabout. Go straight on at the large roundabout above the A45, and then follow the B4438 towards Hampton in Arden. There is a shared cycle/foot path on the right hand side of the road for much of the way. Take the third road on the left, signposted as unsuitable for heavy vehicles, and follow this lane to Hampton in Arden. Turn left in Hampton in Arden, passing the station on the right almost immediately, and then follow the route described earlier.
By Car
Access by road is easy - see road information and map reference above. Meriden is only a couple of miles from junction 6 of the M42, which in turn is close to the M6/M42 junction.
---
Reports on past rides
Since we changed to using a more convenient 'blog' system for posting Folding Society news, we will usually report on Origami Rides there rather than below. The news blog is available by accessing The Folding Society web site.
Photographs of more recent rides can be viewed on a FlickR group (UK Origami-Phoenix) that has been set up for this purpose. Anyone joining an Origami ride is encouraged to join the group and upload their photos of the ride.
---