THE FOLDING SOCIETY
---
FOLDING SOCIETY NEWS
Issue 70 - 18 February 2001
---
EDITORIAL
The weather has been a bit dryer round here lately, but with frost and fog taking over. The prospect of falling off on icy surfaces does not appeal to me much, and as a very early riser, the conditions have not generally improved until I have got involved in doing something else, so my cycling has been limited. There also seems to be a shortage of news to report on recently, so this is another rather short issue. I understand that the latest issue of A to B is either just about to go out, or may even have gone out, so that should more than make up for the lack of material here.
A fraught journey
I had arranged to go down to Bradford on Avon by train on Tuesday 6th, and rather rashly predicted that I would be there by about 9:45: Virgin had other plans. By the time I reached Birmingham New Street by local train - on time at about 06:46 - the sign boards were already showing the 07:12 to Plymouth (from Derby) as "Service Delayed", but ominously with no anticipated arrival time. Eventually a time of 08:20 was shown as the expected time. Come 08:20 there was still no sign of the train, nor the expected platform, but finally it arrived at 8:28, pulled by an EWS Class 37, which is unusual. Once we had all got on board, we were in for a further wait - they were changing the locomotive to a Class 47. The 7:12 finally left New Street at 08:52. Those who know their timetables may wonder why I did not catch the 08:30 to Plymouth instead - when we left, it was not expected at New Street until 10:00! On arrival at Bristol, the doors remained locked for well over a minute as the conductor made his way from one end of the train to the other. This was bad news for me, as I guessed that the next train to Bradford on Avon would leave in about 3 minutes (as it was later than expected, I was not sure of the times). None of the sign boards I could see gave any indication of which train I needed, so I rushed towards the station exit, where there are timetables. Unfortunately, they were conducting a ticket check, and the timetables were the other side of this. I had my ticket to hand, but there was a long queue having their tickets checked. By the time I had got to the timetables and checked, the train I wanted had just left, and there wasn't another for an hour - I was not best pleased. As trains run to Bath every 15 minutes or so, I caught one of these, and on arrival I phoned the factory, and they very kindly sent a car out for me - while I was waiting I was able to pay a visit to Avon Valley Cyclery and take a look at a Giant Halfway, and spend more money than I should have done (but not on a Halfway!).
Happily, the return journey went better - at least for me. The train from Bradford on Avon was on time, and on arrival I was unexpectedly just able to catch a train which was about to leave for Edinburgh - it was actually an hour late, but it saved me waiting half an hour for the train I had expected to catch!
Fortunately all the other trains I have used since our last issue have been well behaved, but this was the sort of experience which could easily persuade me to revert to a car - except of course you can just as easily be delayed for two hours in a car, and at least with trains you have room to move about, and can read and do other things
On my bikes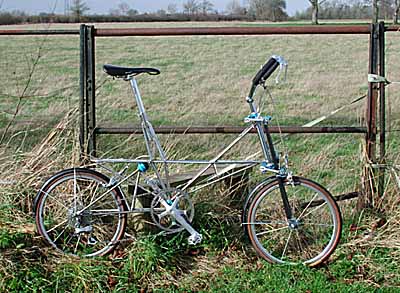 During my visit to Bradford on Avon I met Graham McDermott, and we went out for a ride on a new Moulton Speed ('Pylon') and a Jubilee L. Graham rode the Pylon most of the time (he is thinking of getting one!), but I did try it briefly, mainly so that Graham could take some action pictures (not all that much action with me riding!). The saddle was at Graham's height, and it did not seem worth lowering it, so I could only just pedal, but it certainly felt very comfortable otherwise, and it also felt very taught and lively. Most Moultons are not very lavishly equipped with bottle cage bosses, but the Pylon does not have any at all, which is rather a nuisance, though Shaun Moulton tells us that a means of attaching a bottle is under investigation (lacking a conventional seat tube, the usual mounting point is missing). One thing which struck me looking at the bike is that the mudguard clearances looked considerably larger, especially at the front, than on the older New Series models. Front mudguard clearance is now quite generous, though still a bit tight at the back, particularly below the calliper brakes. Fork width and the short drop callipers still preclude the fitting of tyres other than Continental Grand Prix, at least with the mudguards in place and without surgery. It is a superb bike, but not for me - apart from the price, I already have a New Series, and the Speed is probably less suited to my sort of cycling than the 'standard' NS.

As a result of my visit to Bradford on Avon, I have now got a set of the relatively new 369 (17 inch) Bridgestone tyres for the Moulton. These have taken over from the Wolbers, which are now no longer in production, although many Moultoneers probably still have Wolbers in stock. Rather strange that after all these years some of us have, at least for the moment, a choice of tyres for the older AM Moultons with the unusual 369 sized wheel, while owners of NS Moultons with the common 406 (20 inch) wheels can only use Continental Grand Prix! I have done only a little more than 100km on the Bridgestones, so it is really rather early to pass judgment, and the windy conditions of late mean that it has not been possible to carry out any meaningful rolling resistance tests. However, purely subjectively, the Bridgestones seem to roll and handle well, though I would not rate them as obviously better than the Wolbers in either respect. I would possibly rate them as marginally worse, but the windy conditions make it difficult to make a sensible evaluation. The coloured transfer on the side wall bears the legend "Bridgestone >>> Moulton", but the name moulded into the tyre is just "Bridgestone". Dimensionally, the tyres are the same size as the Wolbers, 17 x 1 1/4, 32 x 369. Inflation pressure is given as 7.0 Kg/cm2 , 100psi, higher than the nominal rating of the Wolbers, though many people actually ran those at this pressure. The tread pattern is very different from the circumferential grooving of the Wolbers - more like that used on many other touring tyres today. Ian Hodgson has reported some difficulty in fitting the tyres, but as mine were already fitted for me, I have not had an opportunity to investigate this, nor do I really want a puncture to force me to do so. Expect further reports on the Bridgestones when I have used them more, and have had a chance to perform more rolling resistance tests.
The Airnimal has also been out several times in the last week or so. As I have commented before, I find the narrow high pressure tyres perform well on the road, but they (or I) feel a little nervous on lanes where there is any mud. I have now fitted a set of the strangely named Specialized Spanky tyres - these have what a mountain biker would regard as only a very lightly knobbled tread, but a tourer would regard as pronounced 'knobbles'. However, the tyre is still only 1 1/4 inches wide (32mm), and is rated at 35-100 psi - narrow and very high pressure for any sort of knobbly. On smooth roads you can actually just feel the knobbles - much less pronounced than on my Marin, but present nevertheless. For normal road riding, the performance is really quite good, though not nearly as free running as the Kendas which I had on before. However, on muddy lanes these tyres certainly inspire more confidence than the Kendas. I also took the opportunity to do about 10 km on a canal towpath which was wet and a bit sticky, though with only two really muddy spots (where I decided to walk anyway). Here the grip was very good - in fact more than was really necessary under these conditions. On this surface the tyres held on to the surface very well - perhaps too well, throwing a certain amount of much onto the main frame member and the exposed cables (more of which later). For reasons explained before, I run my Airnimal with a rear mudguard but no front mudguard - given the conditions, the bike actually kept remarkably clean, and the dirt thrown onto the frame was much less than I would have experienced with the Marin. As on previous occasions, the main frame member is wide enough to stop any dirt or water being thrown up onto the rider in these conditions - damp roads, but no rain falling. Again the weather conditions have prevented me making any rolling resistance measurements on the tyres, but I would expect them to perform substantially worse than the Kendas, but perhaps no worse than the Schwalbe City Marathons on the APB and Newt. Although my own preference would be for a rather less knobbly tyre, the Spanky makes a good winter tyre, especially if you plan to use your Airnimal off road, and it would also be suitable for touring if you prefer something a bit more substantial. I expect to revert to the Kendas when (if?) the weather conditions improve.
My Airnimal rides this year were initially marred by the stiffness and lack of accuracy of the rear gear change. I guessed this was due to cable friction, and I decided to take out the cable and clean and lubricate everything. My suspicions were confirmed when I came to pull the cable from the rear section, as it was quite stiff, and the operation was accompanied by a grinding sound, and water emerged from the outer sheath. In view of the obviously poor conditions of the cable, I decided to replace it. Like the Bike Fridays, the Airnimal has a slightly tortuous cable path under the bottom bracket, and water running down the cable will run into the outer sheath, and is then trapped, where it can cause corrosion - of course fine grit may also be carried down in the water. The length of rear cable outer is no less than 1 metre, and is a bit awkward to thread through all the location points. Once the job was completed everything was back to normal - a beautifully smooth gear change, though not quite as silky as on the Birdy after I converted that to 9-speed.
Riding the Airnimal again recently after a short break during which I had mainly used Moultons, the bike still felt as good as ever, though slightly less eager after fitting the Spankys. Ride on good roads is fine, though not up to Moulton standards, but on rougher surfaces and the tow path it certainly felt much less comfortable than a Moulton, though less harsh than the Newt or Pocket Rocket. I was also rather unimpressed by the Shimano STI levers on the dropped bars - as with the ones I had at one time on the Newt, I find the braking seems heavy and awkward - the levers are large, especially around the tops, and the pivotting of the whole lever is rather a heavy and clumsy operation, and also can make braking slightly more awkward. I much prefer the Campag Ergo system on the Pocket Rocket, or the RapidFire on flat bars. Braking on the AM Moultons with dropped bars also seems much more effective with the simple non-STI levers, and although the placing of the gear change levers on the down tube of the AM may not be a particularly convenient location, it produces very accurate changes with an indexed system. Moultoneers with long memories may recall that I was rude about the brakes on the AMs in the early days, with the CLB brakes: with properly set up dual pivot Shimano 105's, I think they are amongst the best braked bikes I have - powerful, smooth, progressive, and quite light, without being too light.
At last I've taken a compact folder out in 2001 - as you might expect, the Brompton. The reason for taking it out was not for folding on other transport, but to be able to take it into the places I was visiting for secure storage. One of these outings was to the Dudley Cycle Forum - the first time I had attended one of these meetings - and it was amusing to see how much easier the Brompton was to store safely than the more conventional bikes (and a tricycle!) which were used by some of the others who attended the meeting. As the stories of stolen Bromptons show, even with a folder you can't always be sure of security, but it certainly makes it easier.
It is still early days as regard planning for the Lanstair ride in May, but my recent rides confirm that the most likely bikes to use are the Moulton AM, Airnimal or just possibly a Bike Friday, with the preference moving towards the AM as giving the best combination of ride (both on road and on the South Downs Way), luggage capacity, gears and tyre suitability. The same factors make the AM the favourite at present for the trip to Scotland later in the year, but the April outing requires less luggage, though probably some towpath riding, and the choice is still very open. Although I have the carry bags for the Moulton, I am not keen to use them on these trips, as they are quite bulky and heavy to carry around on the bike along with other luggage, so, although they provide good protection, I shall probably instead try to get some large, light plastic bags which can be carried easily on the bike - James Greig mentioned a possible source for something suitable in the letters section of a recent issue of FSN.
Origami Ride, 10th February
A very poor weather forecast, and a very grey start to the day, reduced numbers for the February Origami Ride from Meriden to 6 - four Bromptons (2 of which were Mk IIIs) and 2 Moultons - one APB and one Jubilee L. It was also pointed out that all but one of the riders were bearded! After the usual hearty breakfast and conversation, we started out for Kenilworth, but rain set in as we neared Tile Hill, so we diverted straight to The Peeping Tom to take lunch. The rain was evidently set for the rest of the day, so we returned direct from there, and those who were travelling to Birmingham by train - 3 of us - baled out at Berkswell and caught the train from there. On a folder ride, one need have no qualms about seeking train assistance, mixed mode transport is what it's all about! Two of those opting for this solution were on Moultons, but our local Centro supported trains have no restrictions or charges for carrying bicycles, so no separating or folding was needed. Although the weather was disappointing, it was an enjoyable if rather short ride - we hope for better conditions next month.
Important Forthcoming changes
As the number of people who have registered rises, the cost of running the Folding Society and producing FSN also increases, and is becoming something of an embarrassment. Therefore some cost saving measures are being introduced:
1. I expect to discontinue the use of the 'demon' account, and the Moulton Bicycle Club (MBC) pages and other Moulton material will therefore be relocated. More news on the new location when the change is made, so watch out for this. Links to these pages from within the Folding Society pages (which will not be moved) will be updated at that time, but if you go direct to the MBC pages, please change the page address at that time. The 'demon' account will be kept running for a time after the change, with a link to the new site.
2. With the planned discontinuation of the use of 'demon', you are advised that the email address mike@whooper.demon.co.uk is no longer being checked as often as in the past. Please use the address mike_hessey@cableinet.co.uk instead - PLEASE UPDATE YOUR ADDRESS BOOK so that you use this address when contacting me in future.
3. The Folding Society is just a very informal group of people with a shared interest in folding and separable cycles; it does not exist as an entity in its own right, and there are no officials or officers, and no subscriptions. Thus there are really no 'members' (though we often use the term for convenience), but simply a list of people who have registered an interest in the subject. Nevertheless, I have in the past taken the precaution of taking out ORGANISERS LIABILITY (not participants) insurance to cover anyone who chooses to organise an event - even though as there is really no Folding Society there cannot be an organiser of a "Folding Society event"! Unfortunately the cost of insurance depends on the number of "members", and with over 700 people now registered as having an interest in folders, I just can't afford to continue to do this. Consequently, the insurance will not be renewed when it expires in a few weeks time. As we have no events and thus no organisers, this is somewhat academic, but something to be remembered if you are planning to organise a ride. As always, we must stress that if you choose to take part in any activity mentioned in FSN or on the web pages, or to buy or service or modify any cycle yourself, this is your decision - if you are not able to make your own assessment of suitability and safety, please do not use material reproduced here to influence your actions in any way.
Next issue
The planned date for the next issue is 4th March, though if there is still a shortage of news it might be put back a week.
Format
If you receive this issue of FSN in a plain text form, please remember that a formatted version is available on our web pages at http://www.foldsoc.co.uk/fsn/fsn070.html, and you can receive the formatted version (suitable for reading with a web browser) just be emailing us to let us know you prefer this version.
OWNERSHIP SURVEY
It is some while since the survey was updated, partly because although the number of people who have registered continues to increase steadily (732 at the time of writing), not all give information about what (if any) folders they own, and anyway the overall pattern has scarcely changed. Bromptons remain by far the most popular folders amongst our owners, with 60% of the folder owners having one. Apart from the Brompton, and a mixed bag of 'others', only Moulton, Bike Friday and Birdy are owned by more than 10% of those who have participated in the survey. The full survey is on the web pages at http://www.foldsoc.co.uk/survey.html .
LETTERS
Alex Mumzhiu writes to tell us of an ambitious trip that he undertook last year with a Brompton. You can read details and see more pictures at http://www.bromptonbike.com/CurrentEvents/Story/Tibet.html :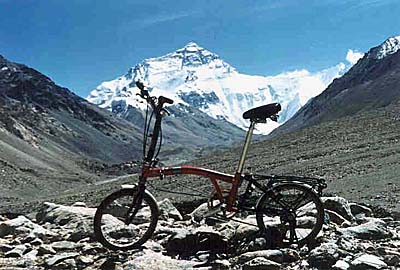 "In the fall of last year I made a great 3 months solo trip on my Brompton through Tibet, Nepal and India. I rode my bike to Northern Everest base camp and around Annapurna mountain. Pictures are attached. My trip reports published at www.bromptonbike.com. When you get there click on Gallery, then on story of traveling in Tibet. Feel free to copy any text or pictures if you wish. I think they may be interesting for you readers."
Left: Everest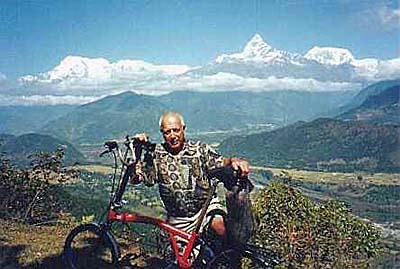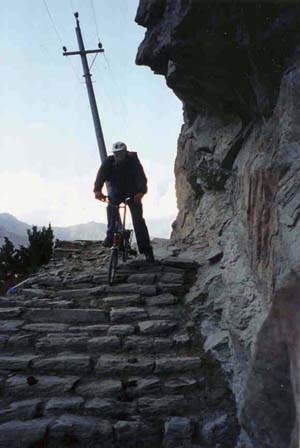 Left: Annapurna
Photographs Copyright (C) Alex Mumzhiu

We have also had an email from Jim Foreman regarding his tours with folders: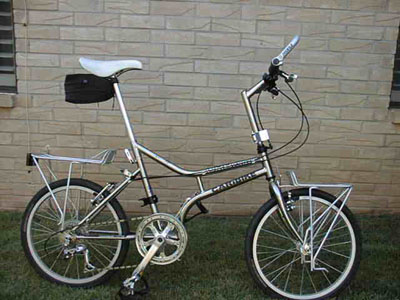 "Noticed the mention of the Bath/Bradford on Avon outing in April, and just had to mention that I was there on my tour in England a few years back. I have a friend who lives in Bath and while visiting him, he borrowed a bike for me to ride and we rode the towpath to Bradford on Avon. I also rode the towpath a few days later when I did my tour to the south and east of Bath. We visited the Tithe Barn, the old wool mills and the strange little jail in the middle of the bridge over the canal. Then we had lunch at a pub called Cross Guns. There are two tales about that tour in my web page along with several photos. There are also three different stories about my folding bike in my page."
You can find Jim's reports and pictures, including those relating to his journeys with the CARiBIKE, at http://www.geocities.com/jimforetales

Dave Holladay of Custom Folder has responded to the concerns regarding taking folders on buses and coaches with the following extracts:
"Natex Conditions of Carriage are available at all BO, and state ...
1) in general details section G.4.........Additional luggage such as skis and dismantled bicycles will be carried subject to accommodation providing that they are packed in a purposely made fully protective wrapping.....
(doesn't require to be a box) - this is in published C of C available at all counters in miniscule print reduced A3 to A4 sheet with 4 A4 pages.
2) Sales Manual section 8.1 para 3 Additional luggage......which fold flat...Subject to same proviso, skis and dismantled bicycles are carried provided they are packed in a purposely made and fully protective wrapping to prevent damage to other luggage.
Scottish Citylink
Clause 10(e)..... Subject to availability of accommodation collapsible bicycles in a proper carrying bag and skis will be carried......
Rail - 1996 Animals & Accompanied Articles 1996 - for TOC's, may be superceded by new National C of C and associated AAA changes.
A 4.1 - 4.4 - Bicycles
and
A2.1 allows 3 items of personal luggage plus 1 item of hand luggage plus
A2.2.1 Articles which do not exceed one metre in any dimension, and can be carried by one person.
Any problem driver for Natex, refer them to the sales manual which should be with them and IIRC section 8 was on white pages P44.
All of which should seem authoritative enough to shut them up."
Eddie Miles responds to Dennis Duggan's letter:
"Thanks for the regular news which I enjoy very much. As a recent convert to folders (previously I've ridden a road bike and MTBs) I can verify Dennis Duggan's suspicion that small wheels are more vulnerable to potholes (Folding Society News No 69). I still have the bent Brompton crank to prove it! I don't however believe that heavier objects freewheel faster (see Dennis Duggan letter). Galileo demonstrated that objects of the same shape but different mass fall at the same rate. If gravity is the force that propels a free wheeling cycle then there should be no difference in speed. Mass and resistance are what makes the difference."
Mark Lang would like some advice on trailers:
"I am thinking of a trailer for a Bernds or Dahon and would like to know if anybody has any information out there. I'm thinking of a trailer called a black from Two Plus Two but am not sure - any information would be a help."
John Gaerlan of Gaerlan Custom Cycles has some advice for those who have problems with chain coming adrift:
"We just installed a roller to solve a chain jumping problem, very typical of folding bikes and some recumbents. Below is the link, and I hope it helps somebody else: http://ourworld-top.cs.com/Terieng/roller/roller.htm "
Tom Shaddox sent us information about a description of fitting a Specialized dual suspension mountain bike into a suitcase. those who do not like small wheels and do not require a compact folder might be interested in reading the brief description and looking at the pictures:
"Thought you might be interested in this: http://www.bicycling.com/daily/gear/report0018.shtml It's a story about compacting a regular Specialized dual suspension mountain bike small enough to pack into a suitcase."
SALES AND WANTS
The Sales and Wants list has been tidied up - most readers are good enough to let me know when their advertisements can be removed, but some of the items had been on the list for over 6 months (I haven't been rigorously enforcing the 3 month rule referred to in the standard entry below). If you had something on the list and it has now been removed, but you would like it put back on again, please email the advertisement in full again.
If you have a folder, separable, or accessories to dispose of, or you want to buy, you can use the Sales and Wants page (http://www.foldsoc.co.uk/sandw.html). If you want to have something put on the list, just email us the details (mike@foldsoc.co.uk) - there is no charge, but please let us know when it is sold so that we can take it off the list. As I strongly suspect that I am not being told when items are sold, I intend to introduce some changes to the Sales and Wants section. In future all entries will be dated, and will be deleted after 3 months unless a request is received to retain the entry on the list. However, please do still tell us as soon as anything is sold, so that we can remove it and avoid creating annoyance to those using the list. Take all normal precautions when buying and selling goods - the Folding Society and its officers are not responsible for the descriptions and products and services contained in the Sales & Wants list.
EVENTS
The events listed below may be of potential interest to readers.
Remember that cycling can be dangerous (so is travelling by car, bus, train, air or water, breathing and living!); anyone participating in any way in any event does so at their own risk.
Saturday 3rd March - Mud Dock
Although there is no official organiser, the gatherings on the first Saturday of the month at Mud Dock in Bristol are still taking place and receiving good support. Meet at Mud Dock from about 10.30am onwards.
Saturday 10th March - Origami Ride
The next Origami Ride will be at its usual location, starting from the Tearooms at Meriden: arrive from 10.30 for an 11.00 start. For more information, contact John Pinkerton on 0121 350 0685, email pinkertn@mwfree.net, or look at his web site at http://www.users.mwfree.net/~pinkertn/origami.html.
Friday 11th - Sunday 13th May 2001 - Informal Folder/Separable gathering in Weymouth
Early notification of the dates of our annual informal gathering in Weymouth - no so much a Forum, more a way of life! Nothing organised, just take things as they come. Typically meet up at the Pavilion between 10:00 and 10.30 am for activities during the day, and 7:00 pm in the evening. More details (if there are any - it is informal) nearer the time.
17 - 19th August - Bike Friday Homecoming Rally 2001, Eugene, Oregon. Contact Jennifer Hill, jenniferH@bikefriday.com for further details
---
A to B Magazine
A to B Magazine remains the ultimate source of authoritative information on folding cycles. In the unlikely event that you aren't aware of A to B and/or don't read this magazine, then we would urge you to take out a subscription without delay. A to B can be found on the web pages at http://www.a2bmagazine.demon.co.uk, or you can email them at post@a2bmagazine.demon.co.uk, or they can be reached by telephone or fax on 01963 351649, address 19 West Park, Castle Cary, Somerset BA7 7DB, England. A subscription to A to B is only £10 per year in the UK, or $24, and the magazine is published ever two months and is packed with news, reviews and other interesting information on effective integrated transport systems in general, and folding cycles in particular.
---
Note: The views expressed by contributors and correspondents are those of the writers, and are not necessarily those of The Folding Society or its organisers.
---
Back Numbers
Back numbers of all issues of Folding Society News are available on our web site - go to http://www.foldsoc.co.uk/fsn/fsn.html for the full list.
---
Contributing material for FSN
We would very much welcome articles, photographs or any other material for inclusion in future issues of FSN, or on our web pages. Please send any material to The Folding Society at the address given below. However, if you are planning to send pictures by email, please send them at an appropriate resolution to avoid high telephone bills - a JPEG picture of 50K or less is ample for use in FSN or on the web pages.
---
The Folding Society
email: mike@foldsoc.co.uk
Web: http://www.foldsoc.co.uk
If you have any news or other information of interest to others, please email us at the above address.
If for some reason you wish to be removed from this mailing list, please send a message to this effect to the same email address.
All information given here is provided in good faith, but no responsibility can be taken for errors or for any consequences arising from the publication of this information.
Return to FSN index | Folding Society home page
---
Copyright (C)2001 Ferrets Anonymous
Last updated: 18 February 2001
URL: http://www.foldsoc.co.uk/fsn/fsn070.html