THE FOLDING SOCIETY
---
FOLDING SOCIETY NEWS
Issue 59 - 27th August 2000
---
EDITORIAL
This week our membership numbers reached 600. I have to admit that there are two or three people who are in twice for various reasons, and a handful of people have asked to be removed from the list, but 600 real, current members should be reached within a matter of days, and that's not bad in under two years, and a for group which works almost exclusively via the Internet.
Our report on CycleFest is now available on the web pages. It contains lots of photographs, so be warned that the total size is about 1 M, and it can take a few minutes to transfer down the line. The report is at http://www.foldsoc.co.uk/cf2000/cf2000rep.html .
'Formal' celebrations of Dr Alex Moulton's 80th birthday, which was actually back in April, are taking place at the beginning of September, leading up to the Moulton Bicycle Club weekend on 9th and 10th. A new bike is due to be launched - the general expectation is that it will be a sporting version of the existing NS, but security at The Hall is as good as ever, so we shall have to wait to find out. We hope to see many of you at The Hall on 9th and/or 10th, but please remember that as a matter of courtesy any non-Moulton cycles (apart from children's machines) should be left in the upper car park area, and should not be brought into the main courtyard display area. We should be providing 'live' coverage (well, daily reports anyway) from Bradford on Avon, and the first reports will be appearing around 3rd September, though details of the new bike are embargoed until the afternoon of 9th. These reports will be available on the Moulton Bicycle Club section of our web site at http://www.whooper.demon.co.uk/moulton/am80.html .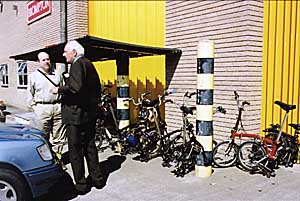 Celebrations of Dr Moultons 80th year will culminate in the Moulton Bicycle Club weekend at Bradford on Avon on 9th and 10th September; last year Dr Moulton attended the celebrations of the opening of the new Brompton factory (see FSN 24 and the special report on the event), and one of the pictures from that occasion has only just emerged from one of my cameras, so here it is as a reminder. Dr Moulton is in conversation with Moulton owner Matt Hoffman.

The latest edition of Arrivee, the magazine of Audax UK, arrived during the last week, and it was pleasing to see that one of the event photographs inside the front cover included a rider on what looks like a Bike Friday. At the few Audax events (shorter Brevet Populaires actually) that I have ridden I have not seen much out of the ordinary, though at Meriden we did have a Bike Friday and a Birdy in addition to my NS Moulton.
The weather has been very poor this summer, and my own distance is much reduced from the normal, as I suspect will be some other rider's - the ride reports in Arrivee almost universally describe atrocious weather conditions. What little summer we have had now seems to be coming to an end - last week I needed lights on my way in to the university, and I also decided on that ride that I would need to start wearing gloves again. Let's hope that the autumn will compensate - it's potentially one of the most enjoyable seasons both for cycling and photography, my two main interests.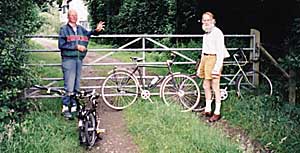 Reconstruction is still going on at Proof House Junction, disrupting many services in and out of Birmingham New Street station, and is not due to finish until 28th September. Since the disasters of the first day, I have been minimising my travel through New Street, but apart from doubling my journey times to and from the university, there have been no further problems while I have been travelling. As part of the journey is now on expresses, which have cycle limitations, I've been very glad of the Bromptons, and these have had most use over the last two weeks. Normally the SP is preferred, so that if I do need for any reason to cycle further than anticipated it will be as pleasant as possible, but the old T5 has been in service as well when the weather has been particularly poor. The pictures have nothing to do with Proof House Junction, but demonstrate the advantages of using a Brompton when one has to navigate obstacles on off-road excursions, as happened on a ride with John Pinkerton and Frank Sims, reported in FSN 56.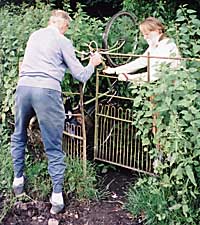 The folded Brompton went through this gate very easily, unlike Frank's conventional machine!

Next Issue
The next issue of FSN will not appear until after the Moulton Bicycle Club weekend, and with a lot to catch up on after this event, the most likely date for it to appear is 17th September. In the meantime, don't forget to visit our web site, where reports on the Moulton events will be appearing each day.
Format
If you receive this issue of FSN in a plain text form, please remember that a formatted version is available on our web pages at http://www.foldsoc.co.uk/fsn/fsn059.html, and you can receive the formatted version (suitable for reading with a web browser) just be emailing us to let us know you prefer this version.
NEWS
We hear that Raleigh is taking a renewed interest in the folder market. A number of models are apparently planned, the first reportedly being a fairly basic machine to be marketed under the Phillips brand name. Details are sparse at present, but we hope to be able to report more, and include a picture, by the time of the next issue of FSN.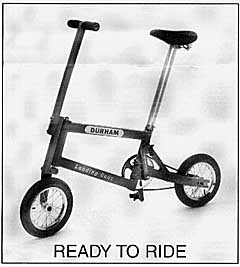 As well as the article later in this issue about his own folder/separable, Drew Devereux sent a brochure about the Durham Landing Gear folder; the most relevant information in the brochure is:
"Durham Landing Gear Carry-on folding bicycle

The Durham Landing Gear is more than a very light, compact folding bicycle. It's a new approach to cycling.

Folded dimensions in knapsack meet airlines 22" x 14" x 9" carry-on space requirement for overhead storage.

It weighs a scant 17 pounds


Simply folded. It can be carried onto most commuter trains or buses

Because of its small size, it can be carried in most vehicles without folding at all

It uses rugged, light, inexpensive 12" tyres

A simple, reliable coaster brake with 10 tooth cog is used with a 48T chainring which results in a 57 gear - acceptable for cruising and hill climbing. There are no cables, levers or adjustments

The frame, oversized seat post, and steering T are big-tube 6061-T6 aluminium … the same as that used on DC-3 airliners. It corrodes very little. It has the same rigidity-to-weight ratio as the most exotic aluminium alloys … without the corrosion or stress fracture problems. Only aluminium can provide light weight and sufficient rigidity in a small frame.

The steering head and steering arm are tubular, heat-treated 4130 steel.

Frame geometry is conservative, with adequate trail for stability. It handles like a full sized bicycle. Handlebar height and seat height are adjustable. Strap clamps secure the seat post. Bullseye pedals, Bullseye cranks, and a Bullseye front hub are provided.

Sealed bearings are used wherever possible.

In its knapsack, the Durham Landing Gear is more compact than any folding bicycle.

Quickly deployed, it's rigid enough for a century ride. It makes being thee as much fun as getting there.

Supplier: Bullseye, 418 S Varney St, Burbank, CA 91502. Tel: 1-800-874-0600


Roger Durham has been making bicycles since he produced the first welded big-tube aluminium frames in 1972. He us a mechanical engineer, inventor, and has for many years been a strong tourist, with six triple centuries to his credit."
Price is $750 with knapsack
Note the single-sided front fork, and apparent absence of any front brake.
Historic Hubs
We hear from Tony Hadland that he now has a lot of additional information on Sturmey-Archer hubs on his web site, taken from the 1956 Master Catalogue:
"With the kind permission of Sturmey-Archer, Hadland.net now brings you virtually all the useful content of the 1956 Master Catalogue. It includes full maintenance instructions for the SW, AM, FW, FM, FC, SB, TCW, BF, BR, GH6, SG, FG, AW, AB, AG, AC and ASC hubs. Good condition copies of the Master Catalogue sell for about £40 in the UK and are too precious to risk getting oily during maintenance. Now users can download the pages they need, when they need them.
The data is in Adobe Acrobat format, making it zoomable and easily printable on a page-by-page basis. Many users will already have the Acrobat Reader plug-in on their PCs; for those who have not, it can be downloaded free of charge via Hadland.net.
To access the Sturmey-Archer maintenance information, simply go to http://www.hadland.net then click on the link for 'Cycle Technology & History'. In that section, scroll down and you will find a link 'How to repair old Sturmey-Archer hubs' which takes you to the relevant index."
Cycling History Interviews on CD
Tony Hadland and John Pinkerton are steadily building an archive of in-depth interviews with important people in cycling history. The audio versions are high quality stereo recordings, digitally edited and issued at very reasonable prices on Compact Disc. The first two interviews are now available from Rosemary Hadland, 39 Malvern Road, Balsall Common, Coventry CV7 7DU, United Kingdom. The price per CD, carriage paid, is £6 in UK, £7 in Europe and £8 in the rest of the world. Overseas orders are sent by airmail. Payment can be accepted in the form of UK cheques, UK Postal Orders, Eurocheques, International Money Orders, overseas cheques in sterling drawn on London clearing banks, or (at sender's risk) US dollar bills to equivalent value.
Special offer on National Cycling Network Maps
The first 5000 miles of the National Cycle Network were opened in June this year, and to help people to make the most of the routes Sustrans is offering its maps at a special discounted price of £4.50 each plus £2 p&p (recommended retail price is £5.99 plus £2 p&p). If you order from mainland Europe, the postage rate is £3 minimum or 20% of the order value if the order is over £15; rest of the world, £4 minimum or 30% of order value if over £30.
To order any of the maps, you need to contact the National Cycle Network Public Information line on 0117 929 0888, and you must quote the reference FBS01. The offer is valid from 29th August until 29th September. For those of you who are interested, the maps available are listed below. Needless to say, we have no financial or other vested interest in this offer.
Scotland & North of England
NN1E Aberdeen-John o' Groats
NN1D Edinburgh-Aberdeen
NN1C Newcastle-Edinburgh
NN14 Three Rivers
NN65 White Rose
NN7AA C2C
NN7B Carlisle-Glasgow
NN7C Inverness-Glasgow
NN75 Clyde-Forth
Midlands and East of England
NN1A Hull-Fakenham
NN1B Fakenham-Harwich
NN5B West Midlands Cycle Route
NN6A South Midlands Cycle Route
NN6B Derby-York
Wales & Ireland
NN4B Celtic Trail East
NN4C Celtic Trail West
NN8A Lon Las Cymru South
NN8B Lon Las Cymru North
NN9A Kingfisher Trail
NN9B Belfast- Ballycastle
NN9C Ballycastle-Ballyshannon
South of England
NN1X Garden of England
NN2A Weald & Downs
NN27 Devon C2C
NN3A West Country Way
NN3B Cornish way
NN4A Severn & Thames
NN5A Thames Valley
LN001 London Thames Cycle Route
FINAL THOUGHTS ON CYCLEFEST 2000
So CycleFest is over for another year, and we have to wait until 2002 for another. As in previous years, it was most enjoyable, and although the weather was not perfect, we did pretty well considering what this summer has been like. Once again there was a very good turn out of folders and separables - lots of Moultons, Bromptons, Birdys and Bike Fridays; CycleFest is definitely a favourite with folder owners, and we hope that this will continue to be the case. Our full report appears on the web pages at http://www.foldsoc.co.uk/cf2000/cf2000rep.html - there are lots of photos, so it is about 1M in size. Even at that size, we had to leave out a lot of pictures. A very fine photographic memento of the 1998 event was on display in reception at CF this year, in the form of an A4 poster produced by Pat Strachan from photographs she took at that event; people were eagerly looking at the poster not just to admire the excellent production, but to see if they appeared anywhere on it - I was gratified to find I was one of the many who appeared in a picture. Pat was producing copies of the poster direct from her new photo-quality inkjet printer at a modest price for those who wanted them.
This year I took my New Series Moulton, and it performed superbly during the event, though getting it on the train was a bit of a performance, as I had to bag it: as mentioned in the last issue, this took about 10 minutes. In 1998 I used the Bike Friday Pocket Rocket, and although it was much quicker to bag that than the NS, the final package was not really any easier to get onto the train, since the two parts of the Moulton can be loaded and stowed separately between the seats. The NS also provided a more comfortable ride - at the end of the 1998 event I had a very painful back, as a result of riding the Rocket with the original owner's handlebar stem, which was considerably too long for me, a problem I have now overcome.
I still find the theoretical idea of having a recumbent, in particular a tricycle, rather seductive, but since returning I have considered when I might use it, and it wouldn't have been suitable for any of the rides I have done in the two seeks since CycleFest. I hope this will help me to resist temptation. Another temptation comes in the form of one of those folding micro-scooters, a few of which were in evidence at CF. On the relatively infrequent occasions when I want to go shopping in Birmingham or Wolverhampton, I find a folder becomes a bit of an encumbrance when trying to go round the shops, and the idea of a much more portable scooter to get to and from the station is rather attractive. However, analysing the situation in detail discloses the facts that:
The footpaths to the station are very rough for over half the distance - protruding tree roots etc.
After shopping, I would have a fair amount to carry, and this would be awkward, to say the least, with a scooter.
I get enough comments, or even physical attacks, riding a small-wheeled bicycle from the station to my home, and I doubt whether I would be willing to put up with what would result from using a scooter.
So I guess that this is another temptation I should be able to resist.
I'm sure all those who have attended CycleFest in the past will want to go again in 2002, and those of you who haven't yet attended should give it a try. As soon as dates and any other information are available, we'll let you know, so that you can make sure you get it in your diary in good time.
MOULTON
When I originally reported on my New Series Moulton after my trip to Scotland last year, I was rather critical of the paintwork on my second-hand ex-demonstrator. A few months ago it had a factory re-paint using the new paint which has been standard for some time now. I'm happy to report that the new paint finish overcomes my earlier criticisms - adhesion is very good, it seems very resistant to chipping, and there is no sign of paint lifting around screws, joints etc. I do find there are some fine scratch marks, which are rather visible, but that is really because my bike is white, so that these show in a way that they would not with other colours. So I'd now rate the paint finish as good, and earlier reservations are withdrawn.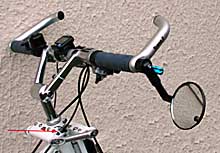 My New Series has had a handlebar change over the last week (see photograph) - it now sports flat bars with bar extensions. The change was made almost entirely to enable a mirror to be mounted, which was not possible with the Mosquito bars originally fitted. To get the original bars off, the wishbone stem arms had to be removed, and the brake levers and changer also needed to be replaced. Since the rear brake and gear cables had suffered quite a lot of damage during CycleFest, due to securing nuts of the Flexitor suspension units rubbing away the cable outer plastic covering, the cables urgently needed replacing, so now seemed a good time to make the change. The brake levers are not blue from choice - this was the best I could get locally. It's not easy finding levers for flat bars which are suitable for operating the Durace caliper brakes, as nearly all the levers are for V-brakes. Even these levers are not ideal, and have a rather short travel. To try to reduce damage to the brake cable outers in future, I have covered the Flexitor nuts with white plastic insulation tape - rather crude, and hardly in keeping with the bike! Furthermore, there is already some abrasion, so this solution has not entirely solved this problem - the position where the problem occurs is marked on the photograph (for those of you viewing the web page version of this newsletter). The bar end extensions will need to have grips put on them, as the bare metal causes me a lot of problems in the colder weather. The mirror shown is my favourite type, as I hope to describe eventually in the report on mirrors.
So far I have only taken the NS with its new handlebars out for one ride, though I managed 80Km on a beautiful, sunny, wind-less day. The flat bars have the advantages of:
Somewhere to mount the mirror
Ability to change riding position from the flat section to the extensions (with some variety in hand location on the extensions). Neither position is quite as comfortable as the standard Mosquito bar position, but the ability to change position is preferable overall on longer rides
The Rapidfire gear change is more conveniently located when riding on the flat section of the bars, and does not dig into the hand when used. Change quality also seems marginally better, though strangely not up to the standard of the 9-speed system I fitted to my Birdy Red. When riding on the extensions, the hand has to be moved to the flat section to operate the changer, but on the original system the change from 9 to 8 necessitated taking the hand off the bars and operating the lever from the back rather than the front, or moving the whole hand to the changer.
The standard Rapidfire changer and the brake levers all permit trimming of the settings using adjustments on the bars, so that this can be done while riding.
The fingers can't get pinched in the brake lever pivots, as was inclined to happen with the original system - usually only when pushing the bike though, not in normal riding.
Cable replacement is much easier on the brakes - see a previous article on how to change the cables with the original brake levers.
The wider bars are rather more comfortable even for a small person such as myself, and do tend to help stability. On most bikes I tend to wobble on fast down-hills, but the narrow bars certainly aggravated this. Why do I wobble? - well, I'm not a very good rider on down-hills (and I'm not much good on up-hills either; come to think of it, I'm pretty bad on the flat as well).
But on the other hand, there are drawbacks as well:
The Mosquito bars probably give the most comfortable position - it's the lack of variety which is the only problem
The brake levers are much less progressive than the original ones, probably because they are intended for longer cable pulls than are needed with the Durace callipers.
There is no built-in hand-brake facility with the levers, as there was with the originals.
I think on balance the change was worth making - at least for me, though of course other owners with different priorities may well prefer the original Mosquito bars, or possibly conventional dropped bars.
In all this activity with the NS, the APB has not been entirely overlooked, as it has just had a tyre change from Schwalbe City Jets to Schwalbe City Marathons. The City Jets are generally considered freer running, but their minimal tread and the cross section make them a little sensitive on loose surfaces. I wanted to make the APB a bit more suitable for off-road use, without seriously compromising the on-road performance, so I've decided to give the City Marathons a try. Current City Jets have a Kevlar puncture resistant strip, but my old ones did not, so the presence of a similar strip in the City Marathons is another advantage over what I was using before, at least in terms of potential reduction in punctures on poorer tracks (readers may recall two recent punctures in City Jets on my APB and Newt). I've only been out once on the APB since fitting the new tyres - the day after my NS ride, but on a much windier day. After just riding the NS, much lighter, and with Continental GP tyres, and not having ridden the APB on the City Jets for about 3 weeks, it was difficult to reach any conclusions, but there isn't obviously any increase in rolling resistance, and I think the tyres did seem slightly less twitchy on loose surfaces. Even so, the pebbles/coarse gravel on parts of the Pensnett Railway Path were very unpleasant, and I decided to push along a couple of sections. Although some of the ride (including the Railway Path) was different from the previous day's ride on the NS, the final section via canal towpath was the same. On the road the greater ride refinement of the NS was evident, but on the towpath I think the APB felt more at home and comfortable - probably a combination of the tyres and weight of the bike outweighing the differences in the suspension under these conditions.
BoA 2000
For once a decision as to which bike to take to an event is going to be easy - the NS will be going to the Moulton Weekend. To be honest, though, in practical terms it would probably be better to take the APB, as I have a lot of equipment to carry, and with the NS I shall have to resort to a back pack - something I loathe - whereas with the APB, or the AM, I could have managed everything on the bike with the added capacity of the front carrier.
I am currently trying out a couple of small bags from Steve Parry which fit into spaces in the frame of the NS - they attach to the frame via Velcro strips, and have zip closures. Steve originally made them for an AM, and they are a fraction wide for the NS, but they nevertheless look very neat, especially the front one. For normal riding, the standard Moulton day bag is ideal, but for really heavily loaded touring (such as my forthcoming visit to the Moulton Weekend) the large rear bag is not always quite enough, and of course there is no facility for mounting a front carrier and bag on an NS. Every little helps in that case, and these two bags should be useful for odds and ends and free a bit more space in the rear bag. A further report on these bags, with a picture, will appear after I've used them for the Bradford on Avon trip.
Moulton Bicycle Club
Membership Renewal forms have now been sent out to those Moulton Bicycle Club members whose membership expires in September, so if you have received one, act now rather than risk forgetting, or losing the form. Please note that if you are paying by credit card, only Visa cards can be accepted (not Mastercard), overseas members can pay by cheque (in pounds sterling on a UK bank ONLY) or cash (providing they don't mind the risk of sending cash) as well as by credit card, and the Membership Secretary's address is in Oakland Avenue (not Oaklands Avenue).
Don't forget to visit our special web page on the celebrations at Bradford on Avon - we should be updating it daily from 3rd September leading up to the Bradford on Avon Weekend on 9th-10th September, and news and pictures of the new bicycle, which will be launched during the afternoon of Saturday 9th should be available later on Saturday on the web page for those who are unable to get to the event. The special web page is at http://www.whooper.demon.co.uk/moulton/am80.html - it's already there if you want to take a preliminary look and bookmark it for future reference.
HOW MANY BIKES?
By Michelle Whitworth
I felt I should join in the debate, though, for the extent and type of riding I do, I find it impossible to limit myself to one.
My number one candidate would be the Bike Friday New World Tourist. I think its various qualities have been enumerated elsewhere – versatility, lively performance on and off road, luggage carrying capacity, adequate foldability (I only combine it with public transport for touring and in emergencies). I have used it abroad and can recommend the suitcase system, having seen the damage caused to unprotected machines by Indian baggage handlers. We have also adapted the trailer to a shallow box, suitable for supermarket and canine loads (as featured in an earlier newsletter). I consider reports of its lack of comfort exaggerated. The soft ride suspension stem may not be up to New Series Moulton standards but it takes the sting out of rough roads and I cover all sorts of terrain; it also means I can still honk uphill. As for the rear – I simply use a Velo Webspring saddle which combines gel with small springs hidden under the saddle, thus there is little weight penalty and it's considerably cheaper than a suspension seatpost. (This is the best saddle I've ever come across but, unfortunately, we can't get them any more so I'd be most grateful if anyone knows if they can still be obtained). I know saddles are personal but I've ridden on Mike Hessey's Flite Titanium saddles and have to say that my partner and I concluded that even Moulton suspension would not compensate! [Actually I think it was the Brooks Swift Titanium on the SP which Michelle and Derek took a particular dislike to - MFH.]
There are, however, two factors which severely limit the use of the NWT - viz. British winters and theft. I commute fairly regularly all year round but I would most certainly not care to submit the NWT to the ice, salt and grit found on our north eastern roads in winter.
So, my second choice would have to be the trusty old Brompton which I use more than the NWT - for shopping, pottering about, taking into restaurants, offices, pubs, the theatre etc. etc. and for trips to work where I know cycle parking to be dodgy. It has been a little modified with new brakes, reduced gearing, skateboard wheels and straight bars (why on earth does Brompton stick with those awful bendy bars) but basically it's a T5. However, the reason I could not manage with a Brompton as my sole bike is that I ride a lot for pleasure and the Brompton is just too slow. I don't think all the modifications in the world would enable me to keep up with the average CTC ride. In any case, for me, the whole point of the Brompton is that it's a utilitarian machine, and a hub-geared bike with dynamo etc. is so much more practical on a small wheeler made for town riding.
As it happens, I generally use more conventional bikes for work. In the summer, I ride a lightweight 12 speed because it's fast, enjoyable and because it's less desirable to the bike thief. In winter, for shopping, I use a Raleigh with dynamo. Ironically, it's one of my best equipped bikes (531 tubing and LX gears), but because its got a woman's frame, all the kids sneer at it. They do recognise, by contrast, that the Brompton and the NWT are special and desirable ("cool bike").
I also have joint access to several recumbents: my partner is particularly fond of the Anthrotech trike which he uses a lot round town, not just for the sake of enjoyment but for its huge luggage carrying capacity. We often exercise the dog through the park on the way to the supermarket, just popping her into the trailer for the short bit on the fast road.
My present stable is not as large as some, but is probably larger than necessary. This is because I have acquired bikes somewhat randomly, second hand, before I knew what I know now and because I find it hard to get rid of any. However, even if I were to start with a clean sheet and choose rationally without taking enjoyment into account, I would probably consider three bikes a minimum requirement – the NWT, Brompton and a hack bike/old tourer of some sort. The only way it could be done (if I did not also run a car) would be to use the NWT and be resigned to getting a new one every few years when it got ruined (or even sooner if it were nicked).
NB: The need for more than one bike was well illustrated just after I wrote this, when my second rim cracked on a day when I really needed the Brompton for work. Those who were at Portmeirion will know that the rear rim exploded in spectacular fashion on the first day, and that we had to wheel the folded bike back on Bob Hutton's Brompton. It was just as well I had another bike to hand (sadly, Derek needed his Brompton that day as well, so I had to make do with something else – I was determined not to take the car.)
DESIGNING AND MAKING YOUR OWN FOLDER - AN UPDATE
By Drew Devereux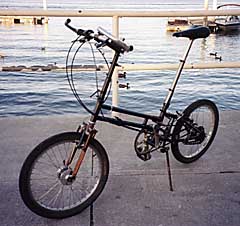 Enclosed are some photos of the new 20 inch (406) wheeled bike, frame:# 8. There are some improvements, which shave weight a little, improve bagging time, and make the ride a little better.
One major change is to have the rear end removable, while leaving the rear wheel in place. The crankset with its attached frame piece is now quite compact, so I can bag it without removing crankarms or pedals. The bagging time is a comfortable 5 minutes; 3 if I'm in a hurry. The dimensions are a little smaller; 25 by 20 by 10½ inches (63.5 x 51 x 26.5). If I use the 20 by 1.25 tires on it, it's 25, 19, 10½ (63.5 x 48 x 26.5). They measure 19" in diameter, inflated. No tools are used to bag it.
I am using the Rohloff 14 speed hub as the transmission. The shifting is wonderful and I don't have to fuss with any derailleurs. With the 406 wheel, I get a gear range of 20" to about 95". A 26" wheel would have a gear range of 20" to 105". I miss the extra range sometimes on fast down hills. A Sachs 3x7 could be set up to have a wider range, but I'm starting to appreciate the flawless shifting on the Rohloff. Eliminating a rear derailleur makes bagging a bit easier. The only real downside is that it leaks a little oil, especially when the wheel is stored sideways in hot weather (like in the trunk of a car). Carbon fiber seals keep the oil in, but they aren't perfect. Also, gears 6 and 7 are rather noisy, but they are transitional gears that I don't spend much time in anyway. Most gears are about as noisy as a standard derailleur drive train; some are actually quieter.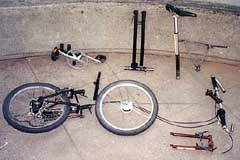 The weight of the bike is 29½ lbs (13.4Kg); there's about ½ pound extra in the hub compared to a standard derailleur system, but most of the extra weight is in the frame. The fork is probably overbuilt, and the couplings are heavier than they need to be. I think I might be able to get it down to 28 lbs (12.7Kg) in a future frame, maybe 27 lbs (12.2Kg) using some butted top quality bicycle tubing and extra light parts. But I can't see anything lighter than that being possible, with cromoly steel anyway. On the other hand, it is as sturdy any other mountain bike, and I ride it just as hard as my other full size mountain bike. On a rocky trail, when my eyeballs shake so much that it's hard to see, I think about making a suspension fork for it.
The seatpost extender is a titanium tube (1 1/8 by .035"). It is clamped into a cromoly 1 1/4 .058 tube, which has some windows cut into it to allow flex. This is like a seatpost shock absorber; it flexes back some over the bumps. Until I got used to it, it felt like I might have a flat rear tire. While some of my earlier cromoly posts have bent after a few months of hard use, this one is still straight as an arrow.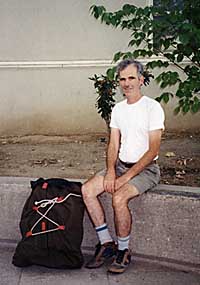 I take it on the bus by hanging it in front of me. The 20" width is just wide enough to clear between the seats as I walk down the aisle, although I tend to bump an arm here and there. Sitting in the bus seat with it on my lap works well. I can read a book on top of the bag; a person can occupy the seat next to me with almost no intrusion into their space. My twice weekly commute consists of a 60 mile bus ride, followed by a 70 mile bike ride (I work half the week in a distant city).

This bike frame was a lot of work to make, and I can't see something like this ever going into production. Besides, I don't think there are many people who are truly interested in a bike you have to bag with the time and work required, even though it takes only 5 minutes.
The 16" wheeled bike (306) has been modified since the last pictures I sent. Now it gets to 15 by 26 by 11 in (38 x 66 x 28cm) in about 4 or 5 minutes. Neither wheel is removed in the process. Sitting in a bus seat or walking down the aisle has never been easier that with the 15" width. (The 16 by 1.5 tire measures 15" in diameter, inflated). It has a 2 minute "quick fold", where it holds together by itself and gets to 32 by 26 by 14" (81 x 66 x 35.5cm). A couple of times I was able to easily hitchhike a ride on a passing car with it. Once I had knee pain after 80 miles (128Km) with 20 (32Km) to go and a 2000 ft. (600m) climb. Another time I had a tire blowout. The odd looking folded bike was easy to see to the passing motorist; both times I got a ride almost immediately. Perhaps I just looked like an old guy who missed the bus. I liked not having to wait for a truck to roll by before I could put my thumb out there.
My next project is to build a new frame for the 16" wheel bike. I found some butted tubes for the main beam, and have other weight saving measures in mind. It will have lightweight quick release clamps, which should save time in bagging. But I should probably fix our leaky roof first. Not to mention a few other less exciting domestic chores.
SALES AND WANTS
If you have a folder, separable, or accessories to dispose of, or you want to buy, you can use the Sales and Wants page (http://www.foldsoc.co.uk/sandw.html). If you want to have something put on the list, just email us the details (mike@foldsoc.co.uk) - there is no charge, but please let us know when it is sold so that we can take it off the list. As I strongly suspect that I am not being told when items are sold, I intend to introduce some changes to the Sales and Wants section. In future all entries will be dated, and will be deleted after 3 months unless a request is received to retain the entry on the list. However, please do still tell us as soon as anything is sold, so that we can remove it and avoid creating annoyance to those using the list. Take all normal precautions when buying and selling goods - the Folding Society and its officers are not responsible for the descriptions and products and services contained in the Sales & Wants list.
EVENTS
The events listed below are a combination of those organised by Folding Society members or of potential interest to members.
Remember that cycling can be dangerous (so is travelling by car, bus, train, air or water, breathing and living!); anyone participating in any way in any event does so at their own risk.
Note that there will be NO ORIGAMI RIDE IN SEPTEMBER, as the date clashes with the Moulton Weekend at Bradford on Avon.
9 - 10 September - Moulton Bicycle Club Bradford-on-Avon Weekend
The annual Moulton Bicycle Club weekend is scheduled for 9-10th September this year, and preliminary information suggests that it should be better than ever this year.
Saturday 14th October - Origami Ride
The October Origami Ride will probably (though not definitely) be at its usual location, starting from the Tearooms at Meriden: arrive from 10.30 for an 11.00 start. For more information, see the next issue of Folding Society News, or check our web site.
---
A to B Magazine
A to B Magazine remains the ultimate source of authoritative information on folding cycles. In the unlikely event that you aren't aware of A to B and/or don't read this magazine, then we would urge you to take out a subscription without delay. A to B can be found on the web pages at http://www.a2bmagazine.demon.co.uk, or you can email them at post@a2bmagazine.demon.co.uk, or they can be reached by telephone or fax on 01963 351649, address 19 West Park, Castle Cary, Somerset BA7 7DB, England. A subscription to A to B is only £10 per year in the UK, or $24, and the magazine is published ever two months and is packed with news, reviews and other interesting information on effective integrated transport systems in general, and folding cycles in particular.
---
Note: The views expressed by contributors and correspondents are those of the writers, and are not necessarily those of The Folding Society or its organisers.
---
Back Numbers
Back numbers of all issues of Folding Society News are available on our web site - go to http://www.foldsoc.co.uk/fsn/fsn.html for the full list.
---
Contributing material for FSN
We would very much welcome articles, photographs or any other material for inclusion in future issues of FSN, or on our web pages. Please send any material to The Folding Society at the address given below. However, if you are planning to send pictures by email, please send them at an appropriate resolution to avoid high telephone bills - a JPEG picture of 50K or less is ample for use in FSN or on the web pages.
---
The Folding Society
email: mike@foldsoc.co.uk
Web: http://www.foldsoc.co.uk
If you have any news or other information of interest to other members of the Folding Society, please email us at the above address.
If for some reason you wish to be removed from this mailing list, please send a message to this effect to the same email address.
All information given here is provided in good faith, but no responsibility can be taken for errors or for any consequences arising from the publication of this information.
Return to FSN index | Folding Society home page
---
Copyright (C)2000 Ferrets Anonymous
Last updated: 27 August 2000
URL: http://www.foldsoc.co.uk/fsn/fsn059.html