THE FOLDING SOCIETY
---
FOLDING SOCIETY NEWS
Issue 56 - 15 July 2000
---
EDITORIAL
Apologies to those of you who have joined in the last couple of weeks for the fact that you have not received a reply until now - usually I reply to new members individually within 2 days, but I have continued to be very busy recently, and I have not even had time to read my email, let alone reply to it. Now in addition to the heavy workload, there are problems on the computer, and time and money (unfortunately I'm not being paid for most of the work I am doing) mean that it is not possible to get it fixed.
Next issue
Current work pressure and computer problems mean that the date for the next issue is rather uncertain, and with CycleFest now imminent, it may not appear until mid-August. The missing reports on mirrors and more folder tests may be included, but I can't guarantee this.
Format
If you receive this issue of FSN in a plain text form, please remember that a formatted version is available on our web pages at http://www.foldsoc.co.uk/fsn/fsn056.html, and you can receive the formatted version (suitable for reading with a web browser) just be emailing us to let us know you prefer this version.
ON MY BIKE
The July Origami Ride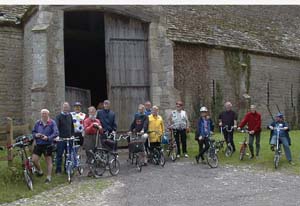 For July, the Origami Ride moved from Meriden to Cheltenham, courtesy of organiser Dick Hanson. This meant that more people than usual travelled to the start by train, so there were more Bromptons and less Moultons than usual. For a train journey where folding was essential to avoid having to book and pay for the bike on the train, I chose a Brompton, and in view of a poor weather forecast I opted for the old T5 rather than the SP.
16 people took part in the ride, on quite a variety of machines; Peter King was not riding, but joined us by motor vehicle at lunch time, and kindly provided a sag wagon service on the return journey, which was much appreciated.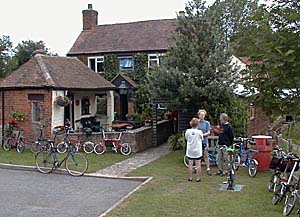 Despite the forecast, the weather was actually excellent for most of the ride. We had just two short showers, and one of these was during the lunch stop, which was at The Boat at Ashleworth Quay. While we were there, a number of other cyclists on large-wheelers arrived, one of these also being a folder, as the pictures in the formatted/web page version of this issue of FSN show (it can be seen in the foreground of the picture on the left, and there are some detail pictures below). Our group photo was taken at the Tithe Barn 100m from The Boat.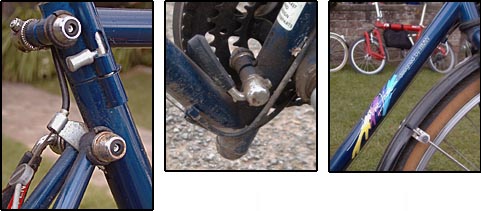 The badge says BMW, but this large wheeled folder, which arrived at The Boat during our lunch stop, looks similar to a Montague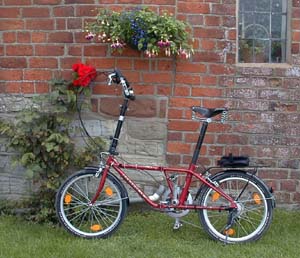 At 45 Km, this was one of our longer rides, but the good weather, excellent scenery and relatively flat roads made it an enjoyable event. Phil Wray was on his very smart all-green Mk 3 Brompton, complete with one of the new Touring bags, and Peter Simpson was on a much-modified Rudge-badged Dahon, with 3x7 gearing and rather unusual handlebar extensions/risers, shown in the photograph. Phil's Brompton may feature on the T Shirt I am working on for CycleFest, if I can isolate the bike from the background; it would be much easier to use the picture off the front of the Brompton catalogue, but after the recent upset over photographs in that catalogue, I think I'd better not do that!
During the last few miles of the ride, I suffered my first puncture in one of the Schwalbe tyres, caused by a small piece of thin wire. As it was only going down slowly, I pumped it up (using the new Brompton pump, which worked smoothly and effectively) and made it back to the station. A further injection of air at Tipton got me back home, where I was able to repair it more comfortably. That's the first puncture in around 800Km with these tyres, which I rate as quite good.
Many thanks to Dick for arranging the ride, and planning such a good route.

Meriden mid-week
or off-road on a Brompton
The July Origami ride may have been at Cheltenham, but I still visited Meriden last week, as John Pinkerton invited me to join him and Frank Sims for a mid-week ride from there. I managed to combine this with a visit to the university, although once in at work I had difficulty getting away. By dint of some vigorous riding I finally got to Meriden just as John and Frank emerged from the Tearooms to start the ride. As I had been into the office first, I was on a Brompton (not only easier to get on the train, but easy to store safely on arrival). As the weather forecast was not particularly good, and I was not sure that I would be able to join John and Frank, I'd opted again for the T5.
In the event, the weather had brightened up by the time we started, and would improve as the day progressed. Our ride took us out through Hampton in Arden and Eastcote, after which we mistakenly went down a lane which became a footpath across some fields. This path had 4 sets of padlocked gates in 1Km, which meant climbing over stiles, and a record number of folds/unfolds! The Brompton coped with this very well, but we then had to go through a wood, with a very narrow, stony path, and some mud. Small wheels are not ideal for this, and the Schwalbe tyres, although they have quite a deep tread, are fairly smooth, and it was so difficult getting any traction, while at the same time coping with the uneven surface and stones, that I pushed for part of the way. John and Frank on their large wheels and more substantial tyres definitely fared better here, compensating for their problems in getting their non-folders over the gates earlier.
Lunch was taken just outside Balsall Common, at The Saracens Head, a pleasant establishment which provided good food at a reasonable price - we might go back there on one of our future official Origami rides. By now the sun was out, and we enjoyed a rest before starting on the short return journey.
All in all this was quite a varied day for the Brompton - short commuting to and from the stations, travelling folded on the train, a few hours in the office by my desk, leisurely riding for pleasure on country lanes, some off-road work, being folded and lifted over obstacles, more train travel and a ride down the busy dual carriageway which is the main road from Birmingham to Wolverhampton. It just goes to show what a versatile bike the Brompton is.
Win some, lose some
In recent issues of FSN I've described some less than enjoyable rail journeys back from Bristol. On my most recent of my very occasional visits to Alex Moulton Bicycles in Bradford on Avon (I give them a bit of advice on some of their computing), things worked out much better for me. The train from Bradford on Avon arrived at Bristol a couple of minutes early, and as a train going North was 5 minutes late I was just able to catch it, avoiding the expected 45 minute wait. I even got a seat!
Unfortunately things were more normal for the return journey after the Cheltenham Origami ride - the train was on time, but standing room only on this Saturday afternoon in July.
Another Brevet Populaire (failed!)
As I reported in the last issue of FSN, I was due to take part in the Double Severn 100Km Brevet Populaire on Sunday 11th July, but by the Friday and Saturday I was feeling rather below my best (too many hours in front of a computer), and had more or less decided that I would not do it. Nevertheless, on the Sunday morning, despite grey weather and a bad forecast, I decided I really should at least try to do the ride, though I was far from certain I would complete it. The original plan had been to use the NS Moulton, but in view of the forecast, I decided to take the APB instead. As the ride starts and finishes at Wall Heath, just under 10Km from Dudley, folding was not an issue. Although the ride is listed as being 106Km, with the distance to and from Wall Heath, the total to be covered was actually about 125Km. I arrived at the start in good time, and we left at exactly 9.00 as planned. I did this ride last year on the AM7, and the route this time was pretty much the same - identical at the start, perhaps a minor change in the later stages. It's moderately hilly, involving some climbs before descending to cross the River Severn via a footbridge at Arley, and then a steep ascent into the Wyre Forest, across through Cleobury North and up to Ditton Priors, on the edge of Brown Clee. Then it's down again before ascending onto Wenlock Edge, back down to Much Wenlock, and across country before a further descent to cross the River for the second time at Coalport. After that comes the steepest climb of all, and some further cross country roads to a stop at Cosford, before returning to Wall Heath.
Everything went fine until about one third distance - I was feeling quite comfortable, and having no trouble riding with a group somewhere around the middle of the starters. The weather was reasonable - a brief shower in the Wyre Forest, but only just enough to warrant stopping to put on a waterproof; I felt comfortable, and the bike was performing well. Then I blew up completely - my legs turned to jelly and I started shaking all over. Maybe I had worked a bit too hard on the ascent from Arley and keeping up through the Wyre Forest, or maybe it was just general unfitness. Anyway, at such an early stage in the ride, and with a lot more hills ahead, I decided not to continue with the ride. I cycle for pleasure, and if I'm not enjoying it, then I'm not going to make myself miserable proving nothing to anybody. Furthermore, most of this ride is well away from railways, so that I was still faced with quite a long return ride even at this stage.
Dropping out at Cleobury North, I rode along the undulating B4364 towards Bridgnorth. This used to be one of my favourite roads when going out in the car at weekends for a walk over Brown Clee, but on a bike it is quite hilly, though picturesque and without much traffic. Despite having consumed an energy bar and some tablets, I still felt very weak, but had no trouble getting to Bridgnorth. From there it is a 30Km ride back to Dudley, with several hills, so I decided that rather than ride all the way, I would take a steam train to Kidderminster (Severn Valley Railway - SVR), then take a 'normal' train to Smethwick Galton Bridge, and cycle home from there - quite a flat ride, with the option of using the canal towpath. Fortunately I had a Shareholders ticket with me, so I didn't need to pay for the steam train, and they were quite happy to have the APB in the luggage van, which was otherwise unoccupied.
The steam train journey to Kidderminster was most relaxing, travelling at a gentle pace behind a pannier tank. Checking train times at Kidderminster, I found I had only a short wait before a train towards Birmingham, but bad news awaited me at the ticket office - due to engineering work, trains were not running beyond Stourbridge, a bus service continuing from there to Smethwick and Birmingham. Now the trains in this area take any number of bikes, folded or unfolded, free and without booking, but of course a bus is another matter. I suppose I could have split the APB and tried to persuade them to take it, but it seemed a lot of hassle, so I took the train as far as Stourbridge, and rode the 8Km or so home from there. Unfortunately it's mostly uphill by this route, as opposed to the flatter, though barely any shorter, ride from Smethwick, and the route means going close to the Merry Hell Shopping Centre, with, on a Sunday, a lot of traffic and particularly poor driving standards. I finally got home safely, despite the efforts of car drivers who twice tried to turn left over me..
It was disappointing not to complete the BP, though by the time I got home I had still ridden 70Km, and I'm sure it was better to abandon than attempt to carry on. It was all a matter of fitness, or lack of it, as the bike performed perfectly.
Abandoning does demonstrate how useful it can be to use a folder - even on a ride like this. The SVR didn't mind an unfolded bike; had I abandoned later and tried to catch a train at Cosford, there are the usual restrictions on bikes on that line. The Kidderminster line doesn't have bike restrictions normally, but due to the engineering work and the bus service, a folder would have been a real advantage.
NEWS
During the last few days we have heard from Tony Hadland that he is now able to offer some cycling history interviews conducted by John Pinkerton on audio CD. One, with Jack Lauterwasser, is a more tightly edited version of the previously issued video interview, and other subjects of the interviews include David Duffield. You can find more information on Tony's web site at http://www.users.globalnet.co.uk/~hadland/cds.htm.
Cyclefest now has its own web site at http://www.cyclefest.ucsm.ac.uk - please have a look there for the latest information on this event, which we expect to attract a lot of folder enthusiasts.
MOULTON
During my visit to Pashley last September, I not only tested the then-new fx8 and a prototype fx4, but I also discussed with them some other modifications, as reported on these pages at the time (http://www.whooper.demon.co.uk/moulton/fx8test.html. One of the things which was mentioned, and was included in the report, was a change in the front suspension bearing. Recent correspondence in the Moulton emailing list confirms that the change has now been implemented on all APB models. Although it's not something that can be directly retro-fitted to older models, due to a change in the steerer tube, replacement bearings supplied for older APBs will now be to the same design, if not dimensions, as the new ones, as explained by Dan Farrell of Pashley. The most important parts of his description are as follows:
"APBs from 1992 to the end 1999 have a 'small' diameter suspension bearing to fit a smaller bore (early models have a liner tube inside the steerer, later ones have a custom butted steerer). Year 2000 APBs (and one or two shipped at the end of 1999) have a larger bearing, which is the same size as the AM bearing. The two are not interchangeable. All Year 2000 APBs have been fitted with the new design, new material bearing (light grey, 'bobbin' shaped). All previous APBs were fitted with the plain cylinder bearing in the Nylatron material. At the changeover point, we exhausted stocks of the old design, small, Nylatron bearing. As there is an ongoing requirement for suspension bearings, we arranged a supply of 'small' bearings in the new 'bobbin' design and in the new material, so that older models could be serviced and improved. Early ATBs use the 'large' bearing, later ones the 'small' one. Of course, the spring diameter also changes between 1999 APB and 2000 APB."
Moultoneers will be aware that Peter Mann used an APB for his ride round the coast of Britain a few years ago, and indeed he described this at the annual Moulton Weekend Dinner on one occasion, and an article on his experience appeared in the CTC magazine not long ago. Now he has produced a very detailed book on the ride, entitled "Postcards from the edge of Britain". Mike Hullis of Phoenix Cycles, who supplied the APB which Peter used, kindly sent me a copy of the book to review. It only arrived a couple of days ago, so I've only read a few pages so far, but I'm enjoying it. A further report will appear when I've had a chance to read more. You can apparently browse through the book at http://www.petermann-online.co.uk, or you can order it direct from Peter Mann, 51A Ossington Street, London W2 4LY, priced remarkably cheaply at £9.99 including UK post and packing, plus £1 for the rest of Europe airmail and rest of the world surface, or plus £5 airmail for the rest of the world. I believe that Phoenix Cycles may also have some copies for sale. The book has a soft cover, 373 pages, including some colour photographs, interesting appendices on hardware, software and the itinerary, and a very comprehensive index.
THE MOUNTAIN DRIVE
By Richard Mathews
In FSN issue 54, Jeff Cain wrote requesting information on the Mountain drive. I have just fitted one to my Brompton, and its magic. I fitted a Mountain drive to my Moulton Standard about four years ago, so I already knew how good they are. I could not move this drive to my Brompton as you would not be able to fold
it afterwards. Florian produces a special model for the Brompton with a longer axle and a spacer. There is plenty of information on his website at http://www.schlumpf.ch
To fit a Mountain Drive to a Brompton you first have to chamfer the bottom bracket to take the special cones required to hold the unit in place. This is done with a milling cutter available from Florian, I understand he arranges it so that you can sell this on to a future purchaser. Fortunately I was able to borrow one; I also understand that if you change your mind later the bottom bracket is still usable. Once the BB is milled, the fitting is very straight forward. I chose to fit a "Type 1" which gears down. Several people have expressed concern about the amount of torque being put through the SA hub, but my Moulton with a 5 speed is still going strong after 4 years.
I must say that the latest Mountain Drive with the new "Triangolo" clutch is a great improvement. The change is more positive. Florian's brochure says it changes under load, but I have not mastered hitting the change button with my heel while pedalling yet! So I will take Florian's word for it.
The downside of a Mountain Drive is you pay a weight penalty: light it is not. I have tried double rings, which is a lighter (and cheaper) option; these I changed manually, and I know Steve Parry now does a bracket so that you can mount a front changer, but I live on the coast and there is a lot of sand blown about, so I like hub gears. Also there's no cable to route. In his brochure Florian quotes a complete weight of 1340g. Against this he puts an Altus triple chainset with changer, rings cables and shifter at 1255g.
I have not sat down and worked out what the ten ratios I ended up with but I get a range that suits me , with the 16 inch wheels the bottom gear must be close to 10 inches . I have a 48 chainset and a 13 sprocket. so if anybody would like to work that out please let me know the results.
So, does it work? It sure does: on trips to the Lake District it allowed me to climb hills that have defeated me in the past.
If you wish to contact me regarding my experience with the Mountain Drive, you can do so at r.mathews.tostmaster@virgin.net. Finally, I have decided to take my Brompton on my Mexico trip later this year, further upgrades will be a titanium seat post from SP and a suspension stem. I will keep you posted on my progress.
BIKES I COULDN'T DO WITHOUT
By Graham S Jones
I enjoyed your article in the last FS newsletter about depending on one or two bikes. The theme struck a chord with me as I now have, at last count, something approaching nine bikes (I seem to breed old Moultons ), and at times have found myself unable to decide which one to use. For FS relevance, only one of them is a true folder (a Brompton L5), one is a "demountable" (a Moulton AM14), and the rest are either old Moultons or conventional "cumbersomes". There are three criteria I use in choosing which one to ride: theft-proneness, reliability, and sheer riding pleasure.
For theft-proneness, or rather lack of it, the choice is really only between the Brompton and a decrepit hack hybrid bike. The Brompton scores by virtue of its portability, thus never needing to lock it up because it can accompany me everywhere. As I tend not to make mixed mode journeys very often, this tends to be its main use. Although it has been used for longish journeys, short trips are its forte and Sustrans paths are its off-road limit (to my mind). The hack is called into service for longer journeys where it might need to be locked up, and where heavier loads might need to be carried. It will also go anywhere, and I'm not particularly fastidious about a bit of mud and water where it is concerned.
For reliability, generally it is my 16 year old tourer that is called into service. Over the years it has gradually developed into exactly what I want out of a standard bike. It's comfortable, reasonably quick, and has a wide spread of gears. However, I wouldn't leave it locked up in town as its sentimental value (if not financial value) is too great to run the risk. It's a great rough-stuff bike and I've taken it almost everywhere I'd want to ride off-road.
For sheer riding pleasure, it is always the AM14 that gets chosen. It's supremely comfortable, has fantastic handling, especially on twisty down-hills, but my particular model has never been the paragon of reliability, especially when it comes to the transmission. I should point out that it came to me second-hand some years ago and so is probably due a complete overhaul in the gears department. It also took me some time to find out that it had been crashed by the previous owner, and although a replacement pair of front forks solved its tendency to veer for the ditch, I've always felt a bit cautious about it. Furthermore, I'd never lock it up as I'd never be able to afford a new replacement (although a Jubilee-L would be very welcome if anyone's anxious to get rid of theirs). The Moulton tyres and the vulnerability of chain and derailleurs rather restrict off-road venturing.
I suppose then (and rather shockingly for this audience) it is the tourer I couldn't live without if I just had to have one bike. However, for a long time it was my only bike, and the appearance on the scene of the others indicates that it doesn't fill every need. Bike number two, you will be relieved to know, would have to be the AM and at a pinch, separating it down, it could fill the shoes (or is that tyres?) of the Brompton. Nothing else quite matches it for fun and enjoyment and into the bargain it at least seems blisteringly fast. Large wheeled bikes seem quite ridiculous by comparison.
Brompton conquers TT 2000
By Dick Hanson
Take that wonderful invention the pedal cycle, add a motor, and what do you get? – a completely lunatic machine. I have to confess that I possess such a machine and am mildly obsessed by the genre. However, in mitigation I must say that pedal cycles have a higher place in my affections.
To combine these two interests, I arranged to fly to the TT races on the Isle of Man with a Brompton. The arrangements were surprisingly easy to make, and after one phone call to Manx Airlines I had a flight booked to Ronaldsway for just over £100 return. The airline confirmed that taking a folding bike wouldn't be a problem and I booked to fly out on the Saturday of the first races, returning the following Wednesday.
Prior to my departure I embarked on extensive research on how best to transport a Brompton by air. Following lengthy discussions with friends, bike shops and even Brompton themselves, I devised a very cunning plan involving a Brompton cover, various spare clothes in plastic bags and a Carradice carrying bag. An essential tip I learned was, remove the clamp bolts and clamps before bagging the bike. They stick out somewhat on the folded package and are very susceptible to damage. Be sure to keep the clamps and bolts safe or you won't be going anywhere at the other end of the flight!
Saturday and the adventure begins
Saturday 3rd June was dull and misty at Birmingham Airport, but the Brompton was soon checked-in with no hitches. I used the front bag for important items and took it on the plane as hand luggage. This system of using the bike package to carry spare clothes etc with the front bag as hand luggage, worked very well and I can highly recommend it.
We touched down on the Isle of Man under rapidly clearing skies – a good sign for the racing which was due to start at 2.00pm. I waited with some trepidation by the baggage carousel, visualising a mangled package coming into view. But there was the black Carradice bag looking totally unscathed. I heaved it off the carousel and carried it outside. The bag was soon unzipped, the spare clothes doubling as padding removed and the bike revealed as undamaged, apart from a split in one of the small plastic rolling wheels. I was going to replace them anyway.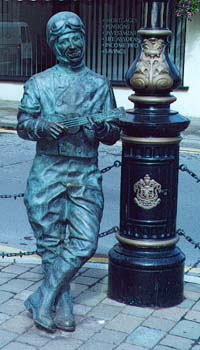 The carrying bag, cover, clothes etc were soon rolled up and attached to the rear carrier and off I set on my journey to Ballacraine – the point on the TT circuit made famous in the George Formby film. It was 1.00pm when I left the airport and I had an hour to get to Ballacraine before the first TT race of 2000 started. This involved a ride of about 12 miles.
Photograph: George ... Leaning on a Lampost in Douglas on Tuesday.

The thing I noticed immediately was my heels banging on the rolled up bag on the rear carrier – very irritating. Several stops and readjustments finally sorted the problem out. I soon learnt that stowing things on the rear carrier requires care, with the load shifted towards the back to avoid rotating heels. Moving the load towards the rear of the carrier then produces its own problems – when you dismount the bike on all but a perfectly flat surface, it tends to automatically try and fold itself! However, the perfect solution resides on the carrier. Its in-situ elastics can be passed round the seat post, thus locking the rear triangle – they could have been made for it.
After the initial teething problems I had a very enjoyable dry ride to Ballacraine. The sun even came out. Stopping to read the map every now and then, I chose a route through very quiet back lanes. The Isle of Man is not flat! Even so, the 3-speed Sturmey-Archer saw me ride up every hill, which pleased me immensely. In fact on the whole holiday I only had to push the bike twice.
The final swoop down to Ballacraine saw me stuck behind a very slow coal lorry, with five minutes to go before racing was due to start. Anyway, I arrived at the circuit just in time, albeit very hot and sweaty.
The finish of an exciting Formula 1 race saw me planning the trip onwards. Obviously the main road is out, as that remains closed for the following race, which was the sidecars. I had fixed accommodation at Kirk Michael, a further ten miles, so I now planned to cycle to Cronk-y-Voddy to see the sidecars and then press on to the B&B. Whilst I was studying the map I was approached by a local cyclist who was very interested in the Brompton as he had not seen one before. He gave me advice on how to get to Cronk-y-Voddy, including a suggestion that I ride a disused railway path for a short distance. He also noted that I could use a green lane to get from Cronk-y-Voddy to Kirk Michael, which he seemed to describe as billiard table standard – but more of that later!
By the time I got to Cronk-y-Voddy I was pretty tired, thirsty and hungry. I had travelled through hilly empty countryside, so no café stops for me. Cronk-y-Voddy itself is about two farms and that's all, but joy of joys, one runs a tea room. With about 15 minutes to go before the start of the sidecars at 5.00pm, I just had time for tea and sandwiches. The farm yard was full of bikes (the motor kind) and the café full of bikers. Everybody was very jolly, both staff and bikers and I was soon served.
I have nothing but admiration for the Manx people. During TT week they invite you into their homes, let you park on their farms and view the TT for nothing and then provide you with refreshments at amazingly low prices. Wherever I went I was met with warmth and kindness.
Following the sidecar race I collected the bike from where it was parked outside the café and set off by a back route to Kirk Michael, as the main road was not yet open. It's not advisable to cycle along the TT circuit anyway, as once the roads are open, bikers tend to go somewhat wild – and that's rather an understatement. You may have heard of Mad Sunday, well as far as I can see, it's Mad Everyday as soon as the roads are open!
Following the advice of my cyclist friend at Ballacraine, I was soon on the recommended green lane. Initially this was fine for a Brompton, but before too long the track turned steeply down hill and also decided to become a rocky gorge with a central water worn gully. There was nothing for it but to dismount and walk on the rocks on one side with the bike on the rocks on the other side of the gully. After gingerly negotiating this part of the lane I finally reached a bridge in the bottom of the glen I was heading down and was soon on my way up the other side on a somewhat better surface. In no time I was back on tarmac. Definitely an interesting experience that I enjoyed in retrospect, but not quite the easy route I had been led to expect!
Once on tarmac I was in Kirk Michael in no time and the rain started just as I reached my B&B – perfect timing! My accommodation was part of the TT Homestay scheme, where people offer bed and breakfast in their houses just for the TT. The couple I stayed with were wonderfully hospitable, and offered me an evening meal as soon as I settled in. I was given a very comfortable room looking out to sea.
Sunday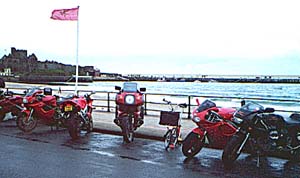 I woke up to overcast skies and drizzle on Sunday, but decided to proceed with my plan to cycle to Castletown to see a gathering of Italian bikes in the square. Relieved of the extra load of spare clothes, carrying bag etc, and nothing on the rear carrier, the bike fair whizzed along the coast road to Peel and stopped its involuntary folding in half. The weather was damp but not unpleasantly wet.
When I stopped for a cup of tea from the hut on Peel front, I was accosted by a small boy who was fascinated by the Brompton. After cross questioning me he told me how he and his father were keen cyclists and how expensive their bikes were. Each bike was over double the cost of a Brompton, he boasted. I resisted the temptation to mention my Moulton.

I now set off from Peel to Ballacraine, having decided to go to Castletown via the TT circuit so that I could view the antics of Mad Sunday. Arriving at Ballacraine crossroads everything seemed fairly sedate as the traffic lights, damp and the watchful eye of the police served to calm people down somewhat. From there I was off down the main road to Castletown.
This is the road I could have taken from the airport, but avoided. I soon realised how lucky I was not to have used it. It's about 10 miles from Ballacraine to Castletown and it's five miles up and then five miles down again. You know the sort of hill, each rise looks like it must be the last, and you're thinking, 'It must level out after this', and when you surmount the rise there is the road stretching away again into the distance, all up hill! Anyway, even with a 3-speed Sturmey-Archer I didn't find it too bad. There was time for contemplation and to admire the passing scene. At one point there was a particularly striking house painted the brightest yellow I've ever seen and a bit further up the road a separate garage painted the same yellow. A plaque over the house door made some reference to the trials and tribulations of doing up the property.
During all this pedalling it started to rain, but not too badly. I was somewhat relieved to reach the summit and the race down the five miles of the other side was bliss, if somewhat marred by the wind on cold sweat!
In the square at Castletown I was recognised amongst the Italian bikes by fellow Folding Society member Philippa Wheeler, who told me she would be riding the TT circuit in the parade the following day.
After inspecting the bikes in the square, a short ride brought me to the Southern 100 club house where there was a gathering of vintage bikes. By this time the rain was really coming down, so it was on with waterproofs for the rest of the day. At the club house I was approached by a BMW rider who was fascinated by the Brompton. He had passed me on the road and was interested to hear all about the bike. A folding demonstration had him totally convinced as to the benefits of cycling.
As the rain eased I set out again for Peel on a different route which took me high into the hills past a point called Round Table. The ride upwards was a long long ascent and a stop two thirds of the way up for a drink and a banana provided by the couple at the B&B, was a real lifesaver. After this I was soon at the top and swooping my way down towards Peel and a Sunday roast at an excellent café on the front.
Heading back towards Kirk Michael I was passed by a constant stream of motorcycles, which was odd as the road had been completely quiet on the way out. It subsequently turned out that there had been several accidents on the TT roads and all the traffic was being diverted.
Arriving back at the B&B I suddenly realised how tired I was as I had cycled over twice the distance of the previous day.
Monday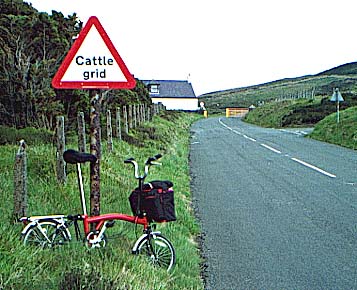 My plan for Monday was to go to Barregarrow for the first race (the 250s and the 400s) and then cycle up the mountain for the sidecars. Barregarrow is about 3 miles from Kirk Michael, anti-clockwise round the circuit. If you are on the inside of the circuit you can then cycle from Barregarrow up a lane that takes you right up to Brandywell, which is one of the highest points of the course at about 2000ft.
When I got up about 8.00am things didn't look too good. The mist was right down on the mountain and Radio TT was saying that there was even a chance that the races would be postponed until the Tuesday. Even though it wasn't raining, racing can't take place when there is fog on the mountain because it is too dangerous. Also the rescue helicopter is unable to get to anyone who may need it.
After sitting in the house reading after breakfast for what seemed an age, it was announced that the roads would close at 11.45am (they should have closed at 10.15am). I soon had sandwiches packed and set off round the circuit about 11.00am. All along the road people were already positioned in anticipation and I provided a welcome relief from the boredom of waiting for the start of racing. Consequently I was subjected to much good natured banter as I slogged my way mainly up hill to Barregarrow. At the start of one particularly long hill a group shouted, 'You'll never get up there without stopping'. 'They don't know me', I thought! The hill looked nothing compared with the flog I'd had to Castletown the day before. All the way up the group kept up a steady flow of amusing shouting and at the top I got a tremendous cheer and a round of applause.

Chaining the bike to a road sign, I positioned myself in the nearby field and the long wait commenced as racing was continually put back by the fog on the mountain refusing to budge. The waiting was relieved by interesting conversations with other spectators many of whom were fascinated by the prospect of 'doing' the TT on a Brompton. I was surprised how many of them had been keen cyclists themselves before being seduced by the motor bicycle! One chap told me how he had ridden the whole circuit on a bicycle many years ago and been cheered much of the way round. Tea at 30p a cup from the farm also helped the waiting.
Racing finally commenced at 3.15pm and from then on the weather cleared, giving me a superb ride up the mountain between the races.
After the first race I set off from Barregarrow up the lane to Brandywell. This was the first push of the holiday as the road is very steep to start with. After a couple of miles I was back in the saddle again and the late afternoon sun lifted my spirits as I rode up towards Snaefell. Part way up one of my new friends from Barregarrow passed on a Moto Guzzi shouting encouragement. Near to Brandywell I was confronted by a German on a BMW riding on the wrong side of the road. He swerved over to the left as soon as he saw me, obviously having forgotten what country he was in. As I approached the junction at Brandywell I was greeted by cheers and clapping from the people I had met previously.
Photograph: Not far from Snaefell on the way to Brandywell on Monday
A tea shack at the junction with the TT course provided me with a very welcome sandwich and a cup of tea. I then piled on every bit of spare clothing which had been removed for the climb. Standing watching racing for two hours or so at 2000ft isn't always the warmest activity, especially when soaked in sweat from a stiff cycle ride!

When racing had finished I waited with massed motorcyclists for the road to open. My plan was to cycle about a mile and a half back round the TT circuit to the Bungalow. From there a really interesting road drops down Sulby Glen. My plan was to swoop down this road through superb scenery to the Sulby Glen Hotel where I knew an excellent pint of real ale would be waiting.
The marshals came flying through on their brand new bikes supplied by Honda and then in the distance I could see the roads open car approaching. But what was this behind it? The whole road was full of vehicles in an enormous crocodile as far as the eye could see – mainly motorcycles. As they approached and came past our road junction the noise and behaviour were incredible, bikes four abreast all weaving and vying for position. Eventually, the whole road as far as one could see in both directions was full of speeding bikes all heading the same way. Going against the flow would have been impossible for anything. The police eventually opened our side road and held the flow up to let us out. No one was allowed against the flow, everybody had to head in the direction of Douglas, even if they wanted to go to Ramsey. One German BMW rider didn't understand and tried to turn towards Ramsey, he persisted against the firm instructions of a policeman and was eventually soundly shouted at and got the message.
My route to Sulby Glen was against the flow, so I asked a marshal how long this madness was likely to continue. She thought at least an hour and suggested that I push the Brompton across the moor parallel with the road. This wasn't too bad, as many people walk along the fence by the road to see the races. I set off in the evening sunshine and quite enjoyed the walk. The only problem was the folding back end of the Brompton when I came to gullies where streams crossed my path. On the other side of the fence bedlam continued as every rider worked out their fantasy of being a TT racer.
Arriving at the Bungalow I was eyed up by an elderly local who was fascinated by the bike. I asked him about the madness going on on the TT circuit, but he only wanted to discuss the Brompton. He had such a broad accent I could hardly understand him.
Having convinced yet another person of the benefits of folding bikes, I had a marvellous ride down Sulby Glen and was soon downing a pint of Bushey's at the hotel. Once again the Brompton attracted much attention, this time from three children of some of the race spectators. If only children's fascination with bicycles would always continue into adulthood.
The final part of my ride, along the TT course from Sulby Straight back to Kirk Michael, was the most frightening part of the day. Riders were flying past me at incredible speeds (there is no limit in many parts of the island). At least most of them were coming towards me, so I could see what they were doing.
Tuesday
As there was no racing on Tuesday I decide to have a break from the bike, so I did a circular tour of the island. This involved bus to Ramsey, electric tram to Douglas, disused railway walk to Ballacraine and then a fortuitous shared taxi back to Kirk Michael. Altogether a very pleasant interesting and varied day.
Wednesday – will the Brompton survive its second flight?
Wednesday was to be my last day and I was flying back from Ronaldsway about 5.30pm. The plan was to cycle from Kirk Michael to Ballig to watch the races and at the finish of the Junior TT, set off and cycle to the airport.
I got up about 7.45am to a damp morning with mist down on the mountain. The forecast wasn't too bad though. After breakfast my hosts presented me with a superb packed lunch and I set to packing everything up and loading it on the bike. Once again it was slightly difficult to arrange the rear load so that my heels didn't hit it whilst pedalling. Finally I said my goodbyes and thank-yous and set off. Erica, my host, even offered to come and pick me up and take me to the airport if I suffered a breakdown or a puncture.
I took the coast road towards Peel as I had done on Sunday, but this time it seemed a real effort, whereas on Sunday it seemed easy. I suppose it was a combination of the full load and the fact that the wind was not in my favour as it had been before. With every bit of road seeming up hill and the rain spitting I didn't feel too happy at this point. This was partly because I was worried that the racing would be put back and I would have to leave before the end to get my plane.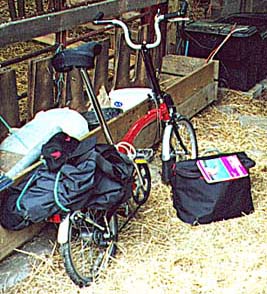 Anyway, I soon started to get into the rhythm of the ride as I left the Peel road and turned along a switchback route inland towards Ballig. Very soon I was at the farm next to the circuit where they kindly suggested that I put the bike in one of their barns. Amazing tea and cakes were on offer, the sun came out and the racing only started a quarter of an hour late.
After two sessions of racing – the 125s and the singles and then the Junior TT it was time for my last but one epic ride! Having experienced the lengthy hill on the road to Castletown on Sunday, I decided to return to the airport by the back roads on which I had come. This brought me to the second push of the holiday up the steep hill where I had followed the coal lorry on the way in. It was whilst pushing up this hill that I cured the bike's tendency to fold in half by using the in-situ elastics. With cloud thickening from the west I sailed on to the airport – a really enjoyable ride.
Inside the terminal building the bike was folded and carefully placed in its bags using spare clothing as packing. Once again, checking-in was no problem.
The flight back was uneventful, apart from us all being locked inside the terminal building at Birmingham with an official unable to let us out! After being led through interminable underground corridors by a woman with a swipe card for the doors, we finally emerged at Arrivals. Once again the bike was unscathed and having assembled it inside the terminal building I set off out of the airport.
The weather was much warmer in Birmingham and my heels no longer banged on the luggage on the rear rack – I must have become an expert on loading up! I was now faced with a long trek around the southern side of the city to meet my wife at her mother's house, from where she would take me home in the car.
I set out from the airport about 7.00pm and arrived at my destination just before 8.30pm. It was an excellent evening to meander through leafy suburbs and I congratulated myself on negotiating the city using only a 1:50000 OS map. The trip had been a fantastic success, better than I could have hoped for and spurred me on to consider future trips with this perfect mode of transport.

LETTERS
Len Rubin recently posted an update on progress on his Brompton-based 'Ultimate Folding Bicycle' on the Brompton Talk mailing list. The main news is:
"In the first production runs, we are producing ten steel and then ten Titanium rear triangles. These will accept our ultralight nine-speed rear wheels. Attention UK & Europe: We will then begin production of the titanium replacement rear triangles (two models) that accept Sturmey-Archer and Shimano internally-geared hubs!
One can currently order full bikes in either 27-speed (9 x 3) or 18-speed (9x 2) configurations. These consist of a Brompton frame (with numerous subtle modifications and custom braze-on fittings for front derailleur, Shimano V-brakes or Magura Hydrostops), cable stops and guides, etc.) mated to our custom rear triangle, and equipped with ultralight, purpose-built componentry of the finest calibre. For a glimpse, visit the (humble beginnings) web site, if you haven't already done so (www.ufbusa.com). Alternately, one can order rear triangles only, but without our upgraded componentry, it would only be a starting point for a future conversion.
Exact pricing for the newest bikes is still uncertain, (until production begins in the coming weeks, we won't know precisely how many hours the fixtured building process will save from start to finish--we can only estimate, based on our previous experience with entirely hand-built versions, and the knowledge gained from initial work with the early (partial) set of fixtures, which is a real stretch, as in production, the most recent tooling and fixtures will reduce the building process by several more hours!), and customers have been ordering the bikes with a variety of component options which greatly affects the total price, but each generation has been cheaper, and we are taking refundable deposits of as little as $1500 to reserve bikes in this historic first production run. We have pre-sold approximately 50% of the run already, so if you are seriously interested, please contact us by e-mail or phone now (650-737-0303)."
Mike Paley writes on the subject of tyres and gears:
I've recently had a Brompton tyre fitted. I'll not be having another. The traction difference between it and the Raleigh Record is too great in the wet on some of the surfaces around Brum. Perhaps the Schwalbe tyres are better for this. I value my safety over puncture resistance.
The debate on Presta v Schrader valves continues I see. What is it with people that they claim the Schrader is not suitable for higher pressures ? They're certainly used at 110 psi and I bet there's some working with 150 psi.
However, I will add my own experiences. I've found that new tubes seem to deflate slowly for a few months. I recently got a new tube and did a little experiment. At a very low pressure (tube not in tyre) I found the valve leaking. I noticed that the valve was also covered in chalk dust - the manufacturers put in to stop the insides of the tubes sticking together. I flushed the valve out with an "injection" from a half filled, with water, pump. The tyres stop up longer now !
Car tyre Schrader valves look like new brass. The bike tyre ones don't - cos they're covered in chalk dust. Maybe this is the source of the failing Schrader scenario. Perhaps those with cars can swap the valve with one from the car, then see how it performs.
You mention the gearing on the standard Brompton being too wide. You say that the "reduced gearing" suits you. Well, I find the normal gearing is certainly low enough, but the top end isn't really high enough for me, one more gear of a similar change would probably be all that's needed."

Dave Lyons (DRMLyons@aol.com) is thinking of adding a Strida to his stable, and writes:
"Ever since the Mk2 Strida was launched I have been thinking of buying one for my short commute to work and for the pose value. I only know of one person who uses one (in this case Mk1) regularly and haven't seen her for at least a year and don't know her name (lives near Euston). I would be interested to hear from anyone who has bought one and actually uses it! I would also like to hear from anyone who is interested in teaming up to buy 2 at the same time for the 10% discount and possibly collecting them from the factory to save on delivery (get to see round the factory?)."
I've often wanted the chance to give a Strida a proper test, but I think I would find it rather limiting for my purposes, or I might be tempted by this suggestion myself!
Most of our members are in the UK, North America and mainland Europe, but there are a few in other places, including Jim Ward in Shanghai, who writes:
"Just wanted to add my voice and say hello as a new (possibly only one ?) FSN subscriber living in Shanghai China ! I am an American but have lived and
worked across Asia (5 countries thus far) for some 27 years now. I " rediscovered " the joy of biking back in 1990 while living in MANILA. I currently own two
bikes.. a Malvern Stat (Australian brand) mountain bike and a Brompton. I bought my Brompton in 1996 here in Shanghai in a Japanese owned department store. For any of you who have lived or traveled in China you know as a biker on the road you have ample co-riders ... about 1.3 billion currently ... but as a foreigner on a bike you are still the center of attention...I can't tell you how true that is when I am on my Brompton; I have literally had a crowd of 80 people stand and watch me fold or unfold while taking a village ride!
I would like to use the FSN to handle two questions :
Are there any other FSN subscribers out here in China? In a city (Shanghai) of 18 million souls I have never seen another Brompton on the road.
I would like to extend an open invitation to any Brompton owners who might travel to Shanghai on business or pleasure to bring along your Brompton. I have been here 5 years ... I speak fair Chinese ... would love to explore and introduce you to one of the fastest growing cities in the world.
Current details : jward.cnshg@crownworldwide.com, Tel: 86 21 6415-4052 (The 86 is for China, the 21 is for Shanghai, the 8 digits is the number).
I would be happy to send you some photos of reaction to the Brompton in far away China."
We look forward to receiving some pictures of the Brompton in China from Jim in the future.
Alain Derly (ceandy@magic.fr) emailed us from France:
I play cycle polo in France since 1984. I've seen you had a demo of cycle polo last year. Could you sent me some adresses (URL, e-mail or postal addresses) of bike polo team, please?. My team has its own website: www.chez.com/esgl
I don't know anything about this subject, and I can't recall seeing any demonstrations either. If anyone can help Alain, perhaps they could contact him direct.
SALES AND WANTS
If you have a folder, separable, or accessories to dispose of, or you want to buy, you can use the Sales and Wants page (http://www.foldsoc.co.uk/sandw.html). If you want to have something put on the list, just email us the details (mike@foldsoc.co.uk) - there is no charge, but please let us know when it is sold so that we can take it off the list. As I strongly suspect that I am not being told when items are sold, I intend to introduce some changes to the Sales and Wants section. In future all entries will be dated, and will be deleted after 3 months unless a request is received to retain the entry on the list. However, please do still tell us as soon as anything is sold, so that we can remove it and avoid creating annoyance to those using the list. Take all normal precautions when buying and selling goods - the Folding Society and its officers are not responsible for the descriptions and products and services contained in the Sales & Wants list.
EVENTS
The events listed below are a combination of those organised by Folding Society members or of potential interest to members.
Remember that cycling can be dangerous (so is travelling by car, bus, train, air or water, breathing and living!); anyone participating in any way in any event does so at their own risk.
July 28 - 31 2000, Spokesfest 2000, Leicester. Spokesfest will have a large display area in The Shires shopping centre from Saturday 22nd July to Sunday July 30th. and has the use of Humberstone Gate event arena for both the Saturday and Sunday of Spokesfest (29th and 30th July). The Spokefest web site is at http://www.spokefest.freeserve.co.uk .
CycleFest 2000 - Lancaster, 2nd – 8th August 2000
The bi-annual cycling feast will soon be coming around again, and it'll all be up and running from Wednesday 2nd to Tuesday 8th August at St Martins College, Lancaster, UK. Quite a bit has been planned already of course, and as usual there's a theme for the sessions - this year it's "Transmissions", and some great speakers are already booked for this (Tony Hadland, Florian Schlumfp, Izzi Ureili et al) and some interesting new activities planned (50m sprints, midnight torchlight parade and BBQ etc). However, further ideas are always welcome. There will be announcements in Folding Society News, The Moultoneer and other publications in due course. The Cyclefest web pages are now available at the new location http://www.cyclefest.ucsm.ac.uk. We hope there will be a major folder/separable presence at Cyclefest 2000 - the very provisional program already includes one event specifically for folders. We also understand that Alex Moulton will have a stand there this year. If you have any queries concerning CycleFest, contact: John Bradshaw, Tel/Fax: 01524 384474 (day) or Tel: 01524 66658 (eve)
email: j.bradshaw@ucsm.ac.uk
Saturday 12th August - Origami Ride
The August Origami Ride will be back at its usual location, starting from the Tearooms at Meriden: arrive from 10.30 for an 11.00 start. For more information, contact John Pinkerton on 0121 350 0685, email pinkertn@mwfree.net, or look at his web site at http://www.users.mwfree.net/~pinkertn/origami.html. Note that there will be NO ORIGAMI RIDE IN SEPTEMBER, as the date clashes with the Moulton Weekend at Bradford on Avon.
9 - 10 September - Moulton Bicycle Club Bradford-on-Avon Weekend
The annual Moulton Bicycle Club weekend is scheduled for 9-10th September this year, and preliminary information suggests that it should be better than ever this year.
---
A to B Magazine
A to B Magazine remains the ultimate source of authoritative information on folding cycles. In the unlikely event that you aren't aware of A to B and/or don't read this magazine, then we would urge you to take out a subscription without delay. A to B can be found on the web pages at http://www.a2bmagazine.demon.co.uk, or you can email them at post@a2bmagazine.demon.co.uk, or they can be reached by telephone or fax on 01963 351649, address 19 West Park, Castle Cary, Somerset BA7 7DB, England. A subscription to A to B is only £10 per year in the UK, or $24, and the magazine is published ever two months and is packed with news, reviews and other interesting information on effective integrated transport systems in general, and folding cycles in particular.
---
Note: The views expressed by contributors and correspondents are those of the writers, and are not necessarily those of The Folding Society or its organisers.
---
Back Numbers
Back numbers of all issues of Folding Society News are available on our web site - go to http://www.foldsoc.co.uk/fsn/fsn.html for the full list.
---
Contributing material for FSN
We would very much welcome articles, photographs or any other material for inclusion in future issues of FSN, or on our web pages. Please send any material to The Folding Society at the address given below. However, if you are planning to send pictures by email, please send them at an appropriate resolution to avoid high telephone bills - a JPEG picture of 50K or less is ample for use in FSN or on the web pages.
---
The Folding Society
email: mike@foldsoc.co.uk
Web: http://www.foldsoc.co.uk
If you have any news or other information of interest to other members of the Folding Society, please email us at the above address.
If for some reason you wish to be removed from this mailing list, please send a message to this effect to the same email address.
All information given here is provided in good faith, but no responsibility can be taken for errors or for any consequences arising from the publication of this information.
Return to FSN index | Folding Society home page
---
Copyright (C)2000 Ferrets Anonymous
Last updated: 15 July 2000
URL: http://www.foldsoc.co.uk/fsn/fsn056.html