The Folding Society
SP News
---
13 August 1999
(Photographs and detail corrections added 6 September 1999)
7-speed improvements
The latest modification which Steve has tried on his Brompton-based SP is the fitting of a Shimano Dura Ace bottom bracket bearing and chainset. Steve reports that he is amazed by the difference that this modification makes - the whole bike feels much stiffer, and rider effort seems to be much more efficiently transmitted to the wheels. Steve previously rated his 7-speed as equal to, but not better than, his own highly modified Birdy Red (with 20 inch wheels), but with this chainset modification the SP is now clearly better than the modified Birdy Red - so he is selling the Birdy. Those who attended the August Mud Dock meeting and had a chance to try the new single speed SP with the same bottom bracket and chainset were equally struck by the substantial improvement in performance. The Ultegra bottom bracket and chainset are expensive pieces of equipment, but worth considering if you want to get the best out of your Brompton or SP. In order to fit them on the Brompton Steve had to make a few modifications, including removing the inner ring mounting to avoid it fouling the rear triangle, and on his own bike he has fitted a grease nipple to allow lubrication without having to remove the bearing.
A new single-speed lightweight version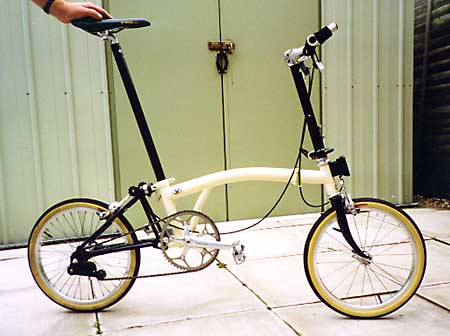 Steve has been working on an ultra light single speed version of the bike for a few months now, and it has now been shown in public. The weight is about 21.5 pounds, so it really is light, and this has still been achieved with the standard Brompton frame, and without recourse to the use of exotic and very expensive materials for the major frame structure. Apart from the use of a single speed gear, other significant differences from a standard Brompton and the 7-speed SP, all done to keep the weight down, are the use of RX100 dual pivot caliper brakes, a carbon fibre stem, and no mudguards. To allow the RX100 brakes to be used the front forks have been shortened slightly and the cables have been rerouted. The bike also features the Shimano chainset, referred to in the previous section. The bike was on display at the August Mud Dock meeting, and those who tested the bike were particularly struck by the light weight and the extreme stiffness of the frame.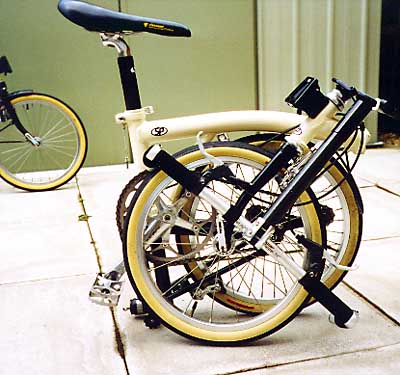 Above: The single speed SP unfolded, and left, folded. As you can see a carbon fibre riser is used in place of the sprung seat tube used in teh 7-speed, and all non-essential items such as mudguards and carrier have been omitted to keep the weight down.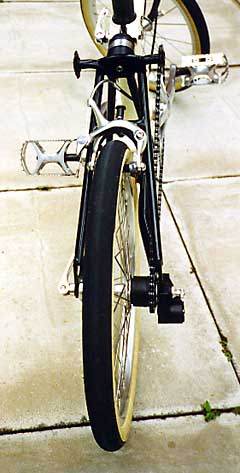 The single speed SP viewed from the rear, showing the rear hub arrangement - a multi-speed hub fitted with a single cog.

---
Folding Society home page | SP page
---
Copyright (C)1999 Ferrets Anonymous
Last updated: 6 September 1999
URL: http://www.whooper.demon.co.uk/foldsoc/spnews.html