The Folding Society
The SP - a new Brompton-based folder
---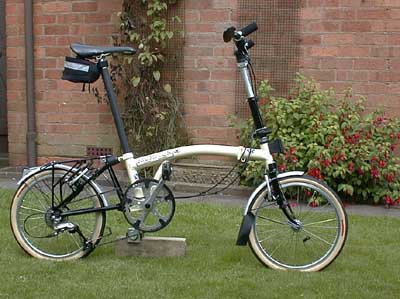 This page, although out of date, has been kept as a placemarker for Steve Parry's contact details. Steve continues to make imaginative conversions of Bromptons, including a tandem, a trike, and a kick scooter. Some are for sale, and some are for pondering !
The SP has been developed by Steve Parry from the Brompton. The frame, forks etc are standard Brompton items supplied by Brompton, but extensive modifications are made in other respects. SPs are built to suit the owner, so specifications vary. The fully converted version of the bike (Steve will build versions which contain more standard items for those who don't want, or can't afford, the full conversion) includes a 7-speed derailleur, V-brakes, carbon fibre seat post and suspension handlebar system.
Full specifications of current SP1, SP2 and SP12 models

Although there are relatively few SPs in use at present, we have included a special interest section on this bike both because the owners tend to be particularly enthusiastic, and because being Brompton based the modifications are likely to be of great interest to Brompton owners in general.
If you are interested in an SP, Steve Parry can be contacted on 01934 516158
---
---
---
Copyright (C)2000 Ferrets Anonymous
Last updated: 1 April 2000
URL: http://www.whooper.demon.co.uk/foldsoc/sp.html