The Folding Society
---
The Dahon Speed-Pro (2002 version) after 9 months
By Geoff Dabbs
If you've read my earlier report you'll know I bought the 2002 demonstrator from World Wheels in March 2003. I had promised Mike a further report after 6 months ownership, but was too busy riding (honest), so here is an end of year report instead.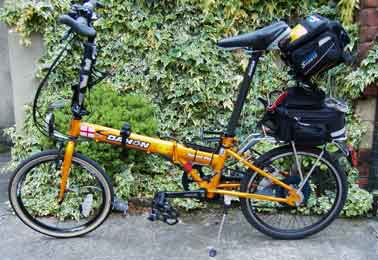 This photograph shows Geoff's Speed-Pro in July 2005
Dirty Hands
I still love the bike. However one or two things have come up.
I fitted a DMR chain guide as I kept getting the chain between chainring and chainguard as I changed to 8th gear. Since fitting the DMR, changing has been perfect.
The only further modifications have been to add a KLICKfix front bag carrier to the bars, very slightly slack so it rotates when I fold the bike, and a rear carrier. I had started with the idea of the lighter the better, but soon got fed up with stuffing my pockets and strapping waterproofs to the frame. The bike routinely has a rear trunk and a seat wedge on it. I sometimes add one of two different sized front bags, depending on what I need to carry.
I took the bike to The CTC York rally. It generated more interest than our Boardwalks had the year before. Fortunately I had my Boardwalk in the car (we were returning from a fortnight in Norfolk and stopped off in York) as, on the Saturday night, I found the Steering Bearings slack. I rode the Boardwalk on Sunday and when I got home found that the vibration in the car combined with the Speed Pro sitting on its Cane Creek bar end, had moved the expander in the head tube allowing the adjuster to unwind. Care as to how it's stowed in a vehicle will ensure no repeat.
I had added Drop Stop guards to front and rear wheels and while they stop a good deal of water the rear Trunk was getting very wet underneath so I have permanently stretched a piece of old inner tube across the central third of the carrier. This has been a great help. The original pair of Drop Stops sheared at the same point of the mounting at about 250 and 350 miles. The Dutch supplier replaced both, promptly free of charge. These are slightly different in support shape and have done 500 miles, so far so good.
The biggest problem started after about 250 miles when a rear spoke broke. My local shop replaced it with a slightly heavier gauge and I thought no more. Then 2 more went in quick order! Mark Bickerton of World Wheels came to the rescue sending me another rim and replacement spokes and recommending a fairly local wheel builder. World Wheels reimbursed me for the build and 500 miles later I have had no more trouble. Good one Mark!
Recently the SRAM mech' was tucking up and I could detect dragging as I pedalled. A quick strip, clean and relube of the lower idler, which was stiff, has solved the problem.
Silly Grin
That's what I've got most of the time I'm riding it. The bike goes well, brakes well and handles well, you do need to get the tyre pressures right for the latter. I find 85lbs/6bar rear and 65lbs/4.4bar front good for me, but I'm 90+kg and when loaded the bike must be carrying 100kg. The gear ranges are excellent for me, and will get me up anything around here. I am emphatically not a climber but it spins me up the steepest bank at 4 miles an hour or so. Speed down hill is more dependent on prudence or perhaps cowardice.
Everywhere I go I am asked about the bike, one veteran caught by me on a long incline and, after several questions, commented that the little wheels were a big help to me on the hills as I had a lower effective gear. His reaction to his failed determined effort to leave me on the down slope was not recorded as I got into the higher range and swooped way from him.
Children react with 'Cool bike Mister' or laugh derisively, although the 3 teenage BMX riders laughter changed to a nervous titter as I pulled out from a junction with them and rapidly pulled away leaving them in the distance.
The bike is easily found when parked it usually has one or two people looking at it thoughtfully as I return.
Would I buy it again? YES! Do I recommend this model? YES!! Would I recommend Dahon bikes in general? Yes!!!
---
For more information on Dahons, see http://www.dahon.co.uk or http://www.dahon.com.
---
Folding Society home page | Dahon SIG section | Test reports page
---
Copyright (C)2004 Geoff Dabbs
Last updated: 5 July 2005