THE FOLDING SOCIETY
---
FOLDING SOCIETY NEWS
Issue 81 - 19 August 2001
EDITORIAL
The final issue
This is the last copy of FSN which I shall be producing. The plan at present is to keep the web site open at least until the end of September, so that readers can access any material on the site which they may want to download.
I would like to take the opportunity to thank you for your support in the past.
To keep in touch with the folder scene in the future, we strongly recommend that you subscribe to A to B magazine. In the unlikely event that you aren't aware of A to B and/or don't read this magazine, then we would urge you to take out a subscription without delay. A to B can be found on the web pages at http://www.atob.org.uk, or you can email them at atob@atob.org.uk, or they can be reached by telephone or fax on 01963 351649, address 19 West Park, Castle Cary, Somerset BA7 7DB, England. A subscription to A to B is only £10 per year in the UK, or $24, and the magazine is published ever two months and is packed with news, reviews and other interesting information on effective integrated transport systems in general, and folding cycles in particular.
On my bike
The sunny weather held here until Sunday 5th, when I took the unusual step (apologies to fanatical Bromptoneers!) of polishing my Brompton T5, but Monday turned out to be really wet and miserable. I tried my Rohan Dry Bags again in these wet conditions (I had only worn them once before, when travelling to Scotland a couple of months ago, when it stopped raining as soon as I put them on, and rained as soon as I changed out of them!). They certainly seemed to keep me dry during the short commute to work, but as on the previous occasion I found them unbearably hot. They may be good for the cold weather, but they are certainly uncomfortable in warmer conditions - I'd almost sooner wear normal 'Bags' and get soaked, or just wear shorts. Talking of cleaning the Brompton, the original mudguards (an earlier pattern) became most unsightly due to water getting onto the silvered part and causing corrosion. When I converted from T to L specification a couple of years ago, I replaced the rear mudguard with a new one, but this seems to have had even less resistance to unsightly corrosion than the original one, and on top of this the new stays and other metal parts have also corroded very badly, so that it looks a real mess. On the SP I painted along the edges of the mudguards as soon as I had it to try to prevent this happening, but I see the first signs of deterioration on this too. I've got another rear mudguard to fit at some stage to the T5, although I'm missing a few metal fixings at present,. I don't have anything like as much trouble with any of the other bikes I own, and this seems one of the few weak areas in the Brompton. Although it doesn't affect the performance, it is very unsightly, and makes the machine look much more worn and neglected than is actually the case.
I still don't seem to be able to motivate myself to do as much cycling as usual. My ride on Sunday 5th was a mere 41Km - a very enjoyable ride out to Claverley on the AM Jubilee L, but not very taxing. On such a short ride, the Jubilee L was hardly tested, but it certainly made the ride feel effortless, and of course very comfortable. Reverting to the Brompton T5 the next day, with freshly inflated tyres, it felt very harsh, especially along the dreadful roads between Tile Hill and the university.
I'll be going back to Inversnaid for some days in September, so I'm in the process of deciding which bike to take. As I shall have a bigger load than usual, including a notebook computer, I shall probably not cycle the whole way from Glasgow to Inversnaid this time. Although that makes the option of using a true folder more attractive, at present I think it is most likely that I shall use the New Series or Jubilee L Moulton; I am happy to report that I have already got the train tickets, so the problems with these which resulted in me using the Airnimal last time should not be a factor.
'Everything must go?'
Response to the announcement that I was looking to dispose of much of my stable of folders has been minimal. I've decided to keep all the Moultons, the Bromptons, the Bike Friday NWT (perhaps) and the Airnimal. but the rest (apart, from the Bike Friday Pocket Rocket, which attracted several responses) are now being dismantled for disposal via the refuse collectors.
Format
If you receive this issue of FSN in a plain text form, please remember that a formatted version is available on our web pages at http://www.foldsoc.co.uk/fsn/fsn081.html, probably until the end of September.
FRIDAY TO TUESDAY - LONG WEEKENDS ON A TANDEM
By Keith Hales
I have always been a Moulton rider, at least since I purchased my first one for 25 guineas in 1966 from a cycle shop in Old Lode Lane, Solihull, after starting my first job as a Research Engineer at The Rover Company. I still have that bike, but my next Moulton was an AM7 in 1986, followed by an ATB (precursor of the Pashley APB) in 1989. I now own an NS, which has increased both my cycling pleasure and mileage considerably in the three years I have owned it.
My wife Mihoko never learned to ride a bike in her youth in Japan. I did try to teach her a few years ago, but we never progressed beyond the 'straight line without stopping' stage, which is a bit limiting. Instead we enjoy walking together, and had a great Ramblers' holiday in the Atlas Mountains of Morocco a couple of years ago. But with the Foot & Mouth crisis this year, that pleasure was denied us. I had considered buying a tandem, but thought them too unwieldy, especially from the transport (by car) point of view. Then on a Moulton Bicycle Club ride early this year, Graham McDermott (a name not unfamiliar to readers of this journal) mentioned that he had a Bike Friday Tandem Twos'day he no longer had a use for. This triggered a lot of thoughts in my mind, and on Good Friday we went to see it, and returned with a heap of ironmongery in the back of the car after a swift demonstration of folding the bike.
I managed to unfold it, and reversed the front and rear brake levers which were in their original US positions, and fitted a mirror, as on all my bikes. Fortunately Easter Sunday is the one day of the year that Sainsburys (and all large shops) are closed, so we were able to try it out in their car park. Riding it solo was no problem, though I had never piloted a tandem before. A couple in my local CTC Section who have ridden tandems for thirty years lent me a Tandem Club guide, which gave some pointers, and gradually we managed to start, turn. and stop. We later took it out to Stokenchurch in the Chilterns, and rode it on the road, luckily finding a closed off section. After that, we went out near Tring and rode about ten miles around Cheddington, including some hills.
The next outing was to Grafham water in Bedfordshire, where there is an eight mile track round the reservoir, popular with both walkers and cyclists of all ages and (dis)abilities. We survived that (so did the others), so the next bold step, or pedal, was with the local Section on a ride out through Burnham Beeches to Dorney, and we ended up doing over 40 miles.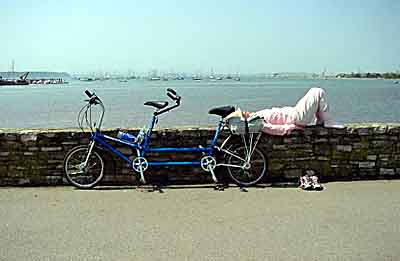 In May we attended the Folders' ride in Poole, ably organised by Derek Baker. The photo is of Mihoko resting while we waited for the Folders to arrive from Poole station. We very much enjoyed the ride round the harbour in splendid weather, finishing up with tea in Derek's garden.

I had already booked myself on a Section holiday in June, a week in Ripon, so I managed to add Mihoko to the list, which was now 38 strong! I took my NS as well as the tandem, so that I could still ride if Mihoko became fatigued. Each day there were at least two rides, the harder, longer ones into the dales, the easier to the east on the Plain of York. I never did get the chance to take the NS into the dales, so well did Mihoko do on the tandem! We typically rode well over 40 miles a day until the end of the week, when the weather broke, and a sub-group of us took the opportunity to visit York by car.
The one sore point, literally, was Mihoko's saddle, which she didn't get on with too well. So on our return I bought a new, wider one which has proved very comfortable.
We now ride regularly with the local Section. The tandem couple I mentioned before tried ours, and promptly ordered a new one themselves, which they have just taken delivery of. The pilot wasn't as keen as his stoker initially, but having ridden it a few times, is now convinced. He finds it easier to balance at low speeds, because the steering is much 'quicker', and of course much easier to get on and off due to the low longitudinal tubes (they are both over 70!). They're taking it on a CTC holiday to Bali in November.
Funny thing is, now when I get back on the NS, I swerve all over the place for the first few hundred yards! But I've also found I can now ride it further and faster, and climb previously unclimbable hills; the tandem is obviously good training! I don't miss the suspension on the tandem as much as I expected to, because the longer wheelbase gives a better, pitch-free ride anyway; only sharp bumps make us wince. The tandem is swift on the level and downhill, but a real drag uphill, but the 3 (hub) x 7 gearing gives a good, wide range of ratios.
All in all, the Twos'day has been an outstanding success, and I would recommend it to anyone, or couple rather. Now if only I could persuade Dr Moulton, or Pashley, to produce a tandem NS……
A BIRDY ON THE NEW YORK SUBWAY
By Max Rahder
This article documents my experience using my Birdy on the New York City subway for one week in July, 2001.
I bought my Birdy from a bike shop in Madison, Wisconsin about six months ago. I work as a trainer and consultant, so ostensibly I bought the bike for those out of town clients where I'd like to bike directly from the hotel, or where I'd combine public transportation with biking. I say "ostensibly" because I'm afraid I really bought it just because it's cool.
A few weeks ago I got a call to do a week of training for a client in Brooklyn, New York. At last! This would be the acid test of the Birdy's practicality, and might justify to my guilty conscience the expense of buying the bike.
I decided to turn the assignment into a little bit of a vacation for my family. So my wife, our two boys, my wife's mother, and I drove to New York and checked into a hotel on the upper West side. While I was at the client each day they would visit New York.
Our hotel was on Broadway between 74th and 75th. I decided to take the number 3 subway between the 72nd Street subway station in Manhattan and the Kingston stop in Brooklyn. I also took the number 4 north ("uptown") one day. The marks on the map show the locations of the stations I used: the 72nd and Kingston stations for the number 3 line, and the 86th street station and Utica for the 4.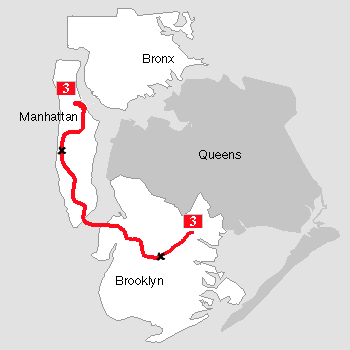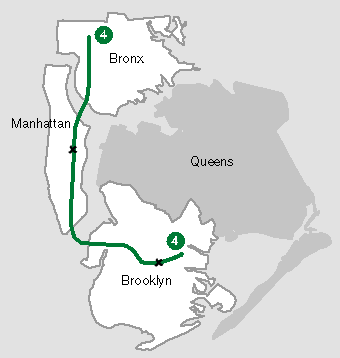 Monday a.m.
Before going to work my wife and I went to a sidewalk coffee shop near the hotel. I leaned the bike on the restaurant's railing next to where we sat. After a few minutes a Rastafarian delivery service guy was going by. He saw the bike, did a double take, and stopped. He said, "Hey, what kind of bike is that?!" We chatted about it a little. I had been wavering in my opinion about the folding "gee whiz" nature of the bike: was it cool, or was I making a spectacle of myself? This guy's reaction made me decide the bike is, in fact, cool.
I biked to the station, folded the bike and went in. I had gotten an early start, so the subway car was not too crowded. I went to end of the car so I could lean it against the door leading to the next car. This was a fairly good spot, although I had to shift the bike a couple of times as people moved from car to car.
In Brooklyn the client neighborhood was a little scary, and my map was inaccurate, so I took a wrong turn and conspicuously and nervously biked around a little trying to figure out where to go. I finally got to the client - they were surprised that I came by bike. The person who let me in said, "Most people don't ride bikes in this neighborhood."
Monday p.m.
I finished at the client at 5:00 pm and biked to the station. It was a little less than a mile from the client to the Kingston station. Trains going from Brooklyn to Manhattan are empty in the late afternoon, so I had the subway car to myself. That gave me the opportunity to check out various spots to see where the bike fit best. I discovered that when folded the bike fits acceptably well under the seat, with about 10 inches protruding out the front.
Even though the car started out empty, by the time I got to 72nd Street the car was packed. When I had to exit it was hard to extract my bike from under the seat then shove my way with it out of the car. I went through this every day except for the last day, when I took the less crowded number 4 subway.
Tuesday a.m.
I got a later start - 7:45 - and the car was packed. Getting on the train was a matter holding the folded bike on-end and backing in. I discovered I still didn't fit too well because the door closed on the seat of the bike. I changed positions as the door opened and re-closed. This time the door closed on the handlebar. The third time I was able to squeeze in enough for the doors to close.
When I got to the client the president of company noticed the bike folded next to the door. He was interested, and during the week he borrowed it twice when running errands. I'm not sure how well the training went, but I know they'll remember me for the bike!
Tuesday p.m.
Because of my experimentation the previous day I was able to get the bike stowed pretty well. When I exited at 72nd Street and unfolded the bike a guy quickly walked over to me and said, "Where did you get that bike! I'm really into bikes, and I like this bike!" Etc. Every day something like this happened. I didn't expect to get this much of a reaction from the jaded New York crowd.
Wednesday a.m.
At the 72nd Street station I leaned the bike against the outside of a news kiosk and bought a paper. I got nervous because as I walked over to the vendor I noticed that a guy in his late teens had walked over to the bike and seemed unusually interested in the magazines immediately above where the bike was parked. I wondered "Is he really interested in this month's issue of Bulletin of the Atomic Scientists or is he thinking of stealing my bike?" I hurried back and extracted the bike from in front of the kid and decided to stay a little closer to the bike in the future.
This time I went out of my way to take the rear car so I was able to put the bike flush against the door without having to worry about people moving between cars. The two end doors are probably the best spot on the train.
Friday a.m.
I left extra early, which gave me a chance to bike around the client's neighborhood a little. Despite my initial impression, the neighborhood had some residential sections that seemed nice. I guess most places seem a little unfamiliar and scary until one has had a chance to get used to them. I have a friend in New York -- who often commutes on the subway with his Montague -- who used to work on the fringe of Harlem. When his friends found out he was getting a job in Brooklyn they fretted over his safety. When he started his new job, his associates in Brooklyn were amazed that he had survived in Harlem.
Friday p.m.
On the way to the subway an eight year old yelled for me to stop. "Did you make that bike?" he asked. "Can you do trick riding with it?" In my experience the people most impressed with the bike are eight-year-old boys.
This day I took the number 4 express, which was very quick. The number 4 goes up Manhattan's east side, so I got out at 86th and cut through Central Park. The ride through the park was great, and despite the longer ride I think this route from Brooklyn to the hotel was faster than taking the number 3 train.
On this trip I had several people ask me about the bike on the way home -- a guy outside the station asked about it, a transit employee liked it, and an elderly gentleman outside the hotel asked about it. I kind of like talking about the bike, but I wonder if I'd get sick of it if I did this commute every day.
Conclusion
The Birdy was a great success -- it really helped with my commute. I avoided having to rent a car and was able to quickly get to and from the subway station. The Birdy struck me as a little bulky, especially on crowded subway cars. Throughout the week I wondered if the Brompton's smaller folded size would have made things easier. At the end of the week I compared notes with my friend with the Montague and it seems as though the Birdy was certainly much more convenient than what he has to go through.
The NYC Subway does officially allow bikes on their trains. See http://www.nyc.gov/html/dcp/html/acmatran.htmlfor policies. Keep in mind that the cars can be very crowded, so during rush hours I would only try it with a very compact folder.
I recommend the Birdy for getting around New York. Traffic is dense and there are a lot of traffic lights, so traveling by car is slow and frustrating. On the Birdy I out-paced cars, and it was easy to take time-saving short cuts such as getting on sidewalks, going through parks, etc. For longer trips, one just folds it up and gets on the subway.
TOURING ON A FOLDER
By Jim Foreman
I bought a folding bicycle with two thoughts in mind, one to avoid the airline charges and the other to use it for a credit card tour in England. I reasoned that a folding bike would be a lot less hassle than a full size one. Taking it in a carrying bag would eliminate the need for a box as well as finding some place to store the box for the return flight. After a few local rides and doing some upgrades, the next thing was to give it a test run carrying a load.
I put my sleeping bag in one front pannier, the tent fabric and enough food and cooking equipment for dinner in the other. The tent poles and Thera-A-Rest were rolled up in the ground sheet and strapped on top of the rear carrier. I rode it a few blocks around the neighborhood and found it to be stable and handled the added weight very well. Now all I needed was a place to go.
There's a fair size reservoir known as Lake Draper about a ten mile ride from my house. It's a popular cycling area with miles of two track security roads which make great for off-road bike trails and the 15 mile perimeter road with limited traffic is an ideal road route. It's sort of a narrow body of water about eight miles long which was formed by building a dam across a stream. I suppose the widest spot near the dam is no more than half a mile.
There are several day use picnic spots and a designated caravan camping area but the only thing in the way of tent camping facilities are rough parking spots for caravans and a path to a porta potty. There is little shade and no water in the camping area. The lake closes at 11:00PM when all boats, recreational and day users are supposed to leave. There's a police and security patrol which will issue tickets to anyone found outside the camping area after closing time.
I couldn't see paying ten bucks to pitch a tent in the camping area when there are so many much nicer places around the lake so I headed out to find a hidden spot. I rode across the dam to the opposite side from the marina and lake offices. A number of trails lead from the perimeter road to secluded points along the shore where people like to haul up their ski boats and those noisy jet powered death traps otherwise known as personal watercraft. I followed one of these trails down to the shore and then pushed the bike through the trees far enough to be hidden from anyone who might wander down the trail. I found a small jut of land just large enough to pitch the tent and set up camp. I was totally hidden except from across the lake.
I prepared one of my favorite camping dinners; chunky beef soup and a small can of green peas over some cous cous. Takes little time, easy to prepare and only one pot. I had dinner, washed the pan and spoon and read a book while enjoying the sunset across the lake. I listened to the radio for a while and drifted off to a good night's sleep.
The call of nature along with the early sunrise woke me long before the restaurant would open at the marina for breakfast so I brought some water to a boil to make coffee. I was leaning against a tree, enjoying my coffee and watching a hawk through binoculars as it scouted the shoreline a quarter mile away across the lake for something that might have drifted in during the night.
A black and white Ford Bronco with police lights and "LAKE PATROL" on the door pulled away from the marina. A bit later it came into view through the trees as it drove to the shore on one of the access trails on the opposite side of the lake. The hawk veered away when it spotted the car then went back to its search for breakfast. The slow-moving police vehicle disappeared into the trees only to emerge a hundred yards further along the shore. It stopped at the edge of the water and a lady wearing a police uniform stepped out. She shaded her eyes and looked across the lake in my direction. Then she reached into the vehicle and brought out a pair of binoculars and trained them directly on me. I sat perfectly still because any movement would have attracted her attention to me.
She got back in the police car, backed around and disappeared rapidly into the trees; it was obvious that she had spotted me and was on the way. My folder has a chrome plated frame with clearcoat and has almost a mirror finish. Even though my tent blends in with the vegetation, I realized that she had spotted my bike leaning against a tree. That taught me that one should lay their bike down when wild camping because it's so easy to spot.
Even though it was only a quarter mile across the lake at that point, it was at least six or seven miles by road around to where I was. I dropped the tent, stuffed it into one pannier and the sleeping bag into the other. It took me no more than three minutes flat to break camp and be out of there. Since she appeared to be heading toward the dam, I turned the opposite direction when I reached the pavement so I wouldn't meet her. Perhaps half an hour later I arrived at the marina just as the restaurant was opening. I was enjoying breakfast when the lady officer pulled into the parking lot. She glanced at my bike leaning against the windows as she came in, then gave me one of those withering "you got away with it this time" looks as she went to the counter for a cup of coffee and to visit with the guy who runs the place.
I'm convinced the little bike will make a great mount for light touring and look forward to when I can put it to actual use. You can see a pix of my folder with the modifications for touring on my web page at http://www.geocities.com/jimforetales/ . Click on "Is There A Folder In Your Future".
LITTLE WHEELS GOOD - BIG WHEELS NOT SO GOOD
By Stuart Boase
As a 'big wheel' cyclist I was intrigued when a colleague invited me to be a guest at the Cheltenham Origami ride he had planned. At the assembly point outside the station there was no mistaking the unlikely bunch of friends all with one common eccentricity, a folder! In fact this wasn't strictly true as two riders were sporting weird looking recumbent machines. The strange configuration of these bikes meant that the chain had to pass through a plastic pipe to prevent it making contact with the rider's leg!
I introduced myself to some members of the group and, after I explained what an interloper was doing at their event, I was made very welcome. The way in which everyone scrutinised each other's machines minutely reminded me of the way dogs behave when they first meet, peering and sniffing around the machine's nether regions. There then followed an almost incomprehensible discussion on the relative merits of Super Stubbies on the T5 and whether the Shimano XT with an 11-28 sprocket set was all it's cracked up to be. As we set off someone warned darkly that I should 'be sure not to overtake anyone'.
All I knew was that the planned route was a circuit of about 16 miles taking in the highest point of the Cotswolds, Cleeve Hill, at 1,040 feet. Although I've lived in Cheltenham for 20 years I found myself on cycleways and quiet byways that I never knew existed. The weather was bright but cool, perfect for cycling. Ten minuets into the ride one of our number had a puncture; he said he'd fix it and catch us up. Despite going slowly and pausing frequently we never saw him again!
Before the assault on the summit we paused at the Apple Tree where we stoked up with real ale and pub food. The conversation over lunch was wide ranging and entertaining and the proselytisers of small wheels had scientific evidence that their machines were superior in every department. I was outnumbered so I just listened and nodded wisely. Refreshed we took a steep, narrow lane towards Cleeve. When I say steep I mean really steep and it wasn't long before we were all off, pushing and puffing. The way across the common began as a rough, stony track but towards the end it became soft and grassy and seemed to sap the energy or was is the effect of the ale?
The run back down into Cheltenham was both exhilarating and eventful. We fairly charged down a series of steep lanes. I felt as if I was 'on the edge' a few times but the small wheel folders came storming past me at what seemed reckless speeds. Towards the bottom a Brompton rider had a back tyre blowout in spectacular fashion. The considered opinion of the experts was that the wheel rim had overheated under continuous braking which caused a sudden failure in the inner tube.
After a 10-minute pause to replace the tube we were off again. This time, as we negotiated the chicane gate at the beginning of a park cycleway, the rider who had the puncture caught a pedal and took a crashing fall. After a couple of minutes spent picking the larger bits of grit out of his knee we were off on the home straight. They're a tough lot these Brompton riders and very good company too! Thanks to all, particularly Dick Hanson the ride organiser, for an excellent day out.
Hope to see you at another Origami some time Stuart - you are welcome, whatever you are riding. Ed.
ORIGAMI RIDE, SATURDAY 11 AUGUST 2001
The weather forecast for the Midlands for 11th August was not too bad, but at 6:00am it was pretty gloomy here in Dudley, and by the time I left to catch the train at 9:15 it was raining quite briskly, and it continued to do so throughout the train journey. I usually get off at Birmingham International, to give a longer ride to the start point at Meriden, but the conditions were poor enough to persuade me to stay on the train to Hampton in Arden, the nearest station to Meriden, and even so I got fairly damp riding from there to the Tearooms. Approaching the Tearooms, I could see a Bike E on the back of a car, which meant that at least Paul Evans would be there as well as myself. In fact no less than 8 riders were present, despite the weather, by the time we ventured outside at a little after 11:15, by which time the rain had all but stopped; though it would remain threatening for the rest of the day, we suffered no more than a few faint traces of rain while we were out.
Chris Dent was giving his ex-Graham McDermott Moulton New Series an outing, the acquisition of which has resulted in him disposing of his AM7, but this was also present, now in the possession of Mike Roberts. Fortunately Dick Hanson was on his Brompton, rather than his ex-Mike Hessey Birdy, and Mike Hessey was also on a Brompton, rather than his ex-McDermott Pocket Rocket, other wise the description of the machines present could have become very complicated! Apart from these two Moultons and Bromptons, Mike Paley, John Pinkerton and Paul Evans were on Bromptons, and Hazel Hanson was on her new (well, Christmas present 2000) SP. We hadn't been expecting to see John Pinkerton, as he had planned to be at the V-CC camp, but a delay to his treatment meant that he had had to delay going to the camp for a few days, and was able to join us, and indeed lead the ride.
We followed an 'interesting' route to Fillongley - what we thought would be a minor road turned out to be quite a long stretch of off-road riding on a mixture of mud, sand and pebbles. Hazel's SP has a very large low gear sprocket (34 tooth), and consequently has a long arm derailleur with minimal ground clearance, and so this ended up being pushed over most of this stretch. The mudguards on my standard Brompton got completely clogged up with mud, and needed clearing twice, but Chris's NS Moulton coped with the difficult conditions without any problems, which rather seems to bear out what I said in the last issue of FSN, namely that clearances on the NS may be less than many of us would like, but are in reality no worse, or even better, than on some other machines.
>After a pleasant lunch in Fillongley, we returned (by popular request!) via a different, all road, route via Maxstoke. Chris and I chose to add a little bit to the ride by taking an extra loop on the way back, though we still arrived while the others were still packing their bikes away (for those who take an interest in such issues, I was the only one not to arrive by car).
By the time I reached home I had covered 46.5 Km, which means the ride itself (including the extra loop which Chris and I did) was about 38Km. Getting home was not the end of the Origami Ride activities though, because after the off-road session the Brompton need cleaning - limited I'm afraid to a wash down, but no polishing this time. It was a thoroughly enjoyable day out - many thanks to those who attended, and to John Pinkerton for organising it. However, if you plan an off-road route like that again, John, please warn me before hand, and I will bring the Marin mountain bike instead, unless I manage to sell it by then!
Please note that the 8th September, which would normally be the date for the next Origami Ride, coincides with the Welsh Trains Ride, and the regulars will either be on that, or have other commitments, so there will be NO Origami Ride in September.
LETTERS
Some publications reproduce only, or mainly, praise: FSN has always adopted the opposite approach. It seem appropriate to reproduce the following exactly as it was received (apart from the email address of the sender, which I have omitted), followed by the emailed response:
From: Rosy Barnes
Sent: 14 August 2001 17:34
To: mike@foldsoc.co.uk
Subject: folding soc- criticism
is this all group therapy for you? stop telling us about your sad life and concentrate on cycling issues. the problem with cycling organisations is that they become so cliquey and self inclusive (oh mikey can we all become your cycle-buddies on £1500 bikes?? (and own digital cameras)).
The editor replies: Thank you for the feedback. I recognise that some of the material included in FSN and the web pages may be peripheral to folding bicycles themselves, but it does generally relate to why and how the cycles are used, which may be of interest to some, if not all, readers. Producing FSN and the web pages has occupied a considerable amount of time, and I would be more than happy to be able to spend the time doing something more interesting.
I will include your comments in the next issue of FSN.
SALES AND WANTS
The Sales and Wants page (http://www.foldsoc.co.uk/sandw.html) will probably remain available for EXISTING entries until the end of September. However, no new entries can be accepted.
RIDES AND OTHER EVENTS
The events listed below are a combination of those organised by Folding Society members or of potential interest to members.
Remember that cycling can be dangerous (so is travelling by car, bus, train, air or water, breathing and living!); anyone participating in any way in any event does so at their own risk.
August 24 - 26: Tynebikes Rising Sun cycle festival
A weekend at the Rising Sun Park, Wallsend, Newcastle upon Tyne. For further information contact Ken Davison telephone 0191 296 2918 mobile 07720 916 046 or e:mail tnegus@onet.co.uk or john.turvey@kpmg.co.uk
Saturday 1st September - Mud Dock
Although there is no official organiser, the gatherings on the first Saturday of the month at Mud Dock in Bristol are still taking place and receiving good support. Meet at Mud Dock from about 10.30am onwards.
Saturday 8th September - NO Origami Ride
Origami Rides are usually held on the second Saturday of each month, and the normal meeting point is at the Tearooms at Meriden. HOWEVER, as most regular attendees will be on the Welsh Trains Ride (see above) or have prior commitments, there will be NO ORIGAMI RIDE IN SEPTEMBER 2001. For further information on future rides , contact John Pinkerton on 0121 350 0685, email pinkertn@mwfree.net, or look at his web site at http://www.users.mwfree.net/~pinkertn/origami.html.
8th - 9th September - Welsh Trains Ride
A weekend outing for folders taking in preserved steam railways (and main line trains), using cycles and other means of transport to get between stations. See editorial of FSN 077 for details, or contact Paul Evans at paul_evans@ekno.com. Paul has now produced a very detailed booklet about the route etc.
29th - 30th September - Moulton Bradford on Avon Weekend
The date for the annual Moulton weekend at Bradford on Avon weekend has now been fixed, and details and a booking form were in issue 62 (July 2001) of The Moultoneer. Some additional information can also be found on the MBC web pages at http://www.whooper.demon.co.uk/moulton/moultev.html.
Saturday 6th October - Mud Dock
Although there is no official organiser, the gatherings on the first Saturday of the month at Mud Dock in Bristol are still taking place and receiving good support. Meet at Mud Dock from about 10.30am onwards.
Saturday 13th October - Origami Ride
Origami Rides are usually held on the second Saturday of each month, and the normal meeting point is at the Tearooms at Meriden. There are occasional changes of location, so please check before attending. For further information on future rides, contact John Pinkerton on 0121 350 0685, email pinkertn@mwfree.net, or look at his web site at http://www.users.mwfree.net/~pinkertn/origami.html.
1st - 5th August 2002 - CycleFest
The latest issue of The Moultoneer contains details of a number of rides for Moulton owners during the next few months. Apart from the fact that they all seem to be on Sundays, which makes access by train difficult for those of us who do not have cars and are not located close to the places where they are taking place, these may be of interest to our Moulton-owning 'members'. Please see the Moulton Bicycle Club web pages at http://www.whooper.demon.co.uk/moulton/moultev.html for details.
---
A to B Magazine
A to B Magazine remains the ultimate source of authoritative information on folding cycles. In the unlikely event that you aren't aware of A to B and/or don't read this magazine, then we would urge you to take out a subscription without delay. A to B can be found on the web pages at http://www.atob.org.uk, or you can email them at atob@atob.org.uk, or they can be reached by telephone or fax on 01963 351649, address 19 West Park, Castle Cary, Somerset BA7 7DB, England. A subscription to A to B is only £10 per year in the UK, or $24, and the magazine is published ever two months and is packed with news, reviews and other interesting information on effective integrated transport systems in general, and folding cycles in particular.
---
Note: The views expressed by contributors and correspondents are those of the writers, and are not necessarily those of The Folding Society or its organisers.
---
Back Numbers
Back numbers of all issues of Folding Society News are available on our web site - go to http://www.foldsoc.co.uk/fsn/fsn.html for the full list. Please note that the site will close at the end of September, so if you wish to retrieve any information, please do so before that date.
---
Contributing material for FSN
This is the last issue of FSN, so please do not submit any material for future publication.
---
The Folding Society
Web: http://www.foldsoc.co.uk

All information given here is provided in good faith, but no responsibility can be taken for errors or for any consequences arising from the publication of this information.
Return to FSN index | Folding Society home page
---
Copyright (C)2001 Ferrets Anonymous
Last updated: 19 August 2001
URL: http://www.foldsoc.co.uk/fsn/fsn081.html