THE FOLDING SOCIETY
---
FOLDING SOCIETY NEWS
Issue 77 - 24 June 2001
EDITORIAL
A report on tyres
WE NEED YOUR HELP. In collaboration with A to B we are in the process of putting together a report on 406 (20 inch) sized tyres. This is not only one of the most popular wheel sizes for folders and small-wheelers, but has probably the widest choice of tyres outside the full-sized 700C and 26 inch ranges. We would particularly like to hear your experience regarding life and performance in extended use, but any views will be welcome. Please email any information to mike_hessey@cableinet.co.uk - we hope that a joint report on the conclusions will be available in the future.
Welsh Trains Ride
After doing the Llangollen ride in 1999, and regular visits to Portmeirion, I was attracted by the idea of a ride linking together some of the preserved steam railways in Wales. I did not really feel sufficiently enthusiastic or energetic to work out details, but I mentioned it at a number of events, including some Origami Rides, in the hope that someone else would follow up the idea and work out the details. I'm delighted to be able to report that Paul Evans has done just that, and as a result of a lot of investigation and recceing, he has produced all the information needed to be able to undertake this ride. This will NOT be an organised event, but the details of the route, times, trains and other forms of public transport, and B&Bs are available, and Paul and I have set the date of 8-9th September to do the ride. For us, the outing would start with a train from Birmingham New Street at 10:37 on Saturday, arriving at Tywyn Town at 13:17. After a trip on the Tally-llyn railway, it would be back on Central Trains to Morfa Maddoch, and then a cycle ride to Dolgellau, staying there overnight. On Sunday it is hoped that some use can be made of buses (not generally as folder friendly as trains), with some riding, and visits to, and rides on, the Bala Lake Railway and Llangollen Railway, and a ride along the canal towpath, including the Pontysillicate aqueduct. The final leg would be back via Central Trains from Chirk to New Street. Anyone interested in joining us for the ride, or of course part of it, would be very welcome to do so, but this is not an organised event, just a small group of friends going out together, so train and B&B/hotel bookings etc are up to individuals, though Paul's information sheet has all the information necessary to enable you to do this. Some people may of course be interested in the plan, but prefer to do some or part of it on different dates. If you would like more information, please email Paul Evans at paul_evans@ekno.com. If you would like to join us on 8th and 9th, please do contact Paul, as the numbers could affect some of the transport arrangements - eg buses, and whether railways need to provide additional storage space on the trains.
Folding Society T shirt?
Interest in this idea was less than enthusiastic (one person!) so the idea has been abandoned.
Next issue
I must admit that at this time of year I would prefer to be out on a bicycle rather than sitting indoors in front of a computer writing about them. The next issue is scheduled for 8th July, but if my enthusiasm remains at a low ebb, it might be put back. I hasten to add that it is the enthusiasm for writing that has waned, not the enthusiasm for folders!
Format
If you receive this issue of FSN in a plain text form, please remember that a formatted version is available on our web pages at http://www.foldsoc.co.uk/fsn/fsn077.html, and you can receive the formatted version (suitable for reading with a web browser) just by emailing us to let us know you prefer this version.
MOULTON
Owners of New Series Moultons will have recently received a modified rear triangle bolt. On the NS the rear triangle can be detached if a very compact 'fold' is required, although few owners will have made use of this feature, most opting for a simple frame split at the centre. However, the Speed ('Pylon') model has a non separable frame, so the option of removing the rear triangle and front fork assembly becomes of more interest. This has made evident the fact that with the securing bolt originally fitted, and the supplied allen key, some owners were not able to tighten the bolt enough, with the result that it might work loose. The replacement bolt has a larger hex fitting and a longer allen key to ensure that sufficient torque is applied if the bolt is removed and replaced for removal of the rear triangle. Interestingly, my report on Cyclefest 2000 described how the bolt came loose on my NS. I have never detached the rear triangle, but as this is an ex-demonstrator (it is also the machine tested by Chris Juden in the CTC magazine) the bolt may have been removed and insufficiently tightened when replaced before I owned it. The problem has never occurred with the AM series for the simple reason that the rear triangle is not designed to be removed for portability.
ANOTHER WEEK IN SCOTLAND
While I was in Scotland a few weeks ago with Graham McDermott, I suggested to him that he should visit the Inversnaid Photography Centre some time. I did such a good selling job that I decided to go again myself! Originally I was going to an organised Workshop there, but this had to be cancelled, so it ended up as a more informal visit. As this would be a photographic holiday, staying at one place, and the bicycle was only needed to get from the station to Inversnaid and back, plus for shorter outings during the stay, I needed good carrying capacity for the equipment, but riding was not such a consideration - though riding from Glasgow to Inversnaid is about 80Km, and even the nearest station, Balloch, is about 50Km away.
Originally I planned to take a modest medium format camera kit, but when I packed this into the camera bag and weighed it, the result, excluding tripod, was about 17.7 pounds. An equivalent, or more comprehensive, 35mm outfit weighed a shade under 10 pounds. I really did want to take the medium format kit for this holiday, but even with limited cycling, the prospect of lugging it by bike up to Inversnaid was more than I could face, so I unloaded it and investigated the alternatives. In the end I settled for a combination of conventional 35mm and digital cameras, with a weight saving of at least 6 pounds, and a reduction of about 30% in volume as well. I like medium format not just for the better quality which results from the larger film, but also the fact that it seems to give a more objective approach to the photography, partly through the use of a waist level finder or prism, and also partly due to the fact that, with less exposures on a film, one thinks more before making the exposure, rather than snapping away all the time. However, when travelling on a bike I rarely seem able to face the extra load which is involved.
The decision to take digital equipment as well as a conventional film camera also influenced the choice of PDA/computer. Some form of PDA inevitably accompanies me as a diary, address book, source of reading material (electronic books), and as a means to prepare the obligatory report during the outing. The decision to use a digital camera meant that, unless I actually took a notebook computer, the Compaq iPAQ was by far the most attractive option - it can share CF cards with the camera, the pictures from the camera can be viewed/reviewed and even edited using Pocket Artist, and I can also use it as a music player if I feel the need for such entertainment. The CF cards with the music on can of course be recycled in the camera if I need more memory for that. With the Stowaway keyboard, CF card jacket etc it is a bit bigger and heavier than some of the alternatives, but offers a lot more.
Finally to the bike. Four machines were on the short list - The New Series Moulton, Jubilee L, Bike Friday New World Tourist and Airnimal Chameleon. These were selected on grounds of the amount of riding and load to be carried. I initially contemplated not booking the bike on the train, and folding it, which might be an advantage also for local travel when I arrived. However, carrying a folded bike and luggage is a real problem, so on 1 June I booked my train tickets, and included a cycle reservation. My choice of cycle was then easier. If I had taken medium format photographic gear, the Jubilee L would have won, as I would have wanted both a front and rear rack, and it is the most comfortable bike with this facility. Having decided against the medium format cameras, the Moulton NS automatically became first choice - comfortable (for the cameras as well as myself), light and with sufficient luggage capacity (rear rack only); with the new larger clearance mudguards, my principal concern over using the NS was removed. Then Richard Branson changed my plans. The train tickets still had not arrived by Wednesday 6th, and they usually come by return. I phoned Virgin again, and was told that they might not be sent until the latest date, so I waited. Needless to say, they had still not arrived by Friday 8th, the day before my journey, so I phoned again, and was told that I could collect them at Wolverhampton station at the start of the journey. This filled me with the greatest trepidation: not only did it seem quite likely that they would not in fact be there when I arrived, but it seemed even more likely that the cycle reservation would get lost in the process. I therefore decided that a folder was essential, so that I could carry it as luggage if necessary. Now the NS does separate, and in fact fits quite neatly between the seats on the Virgin trains, but if there were any fussy train staff, it would need bagging, and this is quite a job, not to mention the nuisance of carrying the bags around. Very reluctantly the NS was put away, and the choice narrowed to the Newt and the Chameleon. I'm in the process of revising the gearing of the Newt, and I was still unhappy with the results at the time, so that for this reason, and to a degree also its rather harsh ride, I rejected the Newt, despite it winning in the portability stakes. So it was down to the Airnimal, still sporting its original close-spaced gear cassette, rather than the new wider one I have bought, with its significantly lower bottom gear. At this late stage I did not want to get involved with changing the cassette, possibly the chain, testing etc, so I decided to leave well alone. The rear carrier was mounted - fairly straightforward, though I did need to find some longer bolts to secure it and the mudguards using the mudguard mounting eyes. The carrier seemed a bit more flexible laterally than those of the Newt and the Moultons, though I was subsequently to find that even if this is the case, it does not make its presence felt when riding. The carrier is also mounted on the unsprung part of the bike, generally less good practice and providing less insulation for delicate equipment like cameras and computers, unlike the Moultons. The rack top is also quite high - no higher than on a conventional bike, but a long way above the back wheel (also the case with the Newt). The Moulton racks carry the load at a lower point, but of course this is partly offset by the fact that all the load is then above the carrier, whereas with a conventional rack and panniers the load is below the carrier. I could just fit everything in one large and one small Karrimor pannier, with the tripod on top of the rack, but in the end I opted to use both the large bags, slightly less full.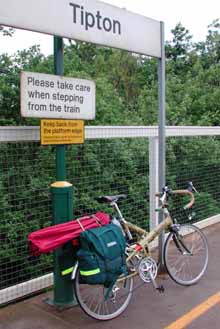 On the day I got up early and checked everything over one more time, listened to the weather forecast, and set off, in a very light drizzle, for Tipton station. The local train arrived on time, and took me to Wolverhampton without any problems. There I immediately went to see about the tickets. After some discussion about price, I got these for myself and the bike, but no cycle reservation tickets, although I was assured that there would be no problem ("just explain the mix up to the conductor"), something I did not have complete confidence in myself. Anyway, the bike was loaded without any problems, and I was able to settle back to enjoy the journey, initially having a chat with a chap with a mountain bike who boarded at the same time, and then starting on this report.
The photograph shows the Airnimal at Tipton station, with a full load of two rear panniers and the tripod perched on top of the rear rack.

We arrived at Glasgow on time, and although I was not feeling on top form, I decided to ride all the way to Inversnaid. It looked as if it might rain, so I changed into my new Rohan Dry Bags (for the first time) on the train just before we got to Glasgow. As it was really just a case of getting from Glasgow to Inversnaid, I decided to use the road, rather than the cycle path, this time - faster, easier to navigate, and not as much glass to threaten punctures. I soon found the Dry Bags are very hot to ride in, and when I got to Balloch I changed into normal Rohan Bags. Not five minutes later it began to rain - definitely a manifestation of Murphy's Law. Fortunately, the rain did not last long, and Bags dry quickly. By the time I got to Aberfoyle, I was feeling fairly tired, and the final 20Km to Inversnaid were quite tiring. Up to then I had ridden the whole way using the middle chain ring, and hadn't used the largest rear sprocket, but the undulating road soon had me using the smallest ring and largest sprocket, and making more frequent gear changes than I do anywhere else. I managed all the slopes, though I would have been glad of a lower gear or two to hold in reserve - I'd have had this if I had got around to fitting the larger sprocket set. The Airnimal handled the journey very well, though the lower, wider spaced, gears would have suited me better. By the time I reached Inversnaid I was quite weary, and rather dehydrated, but soon recovered in time to meet others who, like me, were arriving a day early for the photographic workshop.
Sunday was a day of rest, as the workshop did not start until the evening, but as the weather was excellent, I went out on foot taking photographs; I did not use the bike at all.
Monday was another day of photography, and no cycling, and Tuesday started the same way. I managed to process my first film on the Monday evening, but was so discouraged by the results that I vowed early on Tuesday to give up photography! Instead of taking photographs or cycling, I spent the day walking, but a sarcastic comment by one of the other attendees on Tuesday evening prompted me to go out for a 40Km ride - most enjoyable on a sunny evening, though it was getting a bit dark by the time I got back at about 10:15. The Airnimal felt particularly responsive to ride now, without most of the luggage.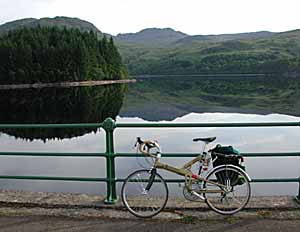 Wednesday I assigned to cycling, rather than walking or photography. I found it rather tiring for some reason - perhaps partly as a result of walking over 10 miles the previous day and the evening ride. I rode round Loch Katrine, part of the way along Loch Venachar, and then back along the A821 over Duke's Pass, stopping briefly for a walk at a disused quarry, where the rest of the photographic group were just finishing a session. The climb from Loch Achray up to the quarry was substantial, but with the well graded road, the climb was not too arduous, even with the rather high gears, but not much luggage. From the quarry it was an exciting descent to Aberfoyle, and then it was back to Inversnaid along the undulating road.
The photograph shows the Airnimal at Loch Katrine, with just one, very empty, pannier for tools.

By Thursday I was suffering withdrawal symptoms - I may not be able to take worthwhile photographs, but I still get a lot of pleasure from doing it; perhaps I should just carry a camera but not bother to put any film in it! After some walking and photography in the morning, the group drove (sorry!) over to the Lake of Menteith, and took the ferry to Inchmahome - a lovely spot, though the motion of the car did not suit me, as is often the case.
Friday was the day for the bad weather. I processed two films, and spent the rest of the day reviewing the contact sheets and the digital pictures I had produced. The others spent most of the time in the darkroom producing prints - as I hadn't done any working prints at this stage, and a lot of my pictures were digital, I decided to leave producing prints until I got home.
The workshop finished at 4:00pm; one of the group, who had a car, left at this point, but the rest of us stayed an extra night to give time for travelling to the appropriate station and then taking the train back home. I left at about 9:30am on the Airnimal to cycle to Glasgow. The ride to Balloch went quite easily, but I started tiring after that, and faced a light head wind. Again I decided to stay on the road rather than use the cycle path. As I neared Glasgow I became less certain of the route, and at one point turned right at an island where I shouldn't have. As I went round the island there was a sudden clattering noise, and I stopped quickly. An enormous nail was embedded in the tyre.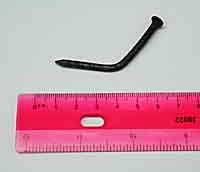 The nail was banging against the mudguard and making the noise. The tyre was flat, and not only had the nail gone into the tyre, but it had gone right through the tube, one hole on the outside surface, and several on the inside, despite stopping quickly. Fortunately I had enough patches to fix it, and as I had allowed lots of time, I still got to the station over an hour early. In the end the train left over 20 minutes late, but then ran through to Wolverhampton without any problems. At least being late meant that it was relatively easy to decide to do next. If it had been on time, I should have had to wait about 45 minutes for a local train, or ride home - riding would be quicker, but after a lot of riding earlier in the day, it would have been tiring. As it was late, it was easy to decide to wait a relatively short time for the local, and avoid any more serious riding. Getting off the train I found the tyre was flat again - evidently there were still some small holes caused by the nail to be fixed, but after some vigorous pumping it stayed up long enough to complete the local train journey and final ride home.

Conclusions
I would have used the NS Moulton for this ride, if it had not been for the mix up over the train tickets, and had I not been in the middle of changing the gearing on the Bike Friday NWT, I would probably have used that. The Airnimal is probably more obviously suited to fast rides, rather than touring, but with the rear rack fitted it acquitted itself faultlessly. If I planned to use it for this sort of thing regularly, I would certainly need to fit the lower gear sprocket set which I have ready to fit for that purpose. Indeed, the day after returning I not only replaced the damaged rear tube, but also put the 12-27 sprocket set on, and these ratios are more suitable for a rider such as myself. The rear carrier felt a bit flexible, but coped quite well with the load, and when honking occasionally on sharp undulations, it felt quite rigid. The puncture doesn't really indicate any weakness of the tyres - this nail would have defeated anything! Although the Kenda tyres are quite narrow, they proved quite adequate for this outing, with only minor use of good tracks in dry conditions.
I continue to rate the Airnimal highly after this tour, especially as it is a type of ride for which it is probably not ideally suited. It is not as comfortable as the NS or AM Moultons, but the (rather hard) rear suspension and the carbon fibre forks, plus of course the larger wheel diameter, proved quite acceptable. I did not in the end need to fold the bike at any stage, but it was certainly reassuring to have this facility available if needed.
I'm due to go back to Inversnaid again later in the year, this time for a digital photography workshop, so I will probably have not only a good deal of camera equipment but also a notebook computer. To reduce the load on the way back, and on the way up next time, I left my tripod (not the expensive carbon fibre one) at Inversnaid. Of course, this is moderately delicate equipment, so unless Virgin mess up the bookings again, I expect I shall opt for a Moulton on this next occasion.
ANTIPODEAN ANTICS
By John Prince
All of my faithful reader(s?) can throw away their black armbands ... the ominous 8 week silence was not caused by being on the receiving end of 125 tons of Russian space junk! As the moment of re-entry arrived, we went onto the beach sipping a gin and tonic and looked skywards hoping to see something other than a velvet blackness and super-bright stars. We saw nothing unusual, as the programmed re-entry guided the space rubbish to our longitude but fortunately 600 miles south of Rarotonga where the Russians said "Nothing of importance lives there" ... thanks very much! We are now leading a charmed existence having weathered Y2K - but the local airlines grounded their flights on the witching hour ... why?? - MIR junk from heaven and a hurricane! Makes England seem tame by comparison.
We left these Pacific islands simply because our six month visa (maximum stay) had expired and we were required to leave for a "period" before returning to do it all again. This silly custom stems from Europe, where we were keen to send "foreigners" back to where they came from, so that they should not sponge from us and in the hope that they would not have funds to come back again quickly! So, this relatively poor nation sends us away so that we can put money into an airfare - more profit for Air New Zealand - and into another country's tourist industry - in this case New Zealand and Australia. In times past it is rumoured that an Irish (who else) resident here used to go to the airport, get stamped out through Customs with a flourish, and jump into a small aircraft. After a round island flight of 30 minutes he landed and explained that he had technically left the country and here he was again! Those days are gone, I'm afraid.
So, what about cycling, I hear you ask? Well the truth is that for 6 whole weeks I did not touch a cycle, and from that I learned that I missed cycling very much. Reasons (excuses!) for this relapse ... well, as we were travelling by air on internal flights we were limited to 20 kgs (when we travel here we are each allowed 2 cases each weighing max 32 kgs) and this is just not enough to permit the taking of a folder and adequate luggage. The trip was in part business, and my partner picked up a good selection of books on her subject (diving) and I found a few on cycling, which I have been reading avidly. Just a point about flying with a cycle mentioned in an earlier FSN. It is no use putting "Fragile" stickers on anything ... they will be ignored. The ONLY WAY, is at check in to say "I want this item to go through your fragile handling system". It will then be hand carried to and from the aircraft, and thus avoid the damage which can ensue from piling cases on conveyor belts etc. They have the same system for oversize baggage, which also includes normal cycles. As an aside, I watched our luggage being loaded from one aircraft into another at Sydney, and the burly baggage handler - who wants his job? - literally threw each item 3 feet in the air from baggage trailer to conveyor belt. Quite why he wanted to make his job so arduous, I don't know, but I watched several cases burst open under these conditions ...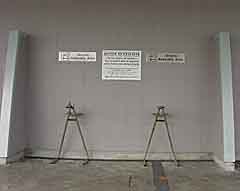 Our journey took us from Rarotonga in the Cook Islands to Auckland, New Zealand. We both love New Zealand and have many friends who we routinely visit each year. I was able to photograph for the first time what I believe is a unique arrangement at Auckland airport. When leaving the terminal, take the signs to the left for taxis etc and you will find a covered bay with two cycle maintenance stands; does anyone know of another airport offering this facility? Nearby are taxis and a very excellent airport shuttle - a minibus with trailer - which leaves every fifteen minutes and will drop you anywhere in town cheaply.
We always stay in YHA's or equivalent, and I checked into the possibility of hiring a cycle and buying the spares I needed to remodel the Flevo. It all seemed very expensive at NZ$25 a day - say £8 – and coupled with the compulsion to wear a helmet was enough to put me off. In Auckland I noticed again how long it takes to cross the road in town. The traffic lights are switched so that each stream takes its turn, and then they all go to red and the pedestrians may cross. A feature is that you may also cross diagonally, and whilst this has its good points a negative is that the time that both pedestrians and vehicles have to wait is too long. I don't know whether this explains why cycle couriers routinely "jump" the lights at red, weave their way through pedestrians and generally act as though they have taken the law into their own hands! This at least gave me the chance to see at close quarters the machines chosen for this specialised job, and there seemed to be no favourite, some choosing drops and a racing style bike, others going for a hybrid or MTB, and some finding front suspension a must where others went for full suspension. Now, there can only be ONE ideal cycle for this job, so who had chosen correctly?
We always visit a friend who lives about 10 miles out of Auckland at a seaside resort. I noticed that this was favourite for weekend cycle rides and some choice machinery was in use. I chatted to the owner of an orange coloured cycle which was really a work of art. The frame was titanium with the seat stays and front forks from carbon fibre. The wheels featured carbon fibre spokes aero profile and I could lift the whole thing on the little finger of my left hand. "13 pounds it weighs" said the proud owner, "and it costs more than some cars!" "How much?" About £5,000" he replied.
To those thinking of spending time in New Zealand on a cycling holiday, you may care to note that a very competent firm hires out cycles and all sorts of gear at sensible rates over longer periods - it might make sense to avoid the hassle of taking your own machine ... check out adventurecycles@xtra.co.nz or www.bikenet.co.nz
After a short time 100 miles to the north in the Bay of Islands, taking a trial trip on a schooner which is due to come here soon to do cruises, we left for Australia, going to Sydney, then Adelaide, Cairns, Brisbane and back home via Sydney. All of these cities had cycle shops and those interested might like to note that within a short distance of the YHA in Sydney www.cheekymonkey.com.au were very helpful and also stockists of the BIRDY range. Not much further away Bicycles in the City www.bike.com.au were very helpful and knowledgeable.
In Adelaide Clarks Cycles were very good, with a great interest in HPVs and recumbents, they would like to hear from you ... kclark@chariot.co.au
The real revelation for me was Cairns - this was my first visit - and although its true to say that without tourism the town would not exist in its present size and form, this does not mean that it is a tacky place ... quite the contrary! Nicely situated on the coast about 600 miles nearer the equator than Raro, the climate is excellent and it is a good centre for exploring Queensland and the varied countryside - from rainforest to dessert. A well kept secret is an extensive network of cycle tracks ... so secret is this that even the local Tourist Board was unable to produce a map of the routes and advised that when the network is completed, they will produce something. A short distance from town is a parkland area with cycle tracks leading to it, and through it, and for birdwatchers this is the place to go. All sorts of birds can be sighted within a comfortable two hour walk, and of course the birds are not spooked by a person approaching on a cycle.
asar@petos.co.au Annette Murrell does the guided tour (highly recommended) and the tourist board is on information@tnq.org,au orwww.tnq.org.au There are several good cycle shops in town and even a rickshaw service which does business at A$1 per minute (about 25p) and I understand the business is for sale for anyone looking for combined hobby/business/ideal climate. The area has something going for it for cyclists ... it is flat!
Once when I complained of the high cost of hiring a cycle (A$25= £9 a day) I was told that that the cycles come back "wrecked" and that justifies the price. To me it merely underlines the fact that we ride silly machines, that in a real world, would not be bought. Do I read that Mike's wonder cycle needs new cables frequently? I know that I noticed at last year's Cyclefest that the cables were conflicting with the front suspension links, leading to abrasion, water penetration and rust, and all this on a cycle hand made and sold for £4,000 plus! I wonder whether the cycle complies with the Sale of Goods Act , where anything sold has to be suitable for its intended purpose? In the same vein, I finally received my first copy of Velovision - kindly posted onto me from England by a friend - and note that Editor Peter Eland is thinking of fitting his Birdy with hub gears and drum brakes. All I can say is that, if he does, his future maintenance will be limited to a once a year grease up and adjust, and even that can be forgotten without disaster being inevitable.
On my travels I picked up a book about a 50 year old New Zealand lady nurse - 5 foot nothing and 103 pounds - who was the first to cycle the trans Amazon highway. Although a seasoned cyclist, having previously cycled around the world, she took advice from a cycle "expert". He said forget your hub gears ... they are old fashioned. She took a Peugeot cycle with derailleur gears, which turned out to be a disaster in the gear department, failing repeatedly due to mud etc and the odd knock or two and requiring complete replacement before journey's end. Another mistake was not taking her cycle trailer; she festooned her machine with panniers front and back, handlebar bags etc and lived to regret it. Why don't more cyclists use a trailer? I find them great and very versatile. I see Orbit cycles are importing a German unit at under £100.
Another cycling book I picked up from to 1950's tells the story of three young ladies who set out to cycle around Australia. Now in the 50's many roads were still just tracks, but they went all around and through the middle - the red centre - on upright roadsters with hub gears.
The derailleur system is fine when protected from dirt and moisture, and I hear that Mike Burrows has developed a system that is fully enclosed and lubricated. Such a system would be ideal as it would avoid the higher friction losses of hub gears, the weight penalty, and the widely spaced ratios - exception Rolhof?
To celebrate our return we got our cycles out and went right around the island ... yes all of 21 miles! I will attach a few photos of our trip, now in the depths of Winter which really means that the humidity is low and very pleasant and daytime temperatures are about 25C.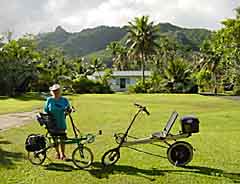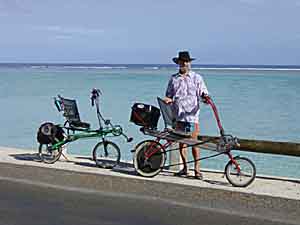 Those with keen vision will notice the Flevo changing slowly ... the dynamo developed a habit of jumping on every time the front wheel hit a bump ... i.e. very often, so it has be removed. The faulty mechanism is fully enclosed, so I have soaked it in oil and hope this will solve the problem. One of the "flash" wheel discs - fabric with a glass fibre tensioning rod - has failed ... the unit was never round, more egg shaped and the stress this caused on the little plastic thingamajigs that hold it onto the spokes rose to breaking point ... so that's been taken off with a bonus of easier access to the tyre valve.
Now - in an aside – we are celebrating our 100 year anniversary of the Cook Islands association with New Zealand, (before it was BRITISH!!) the exact date is June 11th ... as a coincidence the birthday of two of our island Prime Ministers. So in preparation for the visit of the New Zealand Prime Minister Helen Clark, the island is being spruced up like billyoh. Grass is being cut, weeds pulled up, stubble burned, roads resurfaced, pristine white lines replace faded yellow ones, and an island first ... cats eyes are being fitted all around the island. Fortunately we still live with no parking restrictions, yellow lines, ditto parking meters/traffic wardens; no pedestrian crossings, no traffic lights and one only roundabout. Life is made tolerable for cyclists by a speed limit of 40/60 kms/hr in/out of town and I have NEVER in ten year's experience been abused by an islander, even when I have provocatively cycled two abreast, thus preventing overtaking. The islanders are so relaxed and happy, they just follow until they can overtake safety and then call out a greeting as they pass. You still hire a vehicle first and then drive it down to the main (only) police station to get your driving licence ... very laid back! However the new road surfaces are a problem on the cycle; consisting of irregular black chippings about ½" diameter set in tar. The roughness of the surface sets everything rattling and causes things to work loose ... even the rider! They always use too many chippings (why?) and the excess fills the gutter and a yard of roadside with a loose, lethal no grip mix. Passing vehicles spray chippings in all directions, especially the 4 wheel drive monsters so loved by the islanders. Now I am looking forward to the next hot season ... the tar will melt and ... more trouble for cyclists.
Next job; fit the Flevo with an aerodynamic body ... the 2 mm ply is on order ... watch this space for developments! Happy cycling ...
LETTERS
Malcolm Clarke offers this warning about pedestrians, and also considers the importance of weight to cyclists:
"BEWARE Cambridge. Visitors tend to have a picture of Cyclecity but I have ridden here for 25 years, now do so daily and consider it one of the most dangerous cities (in which to cycle) I know, beaten only by the likes of Paris (in the past) and Sidney. Narrow medieval streets stuffed with cyclists are ill designed for motor vehicles, not least those of 'professionals' i.e. taxis, buses, University vans, drivers of which find cyclists a real nuisance and tend to harden their hearts (and their arteries) and give cyclists the bad time which the drivers have convinced themselves the cyclists deserve. Paths too are a problem, caused by much use and by 'cultural diversity'. Many of the cyclists and pedestrians are from other countries and bring their own 'traditions' of 'social interaction' with them. Then there are the aesthetes (among them fledgling David Starkies) who live in 'another world' but who nonetheless discuss things (literature and philosophy to kindred spirits) on a mobile phone while pedalling a battered bike in a manner oblivious to the world of mere matter.
The suggestion to slim the rider must surely be right. Also the luggage. A few year ago I was in the Alps with a friend, who was there for the first time and had brought 3 lenses for his SLR camera. At the first post office, he said a prayer and sent them back to England. Distribution, of course, is also important. For example, I find that my AM behaves best with luggage as a close as possible to the seat post: an enlarged improvised version of the small day bag supplied by Moulton."
Robert Biegler has a question concerning his Birdy:
"The Birdy front fork has a little hook that retains the swingarm while riding and prevents it from folding backwards when braking hard. I find that this hook just shakes loose while riding. On several occasions I have lifted my bike after a ride and the front wheel dropped down. Is there something special I have to do so that this hook does its job of preventing a fold while riding?"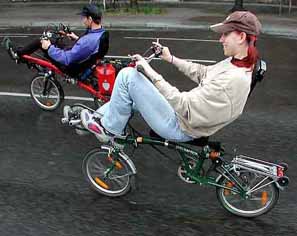 Wolf-Steffen Brumm writes with news of the recent rally in Berlin:
"Today was the bicycle rally here in Berlin. About 50000 biker took part. The weather was really bad, with heavy showers, and I saw only three other folders, two Bromptons and one Birdy. I attended with my Brompton T3. One of the interesting machines this year, which I have seen seldom before, was this recumbent Brompton. I shot a photo "on the fly", which may also be interesting for the other members."
Photograph: Wolf-Steffen Brumm

From Dennis J Duggan:
"Some readers of FSN may recall that a few issues back I was sceptical about the alleged different handling characteristics of bicycle tyres. I maintained there was no difference in performance between the different makes and tread patterns, especially given the relatively low speeds reached by a pedal cycle. I went on to say that in 40 years of cycling I had never been able to differentiate between one tyre or another. Subsequent debate in FSN did not really convince me otherwise, though I tried to keep an open mind on the subject, but last Saturday morning something happened to make me change my mind...
I had used my Moulton Standard to do some errands in Leicester city centre, and from there I went on to visit my mother-in-law. As soon as I left her house the rain began to bucket down, but that did not bother me as I was snug and dry under my cape. However the conditions became worse and I decided to put my foot down, so to speak, and increased my pedalling effort. A small part of the route, which I ride regularly, takes me over a stretch of the old-fashioned cobblestones, including a sharp corner. These cobbles have never been a problem and I approached the corner as usual. To my dismay I felt the rear wheel slipping from under me, and for a second thought I was going to take a tumble. Fortunately I instinctively recovered from the potential disaster, but maybe a less experienced rider would have come off. The tyres are called 'Swallow' and I have used them for several years with no trouble, but it seems that wet and slippy cobbles do not suit them.
I wondered if the same trouble would have occurred with a different make of tyre, or whether the conditions would have defeated anything. Perhaps I am being naive and should have realised that a sharp corner, wet cobbles and too much speed is a recipe for trouble regardless of what rubber is fitted?"
Certainly some tyres give more grip than others, just as some have better puncture resistance, lower rolling resistance and greater life. TNSTAAFL - you are unlikely to get both good grip and long life! That said, wet cobbles could easily cause problems whatever you are riding, and it always pays to be much more careful when it is wet, as you never know when you might strike something like a patch of oil or spilled diesel, which may not be visible, even on apparently good road surfaces.
Staying on the subject of tyres, Mike Paley sent the following: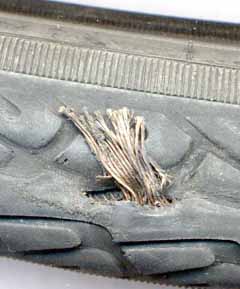 "I've had about 13 months use out of my first Schwalbe Marathon. So far, I've not had a tyre wear out on my Brompton. The first Raleigh Record on the back was well worn, but not worn out when a cut became seriously enlarged such that the tube was about to protrude. The replacement Brompton tyre was taken off as it was too slippery - but it's back on again now the Marathon's RIPped as pictured."

Mike reports that the tyre had probably done about 1800Km, and there was nothing to provoke the broken cords punctures etc). Mike also provided some information which may be of interest to those who want to convert a Brompton to a 5-speed hub - difficult as Sturmey-Archer are no longer manufacturing:
"I've a 5 speed hub - old but unused of the two cable variety (no cables) if any foldsoc readers would be interested."
Mike can be reached at mike@pmailkeey.freeserve.co.uk.

David Smith asks:
"Took my Brompton for a 'flight' on the London Eye the other night. Had admiring glances and questions from American tourists but the staff didn't bat an eyelid. Is this a first?"
I haven't heard of anyone else having done this!
SALES AND WANTS
If you have a folder, separable, or accessories to dispose of, or you want to buy, you can use the Sales and Wants page (http://www.foldsoc.co.uk/sandw.html). If you want to have something put on the list, just email us the details (mike@foldsoc.co.uk) - there is no charge, but please let us know when it is sold so that we can take it off the list. As I strongly suspect that I am not being told when items are sold, I intend to introduce some changes to the Sales and Wants section. In future all entries will be dated, and will be deleted after 3 months unless a request is received to retain the entry on the list. However, please do still tell us as soon as anything is sold, so that we can remove it and avoid creating annoyance to those using the list. Take all normal precautions when buying and selling goods - the Folding Society and its officers are not responsible for the descriptions and products and services contained in the Sales & Wants list.
RIDES AND OTHER EVENTS
The events listed below are a combination of those organised by Folding Society members or of potential interest to members. Please note that events may be affected by the current outbreak of Foot & Mouth Disease in the UK, so check with event organisers before attending.
Remember that cycling can be dangerous (so is travelling by car, bus, train, air or water, breathing and living!); anyone participating in any way in any event does so at their own risk.
Saturday 7th July - Mud Dock
Although there is no official organiser, the gatherings on the first Saturday of the month at Mud Dock in Bristol are still taking place and receiving good support. Meet at Mud Dock from about 10.30am onwards.
Saturday 14th July - Origami Ride
Origami Rides are usually held on the second Saturday of each month, and the normal meeting point is at the Tearooms at Meriden - but not for the July ride. The July ride (on 14th) will be at Cheltenham - meet at the station from about 10.30 for an 11.00 start; there is a cafe on the station for those who require food before the ride. At 40 - 48Km (25 - 30 miles) this will be a shorter ride than last year's corresponding ride. It will start along the cycle path from the station which follows the old railway line and head in the direction of Bishop's Cleeve and Winchcombe. For information on future events, contact John Pinkerton on 0121 350 0685, email pinkertn@mwfree.net, or look at his web site at http://www.users.mwfree.net/~pinkertn/origami.html.
14th July 2001 - Moulton to Bickerton and back. (Mid Cheshire)
For those of you who enjoyed this ride a few years ago, a chance to enjoy once again the tumbling scenery of West Cheshire, and for those of you that missed it, a chance to come and enjoy the legendary views, food and beer at The Pheasant. Anyone completing the trip on a Bickerton will have their drink bought for them at lunchtime! Around 35 miles. 10:00am meet in car park, opposite Moulton Post Office, for 10:30 departure. Anticipated return 3:30 - 4:00. All Moultons and any make of folder welcome. Contact: Jem Kime, 8 Norman Road, Stockport SK4 4HJ. Tel: 0161 432 8132. email: jem.kime@cwcom.net
Saturday 14th & Sunday 15th July, Amsterdam area
European Bike Friday gathering - other folders welcome. More details later, or contact Enno Roosink at bikenno@xs4all.nl . Tee, Hay Ting, who is acting as Enno's Man Friday on this (Enno is very busy at present), tells us that more details can be found on the Bike Friday Yak pages (#820) at http://www.bikefriday.com/yakfiles.cfm .
17 - 19th August - Bike Friday Homecoming Rally 2001, Eugene, Oregon. Contact Jennifer Hill, jenniferH@bikefriday.com for further details
2001 A Cycling Odyssey
There is of course no CycleFest at Lancaster this year, but for those whose year is not complete without a visit to Lancaster, there is the Cycling Odyssey, described as a unique cycle camping event. Note that there have been some alterations to the details published previously, as the second weekend has had to be cancelled. The event will therefore be held on the weekend 18th & 19th August 2001 based on the usual campsite on the Lune estuary at Snatchems End near Lancaster. Further info from Steve Andrews - please phone 01524 824594 or email vickya@dial.pipex.com The website is at http://sdk.tripod.com/cyclingodyssey.html ."
August 24 - 26: Tynebikes Rising Sun cycle festival
A weekend at the Rising Sun Park, Wallsend, Newcastle upon Tyne. For further information contact Ken Davison telephone 0191 296 2918 mobile 07720 916 046 or e:mail tnegus@onet.co.uk or john.turvey@kpmg.co.uk
8th - 9th September - Welsh Trains Ride
See editorial for more information.
29th - 30th September - Moulton Bradford on Avon Weekend
The date for the annual Moulton weekend at Bradford on Avon weekend has now been fixed, although no details are yet available of what will be taking place.
---
A to B Magazine
A to B Magazine remains the ultimate source of authoritative information on folding cycles. In the unlikely event that you aren't aware of A to B and/or don't read this magazine, then we would urge you to take out a subscription without delay. A to B can be found on the web pages at http://www.a2bcare4free, or you can email them at atob@atob.org.uk, or they can be reached by telephone or fax on 01963 351649, address 19 West Park, Castle Cary, Somerset BA7 7DB, England. A subscription to A to B is only £10 per year in the UK, or $24, and the magazine is published ever two months and is packed with news, reviews and other interesting information on effective integrated transport systems in general, and folding cycles in particular.
---
Note: The views expressed by contributors and correspondents are those of the writers, and are not necessarily those of The Folding Society or its organisers.
---
Back Numbers
Back numbers of all issues of Folding Society News are available on our web site - go to http://www.foldsoc.co.uk/fsn/fsn.html for the full list.
---
Contributing material for FSN
We would very much welcome articles, photographs or any other material for inclusion in future issues of FSN, or on our web pages. Please send any material to The Folding Society at the address given below. However, if you are planning to send pictures by email, please send them at an appropriate resolution to avoid high telephone bills - a JPEG picture of 50K or less is ample for use in FSN or on the web pages.
---
The Folding Society
email: mike@foldsoc.co.uk
Web: http://www.foldsoc.co.uk
If you have any news or other information of interest to other members of the Folding Society, please email us at the above address.
If for some reason you wish to be removed from this mailing list, please send a message to this effect to the same email address.
All information given here is provided in good faith, but no responsibility can be taken for errors or for any consequences arising from the publication of this information.
Return to FSN index | Folding Society home page
---
Copyright (C)2001 Ferrets Anonymous
Last updated: 24 June 2001
URL: http://www.foldsoc.co.uk/fsn/fsn077.html