THE FOLDING SOCIETY
---
FOLDING SOCIETY NEWS
Issue 76 - 3 June 2001
EDITORIAL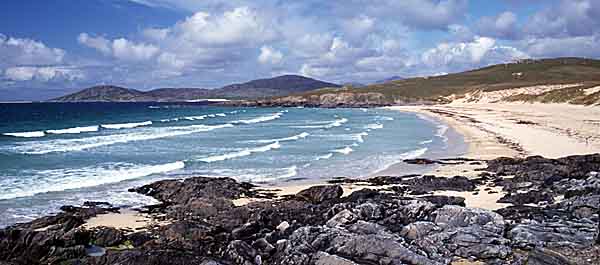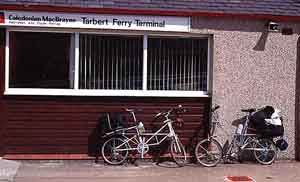 I've been in Scotland for just over two weeks since the last issue, hence the delay in producing this edition and in replying to email. It was mainly a photographic holiday, but using bikes and public transport to get around. I went with Graham McDermott, and to simplify spares etc we both used New Series Moultons - a 'Pylon' (Speed) in Graham's case and a standard version for me. We had superb weather, as the picture above indicates. A full report on the holiday is now on the web pages at http://www.foldsoc.co.uk/skyerep01.html. My NS rather disgraced itself by breaking the front mudguard on the way to the local station right at the start of the holiday; I was not at all amused, and it served to reinforce my view that the original mudguard clearances on the NS not only prevented fitting anything other than the skinny Continental Grand Prix, but were very tight even on that tyre. On my return I contacted the factory, and by return they sent new front and rear mudguards and stays to the latest specification. I'm delighted to report that these latest versions now offer what I would class as generous clearances with the Continental GP tyre - still no room for any other tyre, but this is primarily a function of the Shimano Dura Ace brake calipers. With the new mudguards, I'm quite happy with the clearances, and though the Continental GP tyres are on the slim side, they behaved very well on both bikes during the trip, with no punctures and no signs of wear either on this outing or their limited previous use on both bikes. Graham's 'Pylon' did not suffer any actual failures, but a distressing rattling developed which we were unable to trace conclusively, though we suspect the rear wheel, and the cable outers were showing signs of damage due to rubbing on steering components at the front. The latter seems a common problem on all NS models - mine suffered less as I had already experienced this problem, and had taped over the cables after replacing them once already as a result of wear.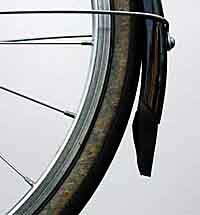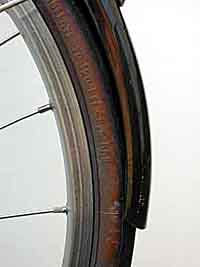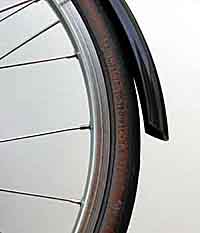 Above: Left - new front mudguard and stays, showing good clearance. Centre - old rear mudguard, with very limited clearance (the old front mudguard had a fraction more clearance, but still limited). Right - new rear mudguard and stays, showing there is now ample clearance.
No sooner am I back from Scotland than I'm preparing for another trip there. The NS was initially out of favour as a result of the mudguard problem, but with the new mudguard it has been rehabilitated. The other three main contenders are the Moulton Jubilee L, the Bike Friday NWT (Newt) and the Airnimal Chameleon. Consequently a modification to the gearing of the Newt is being investigated, which would involve fitting a Shimano Mega Range 11-34 rear cassette and doing away with the 3 x 7 system, reducing the weight and I hope making the bike more lively. The Airnimal has also been out for a couple of rides, the first still on the Specialized Spanky light knobbly tyres and the second back on its summer wear - the Kendas. The Spankys were welcome on the first of the rides, as I ended up using a stretch of towpath; they offer remarkably low rolling resistance for a knobbly, but they do produce some road noise, and you can feel the knobbles bumping over the road, so the Kendas are nicer when grip on loose or muddy surfaces is not such an issue. The choice of bike for this next outing involves a number of issues, not least of which is the fact that variety is the spice of life, and I like to change bikes - plus the fact that it makes for more to write about in FSN if I do this! As mentioned, the NS was briefly in disgrace after the mudguard incident, but after using the Airnimal for a couple of days, the virtues of the Moulton in terms of ride comfort made themselves evident - not that the Airnimal is bad in this respect, it's just that the Moulton is so good. The Jubilee L is nearly as good as the NS for ride, and is arguably better for touring with a larger load - amongst other things it gives me the option of using a front carrier so as to distribute the weight (though as with all AMs the front load should be kept light). However, not only the attractions of using something different count against the Moultons on this occasion - for this outing something which is a bit more portable may be an advantage (though this may not be important). I'd give the vote to the Bike Friday on these grounds - the Airnimal has if anything a simpler 'first fold', but I don't think it is quite as compact and easily carried on public transport in this form as the Newt, though there is not a lot in it, and when more complex folds/dismantles are involved, the factors are different. With its (rather hard) rear suspension, and carbon fibre front forks, plus larger wheels, the Airnimal gives a better ride than the Newt, though not in the Moulton league. At this time I still haven't decided which to use, and you (and I) will have to wait to see which I choose when the time comes.
My prolonged absence from home means not only that I haven't been able to work on FSN during the time I was away (though I did edit daily the report on the holiday using a Psion Series 5mx), but there has been a lot to catch up on once I did get back. For this reason, this is a rather short issue of FSN.
Folding Society T shirt?
A member recently enquired whether there was a Folding Society T Shirt. The answer is that there isn't, and I don't really want the hassle of producing one, nor have I any wish for either myself or the Folding Society to engage in any commercial activities. However, what we may do is make available to those who may be interested a couple of files containing logos, which you could then have put on T shirts or whatever if you wish - most copy shops will do this for a reasonable charge, or you can even buy the materials to do it all yourself if you want to and feel you are competent to do so. The files would probably be supplied as JPEGs and would need to be big enough to provide sufficient resolution. You would need access to a suitable colour inkjet printer and software to print a master to take to the copy shop or wherever. If I get any positive interest, I'll put some sample logos somewhere on the web site in low resolution form for people to take a look at, and then if they want higher res files I will email them to those who specifically ask for them. A few of you may have seen examples of the logos, which I have on T shirts which I very occasionally wear myself.
Next issue
The date of the next issue is again rather uncertain, as it depends both my own cycling activities over the next few weeks, and the availability of material. Don't panic if there is some delay, or if you don't get replies to any emails - indeed, if everything goes according to original plan, I'd be grateful if you could again minimise correspondence for a week or so.
Format
If you receive this issue of FSN in a plain text form, please remember that a formatted version is available on our web pages at http://www.foldsoc.co.uk/fsn/fsn076.html, and you can receive the formatted version (suitable for reading with a web browser) just by emailing us to let us know you prefer this version.
BIRDY
Gary Thompson of Inverness (which I passed through on my way to and from Skye and the Western Isles a couple of weeks ago) has written with some comments regarding his Birdy. These appear below, followed by some additional observations of my own.
Birdy Red, 2001 Model (8 speed)
"I have now covered around 200 miles on my Birdy Red since delivery on March 20th 2001.Most of the research I did prior to the purchase of the Birdy was through the Folding Society pages. I have to say that most of the information available struck me as slightly negative towards the Birdy. It is fair to say that much of the information is out of date and refers to earlier models. This is my view, all be it at a very early stage, of the Birdy Red 2001 model.
The major areas discussed or highlighted in any reference to the Birdy were as follows. Tyres and rolling resistance, Luggage carrying capacity and rattles and squeaks.
Squeaks and Rattles
I will deal with the latter first. After 200 miles of touring including some off road cycling I have not heard one squeak or rattle. I accept that the bike is still fairly new and that this may change as the bike gets older, however, I am sure that this is yet another case of improvements to components as the models progress
Tyres
On the subject of tyres, I am fairly certain that much of the web sites comments refer to earlier tyres. My Birdy is fitted with Birdy tyres with Kevlar and I have to say that I find them perfectly acceptable with fairly low rolling resistance, I am watching for developments regarding the possibility of a new Continental tyre.
Luggage
This is certainly a problem. I have not tried either of the available rear carriers and would be interested to hear any views on these, particularly the suspension rack. The frame bag does not strike me as practical.
There were some interesting comments on the use of bar bags and their effect on the balance and steering. I would agree with most of these comments, particularly if the bag is overloaded and heavy, however I have made a small modification to my Birdy, which has improved this situation dramatically.
Handlebars
This was the one aspect of the Birdy I disliked almost instantly, firstly because they are too short and secondly they are too flat. I understand that both of these attributes are designed to enhance the compact folding of the bike. However I was determined to experiment! I purchased a set of Azonic World Force riser bars, these have a good rise and sweep although they were a little long at 660. I cut them down to 590, which is about 50 millimetres longer than the original Birdy bars. The difference in riding position and handling is absolutely amazing. The bike is much more comfortable to ride and the steering has a more positive feel thanks to the extra width of the bars. I have also found that the bar bag has little effect on the stability even with a reasonably heavy load. The down side is that the bike does not fold quite so compactly, although this is minimal. I use a very large hard case for transporting the Birdy abroad and the modification has meant that I have to remove the bars to get the bike into the case, however this is a very simple task.
I hope these comments are helpful to prospective purchasers of the Birdy and have to say that I find it an excellent product."
The Editor comments:
I would be the first to admit that I am perhaps harsh in my criticism of the Birdy. Much of this arises from the fact that I think it is actually bad, but I feel it could be so much better! While I had one, I travelled more distance on it than any of the other bikes I had at the time, so despite the things I did not like, I obviously found a lot in its favour. Mine rattled badly from the start, and I don't think I was alone in having this experience. It was not a particularly early model either. The rattles seemed to come from a whole variety of sources, and I never managed to wholly eliminate them. With later developments, the luggage options were unusually varied, but none of them really satisfied me - they seemed after thoughts which allowed luggage to be attached, but not in a way that, as an engineer and a cyclist, I considered theoretically or practically ideal. The under frame bag, for example, has to be removed when folding if it is fairly full, and this is fiddly due to the Velcro fastening; the folding/suspended rear carrier seems very lacking in lateral support, so that it will result in the 'tail wagging the dog' if much load is carried, while the smaller rear carrier can only carry a minimal load without interfering with the heels, and is on the unsuspended rear triangle. My tyre test included the latest Kevlar tyre, and although this seemed likely to offer better life than its predecessors, I (and others) found the rolling resistance poor, so that the bike felt lethargic.
I bought my Birdy - I have never been given any free bikes to evaluate on either a short or long term test - so the views expressed on this and other bikes are those of a real owner, based on spending his own money. While I find some aspects of the Birdy frustrating - in that I think they could have been done better - that's not to say that I think that it is a bad machine - far from it. Now that the 5-speed Brompton is no longer available, the Birdy looks an even more attractive proposition if you are looking for something which has good folding characteristics, but which is also suitable for longer rides as well. I have to admit that there are times when I regret parting with mine, though with so many other machines to choose from it has not really created a gap in my choice.
MOULTON
As mentioned in the editorial, current NS Moultons are being fitted with mudguards and stays which give considerably more clearance than there was with the first examples. I'd now class the clearances as generous with the Continental GP tyres. You still can't fit any other tyre, but this is as much a function of the short reach Dura Ace calliper brakes around which the bike is designed - they give excellent stopping power and smooth operation, but leave very little space around the tyre. If you have an NS Moulton with the small clearance mudguards, you may choose to alter the fitting of the front stay/mudguard bolt, so that the bolt head is on the inside and the nut is on the outside, which gives a millimetre or two more clearance between the tyre and the fixing bolt. Alternatively, if you find the clearance is a cause for concern, you could contact the factory about upgrading to the latest specification with increased clearance.
ON GEARS AND OTHER FOLDING MATTERS
By Dennis J Duggan
I thought I would send you a general-purpose article in case you are short of material for the next issue. It might be sufficient to pad it out a little if necessary!
On the subject of gears, my bike collection has machines ranging from fixed-wheel to 10 speed derailleur with some Sturmey Archer 3 speed hubs in between. My trips are often of short duration, perhaps a two minute ride to work and back (literally!) or an eight mile return journey to my mother-in-laws. I might do twenty-plus miles on a Sunday morning, my longest run in a day (so far) being forty miles - that was on a 1948 Raleigh Sports with 3 speed hub.
What I have found is this. On a bike equipped with hub gears I am constantly up and down the box, whereas with a derailleur system I tend to stay in a mid-range gear most of the time. I change up or down only when I have to, the main reason being it is such a hassle - even after forty years' practice. Let's face it, it is not unknown for the chain to come off and fixing it is a messy business. Mine has only come off once, but that was enough. The various clanking and grating noises, even though the adjustments seem correct, also put me off. I have not tried the latest 'index' gearshift system, but perhaps I would find it more to my taste.
Mike mentioned the Bike Park in Leicester's Town Hall in connection with them being a Birdy dealer, but I feel this establishment warrants more information and publicity. I believe the Bike Park was initially set up by the local council as a place where a bike could be safely parked for a modest fee. They charge 50p for the first three hours or so then I think it is a sliding scale, but last time I was there they only asked me for 50p even though my bike had been there for much longer. There is also a shop with repair facilities, and showers are available. Bikes are securely parked and the rider is given a ticket, without which the machine cannot be reclaimed. I have used the facility several times with complete confidence. It is far better than locking one's machine to a lamp post or similar, and removes the nagging worry of theft whilst one is about one's business in the city centre. They do seem to struggle with my Moulton though, because of its small wheels. These will not fit the wall-mounted wheel-parking brackets where you put your bike temporarily while signing in, and they seem to have difficulty putting it in the parking rack. Last time, it was wheeled round the back somewhere! The only slight problem is that the staff plainly flunked their exams at charm school, and I have to say the reception is not overly-friendly. Attempts at conversation tend to be met with monosyllables, but at the end of the day they are providing a useful service and I suppose we can't have everything.
Simon Parker mentioned Seattle and Vancouver. Coincidentally I have been to both places recently. Seattle must have the world's most complicated airport, a nightmare for a first-timer to negotiate. Vancouver is a beautiful place. If only the high-rise buildings in this country showed a fraction of the flair and flamboyance of those in Vancouver then Britain would be a more attractive place.
LETTERS
While I don't wish to reawaken the discussion on the behaviour of cyclists in general, the following from Lindsay Perks (Bromptoneer from Whitley Bay) may be of interest:
"I guess 'The Spectator' may not be the first magazine one thinks of turning to for enlightenment on cycling issues, but it is quite surprising what perusal of its pages can reveal.
Last October, one James Bartholomew contributed a piece entitled 'Terrorists in Lycra shorts', touching on what he perceived as the perils inherent in the growing practice of shared pedestrian and cycle ways. Amongst other things he advocated compulsory riding tests and payment of road tax by cyclists and held forth about what he regarded as their uncivilised and dangerous behaviour.
I think two readers' responses in a subsequent issue of the magazine are worth repeating. Mr Bartholomew was not specifically referring to riders of folders but I know that, since I acquired my Brompton, I have come to appreciate and use shared and segregated routes more and more, particularly in cities and towns. Fellow "criminals" may enjoy the refreshing approach of the following two correspondents to 'The Spectator' .
The first letter came from Mr John van der Pas from Dorset, who entitled his contribution "Confessions of a cyclist".
"As one of those 'horrible Europeans' who was born and raised in the Netherlands and has thousands of bicycle miles under his belt, I may be considered knowledgeable on the subject and able to pass comment on James Bartholomew's proposed solutions.
I have asked myself why areas of roads destined for pedestrians are called pavements. Was it because when the Highways Act of 1835, Section 72, became law that the rest of the road was largely unpaved? Were there any motor vehicles about in 1835?
I live on the outskirts of Poole and, weather permitting, I always cycle into town as it is far quicker, seeing that its car parks are invariably full. What is available to me in the way of cycle tracks is the area between two yellow lines so despised by motorists, i.e. four inches. Only a Dutchman manages to stay within those two lines, but it is a bit tricky, and even then motorists begrudge me the space and demonstrate this by narrowly missing me with their wing mirrors. As a typical Dutchman, despite 55 years domicile in England, I hold that laws are made to be broken and, as I hate hospitals, I invariably use the pavement. Some stretches of the latter are wider than the road and I rarely encounter a pedestrian. If I do, and being a decent as well as a common-sense type of fellow, I stop to let that rare species pass. Thus no one is inconvenienced or endangered.
By the way, the Dutch treat cyclists as 'equals', they don't discriminate against them, and as such there is hardly a town or village in Holland that cannot be comfortably reached via a well-constructed cycle track often far away from any road used by motor vehicles. Its courts also tend to put the burden of guilt on the motorist in the case of an accident involving a cyclist. All in all, it shows that Britain has a lot to learn from Continental Europeans when it comes to civilised behaviour and common sense".
The second splendid letter came from Mr Callum Fisken of Edinburgh.
"Hurrah for James Bartholomew's hard-hitting piece on the dangers to civilisation of errant cyclists! This is just the sort of investigative reportage we demand from The Spectator.
May I humbly suggest that he now turns his sharp eye to the increasing problem of wayward pedestrians? We must have all grown tired of those who congregate in large groups in the middle of the pavement rather than stepping to the side, or those who walk hand-in-hand blocking the way to oncoming walkers, totally disregarding the principle of two-way traffic on the nation's streets. Perhaps he could suggest similar prescriptions: vigorous walking tests for would-be pedestrians (preferably at an impressionable age), one-way pedestrianisation of our streets and, of course, the mandatory wearing of safety helmets for all those venturing out of doors.
I am sure that this would sit as easily with the free-market, libertarian editorial stance of The Spectator as his recent piece, and would have the additional bonus of beating those super-efficient Dutch at their own game".
Irony can be a powerful weapon! I hope you enjoyed these two excellent contributions to the ongoing debate on treating cyclists as fellow human beings deserving equal treatment with pedestrians and motorists, a proposal that seems to be missing from the manifestos of any of the parties seeking our support on June 7th."
Lindsay also writes concerning a 'weighty topic for folder buffs':
"I have been struck by how much research and ingenuity seems to be devoted to the prized objective of reducing the weight of our cycles. This is a particular preoccupation of folder enthusiasts for quite obvious reasons.
Considerable effort, expense and skill seem to result in shaving only a few ounces - or even grams – from our machines.
Am I alone in believing that it may be more effective and certainly cheaper to focus our attention on reducing our own body weight? There must be few of us who could not manage to lose at least a few pounds. And, of course, the benefit of doing this would not be restricted to cycling.
Or am I wrong? Is there any data on the comparative benefits of losing weight ourselves, versus reducing the weight of our bikes? My own experience suggests that losing weight does help. Like many of us I tend to gain weight over the winter - as much due to the excesses of Christmas and New Year as to cycling less in inclement weather. In the spring when I resume cycling in earnest it is tough. So I diet a little and exercise more and my strength, speed and stamina do seem to improve. Or am I just kidding myself?"
There are differing views on the importance of the weight of cycles. I am firmly in the group who believe it is very important. If I cycle round with a house brick on the rear carrier, I can certainly tell the difference in the way the bike and I perform. I can also detect a difference in performance if I manage to save weight on a bike. Personal weight has more relationship to fitness, and if it were critical, then presumably all the most successful competitive cyclists would be very light, which is clearly not the case (though none of them are obese, since this tends to relate to fitness). Saving a few ounces in one place on a bike may not seem important, but if this is repeated throughout the bike, the cumulative effect can be quite significant. However, for folder owners thee is another issue, which is not open to debate at all (I hope!), and that is that a heavier bike is more difficult and tiring to carry, or even just lift into a vehicle, and this is an important factor for most folder owners.
Jim McLaughlin from New Jersey has some observations on the recumbent conversion for the Brompton:
"I had let my subscription lapse when I moved. Nice to see your complete magazine on the net. I just read the article on the recumbent kit for the Brompton from your April 15th issue, and want to comment. I bought a "Brecki" kit from Channell Wasson in the US more recently and had a much better experience. I presume Julianne improved some things? Never any slipping of the belt. The seat back now supports a standard pannier bag, though I did have to add a nylon "tie wrap" strap for the bottom. I had a Mountain Drive already installed on my T5 and left it in place. It was a simple matter to invert the belt assembly to mount on the left side, so that it would be compatible with the mountain drive in place. I did have to buy some longer bolts from the hardware store, for a few dollars. This was easier than moving the mountain drive to the front. It also reduces the force on the belt. I don't recall why, but it was necessary to reverse the cranks she sent from front to rear when mounting on the left. Since they do not contact the chain now, there is no drawback to this. I did machine a slot in the crank that Julianne supplied to replace the arm with the Mountain Drive s!
Shifter. I shift the Mountain Drive by hand now, which takes some getting used to. The fancy Mountain Drive shifters help with this. The cheaper button shifters might not require machining on the new left crank but would be harder to reach. I line up both pairs of cranks when unfolding and putting on the belt to aid shifting by hand. That way I can stop pedaling with the crank for the side I need to touch pointing up, and it is easier to find by feel. Most of the time I am in the high range of the mountain drive so there is little hand shifting. But the low gears are important on a recumbent, so when you need to shift, you really need to shift. I do have to hold back the tension spring by hand when putting on or removing the belt, but this is not a problem. It is important that I still have my full range of gears. I added my kit onto a 1994 vintage T5 which had good brakes. Not all pre 2000 Bromptons had bad brakes, just a middle period after CLB went under. My new 2001 Brompton brakes are not significantly better than the 1994 CLB brakes. I also use single sided SPD pedals. I have yet to get the cyclometer wired again, just haven't gotten around to it. Sometimes I commute to work with it on New Jersey rail, but more often I also switch back to the upright Brompton due to it's faster folding time. My short 3 mile trips on each end of the train ride are brief enough to tolerate an upright bike. But long trips I am always on one recumbent or another. I bought my second Brompton with Channell's excellent front derailleur assembly, thinking that I might move the "Brecki" recumbent kit to that bike to make it easier to shift. Also, no machining would be required on the cranks for the shifter. The gears are not as low but may be enough in flatter terrain. I have heard some people move the Mountain Drive to the front of the Brecki, which is probably the best solution especially as Mountain Drive prices have reportedly declined. I use a strap-on water bottle on the handle bar stem, and a helmet mounted mirror. I had ridden nothing but recumbents for my last 5000 miles or so, and do so not only for comfort but mainly for safety. I got tired of taking bikers to the hospital after they flew over the handle bars, and hoped not to join them. But when I got my second Brompton I apparently forgot some of the things that you learn about conventional bikes. For one thing, you can brake full force on a recumbent while riding one handed, as your weight is not thrown onto the handle bars, knocking off your steering. Like an idiot, I tried that on my new conventional Brompton without thinking, shortly after I bought it and went down hard, fracturing my shoulder. When switching back to a conventional Brompton I was amazed how high one sits on regular bike, actually higher than a driver in a minivan. So be extra careful if you switch back and forth between a recumbent and a conventional bike."
SALES AND WANTS
If you have a folder, separable, or accessories to dispose of, or you want to buy, you can use the Sales and Wants page (http://www.foldsoc.co.uk/sandw.html). If you want to have something put on the list, just email us the details (mike@foldsoc.co.uk) - there is no charge, but please let us know when it is sold so that we can take it off the list. As I strongly suspect that I am not being told when items are sold, I intend to introduce some changes to the Sales and Wants section. In future all entries will be dated, and will be deleted after 3 months unless a request is received to retain the entry on the list. However, please do still tell us as soon as anything is sold, so that we can remove it and avoid creating annoyance to those using the list. Take all normal precautions when buying and selling goods - the Folding Society and its officers are not responsible for the descriptions and products and services contained in the Sales & Wants list.
EVENTS
The events listed below are a combination of those organised by Folding Society members or of potential interest to members. Please note that events may be affected by the current outbreak of Foot & Mouth Disease in the UK, so check with event organisers before attending.
Remember that cycling can be dangerous (so is travelling by car, bus, train, air or water, breathing and living!); anyone participating in any way in any event does so at their own risk.
Saturday 2nd June - Mud Dock
Although there is no official organiser, the gatherings on the first Saturday of the month at Mud Dock in Bristol are still taking place and receiving good support. Meet at Mud Dock from about 10.30am onwards.
Saturday 9th June - Origami Ride
Origami Rides are usually held on the second Saturday of each month, and the normal meeting point is at the Tearooms at Meriden. During the Foot and Mouth Disease outbreak, arrangements may be changed, so please check with the organiser before attending. Note that the July ride (on 14th) will be at Cheltenham - more details nearer the event. For information on future/alternative events, contact John Pinkerton on 0121 350 0685, email pinkertn@mwfree.net, or look at his web site at http://www.users.mwfree.net/~pinkertn/origami.html.
14th July 2001 - Moulton to Bickerton and back. (Mid Cheshire)
For those of you who enjoyed this ride a few years ago, a chance to enjoy once again the tumbling scenery of West Cheshire, and for those of you that missed it, a chance to come and enjoy the legendary views, food and beer at The Pheasant. Anyone completing the trip on a Bickerton will have their drink bought for them at lunchtime! Around 35 miles. 10:00am meet in car park, opposite Moulton Post Office, for 10:30 departure. Anticipated return 3:30 - 4:00. All Moultons and any make of folder welcome. Contact: Jem Kime, 8 Norman Road, Stockport SK4 4HJ. Tel: 0161 432 8132. email: jem.kime@cwcom.net
Saturday 14th & Sunday 15th July, Amsterdam area
European Bike Friday gathering - other folders welcome. More details later, or contact Enno Roosink at bikenno@xs4all.nl . Tee, Hay Ting, who is acting as Enno's Man Friday on this (Enno is very busy at present), tells us that more details can be found on the Bike Friday Yak pages (#820) at http://www.bikefriday.com/yakfiles.cfm .
17 - 19th August - Bike Friday Homecoming Rally 2001, Eugene, Oregon. Contact Jennifer Hill, jenniferH@bikefriday.com for further details
2001 A Cycling Odyssey
There is of course no CycleFest at Lancaster this year, but for those whose year is not complete without a visit to Lancaster, there is the Cycling Odyssey, described as a unique cycle camping event. Note that there have been some alterations to the details published previously, as the second weekend has had to be cancelled. The event will therefore be held on the weekend 18th & 19th August 2001 based on the usual campsite on the Lune estuary at Snatchems End near Lancaster. Further info from Steve Andrews - please phone 01524 824594 or email vickya@dial.pipex.com The website is at http://sdk.tripod.com/cyclingodyssey.html ."
August 24 - 26: Tynebikes Rising Sun cycle festival
A weekend at the Rising Sun Park, Wallsend, Newcastle upon Tyne. For further information contact Ken Davison telephone 0191 296 2918 mobile 07720 916 046 or e:mail tnegus@onet.co.uk or john.turvey@kpmg.co.uk
29th - 30th September - Moulton Bradford on Avon Weekend
The date for the annual Moulton weekend at Bradford on Avon weekend has now been fixed, although no details are yet available of what will be taking place.
---
A to B Magazine
A to B Magazine remains the ultimate source of authoritative information on folding cycles. In the unlikely event that you aren't aware of A to B and/or don't read this magazine, then we would urge you to take out a subscription without delay. A to B can be found on the web pages at http://www.a2bcare4free, or you can email them at atob@atob.org.uk, or they can be reached by telephone or fax on 01963 351649, address 19 West Park, Castle Cary, Somerset BA7 7DB, England. A subscription to A to B is only £10 per year in the UK, or $24, and the magazine is published ever two months and is packed with news, reviews and other interesting information on effective integrated transport systems in general, and folding cycles in particular.
---
Note: The views expressed by contributors and correspondents are those of the writers, and are not necessarily those of The Folding Society or its organisers.
---
Back Numbers
Back numbers of all issues of Folding Society News are available on our web site - go to http://www.foldsoc.co.uk/fsn/fsn.html for the full list.
---
Contributing material for FSN
We would very much welcome articles, photographs or any other material for inclusion in future issues of FSN, or on our web pages. Please send any material to The Folding Society at the address given below. However, if you are planning to send pictures by email, please send them at an appropriate resolution to avoid high telephone bills - a JPEG picture of 50K or less is ample for use in FSN or on the web pages.
---
The Folding Society
email: mike@foldsoc.co.uk
Web: http://www.foldsoc.co.uk
If you have any news or other information of interest to other members of the Folding Society, please email us at the above address.
If for some reason you wish to be removed from this mailing list, please send a message to this effect to the same email address.
All information given here is provided in good faith, but no responsibility can be taken for errors or for any consequences arising from the publication of this information.
Return to FSN index | Folding Society home page
---
Copyright (C)2001 Ferrets Anonymous
Last updated: 3 June 2001
URL: http://www.foldsoc.co.uk/fsn/fsn076.html