THE FOLDING SOCIETY
---
FOLDING SOCIETY NEWS
Issue 75 - 6 May 2001
EDITORIAL
I've received emails from two Bickerton owners recently, commenting on the lack of coverage of their machines in FSN. To them, and others who own slightly less common machines, I can only say that the solution lies in your own hands - submit some articles! FSN relies on reports from members, myself included, and they write about what they own, or at least have tried. I used to own a Bickerton (from the early 1980's until 1990), but although there is no denying its huge importance historically to the development of folders, I have to say that personally I would never want to go back to one myself. Once I had a Brompton, there seemed little point in keeping the Bickerton. My chief memories of the Bickerton were its extreme flexibility, the fact that a tyre exploded the first time I rode it (exploding tubes became a common problem, although only the once while riding, though on another occasion an explosion while it was parked in an office caused considerable consternation), and a spontaneous fold while I was riding on another occasion. However, I'm more than happy to carry articles on Bickertons, or anything else, from owners, if they are suitable for inclusion in FSN. As it happens, and quite by coincidence, we have two pictures of Bickertons in this issue!
Talking of how many members own particular makes, the current status of our records (after the loss of a few details during a synchronisation of a PDA with the desktop, in which for some reason the older file replaced the newer one) is as follows:
| | | |
| --- | --- | --- |
| Make | Owners (%) | Cycles (%) |
| Bickerton | 8.0% | 5.0% |
| Bike Friday | 12.2% | 8.2% |
| Birdy | 8.8% | 5.6% |
| Brompton | 61.3% | 41.3% |
| Cresswell | 4.2% | 2.8% |
| Daewoo | 0.9% | 0.5% |
| Dahon | 7.8% | 5.1% |
| Moulton | 20.0% | 16.5% |
| Raleigh/Montague | 4.6% | 3.1% |
| Strida | 1.9% | 1.5% |
| Other | 14.5% | 10.4% |
Given the very strong Brompton presence (over 60% of you own one, though quite a lot of you who do own one own something else as well), there is probably at least as strong an argument for more coverage of Bromptons. However, if we take into account the fact that many people who own a particular make are very interested in knowing more about the merits and drawbacks of the alternatives, I hope we have the balance about right at present.
V-CC Memorial Ride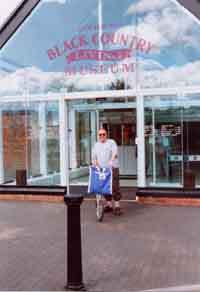 The annual V-CC Memorial Ride was relocated to the Black Country Museum as a result of the Foot & Mouth outbreak. That was certainly a convenient location for me - only about a mile from where I live - though it did result in some reduction in the numbers attending the event compared with recent years. This year folders and Moultons (separable or not) were particularly well represented. Richard Matthews was on a Bickerton on this occasion (see photograph) - I had not seen him since his trip to Mexico with the Brompton, an outing which he evidently enjoyed, and on which the Brompton behaved impeccably. Richard's was not the only Bickerton at the Memorial Ride (photograph 2), and apart from the Dahon also pictured here, there was also a Brompton, Moulton Stowaway, Moulton AM14, Bike Friday New World Tourist, and Strida Mk II (photograph 3).

| | | |
| --- | --- | --- |
| | | |
| Another Bickerton, and a Dahon. | Tony Hadland brought a number of folders - this Strida Mk II was one of them. | Nothing new under the sun - this machine evidently predated the recent craze for folding micro scooters! |
It was good to see Mike Burrows at the event, with his new (non-folding) Ratcatcher recumbent.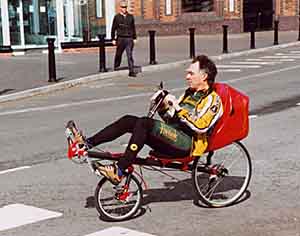 The best laid plans of mice and men ...
The Lanstair Ride from Lands End to Broadstairs, which was due to start on 3rd May, was called off the preceding week due to the Foot & Mouth outbreak. As we were short of material for this issue, I decided to hold production back for a couple of days to give time to get some photographs of the Memorial Ride back from processing (I chose conventional film rather than digital for covering the event). Then I received an invitation to take part in another outing at rather short notice, so it seemed best to put this issue back again for a few more days, which is why you are receiving it rather later than you might have expected. Other developments (not cycling related) during the last week make future plans rather uncertain.
Next issue
The date of the next issue is at present rather uncertain, as it depends both my own cycling activities over the next few weeks, and the availability of material. Don't panic if there is some delay, or if you don't get replies to any emails - indeed, if everything goes according to original plan, I'd be grateful if you could minimise correspondence (apart from material for the next issue) for a week or so.
Format
If you receive this issue of FSN in a plain text form, please remember that a formatted version is available on our web pages at http://www.foldsoc.co.uk/fsn/fsn075.html, and you can receive the formatted version (suitable for reading with a web browser) just by emailing us to let us know you prefer this version.
NEWS
Please note that A to B have now changed their web address to http://www.a2b.care4free.net - don't miss out the 'a2b' bit as I did in one place in the last issue! Their email address also changed recently, as reported in FSN at the time, to atob@atob.org.uk. We are trying to update our web pages to reflect these changes, but we may not locate all the links, so if you have problems accessing the A to B site from our pages, try manually entering these addresses.
BROMPTON
The most recent issue of A to B reported that Brompton will use the SRAM/Sachs 3-speed hub when the stock of Sturmey-Archer hubs runs out, and indeed one recent report informs us that bikes so equipped are now reaching dealers. The ratios and performance should be unchanged from the Sturmey-hubbed versions. More of a problem is the replacement of the 5-speed, as the narrow spacing of the forks of the Brompton precludes the fitting of any 5 or 7 speed hubs which are currently on the market, and supplies of the old Sturmey 5-speed ran out some months ago. As far as we know, Sun Race in Taiwan, who plan to put the Sturmey hubs back into production, are not shipping yet, and anyway it seems likely that the 3-speed would be the first model they would produce, with the 5 and 7 speed (etc) hubs coming later, if at all. Of course if you use a Brompton just for shortish commutes, then there is a lot to be said for the cheaper, simpler, lighter 3-speed, but if you want to use the Brompton for more than this, and/or want closer spaced gears and/or a wider gear range, the 3-speed is rather restricting.
A to B also reported that Andrew Ritchie of Brompton has a two speed derailleur fitted to his own personal Brompton; I haven't seen the bike myself, so I'm not sure if it is a front (double chainring) or a rear (Dacon type converter) arrangement. I must say I find the prospect of using either to overcome the problem rather unappealing. While a rear derailleur, with fairly closely spaced gears, combined with a 3-speed (wide spaced) hub may make sense in the SRAM/Sachs 3x7 system, I don't think a two-speed derailleur and wide spaced hub equates to it. I'm not very keen on double or triple chainrings with conventional derailleur systems - hence my Moulton AM7, NS and, at one time, Birdy Red with widish spaced 8 or 9 speed derailleurs and a single chainwheel. With wider spacing of the two gears, on the Brompton we would end up with just one more gear, wide spacing throughout, and the extra weight an complexity of the second ring/cog and changer mechanism. With rather closer spacing, the derailleur could be used to bridge the wide gaps of the 3-speed hub, but with relatively little increase in range, complex change patterns, and again the extra weight and complexity. If we need the option of a Brompton with more than 3 gears, and I think we do, then in the absence of a suitable narrow hub gear then I would prefer either a widening of the forks (as featured in the imaginary 'New Series Bromton' in our 1st April issue) and the use of an available hub with 5 or 7 speeds, or one with a 7-speed 11-28 derailleur. The latter would probably only be practical if the forks were widened, though Steve Parry has managed to squeeze one in with some modifications on his SP Bromptons. Others may wish to consider the Mountain Drive, though the drawbacks of the double chainring apply, and it is expensive.
Of course the problem created by the disappearance of the Sturmey hubs is not unique to Brompton, but the narrow fork spacing does make the consequences more serious. I find it difficult at present when asked for advice by some potential owners of Bromptons - for many the 3-speed hub is fine, but in the case of those who want to travel further and have more gears, I find I'm suggesting the Birdy more than I used to.
BIRDY
I often receive enquiries from prospective owners about folders, and it is often quite a problem suggesting where people can go to see and try them, at least outside London and Bath, and if the enquirer wants to see something other than a Brompton. We seem particularly lacking in dealers here in the Midlands, so I was pleased to hear from A to B that there is a new Birdy dealer in the Midlands - The Bike Park, Town Hall Square, Leicester (Tel: 0116 2991234).
CARRADICE SQR BAGS
We haven't shown a picture of the new Carradice SQR bag before because at first it had not been released, and in the last issue we already had rather a lot of photographs. Here, rather belatedly then, are some pictures. The first shows the pre-release sample of the touring version that I was sent to test - the production models show a few minor changes. The second picture shows the fixed part of the mounting.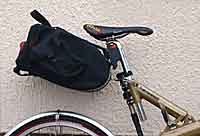 FIRST IMPRESSIONS FROM THE USA
By Simon Parker
Cycling in the US promises to be a rewarding and interesting experience. They have plenty of big rides throughout the year in the spirit of London to Brighton and the Bath to London. The most popular is the Seattle to Portland ride (The STP!) in early July - 200 miles in two days. I may partake! I also plan to take the Brompton on the Amtrak train north to Vancouver in Canada, and down to San Francisco. Both trips should give me plenty of writing material.
I'll be modifying the Brompton with local components as parts wear out as well. I've already had cause to replace a few parts thanks to the less than gentle handling of the machine by British Airways. The six large red stickers saying 'FRAGILE', displayed on every surface of the box, may as well have said 'Please drive over this box with a heavy, greasy forklift truck'. Thanks BA - you may be everyone else's favourite airline...... So when I need tyres I may use Primos. There seem to be a lot of recumbents here so I guess they are readily available. Currently I'm still running on the original Raleigh Records and while the treads are still good, the back tyre is starting to distort a little.
So hopefully plenty of interesting stuff for your readership. And if anyone is planning a trip out here, do put them in touch and I'll help them out with travel and accommodation tips where I can. Keep pedalling and if you or anyone you know fancies tackling the STP...!?
LETTERS
David Henshaw of A to B has come up with some useful information regarding Brompton handlebars, following the letter in the last issue from Simon Baddeley, who had suffered a breakage:
"Pre-early 1995 - Bluemels, I think. Liable to fail near the centre ferrule. Early 1995 - March 2000 - Taiwanese. They seemed very good, but turned out to be relatively weak March 2000 on - The German Mk 3 bar. It looks just like the Taiwanese one, but is thicker walled and much stronger. If fitting bar-ends, I'd certainly fit these too. Another point (and no doubt there's disagreement on this), I never pull on bar-ends on a Brompton, although that doesn't mean you can't! As for the toe-clips, it can be done. We're expecting an article for the next issue."
Rob Cope adds:
"West London dealers and the factory know I'm a prize bar breaker. I'm very happy with the current model which seems meaty and strong (inasmuch as strength can be estimated without, er, breaking it...) but none will take any serious honking: if bar ends are fitted, they should only be used for alternative hand positions. If you must honk a Brompton, fit straight MTB bars: your arm position drops about 2"/5cm but it's still perfectly viable. Or some have fitted braces. Fortunately, I've always had some warning of trouble: creak from the bars or a vague but definite feeling of wobbliness about the hand grips. If you get this, stop immediately and check for cracks. Those with original (polished) bars shimmed at the stem should check the shim isn't scoring the bars and creating a weak point."
Phil Weber provides the following description of how he tackled the problem of fitting toeclips:
"I have fitted toe-clips and straps to our Brompton. The standard pedal is simple. For the folding pedal, I took the pedal apart, removed the reflectors (only the front one really needs to be removed), drilled out the holes from the front reflector to take two flat-headed screws (from B&Q, far too long, not yet cut down!). The screws are inserted with the flat heads on the inside of the pedal. They are set at an angle as the holes on the pedal are closer together than those on the toe-clip (bad planning), but this does not seem to be a problem. Judicious work with a file to reduce the heads of the screws a little and the aluminium of the pedal where it hits the screws, and folding is just fine. The toe-clip is a little off-centre (close to the crank), and the strap only passes through the pedal on at the outside edge, but neither of these seem to pose any problems and with a bit more planning and engineering flair, a tidier solution could probably be achieved. For me, the addition of toe-clips improves the Brompton no end!"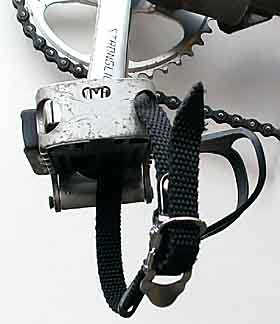 As the letter above indicates, we have heard from David Henshaw that the next issue of A to B will be looking at the subject of toeclips on the Brompton, so look out for detailed coverage there. I've long thought of fitting clips to my Brompton - I have them, or SPDs, on all my other bikes except the old Moulton Stowaway and the Cross Micro - even the newer Brilliant Micro has them. It's not just a question of being able to pull on the pedal on the upstroke, but, more importantly for me, the more secure and accurate shoe location on the pedal. Anyway, finally inspired by the appearance of correspondence on the subject, I changed the right hand pedal on the T5 for an MKS GR9 - a platform pedal, and the lightest I had in stock - and removed one reflector from the folding pedal, removed the self-tapping locating screws for the reflector, drilled a new hole and opened the other out to allow a toeclip to be attached via two self-tapping screws. The screws had to be severely cut down to avoid fouling the folding mechanism, but as the metal is quite thick, there was still plenty of thread grip. Mounting the inboard side of the strap is a problem. The worst problem was that naturally the pedal balances when released with the clip underneath, but unlike other pedals designed for clips and straps (such as the GR9 fitted on the right) there is nothing to flip it right way up with, unless of course you remove the other reflector and attach a suitable fabrication. I was not at all happy with the result, and reverted to the normal pedals with no clips. Alternatives are simply to fit standard pedals and clips, and sacrifice the folding pedal (if the clip and strap make folding difficult, or increase the size, then you might as well do this anyway!), or use SPDs. I'm not very happy with SPDs on a bike used largely for commuting and riding in traffic, at least the common double sided SPD type, though these are fairly small, and though wider than a Brompton folding pedal, they are narrower than a non-folding Brompton pedal. The SPDs with SPD one side and conventional tread the other (Shimano 323), are not especially light and are no narrower than the non-folding Brompton pedals, but as I mentioned before, if clips and straps make folding the Brompton pedal inconvenient, or cause more projection, then you haven't really lost anything. After this experiment I think I shall leave the Brompton pedals alone, but if I did decide to change it would probably be to the Shimano 323 SPDs or equivalent. The photograph shows the clip and strap on my own Brompton - I so disliked it that I removed it at work before the return journey. Mind you, this may have been influenced by the fact that the clip pressed on the toe that has been giving me a lot of trouble for the past couple of weeks!

Seamus King writes:
"There's always been a picture of cyclists somewhere in the North Sea Ferries brochure but there's a surprising twist from P&O in the 2001 edition. On page 3 there's a small photo of a woman on a Brompton and a man on a SWB recumbent. The pair also cover almost the whole of page 13 with the heading, "anything goes!". Mainstream acceptance of unorthodox bicycles?"
Carlos Duque writes:
"I enjoy your site, however there is a thing that has always bother me the page where you have the Issues of FSN - Folding Society News ( http://www.foldsoc.co.uk/fsn/fsn.html) list the oldest at the top of the page. In case you want to change it but don't have the time to reverse the order I've included those lines of code in this message. Thanks for the great information provided."
Thanks for the suggestion, Carlos, and for doing the work for me. I think this is an excellent idea, and I really don't know why I haven't done it myself - I store the paper copies of FSN in this order. I'm happy to hear of suggestions for improvements, though I may not agree to them all, but it's really good when the suggestions don't mean any more work for me, or someone is prepared to do the work involved as in this case, rather than want me to do even more!
SALES AND WANTS
If you have a folder, separable, or accessories to dispose of, or you want to buy, you can use the Sales and Wants page (http://www.foldsoc.co.uk/sandw.html). If you want to have something put on the list, just email us the details (mike@foldsoc.co.uk) - there is no charge, but please let us know when it is sold so that we can take it off the list. As I strongly suspect that I am not being told when items are sold, I intend to introduce some changes to the Sales and Wants section. In future all entries will be dated, and will be deleted after 3 months unless a request is received to retain the entry on the list. However, please do still tell us as soon as anything is sold, so that we can remove it and avoid creating annoyance to those using the list. Take all normal precautions when buying and selling goods - the Folding Society and its officers are not responsible for the descriptions and products and services contained in the Sales & Wants list.
EVENTS
The events listed below are a combination of those organised by Folding Society members or of potential interest to members. Please note that events may be affected by the current outbreak of Foot & Mouth Disease in the UK, so check with event organisers before attending.
Remember that cycling can be dangerous (so is travelling by car, bus, train, air or water, breathing and living!); anyone participating in any way in any event does so at their own risk.
Friday 11th - Sunday 13th May 2001 - Informal Folder/Separable gathering in Weymouth
Early notification of the dates of our annual informal gathering in Weymouth - no so much a Forum, more a way of life! Nothing organised, just take things as they come. Typically meet up at the Pavilion between 10:00 and 10.30 am for activities during the day, and 7:00 pm in the evening.
Saturday 12th May - Origami Ride
The April 14th Origami ride was in Milton Keynes, a change of venue partly influenced by the Foot & Mouth outbreak. The arrangements for May are rather uncertain, partly as the usual leaders have other (cycling) commitments, and the F & M situation confuses the issue. Origami Rides are usually held on the second Saturday of each month, and the normal meeting point is at the Tearooms at Meriden. During the Foot and Mouth Disease outbreak, arrangements may be changed, so please check with the organiser before attending. For information on future/alternative events, contact John Pinkerton on 0121 350 0685, email pinkertn@mwfree.net, or look at his web site at http://www.users.mwfree.net/~pinkertn/origami.html.
Saturday 2nd June - Mud Dock
Although there is no official organiser, the gatherings on the first Saturday of the month at Mud Dock in Bristol are still taking place and receiving good support. Meet at Mud Dock from about 10.30am onwards.
14th July 2001 - Moulton to Bickerton and back. (Mid Cheshire)
For those of you who enjoyed this ride a few years ago, a chance to enjoy once again the tumbling scenery of West Cheshire, and for those of you that missed it, a chance to come and enjoy the legendary views, food and beer at The Pheasant. Anyone completing the trip on a Bickerton will have their drink bought for them at lunchtime! Around 35 miles. 10:00am meet in car park, opposite Moulton Post Office, for 10:30 departure. Anticipated return 3:30 - 4:00. All Moultons and any make of folder welcome. Contact: Jem Kime, 8 Norman Road, Stockport SK4 4HJ. Tel: 0161 432 8132. email: jem.kime@cwcom.net
Saturday 14th & Sunday 15th July, Amsterdam area
European Bike Friday gathering - other folders welcome. More details later, or contact Enno Roosink at bikenno@xs4all.nl .
17 - 19th August - Bike Friday Homecoming Rally 2001, Eugene, Oregon. Contact Jennifer Hill, jenniferH@bikefriday.com for further details
2001 A Cycling Odyssey
There is of course no CycleFest at Lancaster this year, but for those whose year is not complete without a visit to Lancaster, there is the Cycling Odyssey, described as a unique cycle camping event. The event will be held on two separate weekends at two different venues, 18th & 19th August 2001 based on the usual campsite on the Lune estuary at Snatchems End near Lancaster, and 25th & 26th August, at Kirk Newton near Wooler in Northumberland not far from the Scottish Border. Further info from Steve Andrews - please phone 01524 824594 or email vickya@dial.pipex.com The website is at http://sdk.tripod.com/cyclingodyssey.html ."
August 24 - 26: Tynebikes Rising Sun cycle festival
A weekend at the Rising Sun Park, Wallsend, Newcastle upon Tyne. For further information contact Ken Davison telephone 0191 296 2918 mobile 07720 916 046 or e:mail tnegus@onet.co.uk or john.turvey@kpmg.co.uk
29th - 30th September - Moulton Bradford on Avon Weekend
The date for the annual Moulton weekend at Bradford on Avon weekend has now been fixed, although no details are yet available of what will be taking place.
---
A to B Magazine
A to B Magazine remains the ultimate source of authoritative information on folding cycles. In the unlikely event that you aren't aware of A to B and/or don't read this magazine, then we would urge you to take out a subscription without delay. A to B can be found on the web pages at http://www.a2bcare4free, or you can email them at atob@atob.org.uk, or they can be reached by telephone or fax on 01963 351649, address 19 West Park, Castle Cary, Somerset BA7 7DB, England. A subscription to A to B is only £10 per year in the UK, or $24, and the magazine is published ever two months and is packed with news, reviews and other interesting information on effective integrated transport systems in general, and folding cycles in particular.
---
Note: The views expressed by contributors and correspondents are those of the writers, and are not necessarily those of The Folding Society or its organisers.
---
Back Numbers
Back numbers of all issues of Folding Society News are available on our web site - go to http://www.foldsoc.co.uk/fsn/fsn.html for the full list.
---
Contributing material for FSN
We would very much welcome articles, photographs or any other material for inclusion in future issues of FSN, or on our web pages. Please send any material to The Folding Society at the address given below. However, if you are planning to send pictures by email, please send them at an appropriate resolution to avoid high telephone bills - a JPEG picture of 50K or less is ample for use in FSN or on the web pages.
---
The Folding Society
email: mike@foldsoc.co.uk
Web: http://www.foldsoc.co.uk
If you have any news or other information of interest to other members of the Folding Society, please email us at the above address.
If for some reason you wish to be removed from this mailing list, please send a message to this effect to the same email address.
All information given here is provided in good faith, but no responsibility can be taken for errors or for any consequences arising from the publication of this information.
Return to FSN index | Folding Society home page
---
Copyright (C)2001 Ferrets Anonymous
Last updated: 6 May 2001
URL: http://www.foldsoc.co.uk/fsn/fsn075.html