THE FOLDING SOCIETY
---
FOLDING SOCIETY NEWS
Issue 73 - 1 April 2001
---
WORLD EXCLUSIVE REPORT - THE NEW SERIES BROMTON
Earlier today we received advance notice of the most exciting new folder to be launched this century. The New Series Bromton is the result of a collaboration between Andrew Richey of Bromton and Sir Alec Molton. Some details of the design, and in particular the equipment specifications of the models in the range, have still to be finalised, and production will not start until later this year. No pictures are available at present, but A Ferret has sent us the following preliminary report.
The New Series Bromton folds in a very similar way to the current Bromtons, but in just about every other respect it is a completely new design, and uses larger (20 inch) wheels than the existing models. When folded, it is reported to be about 20% larger by volume, almost the same width, but a little taller and longer. The changes in dimensions are a result of the use of larger wheels and wider spaced forks. The wheelbase is slightly longer than the current machines, and an ingenious handlebar mechanism allows the reach and height of the bars to be adjusted - evidently derived from the wishbone stem used on Moltons. Front suspension is based on the Flexytor design of the New Series Molton, and a more refined rear suspension is fitted, again based on the system used in the New Series Molton. The rear triangle incorporates the bottom bracket - a unified rear triangle - which means that when fitted with a hub gear no chain tensioner is required. The main frame is steel, but a later ultra light version will have a titanium frame, albeit at a considerably higher cost of course. This lighter model will also have carbon fibre front forks. A hub geared version uses a new 8-speed "Sturmy Archer" (Taiwanese) hub gear, with ratios equally spaced between 27inches and 90 inches, but derailleur geared versions will also be available later. The wheels are described as 19 inch, which is the diameter over the tyres - the rims are reported to be 42(0) size. Deep drop calliper brakes are fitted, giving adequate clearance with mudguards to allow the fitting of three different new tyre designs. All the tyres are branded as "Tunnelwood", and consist of a 28 x 420 near slick (fast road tyre), a 32 x 420 general purpose light/medium tourer with a moderate tread, and a 35 x 420 heavier duty tyre, lightly 'knobbled', so that it doubles as an off- road tyre. The first two tyres are rated for 120psi, and the knobbly is rated at 90psi.
At the front, the new model will accept the standard Brompton front carrier/bag, and at the rear there are options of carriers, which can be quickly changed, similar to the Molton Daybag and touring carriers.
Weight is around 25 pounds for the hub-geared model, complete with mudguards, saddle and pedals, but an ultra-lightweight is expected to be available later weighing 23 pounds or less. Prices are expected to begin at just over £1000 for the most basic model.
When (or if!) more details become available, we will of course print them.
AF
1 April 2001
EDITORIAL
Rather a short issue this time, as, apart from the topical item above, and some information about a new Giant, there is little to report, and after several excellent articles from members recently there has also been a shortage of material from this source for this issue.
Riding
Riding over the last two weeks has been minimal, due to the continuing problems in the countryside. The Micro has been the only bike used throughout the period, just riding to and from the stations. Recently I have slightly extended the ride by using Berkswell station - the ride from there only goes though a countryside for a very small proportion of the way, and is on quite extensively used roads, rather than quiet lanes, and even this section seems to be in an area free of livestock. Even so the distance covered is depressingly low, and my fitness and health is suffering from the lack of fresh air and exercise. The Micro bowls along very easily and enjoyably on these short trips, and although the folding is not as neat as the Brompton, it is not difficult and is quite straightforward - the Micro is in fact the only folder than the Brompton which I always fold, for convenience, on our local trains (which have no restrictions on cycles) or to take into the office. It also seems to have kept itself very clean, and barely needed cleaning after two weeks of, admittedly limited, use. Now that I have given it a clean, I think the Brompton and/or the Newt, will get a turn.
Portable Paraphernalia - The sorry saga of a Compaq iPAQ
The portable paraphernalia section of the web pages has been updated to take account of some recently introduced palmtop computers.
I've relied on portable computers and handheld PDAs for my diary, address book etc for over 15 years now. Key requirements for these applications are intuitive operation, ease of use, speed and reliability. Although some of the nearly 20 machines I have used in that time have been idiosyncratic, they have generally worked well - otherwise I would not have used them. True, the software on the Atari Portfolio crashed with alarming frequency, but provided you stored the data on a memory card, rather than internal memory, nothing got lost. Psions and Palms in particular have been extremely reliable from the hardware point of view, and very easy and convenient to use. The Psion's internal operating system is outstandingly reliable and stable, and Palm's PC synchronisation is equally praiseworthy. None of these machines that I have owned have ever suffered a catastrophic hardware failure. More recently, the Hewlett Packard Jornada 430 with the Windows CE operating system has been slightly disappointing, rather brick like, with a screen that has become very badly scratched in normal use, and the Microsoft operating system has required quite frequent resets. Nevertheless, it's been completely reliable from a hardware point of view.
But then in mid November I got a Compaq iPAQ H3630 ... It didn't get a lot of use in November, December and January, mainly because I was setting it up to run the way I wanted it, and getting software for it - quite a lot of the software I had run on the Jornada and wanted to use on the iPAQ was not initially available for the ARM processor used by the iPAQ. Finally, in mid February I started using it seriously. It lasted until mid March, when on the morning of Thursday 15th I turned it on, and was confronted by flickering vertical bars and a mirror imaged display. Pressing the case would alter things, but not fix the problem. The machine had been working satisfactorily the previous day, when I was trying to configure it for different ISP accounts, and had only been carried upstairs in between. After some fiddling around, resetting etc it became evident that this was a hardware problem, and it would have to go back. As reported in FSN 72, I contacted the suppliers, MicroWarehouse, who put me on to Compaq. As I had to go out to work on Friday and Monday, I asked for collection on the following Tuesday, but later the same day DHL, the carriers, contacted me and arranged to collect it on the same (Thursday) afternoon. The following Thursday evening the machine was returned by a neighbour - it had been delivered to them instead due to incorrect addressing of the parcel by the Compaq repairers. I hastily unpacked it, and set about trying to restore the data - I had done a backup only the day before the problem, and I was expecting to have no problems. Two hours later, I still had not managed to restore the data - however I set the machine up, it reported
"Restore cannot be completed successfully. The selected backup file was created from a different type of mobile device. For more information about possible causes and solutions to this error message, check Help".
The help screens suggest that this can happen either if a different type of machine is used (HPC instead of Pocket PC, for example), or if the regional settings are different. Why the regional settings must be the same before you can do a restore is both a mystery and very illogical, especially as there is no way of inspecting the regional settings in the backup file to ensure that you have them the same. Anyway, about this point it became evident that the machine was very sick - pixels were flickering all over the screen, and the screen became gradually fainter, eventually fading out entirely. At about 8.15am on Friday I rang Compaq again, and arranged for the machine to be returned a second time - as it had not been fixed properly the first time, they promised to expedite things. I also asked about the backup problem, and was told I need to set up a full partnership under another machine name. I must say that I thought this was one of the many things I had tried, but duely noted this, and while waiting to be contacted to arrange the time of collection of the machine, I experimented again with restoring in this way, albeit with a very faint and flickering screen. Restore still failed in exactly the same way. Surfing through Compaq's and Microsoft's web site failed to disclose much information about the restore operation, and nothing to indicate what I might be doing wrong, or how I could confirm the regional settings which had applied at the time of the backup. Eventually I gave up, and waited for email confirmation of collection, and a message from the carriers. Come 5.00pm, I was still waiting ...
By Monday lunchtime, I still had not received email or any other contact, so I rang Compaq again - at this time of day this meant an interminable wait to be put through to someone. All they did was confirm that the return note had been put into the computer, and they promised to send an acceleration note. So to Tuesday evening, and still no emailed confirmation/return note and no message about collection from the carriers. However, in the meantime I had trawled the Compaq Support Forum (postings by owners) and found in the section on Operating System software several recent reports from owners who had returned machines for service, and had got them back with new ROMs which prevented loading backup files. All were asking urgently for a solution from Compaq, but no solution had been posted. At least my problems, which had resulted in 3 wasted hours, were now explained, even if there was no solution. As the machine was faulty anyway, the urgency of a solution to this backup and restore problems was not so serious in my case!
Eventually I rang Compaq again on Wednesday morning, and they gave me the necessary information for me to be able to contact DHL to arrange collection. Now I have to wait to see if the machine will work when (if?) I eventually get it back, and if I I will be able to restore all the programs and data on it. I'm not sure it matters all that much, as I have lost all faith in the machine, its software and the support provided by Compaq.
The Compaq iPAQ is very pretty, and on paper its features look attractive, but there are some design, manufacturing and service support problems which for me make it quite unfit for my purposes. At around £500 pounds with accessories and software, it is an unacceptably expensive paperweight. If my experience is anything to go by, I could not recommend it in future to anyone else, and I find it difficult to envisage that I would ever buy anything made by Compaq ever again in the future.
Next issue
The planned date for the next issue is 15th April, though if there is still a shortage of news and articles it might be put back a week.
Format
It amazes me how many people choose to receive FSN in plain text form - it's much easier to read it in the formatted version. Apart from pictures, the formatted version is only slightly larger and thus slower to download than the simple text version, and we can supply the formatted version without the photos if you prefer.
If you receive this issue of FSN in a plain text form, please remember that a formatted version is available on our web pages at http://www.foldsoc.co.uk/fsn/fsn073.html, and you can receive the formatted version (suitable for reading with a web browser) just be emailing us to let us know you prefer this version.
NEWS
Another new folder from Giant
Giant have introduced a new folding road bike. Details can be found at http://www.agawacycle.co.jp/tuhan/compact/giant/mr4.html, but as the details are in Japanese it is difficult to get much from it, apart from the picture. Equipment etc suggest that this is more of a competitor for Bike Fridays and the Airnimal than for fast-folding commuter machines.
VeloVision
The first issue of the new magazine VeloVision, produced by Peter Eland, has now appeared. This is a very well produced magazine, rather in the mould of the late lamented Open Road publications. It includes a detailed report on experience with a Birdy Red, by Peter Eland himself, who owns one. He seems to have been generally impressed with it, though noting some shortcomings, such as those mentioned in our own reports. VeloVision appears quarterly, and a subscription costs £24 in the UK, £28 in the rest of the EU, and £32 for the rest of the world. Velo Vision is at the Environmental Community Centre, Bull Lane, York YO10 3EN, Tel 01904 438 224, Fax 01904 438 236, or email peter@velovision.co.uk . There is also a web site, where apparently you can order online, at http://www.velovision.co.uk - my own attempts to access the web pages produced the advert at the top, plus a few symbols, but with most of the screen blank! The same thing happened with both Internet Explorer and Netscape, so I'm not sure why my machine does not like the site.
New email address to A to B
A to B is moving its email address to at atob@atob.org.uk, so please use this in future. We are trying to locate all references to the email address in our own pages, but we may miss some!
MOULTON
We had hoped to include a photo of Graham McDermott's new Speed, but unfortunately the picture seems to have gone missing in the email. Some readers will probably have seen it already though, as it was due to make an appearance at a Moulton ride in Cambridge on 31 March.
LETTERS
Moultoneer Peter Arnold has a question regarding using the BOB YAK trailer with small-wheeled bikes:
"Having had my F-frame 'special equipment' Moulton shopper stolen, I am wondering about the possibility of replacing it with a YAK BOB trailer. My Moulton fleet includes operational F-frames, an APB and an AM. One snag that occurs to me is that the YAK is designed for a 26" wheeled cycle. This means that the front end of the trailer would be much lower when connected to a 16" or 20" wheel machine and put too much weight on the cycle back wheel - and the front end of the trailer might possibly catch the road surface over bumps.
Has anybody out there used a YAK on a 16", 17" or 20" wheeled bicycle, Moulton or other, and, if so, with what results? Satisfactory, or otherwise?"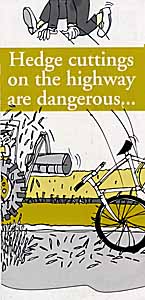 Pat Strachan writes with some information for UK riders who have problems with thorns causing punctures:
"With all the discussion on the Folding Society pages re hedge cuttings, you might be interested to see the brochure produced by Lancashire County Council, and distributed to all cycle groups as well as information outlets."
The brochure warns those who do not clean up after hedge cutting that they could be liable for a £100 fine, and a charge of £400 could be levied if the Local Authority is called out to sweep up cuttings.

D Fox, who describes himself as a "cyclist, driver, pedestrian, airline and taxi passenger, tube, train and bus user (and thanks to the Brompton, often two of these at the same time....).
"In Issue 71 (4 March 2001) Dennis Duggan said it was "a shame that more of the 700+ members do not contribute anything to the pages." Then he went on to berate cyclists who take to canal towpaths without a permit from British Waterways.
That'd be me then.
Every so often we cycle along our local stretch of canal/river bank here in West London. I've never seen a notice saying any sort of permit was needed. The path is paved (mainly), there are barriers (to stop motor bikes) and no problems. Nor have I seen any notices when taking our Bromptons on rides along the Thames upstream from Marlow, or on an AA recommended route along the Basingstoke canal [from "Britain's Best Cycle Rides"]. If permits are required on any of these stretches, then British Waterways obviously doesn't feel enough revenue can be gained from it to bother putting up notices or policing it. I certainly wouldn't pay for one. Given how rarely we cycle on towpaths, it wouldn't be worth our while.
I agree that many towpaths are fairly narrow, but if pedestrians can share them with each other, then they can share them with bikes. I am no wider cycling than I am walking. I have never had any difficulties with pedestrians, I just take care passing them (I always slow down, say 'excuse me' and 'thank you' - some people find ringing a bell more intrusive [and some don't even know what it means]).
There is too much "us and them" about cyclists mixing with pedestrians.
Read the London Cycling Campaign magazine every issue for some gripe or moan about it. The Royal Parks have what I think are unnecessary restrictions on riding on almost all of their paths, but Hyde Park is a perfect alternative to the crowded streets of central London, so I've often ridden through it (carefully and politely, and without any conflict at all - or being caught by park police). Even when you do get a designated cycle lane, there are invariably pedestrians cluttering it up anyway . Sharing paths or even pavements doesn't seem to present such a problem for other nations. In Tokyo, cyclists can seemingly ride where they like, pavement or street. Even where there are cycle lanes I saw many cyclists weaving in among the crowds on the pavement with no one taking any notice and no conflicts. Same in Amsterdam. The act of cycling on a pavement shouldn't be prohibited. What is wrong is careless or reckless cycling, but if you ride safely and give way to pedestrians when you have to (or they give way to you), why should that be against the law?
Despite the £20 fine (for cycling on the pavement) brought in last year, there are some signs that some authorities might be becoming a little more relaxed about it. The Royal Parks are apparently adding more cycle paths to Hyde Park and I notice that one stretch of Thames' side path we often use near Richmond has now moved from being prohibited to cyclists (despite the fact that it was wide and hardly ever had pedestrians on it) to being a shared-use path, although nothing has changed except the sign.
Of course, there are some really stupid cyclists [not that any of them would read FSN or even own a folder .], just as there are idiots who drive cars or own a pair of shoes. And, ahem, normally sensible people very (very, very) occasionally exhibit oafish tendencies. But, a bit of common sense in the drafting and application of laws wouldn't go amiss. It is far better a cyclist tootle along a footpath than risk some particularly hazardous road - just so long as they do no harm to anyone else. If we're to get more people cycling (and help free the roads for Mr Prescott's Jaguars), then there needs to be a more accommodating attitude on all sides.
So endeth this rant."
I sympathise with those who feel that because many motorists behave badly and make it unpleasant and at times dangerous to ride a bicycle on the roads, it should be permissible to cycle on the pavement. However, as a pedestrian I am far from happy with the idea that cyclists should use the pavement, thus making it unpleasant and dangerous for pedestrians. However, as this is not specifically a folding subject, I think we should draw the discussion in FSN to a close at this stage. Some occasional discussion on topics which are not folder specific is useful, but I think most 'members' would prefer that this is not taken too far.
New convert Gary Thompson of Inverness, writes:
I thought you and your readers may be interested in the progress of a new convert to the folding bicycle.
I have now purchased my first folder after months of research and some excellent advice from yourself.
I finally chose the 'Birdy Red'. The main reasons for this decision were the excellent foldability, the light weight and the 'big bike feel' when riding. I also have to confess that I think it looks brilliant!
Due to the awful weather and the dreadful recent events affecting the farming community, riding my Birdy has been somewhat curtailed; however, I hope to keep you posted on my learning curve as I travel on and with my Birdy.
My wife is now showing signs of interest in the virtues of the folder so it will be interesting to see if she can be parted from her beloved Marin. I think the Brompton may be best suited to her preferred cycling position, however, I must say I thought it was very heavy when I lifted one up in the bike shop when collecting my Birdy."
SALES AND WANTS
If you have a folder, separable, or accessories to dispose of, or you want to buy, you can use the Sales and Wants page (http://www.foldsoc.co.uk/sandw.html). If you want to have something put on the list, just email us the details (mike@foldsoc.co.uk) - there is no charge, but please let us know when it is sold so that we can take it off the list. As I strongly suspect that I am not being told when items are sold, I intend to introduce some changes to the Sales and Wants section. In future all entries will be dated, and will be deleted after 3 months unless a request is received to retain the entry on the list. However, please do still tell us as soon as anything is sold, so that we can remove it and avoid creating annoyance to those using the list. Take all normal precautions when buying and selling goods - the Folding Society and its officers are not responsible for the descriptions and products and services contained in the Sales & Wants list.
EVENTS
The events listed below are a combination of those organised by Folding Society members or of potential interest to members. Please note that events may be affected by the current outbreak of Foot & Mouth Disease in the UK, so check with event organisers before attending.
Remember that cycling can be dangerous (so is travelling by car, bus, train, air or water, breathing and living!); anyone participating in any way in any event does so at their own risk.
Saturday 7th April - Mud Dock
Although there is no official organiser, the gatherings on the first Saturday of the month at Mud Dock in Bristol are still taking place and receiving good support. Meet at Mud Dock from about 10.30am onwards.
Saturday 14th April - Origami Ride (Milton Keynes)
The April 14th Origami ride will be in Milton Keynes, a change of venue partly influenced by the Foot & Mouth outbreak. We plan to start at 11.00am from Milton Keynes station and follow the normal format of a ride with a lunch stop. If you want any further information, contact Phil Wray on 01296 712219, or email 101370.3576@compuserve.com . Origami Rides are usually held on the second Saturday of each month, and the normal meeting point is at the Tearooms at Meriden. During the Foot and Mouth Disease outbreak, arrangements may be changed, so please check with the organiser before attending. For information on future/alternative events, contact John Pinkerton on 0121 350 0685, email pinkertn@mwfree.net, or look at his web site at http://www.users.mwfree.net/~pinkertn/origami.html.
Friday 11th - Sunday 13th May 2001 - Informal Folder/Separable gathering in Weymouth
Early notification of the dates of our annual informal gathering in Weymouth - no so much a Forum, more a way of life! Nothing organised, just take things as they come. Typically meet up at the Pavilion between 10:00 and 10.30 am for activities during the day, and 7:00 pm in the evening. More details (if there are any - it is informal) nearer the time.
Saturday 14th & Sunday 15th July, Amsterdam area
European Bike Friday gathering - other folders welcome. More details later, or contact Enno Roosink at bikenno@xs4all.nl .
17 - 19th August - Bike Friday Homecoming Rally 2001, Eugene, Oregon. Contact Jennifer Hill, jenniferH@bikefriday.com for further details
2001 A Cycling Odyssey
There is of course no CycleFest at Lancaster this year, but for those whose year is not complete without a visit to Lancaster, here is a notice sent to us by Seamus King of a rather different and very informal gathering at Lancaster in August:
"Now on its third name this unique cycle camping event is back. So, even though you probably haven't bought them yet put a note in your 2001 diary, or in your 2000 diary to remind you to put it in your new diary when you buy it. For the first time, the event will be held on two separate weekends at two different venues which should give more cyclists the opportunity to attend. The first weekend will be 18th & 19th August 2001 based on the usual campsite on the Lune estuary at Snatchems End near Lancaster. The following week, 25th & 26th August , a second event will be held at Kirk Newton near Wooler in Northumberland not far from the Scottish Border. There will be the usual Socialising, Rides and Light entertainment. The event will have the same casual atmosphere that has forged it a well deserved place in cycling history. If you came to Not Cyclefest or Bike-Right-Lancaster Cycling Weekend then please rest assured, it's only the name that's changed to protect the innocent. Go on Give it a whirl! Further info from Steve Andrews - please phone 01524 824594 or email vickya@dial.pipex.com The website is at http://sdk.tripod.com/cyclingodyssey.html ."
August 24 - 26: Tynebikes Rising Sun cycle festival
A weekend at the Rising Sun Park, Wallsend, Newcastle upon Tyne. Facilities: Campsite, toilets, car parking, local shops, Y.H.A approx 3.5 (easy) miles away, Posh Hotel 10 mins ride away. Displays: Tynebikes, Newcastle City Council, North Tyneside Council, Sustrans, Pashley Cycles, Veteran Cycle Club and loads of other displays nearer the time. Rides: There will be a marshalled ride on Saturday and Sunday or you can explore on your own. For further information contact Ken Davison telephone 0191 296 2918 mobile 07720 916 046 or e:mail tnegus@onet.co.uk or john.turvey@kpmg.co.uk
At the recent Dudley Cycling Forum which I attended, mention was made of an event being organised by Dudley Canal Trust which might be of interest to some members. On 9th September there is the Two Tunnels Cycle Trip: "A unique way to see the local canal network. Guided towpath cycling and boat transport through the Netherton and Dudley Tunnels. £7.00 for adults and £5.00 for children." For details and booking, contact the Dudley Canal Trust on 01384 236275.
Another event of interest to folder owners is being considered for September, but dates and details aren't available yet.
Moulton Bradford on Avon Weekend (not?): Reports on the Moulton emailing list suggest that there is not going to be a formal, organised Bradford on Avon weekend this year, but that there will be a totally informal gathering over the weekend of 15-16 September, with no organised activities. Since then we have heard another possible date mentioned - 29-30th September. If/when we have any confirmation (or otherwise) of this, we will give details in FSN.
---
A to B Magazine
A to B Magazine remains the ultimate source of authoritative information on folding cycles. In the unlikely event that you aren't aware of A to B and/or don't read this magazine, then we would urge you to take out a subscription without delay. A to B can be found on the web pages at http://www.a2bmagazine.demon.co.uk, or you can email them at atob@atob.org.uk, or they can be reached by telephone or fax on 01963 351649, address 19 West Park, Castle Cary, Somerset BA7 7DB, England. A subscription to A to B is only £10 per year in the UK, or $24, and the magazine is published ever two months and is packed with news, reviews and other interesting information on effective integrated transport systems in general, and folding cycles in particular.
---
Note: The views expressed by contributors and correspondents are those of the writers, and are not necessarily those of The Folding Society or its organisers.
---
Back Numbers
Back numbers of all issues of Folding Society News are available on our web site - go to http://www.foldsoc.co.uk/fsn/fsn.html for the full list.
---
Contributing material for FSN
We would very much welcome articles, photographs or any other material for inclusion in future issues of FSN, or on our web pages. Please send any material to The Folding Society at the address given below. However, if you are planning to send pictures by email, please send them at an appropriate resolution to avoid high telephone bills - a JPEG picture of 50K or less is ample for use in FSN or on the web pages.
---
The Folding Society
email: mike@foldsoc.co.uk
Web: http://www.foldsoc.co.uk
If you have any news or other information of interest to other members of the Folding Society, please email us at the above address.
If for some reason you wish to be removed from this mailing list, please send a message to this effect to the same email address.
All information given here is provided in good faith, but no responsibility can be taken for errors or for any consequences arising from the publication of this information.
Return to FSN index | Folding Society home page
---
Copyright (C)2001 Ferrets Anonymous
Last updated: 1 April 2001
URL: http://www.foldsoc.co.uk/fsn/fsn073.html