THE FOLDING SOCIETY
---
FOLDING SOCIETY NEWS
Issue 71 - 4 March 2001
---
EDITORIAL
After the weather problems which have curtailed cycling in recent months, now there is foot and mouth disease, so rides in the country are out for the time being. Expect cycling events to be affected - the Origami Ride on 10th March is either cancelled, or possibly relocated - check with John Pinkerton if you were planning to attend. Having to stop riding in the country is a pretty small thing compared to the problems of those directly and indirectly engaged in the farming industry, but from a purely selfish point of view I hope that it is cleared up before it impinges on the holidays I had planned in April and May.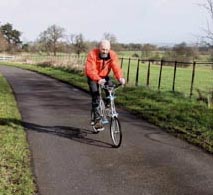 In the last issue, I mentioned a trip to Bradford on Avon, and a brief ride on the latest Moulton New Series Speed model (Pylon) - just to prove I did finally get around to riding it then, here is one of the pictures taken by Graham McDermott at the time. This is a very unusual picture of me on a cycle, as I am rarely seen without a helmet. A much more interesting picture of Moulton in action appears in the Moulton section below.

Plans to abandon using Demon are having to be revised, as only the Turnpike mailing software of demon seems to be able to mail out FSN! Investigations are continuing, but whether or not I solve this problem, I would prefer anyone sending me email to use mike_hessey@cableinet.co.uk as my email address - this is checked more often than the other addresses.
First puncture of the year
As I disembarked from the train at Stechford last week, on my way to an evening meal at the newly reopened India Garden Restaurant, I discovered the rear tyre (Schwalbe Marathon) of the Brompton was flat. Of course it would be the rear tyre, which is particularly troublesome on a Brompton. Attempts to locate the puncture without removing the wheel were unsuccessful, so it had to come out. I much prefer to fix a puncture on the spot, rather than fit another tube and then have to repair the original later - I do carry a spare tube, and sometimes have to use it if I can't find the puncture without access to a bowl of water. Luckily this puncture was easily located and repaired, but the whole process took about 25 minutes (including unloading and loading), and I got filthy in the process. Fortunately I had allowed very adequate time for the journey, and arrived at my destination with 5 minutes to spare. I'd chosen the Brompton for this journey because I was carrying a notebook computer, for which the Brompton bag is very convenient, and also I thought it would be easier to store the bike safely on arrival if I went direct to the restaurant. As it transpired, the Brompton also proved to be a fortunate choice for its portability: we finished dinner at 9:30, which meant that I had the prospect of a short ride to Erdington station, a 45 minute wait there for a train, then a 30 minute wait at Birmingham New Street for a train to Tipton and then a ride back home. Riding the whole way would take no longer, but in the dark at that time, and unsure of the route, this was not an attractive option, but happily Rita and Tony Skidmore offered me and the Brompton a lift in their car, which got me 2/3 of the way home, and saved over one hour. Without a compact folder like the Brompton this would not have been an option, so the benefits of the folder were proved again.
On the subject of punctures, I think the main factors which determine how many you get are:
Where you ride - glass strewn streets, roads near factories where there is swarf dropped on the road, and lanes and tracks where thorns are found all mean you will get more punctures. I suppose you might choose to avoid such areas, but this is not really a sensible option, so if you ride in these conditions, you will just have to put up with punctures.
Luck - if you hit or miss the glass, swarf and thorns, and which way up they happen to be when you hit them. Sometimes I go several months without punctures, then get three in a week - on different bikes, tyres and on different roads.
No doubt some tyres are more prone to puncture damage than others, but in reality I think this is no more, and probably less, a factor then the two mentioned above. When something sharp gets embedded in the tyre rubber, it seems capable of penetrating most of the Kevlar and similar puncture resistant layers without much trouble. At least as important a factor as the resistance of particular tyres to punctures seems to be the damage that glass and other sharp objects can cause, and in this respect some tyres seem to be much better than others. I have had to scrap a number of quite expensive tyres which still had lots of rubber on them due to serious cuts (349 Primo Comets and 406 Schwalbe City Marathons spring to mind), while other types have not needed replacing until they really are worn out (the old AM Wolber tyre generally seems to fall into this category).
Every so often someone seems to claim to have discovered the Holy Grail - a puncture free tyre. I'm a sceptic about magic solutions to problems, whether it is punctures or anything else. At best, Tnstaafl (There's no such thing as a free lunch). Solid tyres, for example, have generally proved difficult to fit, have poor rolling resistance, and poor grip, and just about everyone who has ever tried any type of (airless) solid tyre seems to have concluded they would rather use conventional pneumatic tyres and suffer the occasional puncture. Tuffy tape and similar relatively rigid inserts may reduce punctures, but a lot of people have actually found that unless carefully fitted it can damage a tube unrepairably, it adds weight to the wheel - the last place you want additional weight - and is likely to have a detrimental effect on ride, even if not a very large one.
I shall continue to carry round a spare tube and a puncture repair outfit, with lots of patches - including a few glueless ones in case I find the rubber solution has dried up when I need to use it.
More on punctures (unfortunately)
I wrote the previous section at about 07:00 on Thursday 22nd; at 10:00 I went to the front door to go to the Post Office, and noticed that the rear tyre (Bridgestone) of the AM was flat. Two punctures in less than 3 days - different bikes, different tyres, and very different roads and riding conditions (Tile Hill/Stechford/Erdington on the Brompton, a very enjoyable ride in the country on the AM on Wednesday). I'm not sure that I am pleased to have got such immediate and positive proof of what I had just written though ...
A to B
The February/March issue of A to B was well up to its usual standard, and included a comparative test of 3 compact folders - Brompton, Micro and Tactic - and a report on the Swift - a high performance folder from the USA. It seems extremely unlikely that any of our readers do not already subscribe to A to B, but if you don't, contact details are, as usual, at the end of this issue of FSN.
On the A to B front, we hear that Jane is no longer making the excellent light-weight covers for Bromptons and Birdys. As a result, we have tried to remove mention of these covers from the Folding Society web pages, but they cropped up in many places, and a few may have been missed. If you do come across a mention of them which we haven't removed, please ignore it, and don't pester A to B for one.
The February/March issue of Cycle Touring and Campaigning, the CTC's magazine, contains a five page summary of the folding bicycle scene by no less than David Henshaw. This is a factual report rather than road tests and recommendations, and covers most of the main machines available in the UK, though the omission of the Airnimal was rather surprising.
The appearance of a review article on folders by David in the CTC magazine seems to indicate that the CTC may be taking a more positive view of folders than has sometimes been the case in the past - especially as the CTC Shop introduced a special Limited Edition CTC Brompton a few months ago, as we mentioned at that time.
Events
After all the special events of 2000, this looks set to be a relatively quiet year for cycling events. The next Cyclefest is not until 2002, though there will be the usual low-key camping week(end) in Lancaster in (see the main Events section below). The Moulton Bicycle Club, which had a quite exceptional event in 2000, apparently is not having a formal Bradford on Avon weekend this year - we think there may be some sort of informal get together over the weekend of 15-16 September, but that will probably be all. Once again some folder enthusiasts plan to meet at Weymouth in May (10-11), but some of the regulars will be missing this year due to other commitments - I expect to be riding from Lands End to Broadstairs at that time, and as I shall be at a Photographic Workshop in Inversnaid in September, I shan't be going to even any informal Bradford on Avon meeting either. The CTC Rally will be at York as usual, 22-24 June, but even that promises to a somewhat muted affair ("back to basics") after the ill feeling generated in some quarters following the rather commercialised event in 2000.
Personally, as a sometime event organiser, I think it is no bad thing for events to be every other year rather than annually - apart from offering relief to the organisers, it reduces the tendency of people to take them for granted - but it is rather a pity that the off-year for so many events seems to be coinciding now.
Planned Rides
Although there may not be many formal events this year, my diary seems to be filling rapidly with rides - foot and mouth permitting. In addition to Bath/Bradford on Avon in April, Lands End to Broadstairs in May and Inversnaid in September, I may now be doing a ride in Europe later in May, and there is a possibility of another outing early in September. One consequence of actually going out and using the bikes is that the publishing schedule for FSN will suffer - not merely is it impractical to produce it while I'm travelling, but there will be less time available between outings as I try to catch up on other commitments.
Luggage
I've commented very favourably on the new Carradice SQR (Seat Post Quick Release) system a number of times recently. This allows a saddlebag to be mounted on the seat post and removed as quickly and easily as the bag on the front of a Brompton. I've now got these fittings on a number of my folding, and non-folding bikes, normally using the evaluation bag which Carradice sent me at the end of 2000, although it can be used with just about any design of saddlebag. In their review of the Micro, A to B commented on the lack of luggage facilities compared with a Brompton. With the SQR fitted to my Micro, that drawback has been very effectively overcome. With the SQR fitted, the seat post will not quite retract as far as it would otherwise when the seatpost needs lowered on most types of folder (not the Airnimal or Bike Friday though), which increases the volume of the folded package a bit, but this is not too serious. I have also tried the SQR on my old T5 Brompton - I find the standard Brompton front bag rather bigger than I need most of the time (though it is great for a notebook computer), and it certainly does not improve the aerodynamics, so the SQR is useful either as a smaller alternative, or to supplement the front bag. I did find one problem with using it with my Brompton though - I have a carbon fibre seatpost, and this has been shortened to suit my height. The result is that the SQR mounting does not allow the seatpost to be lowered enough to lock the folded bike together, so when it is picked up the front unfolds. As an experiment, I refitted the standard seat post, and this is long enough to lock properly when the SQR is in place, at least with the saddle suitable positioned. I'm sufficiently enthusiastic about the SQR that I will probably leave the standard post in place now. Unless you have a CF seatpost and have shortened it as much as I have, the SQR is not only an excellent solution for most folders (and non-folders), but is also useful on a Brompton.
Next issue
The planned date for the next issue is 18th March, though if there is still a shortage of news and articles it might be put back a week. Many thanks to our contributors who have sent articles and letters to fill the gap.
Format
If you receive this issue of FSN in a plain text form, please remember that a formatted version is available on our web pages at http://www.foldsoc.co.uk/fsn/fsn071.html, and you can receive the formatted version (suitable for reading with a web browser) just be emailing us to let us know you prefer this version.
BIKE FRIDAY
Bike Friday's Communications Director, Joshua Daniels, has sent me a lot of information in the last two weeks. Apart from copies of some back numbers of their newsletter for owners, Foldable Flyer (some of which I had missed), there was a very impressive new colour catalogue showing all the models. This unfolds to about A2 size, with one side covering all the multiple rider machines (tandems, triple and convertible) and the other with the purely solo machines on it. The variety of models is greater than I had realised, and includes the Q "T"andem - which, apart from being foldable as usual, also converts from a tandem to a solo machine. Joshua also sent me the video which goes with this machine, and shows how to fold, unfold and convert it. None of these tasks is trivial, but its quite an achievement to have produced such a versatile machine, and for longer outings the amount of work involved would be quite acceptable. For more details of all the models, take a look at the Bike Friday website at http://www.bikefriday.com . Incidentally, Joshua tells me that the next issue of the Foldable Flyer newsletter will be out at the end of the month, and will be published in PDF format on their web site, though printed versions will also be available on request.
We have had two emails from Enno Roosink in the last couple of weeks. The first confirms that Enno is now again involved in distributing Bike Fridays in Holland, having "joined the sales ranks of a well known and established (1924) Amsterdam Bicycle shop Presto. ... First sales have been generated and more will follow soon. Just to avoid the biggest part of the import duties, no longer will complete bicycles will be shipped from the USA across the Atlantic, just framesets will be ordered and prepared and built to complete bicycles on this side of the pond. Presto Cycle Sportive is situated down town near Central railway station but also to be visited at http://www.presto.nl ."
In his second email, Enno has news of this year's Euro/Dutch Bike Friday Meeting/Gathering. It is planned to take place over the weekend of Saturday 14th & Sunday 15th July in the Amsterdam area. Details are soon to be revealed - keep an eye on Bike Friday's Yak messages, the Folding Society pages and or contact Enno Roosink at bikenno@xs4all.nl . Although this is primarily a Bike Friday gathering, owners of other folders have been welcome in the past - Moultoneers, Bromptoneers, Birdy men and women etc.
MOULTON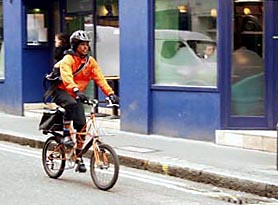 A cycle courier firm in London has a fleet of bright orange Moulton APBs, and combined with the riders' uniforms, these make a striking sight. Our picture by Graham McDermott shows one of these in action. The APB, with its rugged construction and carriers must be ideally suited for this application, though the separability (assuming they are separable models) would not be so obviously useful, apart from allowing them to be readily recovered by motorised transport in the event of any sort of breakdown. We may have some more pictures in a future issue, and/or on Moulton Bicycle Club web pages.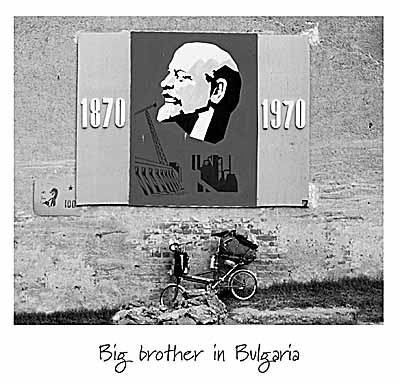 There can be few, if any, Moultoneers, or folder enthusiasts, who are not aware of the ride which Colin Martin did from England to Australia in 1970, riding a special Moulton Marathon incorporating the stowaway feature, double chainring (manually changed), twin sprockets and Sachs Duomatic hub. The ride is described in Peter Knottley's booklet "Half Way Round". We hear that Colin is planning another cycle adventure, again using a Moulton (an APB this time?), and we hope to have more details of this in a future issue. In the meantime, Graham McDermott has obtained some photographs from Colin taken on his 1970 trip. We are reproducing one here (with thanks to Colin for allowing us to do this), and we will be putting more on the Moulton Bicycle Club section of the web pages in the near future.

I must apologise to Moultoneers for the delay since the Moulton Bicycle Club web pages were last updated. As I think I have mentioned before, I 'm not allowed a Sales and Wants List update there until the new version appears in print in The Moultoneer. With a number of rides on Moultons planned this year, and other developments, I hope we shall have more to report there in the not too distant future.
MORE RARO RAMBLINGS
By John Prince
Martin Donnelly and "Further thoughts on Performance Tests" brought a German article to mind "borrowed" last time I stayed with Kalle Kalkhof. I have not found the time to translate this interesting test conducted in a typically German way, i.e. very thoroughly. In essence, the test team set out to establish whether there was a performance difference between a cycle with a standard seating position and one with a recumbent position. All tests were conducted on a specially constructed stationary cycle - like an exercise bike - where the seat and pedal/bottom bracket could be pivoted to two positions. A specially selected team of test persons (about 12 from memory) included both experienced cyclists used to one type of cycle or the other or both, down to complete novices who had not ridden any type of cycle.
The result which impressed me was the fact that - with all parameters closely recorded - the subjective feeling reported by the majority of test persons that the recumbent position was not as efficient as the standard position was not born out by test results, watts produced at a given heart rate/oxygen consumption.
The test team checked into possible causes and came up with this conclusion: the additional and unaccustomed effort of keeping the feet on the pedals in the recumbent position, used muscles not normally used in cycling, resulting in the incorrect conclusion of less efficient performance. So the motto seems to be that "perceived facts" may be misleading, especially if we conclude that our perceptions must apply to other people.
One nice aspect for me of reading the always interesting FSN is the reports from overseas. John Gaerlan's article on folders in the Philippines - a country I have not visited - brought back memories of riding in Bali. Having experienced a ride with a local taxi driver who point bank refused to set off on the journey until we had all made a food offering at the local temple to ensure a safe journey; the ensuing trip brought home the dire need for any kind of protection, including heavenly! My partner remarked that the cycles would remain unused in view of the driving, but with a holiday friend from Yorkshire, I decided to brave the storm. There is only one rule to the highway code in Bali; anything is allowed as long as no other road user is doing it! Traffic lights were a good case in point. At each of the four traffic lights at a major cross roads a native person might be making a food offering to the Gods. In the centre of the crossing, a similar procedure would be taking place with the person apparently oblivious to the traffic just inches away. Lorries, cars, motorcycles, cycles, mules, buses all mixed it in one hard-to-understand race. Every part of the road was used, and the horn demanded right of passage.
Staying alive became the only priority, and the relief on leaving the urban area for the relative peace of the countryside is hard to convey.
Another Far Eastern first was riding in Brunei, which I was informed was just "not possible". I found it very possible, just downright unusual! No other person used a cycle; most locals were so rich, they drove everywhere in an air-conditioned four wheel drive vehicle with a mobile phone pressed permanently to their ear. And there lay the only problem ... being seen and allowed for by someone with no previous experience of cyclists. I made it and came away with some nice photographs of my folder in front of the Mosque, which sits in an artificial lake to keep the marble - brought in from Italy I understand - intact in the heat. The roof dome is clad with pure gold, none of this gold leaf used elsewhere, but decent thick sheets appropriate where wealth literally pours out of the ground.
If John Gaerlan comes here, he will have to pay a little more for his coconut drink (called Nu), the going price is NZ$2=65p, but the refinement is they are kept in a refrigerator and therefore doubly refreshing. Don't spill it on your clothes, the stains are almost impossible to remove!
Martin Donnelly's comments on putting his Birdys into a suitcase, leads me to comment on our experiences to date with our SatRDay. It's a wonderful achievement to get a recumbent cycle perhaps 6x4x3 feet into any sort of suitcase which then doubles as a trailer; the one provided for our English sourced cycle is a Carlton. I understand importing the one used in America is not viable.
Problems were caused simply by the non availability of the video showing how to assemble/dissemble the cycle. The cycle came with a manual describing the process, but after hours of struggle, it became clear that the text was not without omissions and to compound problems the (very poorly reproduced) photographs bore little relation to the written word.
So to use Martin Donnelly's words "I am not systematic; it's not the same each time" applies apparently to the SatRDay. There are several ways of doing it, and if you can find a better way, let them know! I just wish I had known this at the time, as in near freezing conditions with a 50 mph breeze coming off the Severn, I struggled to pack someone else's costly pride and joy.
Not long after, I had the pleasure(?) of reassembly; this time in 32C and 85% humidity with sand everywhere and double attacks being mounted, ants from below and mosquitoes from above. Add tools slipping from sweat-drenched hands and you have the picture.
My impressions/conclusions are-:
The bags provided to protect packed items are pretty poor being made from a felt-like material. This offers little resistance to sharp objects and cannot shield chainwheels/chains/derailleur mechs satisfactorily. We have had bags custom made of leather, and leather strips with Velcro fastenings which wrap around the frame tubes (nothing expensive, just the remains of an old sofa).

Bits of plastic (PVC?) tubing are given which are put in strategic places to make metal to metal contact impossible. This is satisfactory if no large temperature variations are to be encountered. In my case, freezing conditions made these tubes hard to the point of scratching the surfaces they were supposed to protect; in high temperatures they became so soft they fell off.

The suitcase ends up very full, with a lot of expensive kit nearly rubbing. Additional protection is essential in my view if the pristine appearance of the SatRDay is to be preserved. Perhaps other SatRDay owners might like to share their secrets and travel experiences, because I get the impression both from England and USA that I am the first to complain and that thousands of air journeys have been made with no trouble. A riding report will follow when we have enough mileage under our belts to be meaningful.
Having been taking folding cycles on journeys for the last ten years, I am more than familiar with Steve Sparrow's comments about the hazards of coach drivers. Nothing brings me back to earth quicker after a nice round the world trip than to hear, within minutes of touching English soil those words spoken with such passion "You can't bring that bike on MY coach!" My experience of all airlines and coach companies world-wide is that telephone enquiry is hopeless. The word cycle always means "normal, upright cycle" and the person usually has no experience of the size of a modern folding cycle. Once seen, there is usually no objection, but the safest is always to fold the cycle out of sight, bag it properly and present it as just another item of luggage. In the case of air travel, insist on "Fragile" handling, which avoids the usual rough-and-tumble on the luggage conveyer belts. Mark the item "FRAGILE" (usually stickers/labels are available for this purpose and use any additional protective bags provided.
As soon as you are in a third world country, all such problems disappear; it becomes an honour to transport such an unusual item and mine has travelled on a steam engine under the personal care of the driver in Sri Lanka.
In England the approach that I have travelled X times with the exact same cycle with no problems, followed up - only when all else fails - of reporting the driver (request and write down his particulars and take his photograph) to the Managing Director of the bus company concerned usually results in a slow, but "mouthy" climbdown.
I was sorry to hear of the double puncture suffered by Philippa ... I wonder if she had a "stink wheel" motor hidden under the bottom bracket and whether that contributed? (only joking!). [Philippa was relying on pedal power only this time - MFH]. I am sure that wheel size has a lot to do with this; as the wheel size gets smaller, not only does the wheel fall into the hole more readily but the climb out becomes steeper. This is all shown very clearly in Mike Burrows book "Bicycle Design".
That brings me to a few mods I hope to make on my Flevo. The roads here in Rarotonga are very varied, from unsurfaced steep track to surfaced B type English road, but the climate and years of patching have resulted in a rippled surface. To improve the ride quality, I fitted larger tyres, but find that to get a noticeable ride improvement the tyre pressures have to be reduced to a point where both safety (spongy handling) and rolling resistance are no longer acceptable.
I also experimented with different seat materials to improve comfort. Foam proved pretty hopeless, so I tried something I read about where a Canadian recumbent rider had got good results with a pneumatic seat borrowed from a canoe. So I cadged an old lorry inner tube and initial results seem promising. The hardness can be changed via different air pressure, the shape changes to match variations during cycling without hard spots and the comfort is impressive, but not a full solution.
So the route to go seems to be via suspension and I hope to buy the required parts when we go to New Zealand shortly. Then, following Mike Burrows' advice (get well soon Mike with that broken arm) I shall boldly try a steering angle of 90 degrees (upright) with a front suspension fork and increase the front wheel diameter to 20" the same as the rear. Plans also include the mounting of the rear 7 speed derailleur amidships. leading to a swinging rear fork with hub gears ... well I can dream, can't I??
I have found that the Flevo, fitted with a non-standard motorcycle topbox weighs in at 20kgs, and with a 70 kgs rider the weight distribution is front 28.5kgs/rear 61.5kgs or 32% front, 68% rear - time honoured tradition of using the bathroom scales, so figures are only a guide.
At this point I was advised by Tony Hadland that he had published the rolling resistance figures obtained by John Lafford (see Tony's website) and the latter very kindly advised me to go the suspension route and have small section high pressure tyres. I also checked with John Lafford for clarification of his figures ... did you know that, as far as rolling resistance is concerned, the number of wheels/tyres fitted to a machine is immaterial? It is the all up weight of the machine that determines rolling resistance, and whether unicycle or three or four wheeled, the rolling resistance STAYS THE SAME! Anyway, bear in mind when looking at the figures that you are looking at the complete vehicle i.e. 2 wheels. I think some manufactures have got some explaining to d:; why do figures vary so much within one range?
I also feel that anyone who really thinks that all tyres are much of a muchness, and do not have much effect on the effort needed to propel a cycle, will have his/her eyes opened after studying these results obtained by John Lafford.
In closing on cycling topics, may I express my total amazement and respect for Alex Mumzhiu. I thought we had pushed our Bromptons a bit further that Mr Ritchie intended. Getting them to the top of the largest hill in Aitutaki, Cook Islands springs to mind (it must have been 35C 85% humidity up rough steep tracks, and we are not exactly spring chickens) but going over 5,000 meters ... words fail me ... just utter respect and perhaps it's time for us to get out of a rut and become a little more adventurous while we still can. The journey home via India, Pakistan, Iran etc promises more excitement ... can't wait!
On a non-cycling note, we have been having a great deal of trouble getting the Tiny notebook computer we brought over fixed. It was bought in June last year, but the power supply failed in December, and repeated contact with Tiny has not produced a replacement, even when truing to buy one rather than claim under warranty. We are not happy with this company! [Desktop PC compatibles are pretty standardised, and replacing parts is simple, but laptops are virtually all special designs, with few standard components even within one makers model range, let alone between makers. With rapid changes of design, service is a nightmare, and for that reason I would only buy a machine of this type made by one of the big three - though I have had plenty of service problems with those as well. MFH]
LETTERS
John McNaught has a potentially useful suggestion regarding the problems with rear control cables on machines like Bike Fridays and Airnimals:
"Regarding the cable problems on Bike Fridays and your Airnimal. I have a Pocket Llama which I use through the winter in the Highlands, and which suffered similar problems with the gearchange. I kept having to strip the whole cable out, only for the gearchange to deteriorate again after about 150miles. The problem is that the lowest part of the cable is inside the outer sheath (unlike a conventional bike) and so on wet, dirty and salty roads will always gum up. I came across cables called Avid Flackjackets, which are completely sealed units and work really well. They are not cheap - about £25 - but I think they are worth it as I have not had to adjust gears or cables since."
Dennis Duggan writes:
"Thanks for the latest FSN. It's a shame that more of the 700+ members do not contribute anything to the pages - come on you lot, send something in!! You don't even have to find a paper and pen, nor buy a stamp and visit the post box, so there is no excuse. We all have something to say, so don't let apathy stop you saying it.
I realise the FSN is not really the place to make statements on cycling behaviour, since it is not concerned with 'politics'. However many cyclists do break the law, either deliberately or unwittingly, and this gives all of us a bad name. For instance, many cycling publications refer to riding along canal towpaths. The latest FSN makes two references to this. Generally speaking cycling is not allowed on towpaths unless the rider has obtained the necessary permit from British Waterways. That said, I hasten to add that some towpaths can be used by cyclists. I understand that part of the Sustrans route includes towpaths for instance. It is therefore quite possible that the instances quoted in FSN were perfectly in order.
It is my belief that many cyclists genuinely do not realise that most towpaths are out of bounds. The paths are often narrow and totally unsuited to shared use with pedestrians, especially given the reckless and selfish attitude of too many cyclists. Bicycle tyres reduce the soft surface to a sea of mud in wet weather, making the towpath virtually impassable to those on foot.
It is also my belief that the current problems with law-breaking cyclists started with the introduction of so-called mountain bikes most of which, like their motorised four-wheel-drive counterparts, have never seen a mountain. They became a trendy fashion accessory, and encouraged the hooligan element to join the great cycling brotherhood."
While I don't condone cycling on towpaths without a permit, I'm more concerned with how people ride. There is more than a little reason why people could well be confused about the requirements when using towpaths, as the arrangements have changed several times, and I believe currently require one to have a permit, but it is free and has unlimited life. Of course this only entitles one to use those towpaths that are designated as suitable. At one time the Kennet and Avon was subject to a special charge, and quite a high one if you did not use it frequently. I bought a permit to use it, but never saw any sign of enforcement, and to add insult to injury, frequently stretches of it were closed, and riders were diverted onto rough tracks or the road.
Jim Ward, who is based in Asia, writes with news of a change of location, and a request:
"I'm the fellow that was living/working in Shanghai, and I have now relocated to Manila. Through FSN I recently arranged a Manila ride for a subscriber who lives in San Francisco ... great fun, and a great use of the internet and your good services. I find that I will be attending a one week business conference 24-31 March in Capetown, South Africa, and would love to ride with some local subscribers while there. Could you advise if any FS members you are aware of in Capetown?"
If there is anyone located there who would like to contact Jim, his email address is taiwan_98@yahoo.com
SALES AND WANTS
If you have a folder, separable, or accessories to dispose of, or you want to buy, you can use the Sales and Wants page (http://www.foldsoc.co.uk/sandw.html). If you want to have something put on the list, just email us the details (mike@foldsoc.co.uk) - there is no charge, but please let us know when it is sold so that we can take it off the list. As I strongly suspect that I am not being told when items are sold, I intend to introduce some changes to the Sales and Wants section. In future all entries will be dated, and will be deleted after 3 months unless a request is received to retain the entry on the list. However, please do still tell us as soon as anything is sold, so that we can remove it and avoid creating annoyance to those using the list. Take all normal precautions when buying and selling goods - the Folding Society and its officers are not responsible for the descriptions and products and services contained in the Sales & Wants list.
EVENTS
The events listed below are a combination of those organised by Folding Society members or of potential interest to members.
Remember that cycling can be dangerous (so is travelling by car, bus, train, air or water, breathing and living!); anyone participating in any way in any event does so at their own risk.
Saturday 10th March - Origami Ride
CANCELLED DUE TO THE OUTBREAK OF FOOT AND MOUTH DISEASE. For information on future/alternative events, contact John Pinkerton on 0121 350 0685, email pinkertn@mwfree.net, or look at his web site at http://www.users.mwfree.net/~pinkertn/origami.html.
Saturday 7th April - Mud Dock
Although there is no official organiser, the gatherings on the first Saturday of the month at Mud Dock in Bristol are still taking place and receiving good support. Meet at Mud Dock from about 10.30am onwards.
Friday 11th - Sunday 13th May 2001 - Informal Folder/Separable gathering in Weymouth
Early notification of the dates of our annual informal gathering in Weymouth - no so much a Forum, more a way of life! Nothing organised, just take things as they come. Typically meet up at the Pavilion between 10:00 and 10.30 am for activities during the day, and 7:00 pm in the evening. More details (if there are any - it is informal) nearer the time.
Saturday 14th & Sunday 15th July, Amsterdam area
European Bike Friday gathering - other folders welcome. More details later, or contact Enno Roosink at bikenno@xs4all.nl .
17 - 19th August - Bike Friday Homecoming Rally 2001, Eugene, Oregon. Contact Jennifer Hill, jenniferH@bikefriday.com for further details
2001 A Cycling Odyssey
There is of course no CycleFest at Lancaster this year, but for those whose year is not complete without a visit to Lancaster, here is a notice sent to us by Seamus King of a rather different and very informal gathering at Lancaster in August:
"Now on its third name this unique cycle camping event is back. So put a note in your diary. For the first time, the event will be held on two separate weekends at two different venues, which should give more cyclists the opportunity to attend. The first weekend will be 18th & 19th August 2001 based on the usual campsite on the Lune estuary at Snatchems End near Lancaster. The following week, 25th & 26th August , a second event will be held at Kirk Newton near Wooler in Northumberland not far from the Scottish Border. There will be the usual Socialising, Rides and Light entertainment. The event will have the same casual atmosphere that has forged it a well deserved place in cycling history. If you came to Not Cyclefest or Bike-Right-Lancaster Cycling Weekend then please rest assured, it's only the name that's changed to protect the innocent. Go on, give it a whirl! Further info from Steve Andrews - please phone 01524 824594 or email vickya@dial.pipex.com The website is at http://sdk.tripod.com/cyclingodyssey.html ."
August 24 - 26: Tynebikes Rising Sun cycle festival
A weekend at the Rising Sun Park, Wallsend, Newcastle upon Tyne. Facilities: Campsite, toilets, car parking, local shops, Y.H.A approx 3.5 (easy) miles away, Posh Hotel 10 mins ride away. Displays: Tynebikes, Newcastle City Council, North Tyneside Council, Sustrans, Pashley Cycles, Veteran Cycle Club and loads of other displays nearer the time. Rides: There will be a marshalled ride on Saturday and Sunday or you can explore on your own. For further information contact Ken Davison telephone 0191 296 2918 mobile 07720 916 046 or email tnegus@onet.co.uk or john.turvey@kpmg.co.uk
At the recent Dudley Cycling Forum which I attended, mention was made of an event being organised by Dudley Canal Trust which might be of interest to some members. On 9th September there is the Two Tunnels Cycle Trip: "A unique way to see the local canal network. Guided towpath cycling and boat transport through the Netherton and Dudley Tunnels. £7.00 for adults and £5.00 for children." For details and booking, contact the Dudley Canal Trust on 01384 236275.
Another event of interest to folder owners is being considered for September, but dates and details aren't available yet.
Moulton Bradford on Avon Weekend (not?): Reports on the Moulton emailing list suggest that there is not going to be a formal, organised Bradford on Avon weekend this year, but that there will be a totally informal gathering over the weekend of 15-16 September, with no organised activities. If/when we have any confirmation (or otherwise) of this, we will give details in FSN.
---
A to B Magazine
A to B Magazine remains the ultimate source of authoritative information on folding cycles. In the unlikely event that you aren't aware of A to B and/or don't read this magazine, then we would urge you to take out a subscription without delay. A to B can be found on the web pages at http://www.a2bmagazine.demon.co.uk, or you can email them at post@a2bmagazine.demon.co.uk, or they can be reached by telephone or fax on 01963 351649, address 19 West Park, Castle Cary, Somerset BA7 7DB, England. A subscription to A to B is only £10 per year in the UK, or $24, and the magazine is published ever two months and is packed with news, reviews and other interesting information on effective integrated transport systems in general, and folding cycles in particular.
---
Note: The views expressed by contributors and correspondents are those of the writers, and are not necessarily those of The Folding Society or its organisers.
---
Back Numbers
Back numbers of all issues of Folding Society News are available on our web site - go to http://www.foldsoc.co.uk/fsn/fsn.html for the full list.
---
Contributing material for FSN
We would very much welcome articles, photographs or any other material for inclusion in future issues of FSN, or on our web pages. Please send any material to The Folding Society at the address given below. However, if you are planning to send pictures by email, please send them at an appropriate resolution to avoid high telephone bills - a JPEG picture of 50K or less is ample for use in FSN or on the web pages.
---
The Folding Society
email: mike@foldsoc.co.uk
Web: http://www.foldsoc.co.uk
If you have any news or other information of interest to other members of the Folding Society, please email us at the above address.
If for some reason you wish to be removed from this mailing list, please send a message to this effect to the same email address.
All information given here is provided in good faith, but no responsibility can be taken for errors or for any consequences arising from the publication of this information.
Return to FSN index | Folding Society home page
---
Copyright (C)2001 Ferrets Anonymous
Last updated: 4 March 2001
URL: http://www.foldsoc.co.uk/fsn/fsn071.html