THE FOLDING SOCIETY
---
FOLDING SOCIETY NEWS
Issue 69 - 4 February 2001
---
EDITORIAL
It is rather quiet on the folder front at present - mid-winter, just after Christmas, is not a time when there is usually much to report. Many thanks to our contributors who have sent articles and letters to fill the gap in this issue.
The weather has not encouraged much travelling recently, whether by cycle alone or combined with other forms of transport. I have to admit that I have not folded or separated a bike yet this year - I've used local trains several times, but they allow cycles unfolded at any time. Apart from further tyre testing, the bikes which have been out during the last couple of weeks have been the Marin (once), Airnimal (once), Moulton APB (once) and Moulton AM7.
At least at this time of year one can have fun planning rides for later in the year. I have three major outings planned - April (Bath/Bradford on Avon), May (Lands End to Broadstairs - the Lanstair ride) and September (Photographic Workshops near Loch Lomond). Only the Lanstair ride will be a purely cycling holiday, but cycles will be used with trains for all of them for general transport and getting about locally. Once at the destination, no train or other powered assistance is planned, so load carrying, comfort and ease of riding will be higher priorities than foldability. Although they are all some way off, I have been giving some thought already to which bikes to use, the most critical one being the Lanstair ride. Of course any bike could be used for any of these holidays, but given a choice some are more suitable than others - while Lanstair could be done on a single speed Moulton Stowaway from 1964, or a Micro, I don't think it would make much sense to choose these. After some thought, I decided that the most suitable bike for Lanstair (about 10 days, with luggage, using B&B, and mainly on-road, but also using the South Downs Way) would be one I sold about 2 years ago - the Moulton Jubilee L! In its absence, the top contenders on my list were the Moulton AM7, Moulton APB and Airnimal Chameleon. That's one reason why after using the AM7 a lot recently I got out the APB to try that. On paper it had been at the top of my list for Lanstair, but on my usual commuting run it certainly felt much heavier and harder work on coarser road surfaces and hills, though it bowled along very merrily on the smooth tarmac roads near the NEC. On a really wet and miserable day today the Airnimal felt lively and enjoyable to ride, but it does lack the suspension refinements of the Moultons (though the combination of hinged rear triangle and carbon fibre front forks is very effective), and the rather narrow Kenda tyres fitted at present would be less than ideal for Lanstair - I hope soon to have a set of semi-knobbly Specialized tyres to try on the Airnimal, and will report on these when I have had a chance to use them. Apart from these more major outings, there will be the monthly Origami Rides, and I hope also to fit in at least one Brevet Populaire - see the letter from Simon Davies later in this issue for more on this subject.
Other News
We were sorry to hear last week of the death of Roger Thorpe, a regular at the Mud Dock meetings.
Cycling journalist Peter Knottley, the well known Moulton rider and Brompton owner, suffered a stroke some weeks ago and is still undergoing treatment - we wish him a speedy recovery. Peter is one of the highest, or perhaps the highest, mileage Moulton riders ever. Many of you will have read his booklet "Half Way Round", which described the bicycle ride from England to Australia which Colin Martin undertook in 1970.
We also hear that Mike Burrows had a fall recently, and broke an arm - we wish him too a speedy recovery.
Next issue
The planned date for the next issue is 18th February, though if there is still a shortage of news it might be put back a week.
Format
If you receive this issue of FSN in a plain text form, please remember that a formatted version is available on our web pages at http://www.foldsoc.co.uk/fsn/fsn069.html, and you can receive the formatted version (suitable for reading with a web browser) just by emailing us to let us know you prefer this version.
BIRDY
In response to a letter in the last issue of FSN, we hear from Gunnar Fehlau of Riese & Muller that the company has had a suitcase specially done for the Birdy. The price will be DM 500, and it should be ready to ship beginning of March.
Gunnar also informs us that the Riese & Muller web pages are now available in English, so take a look at http://www.r-m.de.
Regular readers may recall that I used the OLD type of Carradice SQR on the Birdy for the Llangollen ride a couple of years back, and that I have not been particularly enthusiastic about the luggage facilities on the Birdy in the past. As with tyres, there seem plenty of options, but all of them leave me personally rather unsatisfied, though I know others find them satisfactory. One shortcoming on the luggage front, in comparison with the Brompton, was the absence of the really effective quick release bag. The new Carradice seatpost mounted SQR system, which I used on the Airnimal for Portmeirion in November, and which I have been using with a new prototype bag this year, should go a long way to remove this advantage of the Brompton, not only over the Birdy, but also other folders. As I don't have a Birdy any longer, I'm unable to test it on that, but it's worth noting that Carradice supply an optional set of mounting bands to suit bikes with larger diameter seat pillars, such as the Birdy and many Moultons. I've used the mounting on the Airnimal, Moulton AM7, APB and Marin East Peak so far, and I'm intending to put it on the Micro as well when I get another mounting bracket. You can mount an existing conventional saddlebag, just about any size, on it, or Carradice will be launching some purpose-designed bags for the mounting, and it is one of these I have been testing this year. If I still had the Birdy, I would certainly consider this item as a major asset, and one which would have eliminated one of the things that put me off the Birdy.
FURTHER THOUGHT ON PERFORMANCE TESTS
By Martin Donnelly
I've recently had a few rides on an ergometer (Elite Axiom) and learned a bit more about myself. I used whichever bike was fitted to the machine, so usually the "position" was not my usual position as on my own bikes, although I have used my own bike on it, and also a saddle and seat pillar which fit in one of the other bikes to give me a nearly "correct" saddle position. There seems to be a good as-expected relationship between power, heart rate and speed on any one bike/position but each bike/position gives different results, including different ratios of watts to heart rate. So the same "perceived effort" gives different power outputs and also different efficiencies on different bikes. This effect is independent of air resistance and rolling resistance: different positions have been tried using the same back wheel, which is where all the external losses come from. Of course it could be partly psychological: maybe if I feel better I perform better. But in fact I didn't feel uncomfortable in any of the tests.
I understand that you don't use the same position on all your bikes, so you may experience a similar effect, in which case the test indicates which bikes have a better position (for you personally) relative to the total drag. So if two bikes have similar total drag (mostly air resistance?) then the one with the better position will give the faster riding speed. Of course air resistance depends on position, and it could be that the optimum combination of (aerodynamic efficiency + physiological/psychological efficiency) is not at the peak value of either. I did wonder if your ranking order reflects the relative difficulty of getting the handlebars in the right place (impossible on the Birdy if you're not the right size, quite easy on the Moultons and the Marin?).
My own interpretation of your results is that they are possibly meaningful for these bikes as used by you, but not necessarily valid as a ranking order for the bikes independent of the rider. Of course if a sufficient number of other riders contributed their own data, then I think you could make a statistically meaningful ranking of the bikes as such. I've believed for the last year that my Bickerton is faster than my Birdy, but my position on the Bickerton feels near perfect, and there's something not quite right about the bars on the Birdy (I think I'd like to move them about 3 mm in the direction of the bottom bracket, keeping them the same distance from my shoulders). So maybe the Bickerton is not intrinsically faster, it's just that I have a better position on it.
Of course if you're not in a hurry it doesn't really matter which bike goes faster, probably it's more important to know which one gives you the most pleasure. I prefer the Birdy to the Bickerton because it handles better (the Bickerton doesn't have enough weight over the front wheel).
MFH adds: I'm interested to see these additional observations, and don't have any problems with them. Just to clarify, though there are differences in the riding position I have on the different bikes, they are generally small, and in fact the Birdy position suited me rather well. I have managed to set up all the machines so that they feel comfortable and efficient, even if measurements show the riding position may differ - one would certainly expect differences between machines with flat bars and those with drops. The only bikes with a riding position which does not feel right for me are the Brompton and SP (bars too close, and too upright), but both are certainly comfortable even if the position feels less than ideal for efficiency on longer rides.
FOLDERS IN THE PHILIPPINES
By John Gaerlan
In one of your previous issues, I read one request from a reader wanting riding buddies in the Philippines. Since I was going on a trip back home after 20 years, I decided to arrange a ride with the reader. I was also able to hook up with members of a local advocacy group who graciously arranged for a weekend ride. All arrangements were done via email and the internet.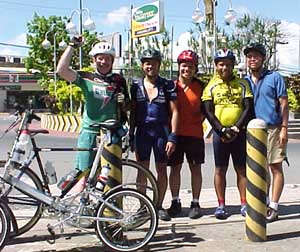 Attached is a picture of the group that rode to Tagaytay - a weekend destination about 40 miles from Manila. From the left - Jim (a subscriber to your folding bike newsletter - expatriate working in Manila), Jack, JV, Raul (members of the firefly brigade) and me. Since I was staying about 10 miles outside of Manila, they just picked me up on the way to Tagaytay, braving the heavy traffic out of Manila. From our town of Imus, traffic starts to thin down and weather gets more pleasant as we head away from the big city. This route is a favorite among the cycling aficionados as you see various clubs or teams riding it. I rode my trusted custom 24 spd Dahon Helios that day, which we put in a suitcase from San Francisco.
How were the riding conditions? Riding out or within Manila is not for the faint of heart. It's probably like riding any Southeast Asian major city - crowded, hot, humid and heavy traffic. But as you head out of the city, it becomes country like and more pleasant. Because of family commitments and appointments, this was the only long ride I was able to take. I think The Philippines can be a good tropical cycling destination, with the right route planned. Accommodation is inexpensive, food plentiful and cheap, and most Filipinos conversant in English.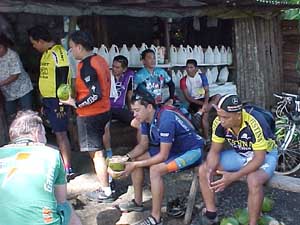 One highlight of the day trip was stopping by a Buko stop. Buko is the fruit of a coconut tree. They chop the top off for you to drink the juice. When you're done, they chop it in half so you can eat the meat inside. This Buko stop is popular among the cyclists as evidenced by bikes parked outside and Lycra clad patrons sitting on benches. Buko costs about $0.16 a piece.
I hope to return this year and maybe make it a fully fledged cycling trip. Anybody interested, let us know so we can inform you as what our plans are. Again thanks. With the power of email and the internet, the world is becoming a smaller and friendlier place.

LETTERS
A number of readers have responded to the enquiry about cases for carrying Birdys. r & m will soon have their own case, as reported above, but the other suggestions appear below. Paul Whitehead suggests taking a look at the Birdy discussion group, where the subject has arisen in the past:
"In reply to the letter from Will Powell which appeared in FSN 68, the Birdy-bike discussion group (www.egroups.com/group/birdybike) has discussed this very issue of suitcases on several occasions, and I would recommend that Will goes to the site and uses the search facility to find the relevant information. If there are any Birdy owners that are not involved in the group, I would recommend them to join it as there is lots of useful info on it."
Martin Donnelly writes on the same subject:
"Marijk and I use Samsonites for our Birdys. Oyster 2 model, it was the biggest in the shop at the time of purchase (1999). We dismantle the Birdys to get them in. I'm not systematic, it's not the same each time, and maybe I do more than is needed. We both have non-standard handlebars which take up more room: I use GB Maes drops, Marijke 'Stuttgart' shopping bike bars (very wide, handgrip points backwards). Our Birdys have "fixed" handlebar stems. We split the hinge to get the bars in the case. If you have an adjustable height "comfort" stem or a 2-bolt handlebar clamp you can use these instead to remove the handlebars, it's easier (I have modified our hinges for easy disassembly without circlips). But maybe the standard bar fits just by folding. We take out the seat pillar and the wheels, and remove the cranks with the pedals. We have one key releases on the cranks and I prefer this to removing the pedals. However since our last holiday with the suitcases we have bought folding pedals, which we haven't tried in the case. We have Birdy wheels with solid axles, and also light wheels with quick release axles. Wheels with q/r removed fit easily; with solid axles the back axle presses against the suitcase lid. Cranks, wheels and chain go in plastic bags to keep the case clean. Holiday clothes are packed in the same case as padding. Recently we have used soft bags, so we can ride away from the airport. In the soft bags we leave the front wheel in the bike, and the back fork folds so the fork end straddles the front wheel. I haven't tried this in the case yet but I expect it might work. Incidentally, my modified Bickerton with 20" wheels fits much more easily in the case after similar dismantling; I think it could go in a smaller case."
Following up on the reports in the last issue on tyre performance, Tony Hadland adds:
"Thanks for another interesting read. Could I please ask you to give a plug to a new feature on my website? This is a slightly updated version of John Lafford's big table of rolling resistance tests on tyre/rim combinations suitable for recumbents and small-wheelers. His technique claims both to be scientific and to replicate real road conditions."
Tony's website is at www.hadland.net
Dennis Duggan also has something to add on rolling resistance:
"Sorry to hear that Philippa Wheeler came a cropper off her Micro as a result of colliding with a pothole. It must have been one heck of a hole to bring her off and puncture both tyres, but obviously Philippa was not badly hurt as she was able to continue the ride.
The incident made me wonder if the accident was made worse by the fact the bike involved had small wheels. Logically a 26" wheel might have traversed the pothole, whereas a smaller one is bound to make heavy weather of such a hazard. Is my thinking faulty on this, or is my point a valid one?
I read the report on bike performance and rolling resistance with special interest, as I raised the matter in FSN a few issues back. I maintained that tyres played little part in push bike performance, given the low speeds involved. However I was in the minority, and after reading the replies I did alter my opinions (though I am still not 100% convinced) and admitted I had been a little simplistic.
Mike makes it clear that his results are not based on scientific methods of testing, which is fair enough. To make a true comparison between machines each one would have to be fitted with the same type of tyre, inflated to the same pressure - plainly not a practical proposition in this instance.
I have not tested the performance of my own collection, but there is no doubt in my mind that some of the bikes do freewheel further than others. The best one is a 1930's Silver Sunbeam, and I think the main reason is its excellent rear hub. This is a Villiers Deluxe, and the proprietor of my local bike shop (The Cycle Centre, Melton Road, Leicester - highly recommended) waxed lyrical about this when the machine was in for overhaul a couple of years ago.
They all have bog standard tyres, and these are either the ones fitted when I obtained the bikes or ones purchased new off the shelf, the type being dependant on what was in stock at the time. Does weight make a difference I wonder. A heavy mass is likely to roll further than a lighter one - or is it? And what about the condition of the wheel bearings? If these are incorrectly adjusted resistance would occur, badly affecting performance.
So it still seems to me there is more to it than just tyres, though I now agree these are of great importance."
Fellow Airnimal owner Simon Davies writes:
"I was especially interested to see your rolling resistance report on the Airnimal tyres. This surprised me somewhat as I'd got the impression that the Kendas are a little 'mushy' even when blown up over their quoted 90psi. However, this may well be a very subjective opinion and as I'm planning to get some Panaracers soon I should be able to qualify it.
I thought that some of your readers from the Midlands may be interested in the following events (mostly organised by the Birmingham and District CTC DA):
3rd March, Cycle Jumble Sale - Methodist Church Hall, Station Rd, Erdington, 10am to 1pm, entry 50p, details John Bedford, 60 Fordwater Road, Sutton Coldfield, West Midlands, B74 2BG, 0121 353 5136.
March 18th, 50 miles in 4 or 5 hours standard ride - details Sue Thorne, 44 Springfield Road, Moseley, Birmingham B13 9N, 0121 778 3615.
April 8th, Northern Section Audax - (100, 160 & 200 km), Shenstone, Details John Bedford (see above)
May 13th, Southern Wheelers Audax - (100, 160 & 200 km), Cutnall Green Village Hall. Details from Alan Mason, 102 Kingfisher Way, Bournville, Birmingham,B30 1TG, 0121 471 5150.
May 19-20, Meriden Memorial Service & Heart or England Rally, Saturday 100km Audax + 3 invitation rides +fish and chip supper & entertainments.
Sunday 80th Cyclists' Memorial Service + Arden rides. Camping + B&B available. Details John Bedford (see above). Note this is the Audax that was reported upon in the Folding News last year.
June 17th, Beacon Audax- (100, 160 & 200 km), Earlswood Village Hall. Details Ruth Eyles, 92 Scaife Road, Aston Fields, Bromsgrove B60 3SDB, Tel c/o John Hitchcock 0121 427 5590.
Aug 19th, 100 miles in 10 or 13 hours standard ride. Details Chris Jones, 30 Yew Tree Rd, Sutton Coldfield, B74 3SJ, 0121 353 9142.
Dec 16th, Cyclists Carol Service, Meriden Parish Church, Village Hall open before the service from 12.00. Details Harry Child 0121 353 5814.
For the uninitiated, Audaxes are non competitive organised touring events. There is a pre-planned route for which you will received a route sheet. There is a maximum and minimum (to prevent racing) time limit. The maximum time limit/minimum speed is very generous. The rides are very social, with control points at various cafes and often some free food at the end. Entry is normally around £2 to £4 plus £1 for third party insurance if you are not a member of Audax UK or the CTC. The Meriden Audax is probably one of the easier ones as the route is very flat. The Southern Wheelers Audax is fairly hilly and probably best not attempted on a bike with limited gears unless you are fairly fit - I did this one last year without having to use the lower ratio on my Birdy Blue, however, I think something such as a standard Brompton may be a little 'pushed'. Please enclose a stamped SAE if writing to any of the contact addresses above."
I enjoyed the Meriden Audax last year, as reported in FSN at the time, and would certainly do it again, although looking at the date I'm not sure that I shall be back from the Lanstair ride - but I'm hoping for the best and have sent in a registration. Unfortunately a lot of the Audaxes are on Sundays, which makes it impractical to get to the start in time as there are no trains.
Steve Sparrow wants to take his Birdy by coach, and his enquiries seem to have raised problems:
"I was talking on the phone to the national express bus people the other day as I was thinking about taking my Birdy or my Brompton on the coach some of the way to go to a fell club meeting. When I mentioned the bike they said that they will only take bikes in a hard box and not a bag as they can slide and damage other luggage! It is up to the individual driver apparently but it made me nervous that I might be able to get one way and not the other! Any thoughts?"
I've heard of a number of people who put them in bags and had them carried on coaches without any objections. However, it's obviously up to individual companies, and no doubt the attitude of individual drivers can make a difference as well."
SALES AND WANTS
If you have a folder, separable, or accessories to dispose of, or you want to buy, you can use the Sales and Wants page (http://www.foldsoc.co.uk/sandw.html). If you want to have something put on the list, just email us the details (mike@foldsoc.co.uk) - there is no charge, but please let us know when it is sold so that we can take it off the list. As I strongly suspect that I am not being told when items are sold, I intend to introduce some changes to the Sales and Wants section. In future all entries will be dated, and will be deleted after 3 months unless a request is received to retain the entry on the list. However, please do still tell us as soon as anything is sold, so that we can remove it and avoid creating annoyance to those using the list. Take all normal precautions when buying and selling goods - the Folding Society and its officers are not responsible for the descriptions and products and services contained in the Sales & Wants list.
EVENTS
The events listed below are a combination of those organised by Folding Society members or of potential interest to members.
Remember that cycling can be dangerous (so is travelling by car, bus, train, air or water, breathing and living!); anyone participating in any way in any event does so at their own risk.
Saturday 10th February - Origami Ride
The next Origami Ride will be at its usual location, starting from the Tearooms at Meriden: arrive from 10.30 for an 11.00 start. For more information, contact John Pinkerton on 0121 350 0685, email pinkertn@mwfree.net, or look at his web site at http://www.users.mwfree.net/~pinkertn/origami.html.
Saturday 3rd March - Mud Dock
Although there is no official organiser, the gatherings on the first Saturday of the month at Mud Dock in Bristol are still taking place and receiving good support. Meet at Mud Dock from about 10.30am onwards.
Friday 11th - Sunday 13th May 2001 - Informal Folder/Separable gathering in Weymouth
Early notification of the dates of our annual informal gathering in Weymouth - no so much a Forum, more a way of life! Nothing organised, just take things as they come. Typically meet up at the Pavilion between 10:00 and 10.30 am for activities during the day, and 7:00 pm in the evening. More details (if there are any - it is informal) nearer the time.
17 - 19th August - Bike Friday Homecoming Rally 2001, Eugene, Oregon. Contact Jennifer Hill, jenniferH@bikefriday.com for further details
---
A to B Magazine
A to B Magazine remains the ultimate source of authoritative information on folding cycles. In the unlikely event that you aren't aware of A to B and/or don't read this magazine, then we would urge you to take out a subscription without delay. A to B can be found on the web pages at http://www.a2bmagazine.demon.co.uk, or you can email them at post@a2bmagazine.demon.co.uk, or they can be reached by telephone or fax on 01963 351649, address 19 West Park, Castle Cary, Somerset BA7 7DB, England. A subscription to A to B is only £10 per year in the UK, or $24, and the magazine is published ever two months and is packed with news, reviews and other interesting information on effective integrated transport systems in general, and folding cycles in particular.
---
Note: The views expressed by contributors and correspondents are those of the writers, and are not necessarily those of The Folding Society or its organisers.
---
Back Numbers
Back numbers of all issues of Folding Society News are available on our web site - go to http://www.foldsoc.co.uk/fsn/fsn.html for the full list.
---
Contributing material for FSN
We would very much welcome articles, photographs or any other material for inclusion in future issues of FSN, or on our web pages. Please send any material to The Folding Society at the address given below. However, if you are planning to send pictures by email, please send them at an appropriate resolution to avoid high telephone bills - a JPEG picture of 50K or less is ample for use in FSN or on the web pages.
---
The Folding Society
email: mike@foldsoc.co.uk
Web: http://www.foldsoc.co.uk
If you have any news or other information of interest to other members of the Folding Society, please email us at the above address.
If for some reason you wish to be removed from this mailing list, please send a message to this effect to the same email address.
All information given here is provided in good faith, but no responsibility can be taken for errors or for any consequences arising from the publication of this information.
Return to FSN index | Folding Society home page
---
Copyright (C)2001 Ferrets Anonymous
Last updated: 4 February 2001
URL: http://www.foldsoc.co.uk/fsn/fsn069.html