THE FOLDING SOCIETY
---
FOLDING SOCIETY NEWS
Issue 66 - 14 December 2000
---
EDITORIAL
Things tend to be rather quiet at this time of year from the point of view of folder news, so this is a rather short issue of FSN. With Christmas and the new year coming up, we have adjusted publication dates a little, as it seems unlikely that people will be rushing to log on to their computers and read the latest issue of FSN on Christmas and New Year's eves. This issue is thus about a week later than normal, and there will be a three week gap until the next issue, though if any important news appears in the meantime we will either send out a flyer or bring forward the publication date.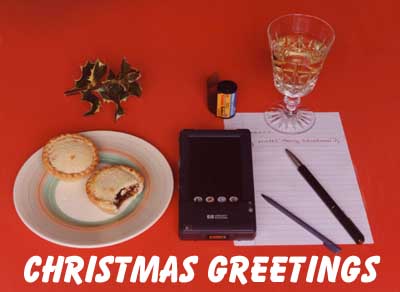 All this means that this is the last issue before Christmas and the last issue of the year 2000, so we take this opportunity to wish you all a very merry Christmas and a happy new year. We hope you have all had a very enjoyable year's cycling and travelling in general, and that next year will be even better. We could certainly hope for some better weather next year in the UK - it's been very wet, especially the last few months, although against that we can put the fact that it has also been much warmer so far than is usual for autumn and winter.

On my bikes
The weather and a cold have meant that once again I haven't been riding much over the last few weeks. The Newt (Bike Friday New World Tourist) has been designated winter hack bike, and has therefore been used for all but two of my outings. During the last inspection I found that the tyres (Schwalbe City Jets) had a couple of bad cuts, so although there was plenty of rubber left elsewhere I decided to replace them. After my experience with the APB earlier in the year, I decided to fit Schwalbe City Marathons this time. Distance covered is fairly low so far, but it tends to confirm my impressions with these tyres on the APB. Although the City Jet has a reputation for low rolling resistance, I've found them slightly disappointing, especially if they aren't kept right up to the recommended maximum pressure, and the shape of the tyre seems to make them a bit nervous on some surfaces, particularly very coarse gravel/pebbles. The City Marathons seem to roll more freely even when a bit under recommended maximum pressure (which is actually slightly higher than that for the City Jet), they certainly have a more pronounced tread, and they seem rather less nervous and also seem to grip a bit better. These are subjective impressions - I haven't done any measurements, but I think that overall I'm happier with them for the bikes on which I use tyres in this category, namely the Newt and APB. For lowest resistance, but lower life and greater potential vulnerability to punctures, the Continental GP as used on the New Series Moulton seems fine - just as well as it's not possible to fit anything else on that bike! The main problem with the Newt over the last few weeks has been that the gears were completely messed up - the hub (Sachs 3x7) works fine, but the derailleurs refused to index properly. Two complete overhauls have failed to solve the problem; the symptoms suggested cabling problems, but they were renewed only about 6 months ago, and checks gave no indication that they are sticking. A major overhaul was finally carried out on Tuesday, involving replacing almost the entire derailleur part of the system, and the weather today permitted an extended ride from the university to Hampton in Arden, which proved that everything is now working perfectly again.
One other bike to go out in the last three weeks has been the Airnimal, which I used for the Origami Ride at Meriden on Saturday 9th December. Despite the recent poor weather and the time of year, we had over a dozen people there, although not all of them went on the ride. John Pinkerton, returned (at least temporarily) from his travels, was there to lead the ride, and we had very pleasant weather for it, disproving the theory that the weather is bad when he is there! The folders/separables which went out on the shortish ride were 4 Bromptons, and one each of Panasonic Traincle, Birdy Red, AM Moulton and Airnimal Chameleon - unusually few Moultons for an Origami Ride, and no Bike Fridays, but otherwise a nice variety of machines. After lunch in Berkswell, the group split up, with some going back home, others to Hampton in Arden station, and the remainder returning to Meriden. Those of us going to the station were lucky - just after we arrived there was heavy rain, but we were able to shelter until the rather late arrival of the train. The only disappointment of the day was that, unlike the last 3 years, there was no Father Christmas and free mince pies on the train into Birmingham that morning.
Due to the weather, I hadn't had the Airnimal out since Portmeirion except for this Origami Ride. On the ride it performed beautifully again, and made riding an effortless exercise - apart from the fact that the wind was rather gusty, I would have thought it was behind us all the way the ride was so relaxed. After using the Newt for the intervening period, I was again conscious that the rear suspension and carbon fibre forks make the ride of the Airnimal more comfortable than the Newt. The only down side was that the narrow Kenda tyres of the Airnimal do seem rather lacking in grip on wet surfaces, particularly if there is any trace of mud, dead leaves or anything else, and I ride very warily in these conditions; I think I will have to try one of the other tyres for winter riding, though the Kendas perform beautifully in more favourable conditions, and with their low rolling resistance would remain a good choice at other times. Another Airnimal owner has described how the front mudguard can be used without impeding folding (see Letters section), but after my experience at Portmeirion I still haven't fitted one, as the narrow tyre and large section frame seem to keep me quite clean and dry - in fact I seemed to get wetter and dirtier on the Newt with a front mudguard over the last few weeks. Apart from the tyres, the only other change I have in mind is the fitting of a different sprocket set, giving a slightly wider spacing and a lower bottom gear - I haven't been defeated by a hill yet, but I was on the limits a couple of times at Portmeirion with a heavier load on board.
The other bike to get an outing was the old Brompton T5 - not used for nearly two months; it was used earlier this week, both because of the gear problems on the Newt and because I wanted to go into Jessops in Birmingham, and it's easier to carry the Brompton than find somewhere to safely chain the Bike Friday. Despite the fact that the Brompton cables are badly kinked now, and are overdue for replacement, the only problem I had with the bike was when I unfolded it home and the chain fell off - confirming my impressions that this is more of a problem when the bike is not being used frequently.
Next issue
In the next issue we shall have a brief personal review of the year's cycling, plus of course news and anything else relevant. The planned date for the next issue if 7th January 2001.
Format
If you receive this issue of FSN in a plain text form, please remember that a formatted version is available on our web pages at http://www.foldsoc.co.uk/fsn/fsn066.html, and you can receive the formatted version (suitable for reading with a web browser) just be emailing us to let us know you prefer this version.
NEWS
The Taiwanese company Sun Race is reported to have bought the Sturmey-Archer name, designs, intellectual property rights etc. The company is to change its name from Sun Race Roots Enterprise Co., Ltd to Sun Race Sturmey-Archer Inc, and the European and USA operations will adopt a similar form of name. It is reported that the company will produce hubs and spares from the factory in Taiwan, with production starting in January 2001, and shipping starting in March/April. For 2002, " a very special surprise product based on the patent pending technology" is being promised.
The Giant Halfway now seems to be available in this country - one member - Tim Pestridge, the A to B illustrator - reports he has bought one, and another at the Origami Ride mentioned seeing one in a shop in Cheltenham - it had disappeared, presumably sold, a few days later. This is a Mike Burrows design, at least originally (rumours suggest that he was not entirely happy with some aspects of the final production version), and has mono-blade forks - handy for puncture repairs apart from anything else. We hope to have a full report at some point in the future from Tim, but these are his initial impressions:
"I can tell you that it's drastically undergeared, any normal human will find themselves spinning along frantically at 15mph. But the quality is high, the components good and the design is very very satisfying, lovely welds, and a superb hinge catch... Take a look at the new pics at www.pestridge.com/cycle.html#halfway".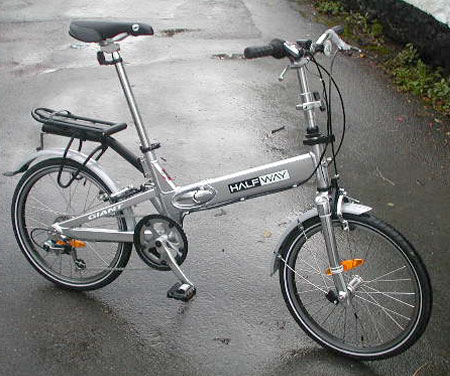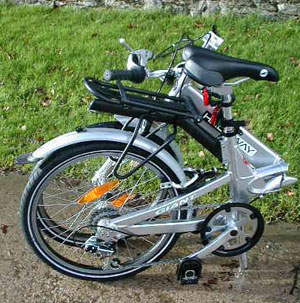 Above: Two pictures by Tim Pestridge from his web site (reproduced with his permission) showing his Giant Halfway unfolded and folded.
FURTHER ADVENTURES ON A BIRDY, OR HOW TO DROWN USING SPDs
By Dick Hanson
Having owned Mike Hessey's Birdy Red for most of 2000 I can now give further impressions following my original article (FSN Issue 50).
The Red has served me very well, being the preferred choice for local journeys and most of the Origami rides this year. Points in its favour include, light weight, comfortable and smooth ride and excellent gear changing and range. The way the bike is set up makes it easy to ride in any terrain, hill climbing being no problem and top gear being perfect for cruising along flat roads with the wind behind you.
Initially I was slightly concerned that the low pressure of the tyres would mean poor rolling resistance. However this has never been a problem and gradually I have increased the pressure. I now run the tyres at about 65lb and have never felt there is any hint that they will blow off the rims (the recommended pressure is about 40psi). [These are the Vredestein tyres which I had on the bike when Dick bought it - although marked as 40psi, a sticker suggested running them a little harder; they seemed relatively free running at these designed, low pressures, and indeed were noticeably freer running than the latest Birdy tyres rated at much higher pressure - MFH]
My biggest gripe is that the bike is rather a pain to fold. The cranks must be set in exactly the right position before you start and inevitably, you always get grease and dirt all over your hands. This contrasts badly with my Brompton which is a relief to fold after the Birdy, but of course comes nowhere near the Birdy's ride. The other slight criticism is the riding position. Unusually I like a very upright position and find the Birdy makes me lean forward slightly more than I prefer. I have considered buying an adjustable comfort stem, but the cost puts me off.
I've now fitted SPD pedals, the first time I've ever used them. They take a bit of getting used to, but riding definitely seems a lot easier. Now everybody you speak to has a story of how they fell over when they first tried SPDs. Mike Hessey will tell you how on one occasion his feet refused to release and he ended up falling over after colliding with his garage door! [I was sober at the time - I just ran out of space trying to get out of the pedals when I reached the door. Unfortunately the next door neighbour witnessed this incident, and I'm sure she must have concluded that I was under the influence! - MFH] On my first lengthy ride I was smugly congratulating myself on how I was going to be the person who never fell over, when I inexplicably failed to release from the pedals and gracefully crashed to the floor at a road junction just half a mile from home in Cheltenham. Anyway, more of SPDs later. Incidentally, ask most people what SPD stands for and they will be at a loss; another example of how we are increasingly using initials and acronyms without having a clue what they mean. (Shimano Pedalling Dynamics, whatever that means!)
Sunday 26 November dawned dry and reasonably sunny so I decide to take the Birdy for another outing. It was a novelty to be on dry roads with the prospect of little or no rain. I decided to take the route that I had used for the July Origami ride. This was from Cheltenham to the Boat Inn at Ashleworth.
The Boat is a favourite destination for cyclists and on a Sunday you will usually find various friendly people to have a chat with. However, this is not always the case as I found when I visited the pub one Thursday evening when I was planning the Origami ride. On that occasion I met two older dyed in the wool CTC riders who met my friendly advances with monosyllabic answers and definitely didn't want to prolong the conversation with one of those awful people on a funny small wheeled bike, who obviously wasn't a 'proper' cyclist!
The day was quite blowy with the wind against me on the way out, but the Birdy coped very well as usual and I sailed along quite happily. The day before there had been torrential rain and I did wonder whether the Severn was still in flood. I had heard that the major floods from a couple of weeks previously had subsided, so hoped for the best. The rains from the day before had not really had time to take effect I reasoned.
On the lane to Wainlode Hill streams of water were washing across the road, not a good sign. The crunch point comes when you reach the top of the hill and look down over the Severn Valley. In bad conditions this is like looking out over somewhere like Derwent Water in the Lake District. Today the outlook was not too bad, some flooded fields, but also a fair amount of dry land. The Red Lion car park at the foot of the hill was still intact and the lane was above water as far as I could see. Flying down past the Red Lion I encountered a sign 'Road Closed'. There was also a fair amount of flood debris everywhere, which was slightly ominous.
Ever the optimist I decided to carry on, hoping that the road closed sign was left over from the previous flood. No chance! Very soon I came upon a completely flooded section of road. This was about three hundred yards long before a slight humped back bridge rose out of the water. I was unable to see what was beyond this, but a dry road seemed a possibility. As luck would have it, a horse rider was just setting off through the flood, so I could observe his progress before making a decision whether to proceed or not.
The horse and rider carried on at a leisurely pace and as far as I could see the water was not very deep and didn't appear to vary much in depth. I should have observed the distant horse more carefully!
The road was apparently completely flat and from memory, I couldn't visualise any horrific pot holes to catch me unawares, especially if I kept to the centre of the road. Taking a deep breath, I set off in what turned out to be rather a high gear. Initially there was no problem. The water was about three inches deep and I could easily see the road surface beneath the bike. 'This is fine', I thought. However, at first imperceptibly and then quite rapidly the water began to get deeper and deeper. 'It can't get that deep surely', I reasoned, 'as I've just seen that horse go through it.'
The first serious signs were my feet going under water at each pedal revolution. Oh well, wet feet isn't the end of the world. But then things started to get a bit serious as the Birdy's wheels were up to their axles. From this point is was becoming clear that it was going to be a struggle to keep the bike upright, the resistance of wheels, pedals, gear mech, bottom bracket etc were making it extremely difficult to pedal in such a high gear in this depth of water. I was now going so slowly that changing gear was impossible. It also dawned on me at this point that there was no way I was going to get my feet out of the SPD pedals at this speed. Stopping was not an option, as complete submersion would result as the bike and I toppled over! I've never put so much effort into pedalling in my life and it was really touch and go whether I would reach the other side. I did make it, but on reaching dry land the scene that confronted me on the other side of the hump back bridge was a vast lake as far as the eye could see and a Landrover apparently stuck in the distance on what may or may have not have been the road.
The horse rider and I looked at each other and laughed. 'Do you think it's worth going on', he said. There was no way I was going to risk going any further and considering the plight of the Landrover, turning back was the only option. The horse rider bid me farewell and set off back.
Before ploughing back through the flood I realised that a little thought was necessary before attempting the return journey. Firstly, select a very low gear. Secondly, make sure that I wasn't totally clipped into the SPDs. By this time I had just about got my breath back and the horse rider was well in front, so I set off. Things were easier in a low gear, but pedalling whilst not correctly attached to the SPDs was not that easy. At least I didn't feel I was about to topple over at any moment, to quite the same degree as on the outward journey.
Once the Birdy had reverted from an amphibious craft to a road vehicle once more, I stopped to chat to a cyclist who had been watching me with interest. 'Have you come all the way through from the main road?' he enquired. I explained that I had only arrived from the dry land he could see in the distance. It was difficult to get the words out as I was panting so much. It turned out that he also was on his way to the Boat and was a CTC member (not dyed in the wool though!).
We decided that the only thing to do was to turn round and retrace our route back to the A38. My new companion knew a high level way round to the Boat, but I wasn't certain that even some of this wouldn't be under water.
I decide to return to Cheltenham and after a pleasant ride and chat together we parted company at the A38. I wished him well as he set off north and set off south for home. One reason I didn't accompany him was that I had no lights and the day was getting on by now.
After being blown home by the wind that had been against me on the way out, I arrived back still with very wet and rather cold feet and lower legs. The first thing my wife said was, 'You could have been drowned!' Could one really drown, firmly attached to a bike by SPDs? The thought hadn't occurred to me; I was too busy thinking about getting soaking wet if I fell over. You could imagine the headline in the local paper:
Bizarre accident – local cyclist drowns locked on to miniature bicycle
At the Origami Ride, on 9th, Dick reported that after writing this article he had failed to extract himself from the SPDs on the approach to another flood, but fortunately the water was not deep enough to drown in!
MOULTON
Ferreting out 17 inch tyres
By Tom Shaddox
[The new Bridgestone tyres for the older AM Moultons and the new Bridgestone Moulton have been in circulation for a few weeks now, but we haven't seen any reports on their performance. This report first appeared on the Moulton emailing list, and is reproduced with the author's permission - MFH].
I took two identical 12 mile rides on my AM7 today. The first was on a pair of brand new Wolber (technically, Michelin) tyres that I bought to put away for a planned restoration of my '84 in 14 more years, and the second was on the new Bridgestones I received from Doug Milliken on Saturday. Neither seemed significantly harder to mount, and they both fit the rim in the same hand-in-glove way. I aired both sets of tyres up to 100 psi. This is the sidewall pressure on the Bridgestones and also the pressure at which I have run Wolbers for the last ten years. The tyres are almost exactly the same size and profile. If anyone was hoping for a radically different tyre that would change the nature of the bike, well, the new Bridgestone isn't that tyre. Of course, the Wolbers have a ribbed tread, and the Bridgestones are basically a slick with some small, decorative siples. The tread on the Bridgestones runs a little truer as the tires are spun, but no characteristic of this is noticable when riding.
On the ride, the Wolbers seemed to maybe roll a tad easier, and the Bridgestones seemed to damp high frequency pavement buzz a skosh more. The differences were so slight that they were probably just in my head. That's really about it.
Of course, important stuff like whether one or the other wears longer or gets fewer flats is far beyond what can be discovered in 12 miles. Also in the future, I'm interested whether a controlled, instrumented rolling resistance test confirms or contradicts my subjective impressions. For the present, I have always liked the Wolbers and I think I'm really going to like the Bridgestones as well.
LETTERS
Paul Whitehead writes on the subject of lights:
"Firstly, thanks for your dedication in producing such an interesting and long running 'magazine'. It's a shame that paper magazines can't manage to do the same - I will really miss 'Bycycle'.
On to lighting. I notice that there has been much comment recently about lights on bikes now that we are all spending a fair amount of time cycling at night. I am one of the people who ride on pitch black country roads with no street lighting for miles around. I am sure that LED's at the front are fine in cities and towns (in fact I know they are as I've used them for years). However, in the inky blackness bright lights do have a significant advantage. I ride a Birdy home from work most days (me and the bike get a lift there in the morning), a distance of about 17 miles. Apart from a 2 mile lit stretch through Wetherby, the rest is like the proverbial coal cellar. A few months ago, when the dark nights started drawing in, I was using a Cateye front light with a xenon bulb and rechargable 'ordinary' batteries; I think the light was rated about 0.5 Watts. This was just about managable so long as the road was dry and there was a white line to follow. I thought about getting brighter lights but wasn't sure until I talked to some other regular cycling owls. I did my research and ordered a couple of Vistalite lights (a 5 Watt and a 15 Watt). What (or should that be Watt) a difference! I can actually see where I'm going instead of groping my way along. I have knocked 10 minutes off my journey time as I don't need to keep slowing down to see where I'm going. Also, part of my route takes me through dense woodland in which my overactive mind makes me believe there are mad axe-men and monsters from hell. At least it did with a puny light. Now I have my bright lights I sail through with an unconcerned swagger (difficult on a bicycle but not impossible with practice). I like the Vistalite system very much, it is relatively compact, works well - even in torrential rain - and is very bright. The two down-sides I have come across are 1) the battery life (I have 2 NimH batteries), is a little short at about 45 minutes per battery when the bulb is sucking at 15 Watts and 2) the cost - £150 for lights is not to be taken lightly (no pun intended). I have no personal experience with other systems, but I'm sure other readers do....
The main point of the letter is to say, if you cycle on unlit country roads in the dark then seriously think about getting some bright lights - you won't regret it!"
Pat Strachan has some further comments on tyres for the Airnimal, lighting, and Dennis Duggan's remarks about riding on shared paths:
"Congratulations on your new purchase and belated birthday greetings. Another enjoyable edition of FSN too. Like you I have not found the lack of front mudguard to be a problem. I intend using a clip on mudguard - as designed for mountain bikes - over the rear wheel which can simply pull off when folding.
I was interested in your comments on tyre choice - I believe that the trend towards racing tyres is from 24inch wheels being used in triathlon and some time trial machines - beyond the reach of the UCI that is!
As for lights I would heartily recommend the latest TREK LEDs - they emit a blue light with powerful beam - unlike any LED before! They cost about £15 but I think they are worth every penny.
Finally can I respond to Dennis Duggan's comments (and thank you for defending me!). I agree entirely that cyclists should slow down on shared use paths and priority should be given to pedestrians. That's why if I want to go somewhere in a hurry, I use the roads. My point had been that I had averaged 16mph in spite of part of the ride being on the path - it would have been higher if I had stuck to the road, and apologise if I did not make that clear. Yes I did have to slow down for the dogs (and I do think its not asking too much for owners to not let their dogs stray on an extendable lead across the path of cyclists (or other users)) but am happy to slow down when passing people and/or dogs (or horses), always do so and making a point of thanking them when I do so - if they have been considerate they know it is appreciated, if they haven't been, perhaps they will be next time!"
Simon Davies, another Airnimal owner, has some additional comments following on from my report:
"Just scanned through the start of the latest foldsoc news. I notice you are having problems folding with the front mudguard on. What I do is to turn the handle bar through 180 degrees so that it is pointing at back of the bike. This way the back end folds up fine (although you may have to anchor the front mud guard stays part way up the front fork. You also need to fold the seat tube before turning the bars. This gives you a package that is some what smaller than what you would have had with the bars pointing forward as they are now 'in board'. I asked Richard Loke about this procedure in case it invalidated the warranty or anything silly like that and he said it was fine and that they do it themselves.
A couple of nags I have - if you fit a bottle cage behind the seat tube then you can't fold it any more because the top of the cage hits the stem - Hopefully a little remanufacturing with the trusty hacksaw should sort this. Also, when I took delivery of mine, the first time that I used the big sprocket the rear mech hit the spokes, luckily I stopped before any damage was done. The rim quality appears a little lacking too as the join in the rim is not well aligned and can be felt through the brakes which, no doubt, will lead to faster pad wear."
Thanks for the tip about the mudguard - I found so little dirt and moisture reached me when riding without the 'guard that I'm actually going to leave it off anyway for the present. I think that the bottle cage problem depends a bit on the type of cage - the one Richard Loke had on his bike seemed to have minimal upper extension, and wasn't a problem. I briefly fitted a TA (?) cage on mine, and that seemed to just clear, but it was removed because I couldn't get the saddle bag QR, rear lamp and cage on the back with the fairly low saddle position that I have. As there is only the one set of bottle bosses, I still need to work out a suitable way of mounting all this paraphernalia.
Dennis Duggan takes me to task regarding my comment about bells in the last issue:
"Can I discuss your comments about bicycle bells in the latest FSN, please? You say you hate the things, and can shout louder and quicker than ringing a bell.
Speaking as a pedestrian, I am one of the people who have a 'fetish', as you put it, about bikes and bells. If I am walking along, minding my own business on a shared path, I appreciate the discreet 'ding' from the bell of a polite and considerate cyclist approaching from the rear.
On hearing this I am happy to step aside, though only one rider in fifty shows any consideration to walkers or other traffic. I do not object to a polite 'excuse me please,' either, but I certainly take exception if someone shouts at me to get out of their way. The natural response to this is to deliberately obstruct the cyclist.
If course, if you are riding along the road and a pedestrian looks as if he/she is likely to step in to the road, that is a totally different matter, and a warning shout is justified, as well as being beneficial to both parties.
So there is surely a case for both bells and yells, but a bell is preferable as it is more likely to promote harmony rather than discord. Speaking as a cyclist, when I use my bell I usually receive co-operation from pedestrians, and many thank me for being considerate.
Hope you will not take my comments personally, but I am entitled to my point of view and the subject is an important one."
I'm afraid some aspects of this reaction just go to support my view about attitudes to bells - in my article I immediately followed, in the same sentence, the remark about shouting louder with the following, "...or make gentler noises if this is more appropriate". Well over 50% of the time I find that sounding a bell has no effect - whether this is because it is inaudible or the person at whom it is directed is unwilling to respond in any way I'm not sure. In an emergency, a shout is more likely to be heard and can be done more quickly, and at other times deliberately making mechanical noises (flicking the brake levers to produce loud clicks) seems just as effective, and is probably politer than sounding a bell, which might be taken to imply a 'demand' to be given right of way. Like Pat Strachan, see letter above, I usually make a point of saying thank you while passing pedestrians etc on paths.
David Edge writes with some comments on the use of dynamos on Bromptons:
"This is almost exactly what your correspondent doesn't want to hear - it's all down to installation and nothing to do with make and model. We used to use Axas and they lasted no longer than the old Brompton cheapie sold in four packs - a year. We now use the Nordlicht silver ones. The first few lasted but months, but the current ones have done a couple of years. Keep your receipt anyway! Remember that the dynamo on a folded or parked Brompton sits upside down dripping water and salt into the bearing. Better to leave it the right way up after a wet trip. The Nordlicht doesn't work well with the standard roller. The CTC tell you this after you complain. Your best to buy the auxiliary big rubber ring and the metal roller and see which works. Neither will compensate for misalignment. Alignment is critical. I have replaced Raleigh Record tyres with Brompton tyres and the dynamo track is higher - hence there is an angle between roller and track and dynamo doesn't work in wet.
There is, I believe, a Brompton rear carrier stay that will accommodate dynamos of different sizes. I haven't seen it, but am trying to buy one. Of the two models mentioned by your correspondent, one has a screw adjustment of tension rather than depending on the user bashing the carrier stay. Afraid I can't recall which. That said, the Nordlicht appears to exert good force over a long arc. The choice of hand depends on how you mount it. Ralf's ancient Brompton has an Axa fitted by a previous owner to the steel carrier and it is left-handed, mounted behind the stay. This pulls the roller against the tyre and prevents sliping, but with an alloy stay would probably bend the stay outwards and pull through.
I want my bike to just work when I pick it up - I have problems with the idea of battery lights. However, my Brompton rear bulbs only last a year, so I think that a rear LED is worthwhile. I have a front white one for emergencies - but it is seldom visible because of my low bars and monster front bag.
Jon Dreyer Rensmoen is another who offers some thoughts on dynamos:
"In a side remark to Elaine Spencer's question about whether a Lightspin or a Busch & Müller S6 dynamo would work on her Brompton, you share with us your own bad experience with dynamos: ...'slipping when the tyres are wet has been such a problem that I had to carry battery lights as well as the dynamo...'. Slipping on wet tyres might be a problem with many dynamos. I use the Busch & Müller S6 dynamo on my Fold-it. My experience with the S6 dynamo with the wire brush roller, is that it doesn't slip. This autumn has been extremely wet here in Oslo where I am located, with wet tyres every day since the beginning of October. And there has been no slipping at all. I strongly recommend this dynamo, which rolls very lightly on the wheel. I am sorry that I can't answer Elaine's question about how it would fit her Brompton, but since she has had another bottle dynamo on, I don't see any reason why the B&M S6 shouldn't fit. I hope other FSN readers can give more precise answers on this.
I am very fond of my Busch & Müller lighting system. In addition to the S6 dynamo, I use the Lumotec Oval plus front light and the DToplight plus rear. Both has standlight, so the light continues to shine also when I have to do traffic stops. The front lamp has a beautiful bluish white standlight. When using a dynamo to power the lights, one doesn't have to worry about burning time left in the batteries etc. I have used lights also on most of my daytime rides this very dark and wet autumn, knowing that as long as I pedal on, I will produce my own light."
Evelyn MacMillan writes:
"I was wondering if anybody has heard of a Breezer Alternative folding bicycle. It was made by a California company and according to the two reports that I can get it is supposed to be really light and not a bad bike to ride. Maybe some American readers can help....I am now consumed with curiosity!!!"
SALES AND WANTS
If you have a folder, separable, or accessories to dispose of, or you want to buy, you can use the Sales and Wants page (http://www.foldsoc.co.uk/sandw.html). If you want to have something put on the list, just email us the details (mike@foldsoc.co.uk) - there is no charge, but please let us know when it is sold so that we can take it off the list. As I strongly suspect that I am not being told when items are sold, I intend to introduce some changes to the Sales and Wants section. In future all entries will be dated, and will be deleted after 3 months unless a request is received to retain the entry on the list. However, please do still tell us as soon as anything is sold, so that we can remove it and avoid creating annoyance to those using the list. Take all normal precautions when buying and selling goods - the Folding Society and its officers are not responsible for the descriptions and products and services contained in the Sales & Wants list.
EVENTS
The events listed below are a combination of those organised by Folding Society members or of potential interest to members.
Remember that cycling can be dangerous (so is travelling by car, bus, train, air or water, breathing and living!); anyone participating in any way in any event does so at their own risk.
Saturday 6th January - Mud Dock
Although there is no official organiser, the gatherings on the first Saturday of the month at Mud Dock in Bristol are still taking place and receiving good support. Meet at Mud Dock from about 10.30am onwards.
Saturday 13th January - Origami Ride
The next Origami Ride will be at its usual location, starting from the Tearooms at Meriden: arrive from 10.30 for an 11.00 start. For more information, contact John Pinkerton on 0121 350 0685, email pinkertn@mwfree.net, or look at his web site at http://www.users.mwfree.net/~pinkertn/origami.html.
Friday 11th - Sunday 13th May 2001 - Informal Folder/Separable gathering in Weymouth
Early notification of the dates of our annual informal gathering in Weymouth - no so much a Forum, more a way of life! Nothing organised, just take things as they come. Typically meet up at the Pavilion between 10:00 and 10.30 am for activities during the day, and 7:00 pm in the evening. More details (if there are any - it is informal) nearer the time.
---
A to B Magazine
A to B Magazine remains the ultimate source of authoritative information on folding cycles. In the unlikely event that you aren't aware of A to B and/or don't read this magazine, then we would urge you to take out a subscription without delay. A to B can be found on the web pages at http://www.a2bmagazine.demon.co.uk, or you can email them at post@a2bmagazine.demon.co.uk, or they can be reached by telephone or fax on 01963 351649, address 19 West Park, Castle Cary, Somerset BA7 7DB, England. A subscription to A to B is only £10 per year in the UK, or $24, and the magazine is published ever two months and is packed with news, reviews and other interesting information on effective integrated transport systems in general, and folding cycles in particular.
---
Note: The views expressed by contributors and correspondents are those of the writers, and are not necessarily those of The Folding Society or its organisers.
---
Back Numbers
Back numbers of all issues of Folding Society News are available on our web site - go to http://www.foldsoc.co.uk/fsn/fsn.html for the full list.
---
Contributing material for FSN
We would very much welcome articles, photographs or any other material for inclusion in future issues of FSN, or on our web pages. Please send any material to The Folding Society at the address given below. However, if you are planning to send pictures by email, please send them at an appropriate resolution to avoid high telephone bills - a JPEG picture of 50K or less is ample for use in FSN or on the web pages.
---
The Folding Society
email: mike@foldsoc.co.uk
Web: http://www.foldsoc.co.uk
If you have any news or other information of interest to other members of the Folding Society, please email us at the above address.
If for some reason you wish to be removed from this mailing list, please send a message to this effect to the same email address.
All information given here is provided in good faith, but no responsibility can be taken for errors or for any consequences arising from the publication of this information.
Return to FSN index | Folding Society home page
---
Copyright (C)2000 Ferrets Anonymous
Last updated: 14 December 2000
URL: http://www.foldsoc.co.uk/fsn/fsn066.html