THE FOLDING SOCIETY
---
FOLDING SOCIETY NEWS
Issue 64 - 8th November 2000
---
EDITORIAL
Right: Saturday 4th November was a day of unusually fine weather, which happily coincided with the day I had arranged to go to Cambridge to see Richard Loke and test the Airnimal Chameleon - see our report later in this issue. Availability of this report is why this issue of FSN has appeared a few days early.
'Encouraging' efficient, environmentally friendly integrated transport?
A large proportion of folder owners use their machines in conjunction with some form of public transport, with advantages of convenience and health for themselves and of benefit to the environment and congestion for everyone. It's therefore most depressing to hear that one of our members and his Brompton were thrown off a West Midlands Metro tram recently; our member has used these trams before without any objections being raised. We, and a number of other interested parties, have contacted the Metro for clarification of their policy (there is no mention of folders or any specific luggage prohibitions in their normally available literature). At the time of posting this newsletter, we still had not had a reply ourselves from the Metro people, but in the meantime a letter written to another folder owner in July 1999 has come to light in which a Phil Bateman, Press and Public Relations Manager, states " ... I confirm that we will carry fold-up cycles on Midland Metro, if they are in their fold-up position." He suggests laminating the letter and distributing copies to those using the Midland Metro with folding cycles. It's good to hear that the Midland Metro does permit folded folding cycles, even if not all their staff are aware of this. We will see if we can make copies of this letter available for those in this area who may plan to use their folders and the trams, to avoid problems with staff who are not familiar with this situation.
Updates
A number of readers have pointed out that no type of LED front light is likely to be legal; I do find, however, that the Knightlite one, mentioned in the last issue of FSN, with a reflector/lens system can actually cast a faint beam (as good or better than that from many bulb-type front lights when the battery is beginning to fail), battery life is excellent, it is in my opinion just as likely to be seen by others as most other types of front light, and the appearance is unlikely to attract the attention of the constabulary, as it is both very conspicuous and not obviously (due to the reflector/lens arrangement) an LED. It suits me, except if I plan to go out at night on unlit roads, but naturally you must make your own decisions on what is legal, suitable and safe.
Our portable paraphernalia web pages have undergone some more updates since the last issue. From a purely cycling perspective, the most important alteration is a response to one of our readers pointing out that many of the folding tools available do not include an axle nut spanner - important if you want to change a tube and you don't have quick release hubs, which means many folder owners. I've promoted The Alien and demoted the Park tool in the light of this, but the most important piece of advice is still (as has always been the case) to check that the tool on which you plan to rely can be used on your bike to do all the necessary jobs - don't rely on the specification, try it to make sure that you can get access without other parts of the tool getting in the way, and that you can get enough leverage. And for punctures, don't forget the tendency for rubber solution to dry up, especially once you have opened the tube - I usually carry conventional patches and rubber solution, but with some glueless patches as back-up just in case the rubber solution has dried up. I did once successfully repair a puncture with a postage stamp when the rubber solution turned out to be dried up, but I only had 2Km to travel, and I wouldn't really recommend this method of repair.
On my bikes
Once again the dismal weather has restricted my riding since the last issue. Unfortunately I had to travel on Monday 30th October. The early weather forecast and news that day were not encouraging, but did not fully prepare me for what was to come. The train from Tipton was only a couple of minutes late, but at Birmingham New Street it stopped, and stayed that way. We had a few apologies for the delay, and then after about 20 minutes they told us all services to and from New Street were being suspended. I hung around for a while, then they announced all services in the West Midlands area had been suspended. So, should I cycle on to Coventry or cycle back to Dudley? I decided to go on - and on the way I had to climb over three fallen trees and cycle through three floods, arriving at the university at 09:45 instead of 07:30. Attempts to find out how I might get home were thwarted later in the day - National Rail Enquiries telephone announced they were busy, ring back, gave an (incorrect) web page address, and hung up. The web page was less than clear about the situation, but certainly implied I stood a chance of getting a train. However, when I went to the station, I was told no trains, and nothing running on the line. I went back to the university and managed to get a room there, but I noticed the local news reported the line as clear - possibly, but my experience suggested even if it was clear, nothing was running on it. I didn't leave until Tuesday lunch time - still no National Rail Enquiry phone messages of any help (apart from the still incorrect web page address), but the web page showed no problems on my line. At the station I was personally greeted by the supervisor, who said he was expecting a train in the other direction soon, so it should come back towards Birmingham later - hardly a normal service! It was obvious when the train did arrive and make its way back, that there were very few trains running, despite what the web pages and public announcements to the media were saying.
Happily we had one good day on Saturday 4th November, timed to coincide with my visit to Cambridge to test the Airnimal, and mercifully the trains on that route were running normally and bang on time. Heavy rain (or something) brought the trains into further chaos on my regular line on Monday 6th - delays, and southbound trains out of Birmingham International under the control of a man with a red flag. Throughout all this I have been using the Newt (Bike Friday New World Tourist), apart from the visit to Cambridge, for which the Pocket Rocket got an outing.
Next issue
The next issue may be a few days later than would otherwise be the case (it's nominally due on 26th November). We don't currently have anything special planned, so if any readers have any contributions - articles, letters, pictures etc - they would be very welcome.
Format
If you receive this issue of FSN in a plain text form, please remember that a formatted version is available on our web pages at http://www.foldsoc.co.uk/fsn/fsn064.html, and you can receive the formatted version (suitable for reading with a web browser) just be emailing us to let us know you prefer this version.
NEWS
Brooks saved
One piece of good news has emerged following the sad demise of Sturmey-Archer, and that is that Brooks has been saved. If you thought you had lost the opportunity to buy one of these wonderful saddles, this is not the case. But please make sure they continue to survive and prosper - buy one now! Choice of a saddle is always a very personal decision, but I've always found Brooks leather saddles the most comfortable, and only one has given me any trouble at all to break in. The only thing I have against them is that they are a bit heavy, but this is often worth putting up with for the comfort they offer. Furthermore, and perhaps a disadvantage for the company, they seem to last forever with very little attention - a wonderful product, and thank goodness it will continue to be available.
From Tony Hadland (http://www.hadland.net) comes news of a new book which may be of interest to members - the press release is below:
BICYCLE DESIGN - towards the perfect machine
The new book by Mike Burrows, edited by Tony Hadland
ISBN 1-898457-07-7
This is the long-awaited masterwork from probably the world's most famous and irreverent bicycle designer and inventor. The first book to bridge the huge gap between Richard's Bicycle Book and Whitt & Wilson's Bicycling Science, Bicycle Design is the essential handbook if you want to know how to go faster, or if you simply love cycle technology. Inside you'll find no-nonsense explanations of everything from aerodynamics to suspension forks. Mike Burrows is an engineer who designs bicycles for Giant, the world's biggest bicycle manufacturer. He pioneered the carbon fibre monocoque racing bike, as ridden by Chris Boardman to Olympic gold in 1992, and the compact road bike, now used by the ONCE professional cycling team. For many years he has also designed, built and raced recumbents.
You can order this book from Rosemary Hadland, 39 Malvern Road, Balsall Common, Coventry CV7 7DU. Price, including post & packing to UK addresses, is £16.95. For European addresses, the price is £17.95 and elsewhere in the world, £19.95. Delivery in crush-resistant box is by 1st Class Royal Mail in the UK and Airmail to all other destinations. Recommended bookshop price in the UK is £16.95.
A US-edition is published by Alpen Books Press.
BOOK REVIEW: BICYCLE DESIGN - TOWARDS THE PERFECT MACHINE, by Mike Burrows, Edited by Tony Hadland
I was kindly given a copy of this new book by John Pinkerton, and once I started reading it later the same day I couldn't put it down - I finished it later the same day, but no doubt I shall be going back to read it again. Mike's writing style is very entertaining. While the book is also informative, it does not try to force simplistic solutions on the reader, but rather recognises that different rider needs require different solutions. As the title indicates, the book concentrates on design issues, but without any theory (at least, without equations!), and reflects Mike's attitude to the subject. I found it an excellent read - if I must find things to criticise, then I did find the emphasis on Giant (for whom Mike worked when the book was written) rather excessive, though the author always makes clear his allegiances, and there are slight unevennesses in content - generally I would have liked a bit more detail, but the chapter on gears almost overdoes the subject, especially since it is a pretty well understood subject for those most likely to read such a book; the chapter on lubrication is interesting, but seems rather out of place in a book with this title. There is not much mention of folders etc, though there is a full colour picture of Richard Grigsby on an AM Moulton, and also a picture of an original Moulton, in a section entitled "A selection of Mike's favourite bikes ...", and there is a brief mention and two pictures of Moultons elsewhere. Page 52 also features what is described as "Mike's idea of the cycling family tree ...", which shows a Brompton as a descendant of an original Moulton, but does not have any newer Moultons on it!
This is a softback book with 160 pages and copious high quality photographs, cartoons and diagrams, printed on good quality paper. It is published by Open Road, and you can obtain copies from Tony Hadland (see News section above) or John Pinkerton (0121 350 0685). The price is a reasonable £16.95 - strongly recommended.
AIRNIMAL
Road test of the Airnimal Chameleon
My previous attempt a few weeks ago to visit Cambridge to test the Airnimal having been thwarted by the local train to New Street not running, I decided this time to ride all the way to New Street for the test on 4th November. Even that arrangement seemed in danger of being unsuccessful, since the state of the railways at present, especially at weekends, makes all train journeys uncertain. Accessing the web pages suggested the service should be running, but experience earlier in the week left we with no confidence that the web pages were accurate. Attempts to ring National Rail Enquiries were a complete waste of time - a pre-recorded message still stated that they are busy, and try ringing later, then hangs up, after suggesting an incorrect web page address as another source of information!
For this outing I chose to take the Bike Friday Pocket Rocket - not at all convenient on the train (at least compared with a Brompton), but good for the 16 Km ride to New Street, and nearest of my bikes to the Airnimal for comparison purposes. The ride to the station was uneventful, and the train to Cambridge left on time. Folding the bike was not too much of a pain, and it was reasonably easily stowed in the luggage space on the class 15? train.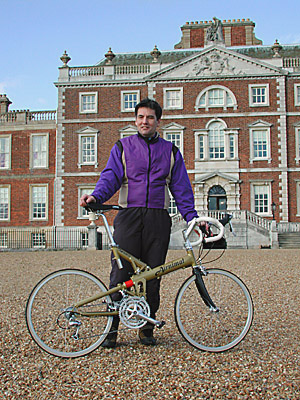 On arrival at Cambridge (on time), I eventually managed to disentangle the light and speedo from the wheel and reassemble the bike. Waiting for me were not only Richard Loke and an Airnimal, but also Malcolm Clarke on a Fold-It. A short ride took us the Richard's house. While we set up an Airnimal for me to ride, and adjusted the Rocket for Richard, Malcolm decided to join us on the ride, and went back home to switch from the Fold-It to a AM GT - with a Rohloff hub.
Before describing the test ride, we'll summarise the specification - you can find more complete details on the very comprehensive web site at http://www.airnimal.com . [Photograph: Richard Loke with the Airnimal Chameleon at Wimpole Hall]
To put the machine in perspective, it's easiest to quote the first paragraphs from the web site: "Most folding bikes put portability high on the agenda, with the ability to ride far and fast taking second place. Airnimal Designs has taken the opposite approach. With the Chameleon we have aimed to design a bike that rides like a high-quality machine, yet folds very compactly for travel. Quickness of folding was not one of our main design criteria, as we thought there are already excellent bikes on the market that achieve this." Admirably put, and no nonsense trying to pretend the bike is perfect for every conceivable purpose. If you want a bike for rail-assisted daily commuting, and the trains you would use require bikes to be folded, this is not the ideal machine for you - best choose a Brompton! But if you want a really good, fast, enjoyable road bike, which can be folded, this is a strong contender.
Specification
The Airnimal comes in two frame sizes - Size 1, the smaller, and Size 2, the larger. The main dimensional difference is frame length, the Size 1 being equivalent to a top tube length of 52 cm, wheelbase 96.5cm, and size 2 being equivalent to a top tube length of 56 cm, wheelbase 99.5cm. The frame itself is aluminium 7005-T6 alloy. A range of stem sizes and seatposts proved other adjustments, which should suit riders from about 5 feet (1.52 metres) upwards.
The Airnimal has 520 sized wheels - 24 inches in imperial terms, though the actual diameter over typical fast road tyres is 22.5 inches. While these are obviously smaller than those of a mountain bike or conventional 700C wheeled road bike, they are also noticeably bigger than the 451's on the Pocket Rocket, and substantially bigger than the smaller 406's etc. Some people have expressed concern about availability of tyres, but the Airnimal web site lists no less than 8 tyres in this size, and all are high pressure, narrowish tyres very suitable for road use (the widest is a semi knobbly 24 x 1 1/4 which could be used for light off road use and heavier touring). The St John Street Cycles web site lists two 520 sized tyres (note that thee are other 24 inch tyres listed, but not the correct 520 size - like '20 inches', '24 inches' is a term used to describe more than one type of tyre, and it's important to get the right one, ie 520 in this case). This is actually a better choice than seems available for the 451-wheeled Bike Fridays, such as the Rocket, both in sheer numbers and also in quality. If you like the IRC Roadlite available for the Rocket, one of the tyres listed for the Airnimal is also an IRC Roadlite. Richard tells me that he will be able to supply three types of tyre, so even if the full range of 8 is not always easy to come by in the UK, you still have a reasonable choice (one which owners of New Series of Moultons would kill for!). The larger wheel is chosen for ride quality (speed, acceleration etc, rather than comfort, though generally larger wheels help in the comfort department as well). Rear suspension is provided in the typical Moulton Mk III/Brompton/Birdy form, with a swinging rear triangle, but this is 'unified' rear triangle, ie the bottom bracket is mounted in the triangle (like a New Series Moulton), so that chain length does not vary with suspension movement, nor with folding - control over the chain when folding is a problem with most other designs, and is of course why the Brompton needs the tiresome chain tensioner, despite not having derailleur gears. There is no front suspension, but the Airnimal comes with carbon fibre forks as standard, which probably offer more compliance than steel and aluminium forks, but without any loss of tautness in the bike as a whole. Touring forks in aluminium are also available - they allow mounting of mudguards and a front rack. Although there are no mudguards as standard on the bike, they are available as a modestly priced option, and the front one can be attached to carbon fibre forks via P clips or cable ties (mounting bosses of any description are of course a problem with carbon fibre forks). The stiffness of the rear suspension can be altered by replacing the elastomer (like a Birdy), but only a normal and hard grade are currently available. At present the Airnimal is only available in a gold colour, though a yellow version is also listed for some time in the future.
Standard componentry is Shimano 105 - reasonably priced and generally good performance. A triple chainset (52-42-30) drives a nine-speed sprocket set (12-23). This gives a very good gear range of about 29.3 inches to 99.4 inches - quite suitable for the type of person and type of riding for which the bike is primarily designed. Personally, as an elderly, sedate rider, I would opt for slightly wider spacing of the sprockets and a lower bottom gear - say a 12-27 sprocket set; Richard tells me that a change to another standard sprocket set could be accommodated if the buyer requested this. Brakes are dual pivot callipers rather than V-brakes - personally I prefer this if the design enables enough braking effort to be applied, since I find V-brakes are usually too light and not very progressive, making it all too easy to lock a wheel, and many designs of V-brake make adjustment of the shoe to wheel alignment both critical and extremely difficult to set up.
The frame has one set of bottle cage bosses, mounted behind the seat mast - I'd rather have seen at least two sets, but it's hardly a buy/not buy matter. Apart from the mudguards, touring forks and the tyres mentioned above, other optional accessories include front and rear racks, unusually reasonably priced, a suitcase, carry-on bag, wheel bag, and (not yet available) a soft bag for the complete bike. For my purposes - train travel - I would opt for a loose drop-over Pertex cover - light and very small when folded - of the kind I use with the Brompton, Pocket Rocket and (when I had one) the Birdy. The suitcase fully encloses the bike, but does not have the ability to be used as a trailer like the ones for Bike Fridays, so getting it to the start point and disposing of it at the other end could call for some planning.
As indicated earlier, folding is less of a priority in this design than on many folders, and three levels of fold are possible. Actually, it's a combination of fold and separate. First level, which is quite quick and very straightforward, is to remove the front wheel, pivot the back end underneath, so that the back wheel goes where the front was, remove the seat pin and saddle, and hinge the seat post mast; the seat pin can then be replaced in the back of the seat mast if required. The resultant package is still bulky by comparison with a Brompton or Birdy, but is fairly easy to carry, and would be fine for stowing the bike in a car; throw a cover over it, and you would probably get away with putting it on a train like this, unless you encounter a member of train staff who got out of bed the wrong side. The second level "fold" is more drastic, and involves removing the back wheel and handlebars as well, but fits the bike into a case 58cm x 58cm x 29cm. The most drastic fold, which includes removing the front forks, enables the frame (minus wheels) to be treated as carry on luggage on a plane, in a case 56cm x 36cm x 20cm, when (to quote the brochure) ".. it's just the robust wheels and touring accessories which you'll have to entrust to the baggage-handlers". I've no experience of taking a bike on a plane, but I don't feel very confident about letting the baggage handlers near any wheels if I can help it, however robust they (the wheels) may be. As the design brief shows, this is not a compact folder for daily rail commuting if you have to fold, but it's acceptable for a weekend, or a few days away, or a long day ride with train (or car) travel to or from the start point. And for such uses, presumably involving longer rides, you should have access to a really high performance machine when you are riding.
On the road
So how did the bike perform on the road? On my way to Birmingham, and then in Cambridge, I had been distinctly conscious of the rather harsh ride of the Pocket Rocket, so the first thing I was looking for on the Airnimal was how it rides. Rear suspension is via the now common method of a hinged rear triangle bearing on an elastomer - simple, maintenance free and light. The elastomer can be changed to suit particularly heavy riders - I rode with the softer version, but at my (very light) weight a softer elastomer would have been better. Richard commented he had rarely seen so little deflection of the elastomer - I think this is not just a question of my light weight, but a fairly gentle and smooth riding style, perhaps influenced by 35 years of riding Moultons! Nevertheless, the rear suspension proved effective at taking the sting out of bumps, and for a fast road bike of this kind, most owners are likely to prefer a firmer ride to one which is too soft. More interesting potentially was the behaviour at the front - no suspension, but carbon fibre forks. CF forks are potentially lighter, stronger and more resilient than steel or aluminium. I was most impressed by the performance on the road - the front end felt stiff, but with enough compliance to take the sting out of bumps. Overall the ride, while not in the Moulton or Birdy class, was quite comfortable, and definitely more comfortable on British roads than the Pocket Rocket, or indeed the NWT. While it may lack the ultimate comfort of fully suspended, softer, systems, it has the advantage of no bobbing, bouncing or diving when pedalling fast, working hard on hills, or braking. I would add that on some surfaces where just the top dressing had gone, where even a New Series Moulton is not very happy, the ride was as good as anything I have used, both from the point of view of overall comfort and lack of high frequency vibration.
Being in Cambridge, the terrain was very flat, with only a couple of quite gentle hills, for which the middle ring of the triple chainset was adequate. In fact the gearing was a bit on the high side for me, and I hardly needed the biggest ring either. The gear change, with Shimano STI levers, was superb, though I had some difficulties remembering just what to do to change gear, the operation being distinctly different from that of the Campag system on the Rocket.
The bike felt extremely free running and was certainly the equal of the Pocket Rocket in this respect, perhaps even better. Also, like the Rocket, it was an exhilarating ride - fun, and it encourages you to ride faster. Perhaps it's significant that I commented towards the end of the ride that it felt as though the wind had been behind us all the way - it wasn't of course, but the bike ran so freely that it felt that way.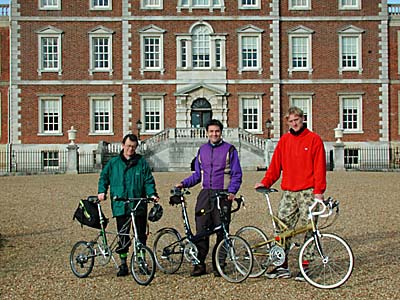 The bike I rode was shod with narrow road tyres (though not the fastest ones available). These had only a light tread, comparable with the Roadlite or the Primo Comet, but they seemed to have plenty of grip on the road, and certainly ran freely enough. I doubt if I would want anything more sporting for my type of use, though if I were to use the bike in a more "touring" mode, something a shade wider with a bit more tread might be more suitable. Richard tells me that there is a very free running semi knobbly tyre available which would meet that requirement. [Another picture at Wimpole Hall: Malcolm and the AM GT on the left, Richard with my Pocket Rocket in the centre, and Richard's friend Jim with the Airnimal on the right. This is the Airnimal I was riding, but the seat was raised for the photo to look more suitable for Jim - he was actually riding a slightly older Airnimal with the larger sized frame. ]
Handling generally felt very good - very stable, but still very responsive, and I immediately felt comfortable and confident with the bike. The combination of the rather larger wheels, rear suspension and carbon fibre forks meant that rather than slowing down, standing on the pedals out of the saddle, or watching the road for irregularities and steering round them, as I had on the Rocket on the way to Birmingham, I could largely ignore the road, apart from potholes, which I would avoid even on my Moultons or Marin full-suspension mountain bike. The brakes proved quite adequate and were very progressive and controllable.
Although I'm not a fan of aluminium for frames (see reports elsewhere), this one is very sturdy, and quality of manufacture is excellent, and the bike certainly felt light when lifted. The bike comes without mudguards as standard - fortunately this was a dry day - we were unusually lucky in this respect. I regard mudguards as essential - even in the worst wet weather they provide some protection for the feet, ankles, back and bum from falling rain and spray from the wheels - I entirely disagree with the correspondent in the latest issue of Arrivee (The Audax UK magazine) who argues that they are of no value in very wet conditions on long rides. Front and rear mudguards are available as an option. One nice thing about the Bike Friday mudguards is that although they look rather ugly and strange, and don't provide quite as much protection as some types, only one bolt is needed to hold each mudguard, which means you can take them off or replace them very easily to suit conditions - the Airnimal mudguards are more conventional, so really you make a decision either to fit the bike with them permanently (or for at least days or weeks on end), or to leave them off. For a fast road bike, the Bike Friday solution is certainly attractive, though apparently unique, or almost so.
With a train to catch, time had run out when we got back from our ride, so I did not have time for a detailed examination of folding options etc - though I was given a quick demonstration. Although you need to remove the front wheel for the first fold, and this first fold results in a fairly large package, which is still recognisably a bicycle, the process is very straightforward and foolproof, and the unified rear triangle means the chain stays under control. For this reason I'm inclined to rate it as at least as good, and probably slightly better, than a Bike Friday - acceptable at the beginning an end of a longer, faster ride, particularly if the riding is over several days, but definitely not something one would want to do several times each day. That's entirely in line with what the bike was designed for, so this is just a restatement of the intended use, not a criticism. It's worth adding that the bike is very light (about 10Kg) and its extremely easy to pick it up and carry it in the unfolded state - lift by the horizontal main tube, hook the saddle over your shoulder.
The Airnimal is available direct from Airnimal Designs, and you can find details on their web pages (http://www.airnimal.com), and is expected to be sold through a very small number of specialist dealers, such as Avon Valley Cyclery (See their FoldingBikes web site for more details - http://www.foldingbikes.co.uk). Price is about £1200 for the standard model without mudguards, carriers, bags etc, or pedals (very much a personal choice, though the same could be said of a saddle, which is included). A pair of mudguards cost £18.80, and the front and rear racks are £18.80 each - pleasing to see that extras are not charged at an exorbitant rate, unlike some manufacturers.
Conclusions
So overall, how good is the Airnimal? As the web page information and the specification make quite clear, this is not a compact folder for rail/bike commuters who have to fold their bikes several times a day. This is a fast road bike which can be folded - ideal for fast day rides, audax rides, etc, and quite capable of being used for at least medium/heavy touring. It's difficult to make an entirely fair judgment of performance when you are not riding on your usual roads, and the terrain is so different from your home area, but I was certainly very impressed by the running of the Airnimal. For the type of use for which it is designed, I think it makes a good choice. Its most obvious direct competitors are Bike Fridays, especially the Pocket Rocket and Air Friday models. I don't ride very far or very fast, but I do like a good road bike, especially if I can keep a Brompton or (better still) SP for occasions folding is a higher priority. For my type of riding I would rate all these three bikes very highly, but the Airnimal narrowly gets the vote from me, based on the ride qualities of the proper rear suspension and the carbon fibre front forks. Looking at competitors - whether they are folders or good quality road bikes/tourers/audax bikes etc - the Airnimal looks reasonable value for money. We will have some more comparisons in the next issue of FSN.
Would (will!) I buy one? If I hadn't already got a Pocket Rocket, and was thinking of a purchase in this market sector, then very probably. Even with the Rocket, I'm tempted ... watch this space!
A new owner reports on the Airnimal
By Pat Strachan
The Airnimal arrived safely last Tuesday [31 October - Ed] - a day before Richard had promised it! I had had it sent to the college as there are always porters there who can sign for a parcel. Amusingly, when the porter phoned to say a parcel had arrived, he wouldn't believe it contained a bike as it was too light for that! The box was more compact than I expected too, as the bike had been sent in its folded position.
Having got it home, opening the box revealed that the bike was extremely well protected. The bike had been assembled then packed in its partial fold, ie the rear wheel still in but with the front wheel out to allow the rear wheel to slot between the forks. The saddle and seat post needed inserting and the handlebars were all assembled but laid alongside, so these needed sliding into position too. The frame was very well protected, with all tubes being covered by thick cardboard then the vulnerable areas, ie points of contact, also had layers of corrugated plastic wrapped over the frame (on top of the cardboard). The only drawback was that these plastic 'tubes' were held in place by extra large zip ties which proved extremely difficult to cut off as they were so thick. The bike came with all the instructions for the components, eg the Shimano brakes, gears, etc and the headset, but didn't include any information on folding the bike - fortunately I found it fairly obvious, but someone less familiar with folding bikes may not.
As for first impressions - I am delighted with it. Having fitted all the accessories I could want for commuting with its still feels delightfully light - it certainly makes my Moulton AM7 feel heavy, whereas only a week or so ago I thought of it as a light bike! I haven't put many miles on it yet - due to the atrocious weather. I've done about 7 miles and Tom [Pat's son - Ed] 6, Graham [McDermott, who arranged a visit so that he could see the new bike! - Ed] finally got to take it for a short run yesterday too. I am very pleased with its acceleration and nimble handling, it cruises in the 20's easily.
Interestingly I can ride a stretch of road at the same speed as on the AM but in a lower gear leaving me able to change up and accelerate to a faster cruising speed still. This suggests it should be suited for the commute I have in mind. I did the local nearly 6 mile circuit last night and averaged almost 16 mph without really trying - in spite of a strong headwind for the last 3 miles and the need to slow down for various dogs (part of my route included a section of the Caton cycle path) then the delay of coming through Lancaster traffic congestion. All in all it promises to be fast and efficient. It's a smooth ride, the suspension mops up the worst of the road surface, though it's obviously not as effective as the AM's suspension on the rougher stretches of road. I also have the carbon fibre forks which give a softer ride than the aluminium ones - and look fabulous. I was somewhat pleased when Richard confirmed these forks would be best suited to my needs as I preferred them to the aluminium - I have never had a bike with carbon fibre forks before (or carbon fibre anything!).
The only slight problem that has appeared so far is that after Tom's ride one of the brake cables had rubbed against the front tyre and started to wear through the outer casing. When I pointed this out to him he'd said that he thought the noise had been due to the brakes rubbing! Unlike I would have done, he didn't stop to look! However, I have put a zip tie around all the cables at this point which has lifted them clear of the wheel without restricting them.
The only other thing that I will have to get used to is the STI levers - also a first for me - occasionally I manage to put the brake on when changing gear, and the reach on the front changer lever is a bit of a stretch for my hand, particularly up to the large ring, but I am sure its only a case of getting used to them. Certainly the change is swift and efficient - especially on the rear changer.
Overall my impression is very favourable and I am looking forward to putting many more miles on it. The spec and quality of components that comes with it are very good, and I think the bike offers very good value for money.
Once the amount of water on the local roads reduces I hope to commute on it - in time for the renewed petrol action next week! I'll let you know how I get on with it.
MONTAGUE
By Sean Gould
This review originally appeared in the e-mail list folding-bicycle@topica.com, and is reproduced with the permission of the author. I wasn't previously aware of this list - you can subscribe to it by sending an empty message to subscribe-folding-bicycle@topica.com - although it does not seem to be very active (not necessarily a bad thing!), and I've not received any messages since subscribing some days ago.
I just wanted to post a quick review of the Montague Folding Bicycle. I've owned and used this bike for about six months now. My decision to purchase a folding bike was spurred on by a change in my work situation, where I had to use the local rail service (BART in the San Francisco Bay area) on a line that has rather inconvenient "Black out" times on boarding with bicycles during commute hours (Folding Bikes however are just fine at any time).
I looked at a variety of folding bicycles in the market during my research on folders. What drew me to the Montague were two primary areas. First, it's built up with standard MTB components. No custom stems/seatposts etc, standard 26" wheels for ease of walking in just about any bike or sports shop and picking up a replacement tube or tire. Second was the price, at $450 for a folding bike, with a 7spd rear, triple on the front, it's a deal.
Being a folder, it's no lightweight / "performance" bike. But if you're really concerned with bike weight, you're probably on the wrong list ;) . I haven't actually weighed it, but it doesn't feel out of line with my touring rig. The frame is a mix of an oversized Aluminum main tube, with a chromoly rear triangle and fork. It folds at the seat tube, with the entire seat tube becoming the hinge. In order to fold it to take it on the train in the morning requires the removal of the front wheel, opening the quick release for the hinge, and folding the rear triangle forward. I also carry a strap and strap the front wheel to the side of the bike so I end up with one "package" to get on the train with.
As far as components go, they're definitely low end (Shimano Altus derailleurs, low end riveted Suntour crank, etc.) however for my daily commute they work just fine. Stock 'big squishy double sprung gel saddle' was the first thing to be replaced, along with the suspension seatpost that came with the bike as well. [Double sprung gel saddle and a suspension seatpost? Who came up with that idea? ] The stem is an adjustable Kalloy stem, roughly 110 mm long, with a nice long quill and removable faceplate. I also replaced that with a longer stem for fit. Standard resin pedals were replaced with a set of Shimano style clipless pedals.
The first time I rode the bike (a demo model), the bike felt a bit 'twitchy' while cornering. I attributed this to the overall fit of me to the bike. After a few adjustments, it felt better, and as I described above I did make some component swaps for fit purposes after I did purchase the bike. Also, this bike wasn't really designed with touring in mind. I purchased it mainly with the thought of using it as a commuter. However I think it could become a rather nice lightly loaded tourer, with a few modifications.
According to the manufacturer, you can fit a 'three-point' rack on the rear without any problems. Fenders, not sure about them yet, the rear doesn't look like it would be a big problem. As far as the front, a fender there would interfere with folding the bike for commuting. With only one water bottle braze on, and in a rather hard to reach area, you'd probably want to come up with alternatives. A camelback would work, but I'm not a big fan of the weight on my back over an extended period. Possibly a 'triathlon' style behind the seat water bottle cages would work better (for me at least). Front racks would be a bit more problematic, with one set of eyelets at the rear of the fork, and no mid-fork braze-ons. Possibly one of the racks designed for a front suspension bike would work.
Overall, I've been riding this bike more and more. The folding aspect really kind of grows on you after a while. Handles just fine, and simply works. Not bad in the looks department as well (of course I'm not hooked on how a bike looks, its more about the function for me. But getting comments from strangers on your bike is nice as well).
I purchased this bike from Gaerlan Custom Cycles (http://www.gaerlan.com) in San Francisco. I have to say that Jay (the owner), is a great guy to deal with. Not only did he bring the demo by my office for a test ride, after I ordered he brought my bike to the office as well. He also custom made a seatpost clamp that will allow the use of a standard 4-point rack on the bike as well, free of charge. No affiliation rather than a happy customer.
In about a week I'll be heading out to Hawaii for a wedding, with bike folded into a large suitcase. I'll get the chance to squeeze in some day rides while I'm there.
LETTERS
Roy Barrowcliffe takes up the subject of tyres, as raised in the last issue by Dennis Duggan:
"I must take issue with Dennis Duggan. I have two older Moultons the difference Primos made was like having an extra gear. I have tried Kevlar tyres on one of my other bikes these were in use for a very short time it was like peddling though treacle they were so dead. On two of my rod brake machines that are fitted with twenty-six by one & a half tyres the one with older British made ones rolls much easier. My hack is fitted with Michelin World Tour tyres these at a cost of £6 are excellent. Last my Claud Butler 1952, high pressure 26" by far the fastest of them all."
Mike Smithson is another who, like Roy and myself, finds tyres make a significant difference to the performance of cycle:
"I read Dennis Duggan's letter questioning the importance of tyres two days after I had transformed my Moulton APB S7 by replacing the standard Nokian City Runners with one and an eighth inch Continental 406s. I chose these because of the strong recommendation in FSN and because these are the tyres that Doctor Moulton fits to his top of the range bikes.
The results have been astonishing. I have always been disappointed by my APB and did have it up for sale at one point. The bike is now much more responsive and I go 15-20% faster for the same pedalling effort. It seems to handle better as well.
There has been another benefit - the sleek 406s reduce by an inch the diameter of the wheels helping to put right the appalling gear ratios on the hub-geared S7. At a stroke the gearing is 6% lower giving me ratios which are more akin to my style of cycling.
All this is not an "affectation" as Dennis Duggan describes it but a simple way of making a bike better and boosting the pleasure of cycling."
Several other members came out in support of the view that the type of tyre used can make a significant difference in normal use, and none supported Dennis's original contention.
Dennis Duggan himself comments on the subject of cycle lighting, which was mentioned in the last issue:

"I was pleased Mike raised the issue of lighting in the last FSN. The dark nights and mornings are now upon us, and my early morning walk to work (it is too short a distance to warrant the warrant the bother of getting a bike out of the garage!) has been in virtual darkness.
It is distressing to witness the number of bicycles being ridden without any form of lighting whatsoever. To compound the problem the riders invariably favour black clothing, thus rendering themselves as good as invisible to other road users.
I am fortunate because my life style means I am seldom required to cycle during the hours of darkness. Still, I always keep at least one of my machines ready for night use, just in case. A set of lights is so inexpensive, relative to the cost of the bike, I simply cannot comprehend why people want to put themselves in danger.
Whilst riding during the winter months, on anything but the brightest day, I shall routinely wear a reflective sash or waistcoat. My riding policy is 'defensive cycling,' and an important part of this is being seen.
New bikes should be sold with lights fitted, along with a bell."
I have always found that I can shout louder (or quietly if appropriate) and more quickly than a bell. The sort of people who cycle without lights would remove the lights, or the batteries, or would let the batteries go flat, or would not turn them on, if lights were fitted to all new bikes. I certainly agree that cycling without lights should not be condoned, and I agree that it is usually unsuitably clothed people who seem to do it. Restricting myself to lights, I would also condemn motorists who drive with defective lights, who park on the wrong side of the road at night, either without lights or with dipped beams on, and the motorists (now a majority) who don't use indicators.
Mark Lang has responded to my comments on wet/cold weather gear in the last issue of FSN:
"Try the waterproof socks and gloves produced by Porelle, know Sealskin fabulous; also look at waterproofs by Paramo (nikwax). I have a jacket made by a company called Westwinds and it's amazing, though it does need regular washing and reproofing but 6 years and still going strong: best waterproofs in the world although a little warm in summer."
I'm afraid my experience with the Porelle socks is very much in line with that of the correspondent in the "Mileater Diary Report" section of the latest Arrivee (Audax UK) magazine, who wrote: "Terry and I tried out waterproof socks. They certainly hold the water when it trickles down your leg."
Tim McNamara makes a very important point regarding tools, a subject covered in our Portable Paraphernalia pages:
"It may be worth mentioning that the Cool Tool is the only one of the tools mentioned that can deal with the axle nuts of a bolt-on hub. While I bought my Cool Tool rather than the others because I thought the ergonomics were better (especially with large hands like mine), I quickly found it's value with my Birdy 3 x 7's rear axle nuts. That makes it my tool of choice with that bike.
I usually carry the Ritchey CPR (9?) with my other bikes. It's the one that looks like a small chain breaker with a couple of additional things stuck on it. This works very well for minor adjustments, and once I had to use the chain tool on a friend's bike; it worked fine. The small size means minimal leverage for stubborn Allen screws or nuts, though."
Actually when I had a puncture a couple of weeks ago with the Micro, I took the front wheel out with a Power tool - it too has a suitable spanner, and I have now checked the Alien, and it too can do the job. BUT the Park, which I had previously considered the best of these tools, does not have anything which can do this job - a very serious shortcoming if you don't have QR hubs, and most folders don't. I must move the Park to one of my bikes which doesn't need such a tool (ie not the Micro, T5, Newt etc). Our report on the web pages has been suitably amended.
SALES AND WANTS
If you have a folder, separable, or accessories to dispose of, or you want to buy, you can use the Sales and Wants page (http://www.foldsoc.co.uk/sandw.html). If you want to have something put on the list, just email us the details (mike@foldsoc.co.uk) - there is no charge, but please let us know when it is sold so that we can take it off the list. As I strongly suspect that I am not being told when items are sold, I intend to introduce some changes to the Sales and Wants section. In future all entries will be dated, and will be deleted after 3 months unless a request is received to retain the entry on the list. However, please do still tell us as soon as anything is sold, so that we can remove it and avoid creating annoyance to those using the list. Take all normal precautions when buying and selling goods - the Folding Society and its officers are not responsible for the descriptions and products and services contained in the Sales & Wants list.
EVENTS
The events listed below are a combination of those organised by Folding Society members or of potential interest to members.
Remember that cycling can be dangerous (so is travelling by car, bus, train, air or water, breathing and living!); anyone participating in any way in any event does so at their own risk.
Saturday 2nd December - Mud Dock
Although there is no official organiser, the gatherings on the first Saturday of the month at Mud Dock in Bristol are still taking place and receiving good support. Meet at Mud Dock from about 10.30am onwards.
Saturday 9th December - Origami Ride
The December Origami Ride will be at its usual location, starting from the Tearooms at Meriden: arrive from 10.30 for an 11.00 start. For more information, contact John Pinkerton on 0121 350 0685, email pinkertn@mwfree.net, or look at his web site at http://www.users.mwfree.net/~pinkertn/origami.html.
---
A to B Magazine
A to B Magazine remains the ultimate source of authoritative information on folding cycles. In the unlikely event that you aren't aware of A to B and/or don't read this magazine, then we would urge you to take out a subscription without delay. A to B can be found on the web pages at http://www.a2bmagazine.demon.co.uk, or you can email them at post@a2bmagazine.demon.co.uk, or they can be reached by telephone or fax on 01963 351649, address 19 West Park, Castle Cary, Somerset BA7 7DB, England. A subscription to A to B is only £10 per year in the UK, or $24, and the magazine is published ever two months and is packed with news, reviews and other interesting information on effective integrated transport systems in general, and folding cycles in particular.
---
Note: The views expressed by contributors and correspondents are those of the writers, and are not necessarily those of The Folding Society or its organisers.
---
Back Numbers
Back numbers of all issues of Folding Society News are available on our web site - go to http://www.foldsoc.co.uk/fsn/fsn.html for the full list.
---
Contributing material for FSN
We would very much welcome articles, photographs or any other material for inclusion in future issues of FSN, or on our web pages. Please send any material to The Folding Society at the address given below. However, if you are planning to send pictures by email, please send them at an appropriate resolution to avoid high telephone bills - a JPEG picture of 50K or less is ample for use in FSN or on the web pages.
---
The Folding Society
email: mike@foldsoc.co.uk
Web: http://www.foldsoc.co.uk
If you have any news or other information of interest to other members of the Folding Society, please email us at the above address.
If for some reason you wish to be removed from this mailing list, please send a message to this effect to the same email address.
All information given here is provided in good faith, but no responsibility can be taken for errors or for any consequences arising from the publication of this information.
Return to FSN index | Folding Society home page
---
Copyright (C)2000 Ferrets Anonymous
Last updated: 8 November 2000
URL: http://www.foldsoc.co.uk/fsn/fsn064.html