THE FOLDING SOCIETY
---
FOLDING SOCIETY NEWS
Issue 61 - 1st October 2000
---
EDITORIAL
We had hoped to bring you our report on the Airnimal in this issue, but a Virgin train broke down on 23rd September and blocked the line between Wolverhampton and Birmingham; after missing two connections to Cambridge, and with the next one, even if I caught it, another hour and a half off, I abandoned my visit. We hope to re-arrange the test date for the not too distant future.
Life has been pretty hectic again over the last two weeks: having finished the work at Bradford on Avon, a lot of time was spent collating and printing photographs from those events, and no sooner was that done than the remaining material for the September issue of The Half framer arrived, so that had to be finished, printed, despatched etc. On top of this, there has been a lot to do catching up with things at the university. The net result is that there has not been much time to spend on folder matters, nor, more importantly (?!) for riding bikes. My cycling distance in September has been very low, as none of my planned rides at Bradford on Avon were carried out due to pressure of work, and there has been no time for riding for pleasure since. Perhaps in view of the weather I should not be too disappointed by this. After a few travel problems in the middle of the month (see next section), I've been back on the Newt (Bike Friday New World Tourist) for the last week. After so little riding it has seemed rather hard work, and indeed on Saturday's ride I got a little help from the train on the way back. unfortunately that route involves a towpath, and on the cobbled stretches I found it more prudent to dismount, where on a Moulton I could have ridden. Today's (Sunday) ride was rather miserable - chilly mist once I got outside Dudley, and I really only went out to take a photograph of a rather fine fungus I spotted on Saturday's ride, when I didn't have a suitable camera with me; needless to say, when I got to the appropriate spot, the fungus was no longer there! On the way back I made a wrong turning (I'll blame the mist) and ended up having to slog up the worst hills back into Dudley.
The Newt is quite enjoyable to ride, though even after using it exclusively for a week I find the ride harsh compared with the Moultons, Brompton and SP - Charter Avenue in Coventry is just one of the roads I wouldn't recommend on an unsuspended small-wheeler: perhaps I should try an Airlglide. I also greatly miss the ease of folding of the Bromptons on the journey to work - both on the train (no restrictions, but simply not enough space for bikes, which means standing with it) and in the office (the Brompton goes in the office, whereas the Newt has been chained up outside).
Tuesday 19th September - an interesting day (as in the Chinese curse)
or How many bikes do you need?
Apart from the problems described above on 23rd, I had difficulties of another kind earlier in the week. I hadn't actually originally expected to have to go in to the University on the Tuesday, but some mysteriously corrupted files on a disc the previous day meant another visit was called for. On Monday the Brompton behaved impeccably as usual, but on Tuesday morning when I unfolded there was a loud rubbing noise and obvious friction; a quick look failed to provide an explanation, and with little time available to catch the train I hastily dragged the SP down from upstairs, only to find the front tyre completely flat! With some of the alternatives not very accessible, and time running out, I rushed back upstairs and lugged the APB down and finally managed to get to the station just in time to catch the train. Third time lucky, and a reason to make sure you have a second bike ready for action just in case of problems! The problem with the T5 proved simply to be a displaced brake cable rubbing on the back wheel - not a problem I've ever had before. The Micro is now checked out and positioned ready to be called into use if such a similar emergency arises again anytime.
Next Issue
I'm not sure if we shall have the Animal test for the next issue, but expect FSN around 15th October anyway.
Format
If you receive this issue of FSN in a plain text form, please remember that a formatted version is available on our web pages at http://www.foldsoc.co.uk/fsn/fsn061.html, and you can receive the formatted version (suitable for reading with a web browser) just be emailing us to let us know you prefer this version.
NEWS
The news of the closure of Sturmey-Archer has appeared publicly in a number of reliable publications, so it unfortunately seems to be true. It is not altogether clear whether this also means the end of Brooks. This is deeply disturbing and depressing news for most people. For many folder enthusiasts, a point of considerable concern is what this means to Brompton, who have used S-A hubs in their bikes - over 60% of our members own Bromptons. We contacted Brompton soon after the news broke, but the only available information at that time was that they were still getting supplies of hubs. Some quite lurid tales are emerging concerning the circumstances of the closure of S-A, but we don't like spreading (or helping to spread) gossip, so we'll wait for an authoritative report before reviewing the situation. We'll keep you posted if or when more news emerges.
Tony Hadland, the Moulton and Sturmey-Archer historian, coincidentally emailed me recently to remind me that his website not only now includes Sturmey-Archer Master Catalogue material (mentioned in a recent FSN), but also has a fully illustrated version of his paper on the last 25 years of Raleigh, a family tree of Moulton frames, and two new slideshows - on unusual small-wheelers in the Shimano museum, and on Japanese utility cycles, including some more small-wheelers. Tony's web site is at http://www.hadland.net, and it's well worth visiting, or re-visiting if you haven't looked at it recently.
Both Tony Hadland and John Pinkerton visited Japan recently for a cycling conference, but while Tony came straight back to the UK, and was much in evidence at the Moulton celebrations, John has gone on to carry out a world tour. We were delighted to get a telephone call from him from Australia the other day; he apologises for not sending in reports for FSN, but access to the internet is not always easy on his travels, although he is managing to read FSN; he sends his regards to his folder and other cycle friends. Assuming you manage to read this issue, enjoy the rest of your tour John, and we look forward to seeing you again when you get back. Another message just for John - the email I tried to send to your new address bounced.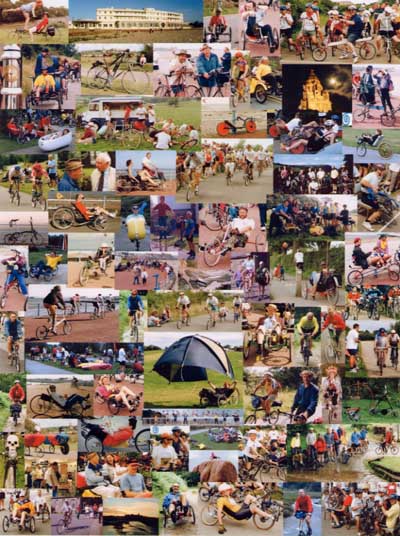 We mentioned in our CycleFest report that Pat Strachan was selling at CycleFest a rather fine poster based on pictures taken at the previous CycleFest. Here, with Pat's permission, is a small, VERY LOW RESOLUTION reproduction of it. Copyright of this picture belongs to Pat, and we have kept the resolution low here to prevent unauthorised reproduction, just in case the brochure designers of B* should access this page! The posters are individually printed on very high quality A3 photo paper using an inkjet printer, and if you would like a copy, Pat can supply them at a price of £10 + £1 p&p (UK) - Contact Pat Strachan, 5 Halton Road, Lancaster LA1 2EA. At Cyclefest everyone was looking to see if they were included somewhere on the poster (I'm just left of centre on my Pocket Rocket), but even if you aren't on there, it's a super poster which very effectively captures the essence of CycleFest.

The recent car-free day in Europe seemed to prove that Britain is not a part of Europe - it seemed completely ignored here. Certainly my own local observations suggest no decrease in car usage and no increase in cycling, walking or use of public transport. Simon Baddeley reports that his trip to Paris for the events there went very well, and he got some coverage in the Birmingham Evening Mail for this outing. The paper's reporter adds: 'But Birmingham is not joining the one-day scheme. A city council spokesman said "We are not participating because we have a year-round policy of encouraging people to use public transport and cycles wherever possible."' I think this comment is pretty typical of attitudes in councils here, and really does not require any comment by us.
BIKE FRIDAY
It seems quite a while since we had anything to report from Bike Friday, but a copy of their latest 'Foldable Flyer' newsletter arrived the other day. The main item of potential interest is that a new tandem is in the offing. It has the code name 'Project Q', and is particularly interesting in that the centre section for the stoker can be removed so that it will also function as a solo machine. Bike Friday are currently looking for suitably qualified existing Bike Friday owners to buy test models at just over cost price and carry out further testing and development.
On their web pages Bike Friday have a preliminary announcement of another Bike Friday Homecoming in Eugene, Oregon, from 17th-19th August 2001.
MOULTON
At last we have completed our photo report on the Moulton Bicycle Club Weekend at Bradford on Avon - you can find it at http://www.whooper.demon.co.uk/moulton/boa2000evrep.html . The report on the other events at Bradford on Avon, leading up to the MBC Weekend, and including the press release and pictures of the new Speed model, are at http://www.whooper.demon.co.uk/moulton/am80.html .
RAMBLINGS OF A NEW BROMPTON OWNER
By Andrew Parsons
The idea for buying a folding bike came to me in France last year, when my father-in-law was able to use his ageing Raleigh Shopper type folder to cycle to the nearest village for the morning croissants in a fraction of the time it took me to walk. After some research on the web (thanks to A to B and the foldsoc pages) it seemed the Brompton was the obvious choice, ie reasonable price, folded small (for the car and storage at home in the porch) and it has a reputation for being well built reliable and simple.
I happened upon an old style L3 in a local shop, for which I paid £350 including bag and folding pedal, less than the new C3!. I've had to buy the extended seat post (I'm 6'2"). The brakes, I have read, are not brilliant but I have to say they seem quite adequate to me.
Safely ensconced in a rural gite (cottage) 20 miles east of Poitier I was ready for the first bread run on a bright sunny Monday morning to the local village only 5kms away. Imagine my horror when I discovered it was shut, so Monday was bread-less. On Tuesday another sunny day dawned and to the bakers I went; it was open but a sign on the door explained they would be closed the following week for their annual holidays. The next baker was 8kms from the gite, a return journey of 10 miles. This might not sound much to the more experienced and daily cyclists but for me, just to get bread, this was a long way.
All told I covered some 80kms (50 miles) during our stay in France. My father-in-law used the bike on couple of occasions and is hooked, so one will may well be on its way to France for him at Christmas.
I am extremely pleased with the bike; the 10 mile round trip took less than 1 hour. I did not suffer from any neckache (even 30 mins on my road bike makes my neck sore) and I found the "as supplied" saddle comfortable enough. It has certainly given me the confidence to use the bike on longer journeys.
I think the addition of the front carrier system would be one accessory well worth the investment. If I can get Steve Parry to answer the phone (perhaps he is on holiday) I like the idea of his alternative mounting bracket.
Sorry there are no pics, I do not yet have a digital camera or a scanner.
Many thanks for the mag your efforts are certainly appreciated.
A TALE OF TWO FOLDERS
By Mark Lang
I own two folding bikes, both of which I am very happy with. The first is a Ridgeback Tailwind, basically a Dahon 7 speed cheapy. I have used this for the last 9 months for a once a week 30 mile commute to work and as a general bike around town. The only negative point is that there are times when I would like a slightly lower gear for steep hills and an overdrive for zooming down again. However I seem to zip along and the journey time is no different to my 15 speed Raleigh hybrid over the same route. The more I ride and the fitter I become the easier the hills are, which must say something. The bike folds very quickly and the package will fit on most trains and I even manage the odd bus route, although it pays to sit at the front as the space in front of the seats is wider. The folded package is heavy, but lighter than the Raleigh hybrid and fits in the boot of cars easily, which I have found useful on occasion. I am thinking of upgrading the brakes with some dual calliper ones but apart from that its cheap, cheerful and its versatile enough for me to have sold the hybrid!!
The next one I brought was a second hand Bernds with the Sachs 3x7 system. This folds wonderfully and is a little lighter than the Dahon. I have only done 100 miles or so but am delighted. I have the lower gear and higher gears that I wanted and it zooms along like a rocket. The only problem is that I don't want to get it muddy and spend lots of time cleaning it, sad really. The original pedals were too small and my feet tended to slip off and my heels got caught in the cables at the rear. A new pair of pedals and a pair of toe clips have solved this problem. The cables can get caught up if your not careful, but take a few extra moments when folding and unfolding and its a delight. Luggage capacity is good with a bar bag mounted on he front stem with a Klik-fix fitting and a rack bag on the rear carrier. There are also the braze-ons for a low rider etc if needed. The dual pivot brakes work fine and the rear suspension seems to iron out most pot holes and bumps.
I'm about to complete the Sustrans south west cycle route and will let people know how the Bernds performs. My only regret is that I didn't buy a folder years ago.
THE MONTAGUE CX ELECTRIC
By Robert Baker
Specs: American Marine Corps designed full sized folding 21-speed mountain bike (26"wheels, 18 or 20" frame size). Electric motor (rear axle mounted chain-drive, 24v). Motor range 20 miles, max speed 18mph unaided.
Cost $1099 (from dealers; I paid less – see below) + shipping + VAT +import duty (15%). Prices in $ because only available in US at present.
I searched for a long time before buying this machine. I needed to add power to a suddenly increased 12 mile commute through London. I wanted a public transport option, hence choosing a folder. I looked at Moultons, Bromptons, Stridas etc but they all seemed too small and undergeared. I found the Montague on the net and was instantly taken with its looks and practicality. They were designed by the US marine corps as infantry transport. I liked the idea of having 21 gears on a big folder.
The folding mechanism is very basic but effective. There is a simple boombar between seatpost and handlebars which folds at the seat end. You have to take the front wheel off, turn the front forks in and carry the front wheel separately. Not as elegant as a Moulton but without the motor and battery this makes carrying on the train a reasonable option for a fit person; with them it is possible but hard work (total weight 60lb). There is a carrying case available which might make this easier, I am also buying some folding pedals ($15). Motor and battery remove easily – battery has a clip, motor just needs an Allen key. Without them you have a perfectly serviceable MTB.
I had tried electrics through the Solex shop on London's Kings Road and was unimpressed, because they seemed slow and heavy for a journey of any length. They are also speed restricted (15mph) by European law. The Montague is better than any I tried on both counts. The boombar is light (the whole bike weighs about 30lb without the electrics) and with combined pedalling and motor I left all the other cyclists standing, particularly from a cold start. Top speed is 18mph unaided, although going at this speed limits range to much less than the max 20 miles unaided. I don't know what the max range is with pedalling but today I did about ten miles and the battery recharged at home within two hours. The battery charger is light enough to take with you and there is a rapid charger (3hrs) available (normal 6-8hrs). You can buy the motor/ battery mechanism separately from Currie industries. It fits most 27"/ 26" wheeled bikes and you can fit yourself. Cost about $570.
The bike is well made (Taiwan) and all the parts, gears etc are good quality; suspension seatpost was a particular pleasure. It looks terrific and my major worry is that it will be nicked.
Criticisms: I felt there was a design defect in that the bike folds away from the chain, leaving oily parts exposed. This would have been so simple to get right! The other main problem with Montagues is that they are presently unavailable. Having found them, all the suppliers said they were sold out. This was a blessing in disguise because I ended up buying one on eBay (internet auction site, www.ebay.com ) and paid only $601. (Tip – put in a proxy bid as late as you can). But this will change. There are very similar ones available called Mongooses; these are clones and I cannot speak for quality.
Overall: very impressed; for my purposes it could not be better. Knowing what I now do, I might have considered buying a Dahon folding road bike and the motor separately. But I would have paid a lot more than $601!
http://www.montaguebikes.com/.
LETTERS
Paul McNally reports on one reaction to the recent fuel crisis here in the UK:
" I thought you might like to know Connex SE's response to the fuel crisis last week - ban all bikes on trains during peak times. Surely the answer would have been to provide an additional guard's van to meet the extra demand? At a time when it would have been possible to introduce 100's of new customers to the potential of rail/cycle commuting Connex, in their infinite stupidity, ban bikes. Green or what?"
The days are getting shorter here, and I now need lights each morning I go to the university, though I've not yet had to turn them on for the return journey. As mentioned earlier, the Newt has also been forced to stay outside while I've been working at the university - it's too much trouble to fold, and anyway the office is so small there really isn't room for it even folded. Thus Peter Crossley's email was certainly relevant to me. Peter, a Bike Friday owner, emailed us some thoughts on both lighting and theft prevention:
"Lighting
For serious regular lighting, I use a SMART dual headlamp (10W and 3W) rechargeable system. this lasts days, and a simple flick switch turns a powerful head lamp on and off. the mounting bracket fits nicely onto the handlebars. For occasional use, I use a SMART halogen battery lamp. Both lights are easily removable. Rear lights - I use LEDs fastened to seat post.
Theft
To make the bike look like a standard shopper type folder, I have pealed off or scraped off all the Bike Friday stickers, and the personal name plate. Also use a good lock. The frame is a bit scratched and most people think it looks crap; a shame, but I am still riding it."
I generally prefer to avoid the theft problem by taking the bike into the office, shop etc with me, but with anything other than the Brompton or Micro that can be rather a nuisance, or impractical. One Brompton owner repainted his black machine deliberately badly with, as I recall, a pale yellow emulsion - looks awful, but certainly reduces the likelihood of thieves being attracted to it.
Evelyn MacMillan of Halifax, Nova Scotia, Canada has written to us and asked us to publish her letter:
"I am a Canadian with a Dahon folding bicycle and a deep and abiding love for the Yorkshire Dales. Last year I took my bike and stayed in Malham and Halifax. I had no trouble with the planes or local buses. The trains were a little more difficult. This March I plan to return to the area around Hawes and wonder if there is anything scheduled for that area and time. Lancaster would not be out of my way. Also would love to talk to other folder enthusiasts in the area as all my trips over have been in the fall. I believe, however, the weather is similar to what we have here in Halifax Nova Scotia--not too cold, overcast and wet--lovely!!
I wonder if you could put my name and e-mail address in a newsletter? Happy Biking!!"
Evelyn's email address is emacmillan@primus.ca
SALES AND WANTS
If you have a folder, separable, or accessories to dispose of, or you want to buy, you can use the Sales and Wants page (http://www.foldsoc.co.uk/sandw.html). If you want to have something put on the list, just email us the details (mike@foldsoc.co.uk) - there is no charge, but please let us know when it is sold so that we can take it off the list. As I strongly suspect that I am not being told when items are sold, I intend to introduce some changes to the Sales and Wants section. In future all entries will be dated, and will be deleted after 3 months unless a request is received to retain the entry on the list. However, please do still tell us as soon as anything is sold, so that we can remove it and avoid creating annoyance to those using the list. Take all normal precautions when buying and selling goods - the Folding Society and its officers are not responsible for the descriptions and products and services contained in the Sales & Wants list.
EVENTS
The events listed below are a combination of those organised by Folding Society members or of potential interest to members.
Remember that cycling can be dangerous (so is travelling by car, bus, train, air or water, breathing and living!); anyone participating in any way in any event does so at their own risk.
Saturday 7th October - Mud Dock?
There is no longer an 'official' gathering on the first Saturday of the month at Mud Dock in Bristol, as there is no organiser, but we understand that folder enthusiasts are still meeting at the usual place and time (from about 10.30am onwards).
Saturday 14th October - Origami Ride
The October Origami Ride will be at its usual location, starting from the Tearooms at Meriden: arrive from 10.30 for an 11.00 start. For more information, contact John Pinkerton on 0121 350 0685, email pinkertn@mwfree.net, or look at his web site at http://www.users.mwfree.net/~pinkertn/origami.html.
Saturday 14th October 2000 - Hazelbury Bryan ride
Mark West will be hosting a combined Moultoneer/Folding Society ride beginning from his house in the village of Hazelbury Bryan near Sturminster Newton in North Dorset, England, at around 10.30 - 11.00 a.m. on October the 14th 2000. The plan is for a gentle ride of around 30 miles in all to take in a number of beautiful Dorsetshire villages and a longish lunch stop in Sherborne, one of the finest small towns in the west country. Sherborne has not one but TWO castles owned by Sir Walter Raleigh and lately by The Digby Family (by lately I mean about 350 years or so).
The return route will be via the village of Yetminster which will allow train-using friends to return home if they alighted here on their arrival (Mark will send out routes to get to his house from local stations and from main centres by car to anyone who contacts him).
Contact Mark on the addresses below for more details:

Mark West
4D Signs
The Old Dairy, Wonston,
Hazelbury Bryan,
Sturminster Newton,
Dorset DT10 2EE
Tel: +44 (0) 1258 817878
Fax: +44 (0) 1258 817879
e-mail: markwest@4dsigns.freeserve.co.uk
---
A to B Magazine
A to B Magazine remains the ultimate source of authoritative information on folding cycles. In the unlikely event that you aren't aware of A to B and/or don't read this magazine, then we would urge you to take out a subscription without delay. A to B can be found on the web pages at http://www.a2bmagazine.demon.co.uk, or you can email them at post@a2bmagazine.demon.co.uk, or they can be reached by telephone or fax on 01963 351649, address 19 West Park, Castle Cary, Somerset BA7 7DB, England. A subscription to A to B is only £10 per year in the UK, or $24, and the magazine is published ever two months and is packed with news, reviews and other interesting information on effective integrated transport systems in general, and folding cycles in particular.
---
Note: The views expressed by contributors and correspondents are those of the writers, and are not necessarily those of The Folding Society or its organisers.
---
Back Numbers
Back numbers of all issues of Folding Society News are available on our web site - go to http://www.foldsoc.co.uk/fsn/fsn.html for the full list.
---
Contributing material for FSN
We would very much welcome articles, photographs or any other material for inclusion in future issues of FSN, or on our web pages. Please send any material to The Folding Society at the address given below. However, if you are planning to send pictures by email, please send them at an appropriate resolution to avoid high telephone bills - a JPEG picture of 50K or less is ample for use in FSN or on the web pages.
---
The Folding Society
email: mike@foldsoc.co.uk
Web: http://www.foldsoc.co.uk
If you have any news or other information of interest to other members of the Folding Society, please email us at the above address.
If for some reason you wish to be removed from this mailing list, please send a message to this effect to the same email address.
All information given here is provided in good faith, but no responsibility can be taken for errors or for any consequences arising from the publication of this information.
Return to FSN index | Folding Society home page
---
Copyright (C)2000 Ferrets Anonymous
Last updated: 1 October 2000
URL: http://www.foldsoc.co.uk/fsn/fsn061.html