THE FOLDING SOCIETY
---
FOLDING SOCIETY NEWS
Issue 58 - 13th August 2000
---
EDITORIAL
Reducing Rail Congestion
If you plan to travel via Birmingham New Street between now and 29th August, you should be aware that there is major engineering work there. Proofhouse Junction, at the eastern rail exit, is being completely restructured, so that no trains can leave along the Coventry and Aston lines for the moment. This work is supposedly being carried out to reduce congestion on the approach to the station, but I think that the plan is rather more devious than this. My suspicion is that Railtrack hope that by making travel through New Street so difficult, people will find alternative transport, so that when they reopen the line, demand will have dropped, so that they can run fewer trains and reduce congestion that way. I've also heard it suggested that Railtrack are out to win one of the motor industry's most coveted awards - best car marketing campaign of the year.
Evidently not everyone is convinced that these measures are going to be sufficient to stop determined people travelling by rail, for on the first day of the special arrangements, some additional obstacles were introduced. I had investigated my options, and found, via the web pages, that I should be able to catch an express train at 6.29 at the humorously named Sandwell and Dudley (4 miles outside Dudley) which would stop at Birmingham International after a substantial diversion around the outskirts of Birmingham. From there I could either catch a local train, or cycle all the way. On my return from CycleFest I examined the temporary timetable available at the station, and found no mention of this train. A phone call on the evening of 8th confirmed that there was such a train, but when I arrived at Sandwell and Dudley, station staff were discussing a taxi with some passengers, and when I enquired (they did not volunteer any information) I was told the 6.29 was cancelled. A local train took me eventually to New Street, but studying timetables there indicated a long wait, even if the next train started on time, so I decided to cycle to Coventry. However, not only is rail traffic into New Street disrupted, but they are trying to prevent any form of access to the station by road and footpath as well. Due to rebuilding work on the Bull Ring, most of the roads are closed around the main station entrance - you can't even cycle along there. To get to the road I decided to follow the footpath markings to Moor Street station, but these ended in an impassable barrier, with no signs as to how to get to Moor Street, so I tried following signs to Digbeth, and after a longish walk eventually reached the road.
Cycling along the A45 from Birmingham to Coventry is not something I have ever tried before, or would want to do again. It is unpleasantly busy, but more awaited me when I reached the airport, as the road is under repair and the dual carriageway is reduced to a single lane for about a mile. There is no footpath, and the roadworks are far too rough to be able to ride along. For about half the distance I was actually held up by slow moving cars, but after that they speeded up, so that I had to ride flat out, and even then cars were queuing up behind me and squeezing past - not pleasant at all. One driver went to the trouble to wind down his window and slow down as he went past so that he could offer abuse. Eventually I reached the university after a 40 Km ride, which had taken 2hr 20 minutes due to waiting for the first train etc. For the return journey I decided not to use the New Street route at all, but cycled to Solihull and caught a train to Snow Hill, where I changed to a local to Smethwick Galton Bridge, and then cycled 8Km home from there. At least this gave me the opportunity to talk to another passenger who had just bought a Brompton. Overall cycling distance that day was 71Km - much more than I had planned, or would want to do on these roads on what was intended as a simple commuting journey.
As far as possible I shall be trying to avoid travelling over to the university for the next couple of weeks, as this is not an adventure I want to repeat.
On my bike - portable priority
As the CycleFest report on the web pages (due out in a few days time) will show, I decided to take the New Series Moulton to that event. Once there, it was a real joy to use, but bagging it to get there by train, unbagging at the other end, and repeating the process for the return journey was rather a pain. At one point a train journey to the Lake District was suggested for the Monday, and the poor portability of the NS threatened to be an embarrassment, but in the end we did not do this outing.
While bagging and unbagging something like the NS may be quite acceptable for a week away, there are many other situations in which portability is a much higher priority. The current rail problems in my area make this very clear. Normally we have good local train services which carry any number of bikes free, without booking, and unfolded. On my return from CF I needed to go in to the university to make sure everything was running properly, and I had just one day to do so before the rail disruption started. As I planned to stop off in Birmingham on the way back to leave some films at Jessops for processing, and I thought there was at least the possibility of some upset to the train service in preparation for the major engineering work, I took the Micro. On my way back I cycled to Birmingham International, and as the first train to arrive was an express, I quickly folded the Micro and got on that - with one of the less portable bikes I would probably have waited for a local train. After leaving the films with Jessops, I decided to cycle back to Dudley via the canal tow path, rather than catch a train. The idea of using the towpath rather than the road was to avoid motor traffic, but this proved less than successful, as a small motorbike was being ridden up and down the towpath by a large, be-ringed young man with a small girl perched precariously in front of him. This towpath has a reasonable surface for much of the distance to Tipton, but with a number of very rough cobbled stretches under bridges. The full-suspension Marin is the only bike I have which will handle these comfortably, although at least some of them can be ridden on most other bikes. With the Micro, in view of the small wheels, short wheelbase and absence of any suspension, I walked all of these stretches. Otherwise the Micro handled the conditions quite adequately, and was a joy to fold and lift onto the train - or carry into the office - it folds easily, is reasonably compact and very light.
For the two journeys I made later in the week, after the closure of Proofhouse Junction, I used the SP Brompton. For a combination of very high portability, good luggage carrying, and the ability to tackle longer rides when the need arises, I don't think there is anything that can match it, and of course in the SP form even the longer rides become very easy. The disasters of Thursday, described earlier, prove how useful this is. If I still had it, and were planning to use the towpath on a regular basis, the Birdy would have its attractions - a more comfortable ride on such surfaces than the Bromptons, and acceptable foldability. To get to and from the university for the next two weeks I shall have to use expresses rather than local trains, with restrictions on bike carriage, and I shall be riding further than usual; the Brompton (in SP form) is going to be the only machine I would consider using for this type of journey.
Photography - digital update
I don't like admitting defeat, so after sending the last issue of FSN out, I took a short break and then plunged into the Windows RegEdit program to try to sort out the software for my new digital camera. After some investigation, I found that there were still some entries for the old software in the Windows registry, so I nervously deleted them, and then succeeded in installing the software for the new camera. However, as I feared, this new software works with the new camera on a USB, and to connect the old one, which uses a serial port, I have to go and alter some settings each time. Editing the registry is definitely not something to be undertaken lightly, and I wasn't very impressed by needing to do this. Bicycles are (generally) much less trouble!
Having sorted out the new digital camera, I took it and a conventional camera to Cyclefest, but ended up using the conventional camera most of the time. For those interested in such topics, I shall have more to say on this subject when the CycleFest report appears on the web pages in a few days time.
Next Issue
The next issue is due out in two weeks time, just before this year's Moulton events. Between now and then, we hope to have the full report on CycleFest on the web pages, and probably a few other items as well.
Format
If you receive this issue of FSN in a plain text form, please remember that a formatted version is available on our web pages at http://www.foldsoc.co.uk/fsn/fsn058.html, and you can receive the formatted version (suitable for reading with a web browser) just be emailing us to let us know you prefer this version.
MOULTON
A message appeared in the last couple of days on the Moulton emailing list regarding 17 inch tyres, and a rumour that Dr Moulton had recalled the mould from Michelin. I'm not authorised to explain the situation in detail at this stage, but suffice it to say that owners of cycles using these tyres DO NOT NEED TO WORRY. There is something afoot (which I was told about in confidence during a visit to the factory a few weeks ago), but the 17 inch tyres will continue to be available, and in fact they may be improved - more about this when I'm permitted to explain the situation more fully.
Most Moulton Bicycle Club members are due to renew their subscriptions in September, and may have noticed that the address label of the recent issue of The Moultoneer had printed on it a reminder. Unfortunately the relevant membership renewal forms weren't available at the time, and so could not be sent out with the magazine. For those who are uncertain about the situation - whether they are due to renew, how much it costs, and who to send the renewals to - we understand that the forms will be sent out to those affected Real Soon Now. You don't need to take any action until then, so there is no need to try to contact the Membership Secretaries.
The Moulton weekend will be taking place at Bradford on Avon early in September, and there will be a number of other events there for specially invited guests around that time. We hope to be able to post reports on the web pages each day during these activities, although we can't be sure if this will be possible at this stage. We hope to have more news regarding this in the next issue.
CYCLEFEST 2000
CycleFest took place at Lancaster from 2nd to 8th August. As usual, it was a most enjoyable event - very well organised, with a trade show, formal presentations, films, rides and other events, but also retaining a very relaxed and informal atmosphere. The full report on the event, with pictures, is going to be quite large, so rather than include it in FSN, it will be posted in the event report section of the web pages. It's going to take some time to edit together the material I prepared during the event, and to select from the 200 plus photographs I took, so the report will not be ready for a few days - expect it on the web pages around Wednesday 16th August.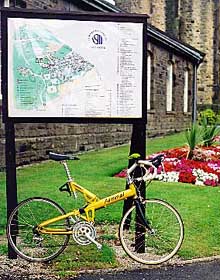 Folders and separables were as usual very well represented at CycleFest, with plenty of Moultons, Bromptons, Birdys and Bike Fridays, and a few Bickertons. A number of the recumbents also had some degree of separability. Pashley had the Millennium fx8 APB, and some fairly minor modifications to the model range, including a 16-speed dropped handlebar APB and a new 3x7 - in effect a Land Rover with sensible tyres. Shaun Moulton brought a number of New Series Moultons and a very smart grey Jubilee L equipped with a full set of bags for touring. Most significant in folder terms though was the new Airnimal Chameleon, a prototype of which appeared at the last Cyclefest two years ago with the slightly simpler name 'Animal'. I took a short ride on this, and I'll describe my first impressions in the CycleFest report, but in the meantime you can read Simon Davies' much more complete report below. As well as three demonstration bikes, there was one packed into a suitcase and parts of another in a soft bag.

Above - the Airnimal at CycleFest. The dropped bars, long stem and narrow tyres give a pointer to the bikes character and main market. See our web page report on CycleFest for more details, and also the report by Simon Davies below.
Right: The Airnimal in its suitcase - rather smaller than a Bike Friday Pocket Rocket case. However, at present there is no trailer option for towing the case when the bike is unfolded.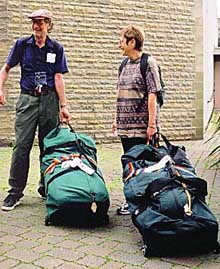 Izzi Urielli, one of the evening speakers, arrived with two recumbents neatly packed into bags - the castors on the bags are actually mounted on the handlebars, and look like very unusual bar-end extensions when the bikes are assembled. Although compact and transportable, assembly took around an hour, so you would not want to use this portability in daily commuting! other evening events included a interesting, informative and entertaining talk on hub gears by Tony Hadland, and a superb film by Ross Lowell entitled "Wind in My Soul".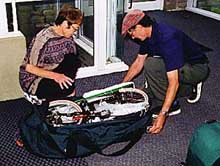 Above: Izzi Urielli arrives with the recumbents - bagged. Note the castors on which the bags roll.
Right: Just to prove the bikes are in the bags.
Below: Unfolded - you can just see the castors are now on the ends of the handlebars!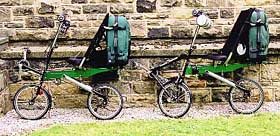 THE AIRNIMAL CHAMELEON
By Simon Davies
I recently took the opportunity to test ride the new Airnimal Chameleon folding road bike. Below is a review based upon my initial impressions. Hopefully by the time this review is published I should have acquired my own Chameleon and put a few more miles in so I will write a follow up some time in the future.
The Airnimal Chameleon is a new bike that is aimed at a slightly different market to most folders. Its emphasis is on the ride rather than the folding ability. To this end it uses 24 inch wheels and drop handle bars. The main frame is an aluminium mono affair with a URT rear end attached via the folding pivot. Minimal elastomer suspension is provided at the rear. Componentry is Shimano 105 with a triple crank set allowing 27 rears. In standard set up without pedals the bike weighs in at a reasonable 24lbs.
The bike folds to various stages. The first stage requires that the front wheel is removed. The URT is then folded under the frame so that the rear wheel ends up between the front forks. The saddle and seat post are removed, the seat tube folded forward along the top tube and the seat post put back into the bottom of the seat tube. This gives you a package of about the same length as a folded Birdy, but being almost twice as tall, plus an unattached wheel. On the plus side it is narrower than a folded Birdy. The fold is fairly fast - probably the same as a Birdy and the chain doesn't fall off! Once folded to this stage it will not stay folded unaided - if you pick it up by the frame the rear wheel will swing down. You could pick it up by the wheel and the frame together but this would result in a dirty hand. Probably the best solution would be to place a toe strap around the frame that could be looped through the rear rim to hold it in place.
The stages after this require that various components are unbolted and thus is not the sort of thing you would consider doing at the train station. A hard case is available for the bike which fits everything in and is about 26 inches square.
Various options are available. Full sized mudguards - unfortunately fitting the front guard prevents folding, touring wheels and tyres, full sized rack that doesn't interfere with folding, carbon seat post, carbon forks which do not have braze-ons for mudguards, and soft and hard carry cases.
The bike allowed me to adopt my normal touring bike position as the bars are attached via a quill stem so their height can be easily adjusted and a traditional seat post design is used, allowing the saddle height adjustment and saddle fore and aft adjustment found on road bikes. The first shock that the bike delivered was the lack of response when using the right brake lever. The cause of this was a combination of the bike being set up European style with the left lever operating the front brake and the massive gap between the pads and the rims. I was told that these problems were due to the bike only recently arriving in the country and needing to be set up in a hurry for my test ride. This appears reasonable as there is no reason why the 105 lever/callipers combination should work any differently on a 24 inch wheel to a 700c wheel. Once used to using the left lever the bike stopped in a reasonable manner.
The test route consisted of cycle paths, city roads, a cobbled precinct, country roads and a short hill, so a good selection of conditions, although I would have liked a few more steep hills. In the saddle, maintaining a good speed the bike behaved as well as my road bike. Through the traffic it responded well, the steering was fairly neutral with no detectable 'jigger' that is often found on small wheel bikes, but when a sudden change in course was called for it responded well. Putting the power on, there was no detectable movement in the suspension - something that I had been worried about as this is a URT frame and my sensitive knees don't like having the distance between the saddle and the BB constantly changing. On reaching the cobbles the bike continued to handle well. It didn't slow down dramatically as I would expect my Birdy to, but conversely it didn't try to shake me to pieces as my road bike would have done, so, although I wasn't feeling negative effects from it, there must have been some suspension damping there. Back out on the open road and it was time to test the acceleration. Dropping it down a couple of sprockets and pouring the power on whilst remaining in the saddle, the bike did appear to leap forward. The bike I was testing weighed something in the region of 25 lbs, however, the acceleration made it feel more like 20lb, no doubt due to the smaller wheels and rigid rear triangle.
Finally on to hill climbing out of the saddle; being unused to STI I managed to fluff the bottom of the hill by changing gear the wrong way. But once in the correct gear I 'gave it some dog'. Again the bike performed well, much more like my road bike than my Birdy. The suspension did not appear to sap any power and it was easy to get into a climbing rhythm. I've noticed on some small wheelers that they give an amount of what I call 'Tuck under' - when climbing out of the saddle and moving the bike from side to side the front wheel occasionally tries to get underneath the bike. There was the slightest hint of this on the Chameleon but I could easily live with it, definitely not as much as on the Birdy and nowhere near as much as a Brompton.

As with any bike, there are a few bad points. The worst is definitely the saddle. I've never met it's like before - I'm sure it would have been more conformable to remove it and sit directly on the seat post. Now I know what is comfortable for one bottom is torture for another but I defy anyone to find comfort on this saddle - normally I'm still quite comfortable on a Flite Titanium after a days worth of mountain biking but I was barely able to sit on this one after five miles. The next drawback about the bike (which is again highly subjective) is the colour. Originally the bike was meant to come in a metallic yellow but due to paint contamination this had been swapped to metallic champagne at the last minute. To me it said 1970's Austin Allegro beige. But if you are into traditional British touring bikes in BRG you'll probably like it. The bike also suffers from the bane of so many other folders - lack of adequate bottle cage mounts. It does have one mount behind the seat tube but on a bike that is capable of truly long distance use I would have expected at least two cages.
The bike is due to go on sale around the start of August 2000 and will retail in standard form for about £1200. More information from: http://www.airnimal.com/airnimal.html or Airnimal Designs Ltd, Redlands Farm, Station Road, Longstanton, Cambs CB4 5DS, U.K.
KM 160 and other folder travels
By Michelle Whitworth
Spring is always something to look forward in terms of bringing out the better quality folding bikes (generally it is only the Brompton which sees year round use, because I don't like to expose my more expensive mounts to ice and salt, not to speak of derailleur cleaning). The [Bike Friday] New World Tourist did duty over Easter in a tour of the Shropshire area which was enjoyable, despite mixed weather and some heavy showers from time to time. The folder was mainly useful in getting me a lift by car from a friend to the start of the tour and subsequently back again.
A short time later, the NWT was pressed into service again, this time for my first experience of the Tweed Cycleway, which I completed with two long standing friends. This route has been extended from the start at Biggar 10 miles to the west at Carstairs Junction so that you can use public transport to get there. Since there are only two trains a day, this necessitated a 6.30 a.m. start from Newcastle, with almost an hour's wait at Edinburgh.
There are two annoyances about train policy on this route. One is that, although we could have got there going half an hour earlier going via Carlisle and Glasgow, we were not allowed to because we were returning via Berwick (i.e. on the Edinburgh line), even though the same company manages both routes. The other idiocy is that, although I booked early, we could not buy an Apex but had to pay £10 more because we were travelling back from Berwick rather than Carstairs (i.e. only 1/3 of the distance). The supposed greater flexibility of a full ticket was of little use to us, as I pointed out to the booking clerk, because my friends' cumbersomes had to be booked on to a specific train (on my own, I'd have bought an Apex and risked someone spotting I'd only got on at Berwick). I would use trains a lot more than I do but for these idiotic policies, as I'm rarely making a straightforward journey, starting and returning from the same place and can therefore hardly ever benefit from cheap deals (not that we ever get many up here with GNER).
The Tweed Cycleway, which is almost entirely on lightly trafficked minor roads, is an absolute delight and we were blessed with pretty good weather. The only slight blemish was that it was too early in the year for the prevailing westerly so we suffered a headwind, albeit slight, for the whole three days. I agree with Nick Cotton's assessment that the Borders offer some of the best cycling in this country. There are few cars even on many of the A roads and you can enjoy a wonderful mix of scenery and history and pleasant small towns with some pretty nice tea shops.
Over the Spring bank holiday, I went over for the third year running to the KM Rally. This, to my mind is one of the friendliest of the rallies I attend so I always look forward to it. My anticipation was somewhat tempered this year by the fact that I had to choose it against the annual Coast to Coast ride organised by Veteran-Cycle Club enthusiasts in Tyneside. You don't have to ride a veteran cycle to go along with them as long as you demonstrate an interest. Normally, this has been run on the earlier May Bank holiday but, for some reason, they had shifted it this year which was doubly annoying as this is the last year they propose to run it.
Anyway, the KM rally was as enjoyable as ever this year and I am glad to say that the weather was rather better than they got over on Tyneside (OK, so we had one or two hail showers and there was ice on the tents on Sunday morning, but we got a fair amount of sunshine in between and the showers never lasted long). It was a pity there were not many unusual bikes although there had been a specific invitation issued this year. There were two recumbent trikes both from Tyneside (one of the riders had been able to get his trike conveyed by bus to Carlisle for no extra charge) but few folders. I saw a couple of Bike Fridays, one of which was new to me and there is a couple who attend on Bromptons with child seats. However, the folding folk tend not to ride with the A and B rides, which no doubt reinforces the popular conception that small wheels are hard to ride. The majority ride traditional touring or Audax type bikes.
Drumlanrig Castle grounds, where we camp, are reasonably accessible – one Londoner always comes up by train and cycles the 15 miles from Sanquahar. However, most folk come from Scotland and the North of England (even though the distances are as great from Northern Scotland as from the Midlands or parts of the South West). There was even, once again, the hardy contingent which cycles from Aberdeen, all of 300 miles away, camping en route. They were reckoning to be home by the following Saturday.
One of the most arduous aspects of the rally is the number of cakes you are forced to consume (Mr. Portly, please note). Old hands opt for a Saturday ride via Dumfries, knowing that the local church there lays on a splendid elevenses for £1. You would think that the average tea place would blanch at 30 hungry cyclists descending on them to an "eat as much as you want for a quid" deal but in fact, they positively encourage us to visit, plying us with vast quantities of home baked goodies and as much tea and coffee as we can sink. Sunday is equally testing at the special Cyclists Service (at a small church only opened occasionally for such events) which is followed by a massive spread put on for us by the Parish Council – dropped scones, succulent tarts, cakes, home made lemon curd.
I used my ordinary tourer on the Saturday but decided to try out my new (new 2nd hand, that is) Pocket Rocket on the Sunday and Monday. I had all my work cut out to keep up as the group was very fast and towards the end of the day was inclined to race. Having discovered on Sunday evening that my tyres were only at 50 psi instead of the recommended 100, I inflated them (I don't in all honesty think the under inflation had anything to do with the fact that I was overtaken on a number of occasions by some fearsomely fit retired people in the 65+ bracket) This proved to be a mistake. The highly geared Pocket Rocket was clearly developed for smooth American road conditions not for 1 in 5 ascents up newly gravelled country lanes and fast pot holed descents. I felt every bump in the road, not helped by a very hard Brooks saddle and I felt I let the side down in letting the more traditional tourers outstrip me. Still, that was probably largely the fault of the rider rather than the steed.
LETTERS
John Pinkerton writes:
Glad to hear/see (FSN57) that you are getting out on your bicycles. Sorry that you have been bugged by the dreaded Tyre-Deflating-Termites and trust that the plastic I sent will help out if you have further splits in your tyre[s]. Members may be interested to know that the usual type of fertiliser bag frequently found in ditches of near farms, or the thicker blue plastic sheeting used by builders and often found on skips, can be trimmed to size and used to provides some support to the tyre in the event of serious cuts such as you experienced. The most suitable size I have found is 75mm x 150mm: simply slip it around the inner tube after deflation or repair to cover the tyre split from the inside. It is surprising the enormous splits that can be temporarily repaired this way.
I had a nasty shock last Sunday. I was about to refit the pedals to my 1963 Moulton Deluxe, of which I am the second owner, when I spotted a crack at the base of the seat-tube just above the flange which joined it to the main tube. Looking closer I found the crack had gone right around the tube. This particular cycle had done sterling work in Dumfries when I lived there for a year organising KM150. So for those who have early Moultons which were welded together in Kirkby by car body workers, just check. I think the only action open to me is dismantle the machine and cut the main frame up for scrap; forks etc can be re-cycled but I think that this particular 37 year old frame has given more than was expected.
Regretfully, I will miss the August Origami event as it will be the last day of Veteran-Cycle Club's Annual Camp near Tewksbury, and as organiser there will be quite a lot to do. I do hope that riders will meet up at Meriden and enjoy the local countryside. A recent visit to Manchester Municipal University at Alsagar I was working with Ron Sant, a long established Moultoneer who was one of the lucky riders in the 1988 North of Scotland Coastal Ride which celebrated the quarter century celebration of Moulton use (although launched in 1962 production did not start until about April 1963). He has agreed to organise an Origami Ride starting from Crewe Station sometime next year. When I started the regular Origami Phoenix Rides (to give the full name) I had not planned too far ahead. Recent events in my life as a cycle historian, restorer and etc have given me lots of opportunities to travel. To date I have been out of the UK on no less than seven times and tomorrow I am off again to the Middle East. August 20th will see me on another plane to Japan for the International History Conference then onto Australia, New Zealand, USA West Coast, Central and East Coast. It will be the end of October before I get back to UK. So, Origami Riders, get your OS maps out and explore those lanes around Meriden that so far we have not tried yet.
The August Origami Ride took place yesterday, 12th August, and despite John's absence it was very successful. Tony Hadland led us on ride over towards Kenilworth along some pleasant lanes. It was a warm, sunny day, but rather humid, so I think we were all glad that this was not a long or fast ride (not that Origami rides ever are). Three Bromptons, one SP-Brompton, two Moulton APBs, a Rudge-badged Montague and a conventional mountain bike took part.
Simon Baddeley has written regarding his proposed trip to Paris for a car-free day:
"We have learned that the politics of carfree in Paris has meant that they've decided not to announce 22 Sept 2000 as a carfree day but to announce something equivalent for the whole of the week - Sept 18-24 - to filter certain kinds of traffic out of certain routes. We take this to be a compromise that need not detract from our planned visit to Paris. What we now plan is:
Thursday September 21: We leave Waterloo Station at 1953 (arrive at Eurostar departure desk 30 minutes before departure with passports) and arrive at Paris - Gare du Nord at 23.47.
We stay 3 nights (on a Eurostar "3 nights for 2" deal) at the Hotel Climat de France XVIII in Montmartre (5 metro stops from Gare du Nord). We are reminded in the brochure that this part of Paris is a red light district and "may not be to everyone's taste". There is actually a wide choice of hotels in the deal offered by Eurostar. We liked the idea of being in Montmartre - because of the narrow streets, higher ground and being close to metro station "Porte de Clignancourt".
Sunday September 24: We leave Paris Nord at 17.10 arriving at London Victoria at 19.13 going on to Birmingham from Euston to arrive before midnight (if trains run on time). (The return fare Birmingham-London with a Family Railcard is only just over £27 for the 4 of us)
Total cost for Birmingham-London return, Eurostar and hotel for 4 (with breakfast) = £760 (UKP) (Eurostar take a deposit of £200 with the remaining debited automatically to the same card on 27 July)
If anyone else is interested in joining us for a ride round Paris, possibly getting there via other trains and different times, the phone number for Eurostar is 0870 1 676767. A brochure detailing various travel and accommodation deals can be obtained by ringing 0845 0770777 & Customer care is 0870 1607080 fax 0870 0100284. The URL is www.eurstar.co.uk
My contact details are Simon Baddeley, Inlogov, School of Public Policy, University of Birmingham, Edgbaston, Birmingham B15 2TT Tel: 0121 554 9794, 07775 655842."
Richard DeLombard writes of a large gathering of folders:
While I didn't make an accurate count (probably an impossible task), I think I was at one of the world's largest gatherings of folders. The event being the Experimental Aircraft Association (EAA) gathering this week (7/26 - 8/1) in Oshkosh, Wisconsin, USA. The total attendance at AirVenture 2000 was said to be around 750,000 for the seven day event. Since many people come in small planes and want transportation around a HUGE airport, they bring bicycles; many of which are folders. I rode buses and trams and walked around the grounds and found that folders were evident wherever bicycles were chained to fences, laying under wings, or everywhere! The organization's home page is: http://www.eaa.org/. You can find a link for the AirVenture there.
Well, we have had between 100 and 200 at Folder Forums in the past, so that was doing well!
SALES AND WANTS
If you have a folder, separable, or accessories to dispose of, or you want to buy, you can use the Sales and Wants page (http://www.foldsoc.co.uk/sandw.html). If you want to have something put on the list, just email us the details (mike@foldsoc.co.uk) - there is no charge, but please let us know when it is sold so that we can take it off the list. As I strongly suspect that I am not being told when items are sold, I intend to introduce some changes to the Sales and Wants section. In future all entries will be dated, and will be deleted after 3 months unless a request is received to retain the entry on the list. However, please do still tell us as soon as anything is sold, so that we can remove it and avoid creating annoyance to those using the list. Take all normal precautions when buying and selling goods - the Folding Society and its officers are not responsible for the descriptions and products and services contained in the Sales & Wants list.
EVENTS
The events listed below are a combination of those organised by Folding Society members or of potential interest to members.
Remember that cycling can be dangerous (so is travelling by car, bus, train, air or water, breathing and living!); anyone participating in any way in any event does so at their own risk.
Note that there will be NO ORIGAMI RIDE IN SEPTEMBER, as the date clashes with the Moulton Weekend at Bradford on Avon.
9 - 10 September - Moulton Bicycle Club Bradford-on-Avon Weekend
The annual Moulton Bicycle Club weekend is scheduled for 9-10th September this year, and preliminary information suggests that it should be better than ever this year.
Saturday 14th October - Origami Ride
The October Origami Ride will be at its usual location, starting from the Tearooms at Meriden: arrive from 10.30 for an 11.00 start. For more information, contact John Pinkerton on 0121 350 0685, email pinkertn@mwfree.net, or look at his web site at http://www.users.mwfree.net/~pinkertn/origami.html.
---
A to B Magazine
A to B Magazine remains the ultimate source of authoritative information on folding cycles. In the unlikely event that you aren't aware of A to B and/or don't read this magazine, then we would urge you to take out a subscription without delay. A to B can be found on the web pages at http://www.a2bmagazine.demon.co.uk, or you can email them at post@a2bmagazine.demon.co.uk, or they can be reached by telephone or fax on 01963 351649, address 19 West Park, Castle Cary, Somerset BA7 7DB, England. A subscription to A to B is only £10 per year in the UK, or $24, and the magazine is published ever two months and is packed with news, reviews and other interesting information on effective integrated transport systems in general, and folding cycles in particular.
---
Note: The views expressed by contributors and correspondents are those of the writers, and are not necessarily those of The Folding Society or its organisers.
---
Back Numbers
Back numbers of all issues of Folding Society News are available on our web site - go to http://www.foldsoc.co.uk/fsn/fsn.html for the full list.
---
Contributing material for FSN
We would very much welcome articles, photographs or any other material for inclusion in future issues of FSN, or on our web pages. Please send any material to The Folding Society at the address given below. However, if you are planning to send pictures by email, please send them at an appropriate resolution to avoid high telephone bills - a JPEG picture of 50K or less is ample for use in FSN or on the web pages.
---
The Folding Society
email: mike@foldsoc.co.uk
Web: http://www.foldsoc.co.uk
If you have any news or other information of interest to other members of the Folding Society, please email us at the above address.
If for some reason you wish to be removed from this mailing list, please send a message to this effect to the same email address.
All information given here is provided in good faith, but no responsibility can be taken for errors or for any consequences arising from the publication of this information.
Return to FSN index | Folding Society home page
---
Copyright (C)2000 Ferrets Anonymous
Last updated: 13 August 2000
URL: http://www.foldsoc.co.uk/fsn/fsn058.html