THE FOLDING SOCIETY
---
FOLDING SOCIETY NEWS
Issue 54 - 11 June 2000
---
EDITORIAL
I have to admit that I am missing the Birdy which I sold a couple of months ago - perhaps a case of "absence makes the heart grow fonder". As regular readers will know, there were a number of features I did not like, and with so many other folders there was no particular application for which it was the only machine I could choose. Still, it definitely had attractions, and several times I've been out recently I would have taken the Birdy if I had kept it. The Birdy Red is also very photogenic (as Wolf-Steffen Brumm's pictures later in this issue show), which was handy when producing literature on folders. In the unlikely event of an influx of new funds, I might be tempted to get another, though I would equip it with 349 (16 inch) wheels and tyres this time!
(Bike) Friday
My Bike Fridays had not been out much this year until recently - the Pocket Rocket had only taken part in the rolling resistance test, and apart from one longer outing, the Newt has been limited to trips to Tesco. Taking a longer ride on the Newt last week I had a lot of problems with gear selection with the derailleur (the bike has a Sachs 3 x 7 system). Apart from being very stiff when selecting low gears, with the system adjusted to enable correct down changes, when I wanted to change up again I had to operate the changer twice. No amount of adjustment would overcome the problem, and stripping down the cabling did not reveal any apparent problems - no sign of fraying of cables, corrosion, or kinks. The cables were last replaced not much over a year ago, but as the symptoms suggested cable problems, I replaced all the outer and inner cables to the derailleur, and this completely solved the problem. The Bike Friday, with its long and tortuous cable runs, is particularly susceptible to the condition of the cables, but if you do have derailleur problems of this kind on other machines, it may be worth replacing the cables, even if they don't show any obvious signs of wear. I have cured similar problems on the APB (when it was still in 12-speed form) by replacing the cables, although in that case I did find a crack in the outer plastic cover which explained the poor performance.
Saturday
Saturday's Origami Ride was held in excellent weather, but strangely only attracted 5 riders and four cycles, and only one of these was a true folder; we also had a Moulton APB fx8 and an AM14, so there was one separable as well. Three or four months ago the weather was so bad on the morning of one of these rides that I nearly didn't go, but in the end there were over a dozen riders, so it's rather difficult to understand quite what it is that determines the numbers at the event. I used the Newt, fresh with its new derailleur cabling, for this ride, and the gears and everything else performed perfectly on the ride - about 42Km including getting to and from the event. As the local trains carry bikes without any restrictions, I did not need to fold during this outing - I must confess that if I'd been expecting to have to fold I would probably have opted for the SP instead, as it's much easier to fold and more than adequate for a ride of that distance. I've been using the Newt with a suspension seat post, to offer some relief from the rather harsh ride (I'm used to bikes with suspension), but for this ride I reverted to a normal seat post and a Brooks B17 saddle. This combination was actually marginally heavier than the Post Moderne suspension post and a Flite Titanium saddle, and while the lack of suspension was detectable, it was just about cancelled out by the extra comfort of the Brooks saddle - my posterior could certainly detect the superior comfort of the Brooks saddle, even though this was not a very long ride. What I was very conscious of after the ride was the lack of any form of front suspension - perhaps the fault is mine, for riding in the same way as on the suspended bikes, rather than using a slacker grip on the bars, to reduce the amount of shock transmitted to the hands, arms, shoulders and neck. Another reason to regret parting with the Birdy! As mentioned in the Events section, next month's Origami Ride will be in Cheltenham for a change, so regulars should note the change of location - more details in the Events section below.
Sunday
As a result of the neck, shoulder and wrist discomfort I was feeling following Saturday's outing, I decided on a change of bike for Sunday's ride. The obvious choice in terms of ride comfort would have been either the New Series Moulton or the Marin (which, incidentally, had been out the previous Sunday), but instead I decided to opt for another bike which hasn't had much use recently, and could be regarded as being in some ways a competitor with the Newt - the APB. Apart from the similarities, my thoughts had taken an APB turn following a call to Pashley, and seeing an fx8 at the Origami ride on Saturday. The more expensive APBs are rather similar in price to the NWT, and use the same wheel size. In the case of my bikes, the gearing and tyres are identical as well. With full suspension, the APB is more comfortable, and I seem to have achieved the best riding position of all my bikes on the APB, but the down side is the weight (no less than 3Kg heavier than the New Series, and 1Kg heavier than the NWT, in the road going form in which I ride all these bikes) and the fact that it separates rather than folding - acceptable for putting in the boot of a car, but not practical if full folding is required for rail transport on a regular basis. For this ride, where folding was not an issue, the APB performed perfectly, and seemed to zip round in a much more sprightly way than I remembered, and even the hills didn't seem to bad, despite the weight, partly due to the range of gears and the light, positive gear change. In the dry, the old cantilever brakes are adequate, though no match for the V-brakes on some of the other bikes - current production APBs also use V-brakes. This and a number of other recent rides furnished some more performance data which will appear in the next issue of FSN.
A to B
Since the last FSN there has been another issue of A to B (number 18). It's an excellent read as usual - the only problem with receiving a new issue is that it means there is a long wait until the next one )shades of Paul Simon and "bookmarkers, to measure what we've lost"?). In the unlikely event that there are any FSN readers who don't subscribe to A to B already, you can find information on how to do so at the end of this issue.
Next issue
Apart from some Moulton news, the plan for the next issue, due out on 24 June, is that it should include some new comparative performance figures on some leading folders and separables, and an article on mirrors.
Format
If you receive this issue of FSN in a plain text form, please remember that a formatted version is available on our web pages at http://www.foldsoc.co.uk/fsn/fsn054.html, and you can receive the formatted version (suitable for reading with a web browser) just be emailing us to let us know you prefer this version.
BICKERTON
Folding Society member Derek Baker of Poole Dorset U.K. now has a web site for fans of the classic Bickerton folding cycle. Since Derek started his Bickerton support service he has received enquiries from around the world and has been able to meet demands for spares, technical advice and generally assist the many enthusiast still riding Bickerton or others who are just discovering this unique cycle. The new web site is at www.broadstone.freeserve.co.uk .
BROMPTON
Brompton have now completely updated their web site to cover the new model and the new specifications. The Brompton site is at http://www.bromptonbicycle.co.uk
MOULTON
Pashley and Moulton will have a stand at the CTC York Rally which is taking place over the weekend 23-25 June (as indeed will Brompton, according to their advertisement in A to B). Moulton enthusiasts who are at the Rally should make a point of taking a look at what is on the stand, as there will be a couple on new developments on show. More on this in issue 55 of FSN - we are not allowed to say more until then.
The latest version of the Moulton Bicycle Club Sales and Wants List is now available on the web pages at http://www.whooper.demon.co.uk/moulton/moultsw.html - our thanks to Robert McCann for making this available.
The Moulton Bicycle Club now has a new Membership Secretary - Dennis Duggan, of 9 Oakland Avenue, Leicester LE4 7SG, email djduggan@supanet.com . Please address any membership enquiries to him rather than to previous membership secretaries.
THOUGHTS OF THE DOCTOR
By The Badger
The Sir Henry Royce Memorial Lecture had the honour of being given by Dr Alex Moulton at the Institution of Mechanical Engineers on 7h June. The good doctor spoke on 'The Moulton suspension, past and future' and while time constrained him to say little about either the bicycle or the future, they are mentioned in his paper. A shortage of time is understandable when describing what are effectively the achievements of several lifetimes.
Dr Moulton did find time to point out that when the first steam locomotive was built in Japan, all of the parts were locally made, except the rubber components, which came from Bradford-on-Avon (buffer springs, one presumes).
The great man spoke with candour of the lessons learned from some of his earlier work, for example the Austin Gypsy, an all-but-forgotten Land-Rover competitor. On a Thornycroft lorry, the rubber suspension was fine, but the superstructure danced on top of it to an entirely different drum. The Moulton coach, a double-bogie design, is in the Science Museum at Wroughton, although it never went into production.
Two members of the Moulton Club were present as well as Shaun, but the Ferret's correspondent noticed none of their fine machines chained to the railings nor parked in the cloakrooms beside the Brompton. One final thought - Lenin and Stalin were the 'Man of Iron' and the 'Man of Steel'. Somehow 'Man of Rubber' doesn't seem an appropriate title for a man who, looking back on the last century probably did more to increase the sum of human happiness with his bicycles.
The Badger sent me a copy of Dr Moulton's paper, and despite the fact that little mention is made of the bicycles, I found it a very interesting read. Note that of course the I Mech E names this lecture after Royce, who was the engineer, not Rolls.
SOME FURTHER THOUGHTS ON THE FOLD-IT
By James Greig
Like Jon Dreyer Rensmoen, I think the Fold-It is a thoroughly useful tool and designed and built with quality. Rather like Bahco spanners, or Rohan clothes, it's superb if you happen to like that sort of thing.
The first Folder Forum at Weymouth cost me dear, as I had a test ride on the Fold-It and decided to buy one as a result, because of its riding qualities. I also liked the low maintenance hub gears and hub brakes. But liking a bike is a very individual thing, so I have written my experiences so it can be seen why I am a Fold-It enthusiast.
For my work I need to travel to sites up and down the country, and to carry some equipment, cameras, samples etc. to and fro. Based in Birmingham, I have found that there are few places more than an hour (say ten miles) from a railway station that can easily be reached from Birmingham. I work on the principle of greatest practicality, and reckon that if I signed out a van in the morning, fought my way out through the rush hour, and reversed the process in the evening, that would be less cost- or time- effective a train trip and a cycle ride. And I get 6p a mile for bicycle travel on business! The Fold-It does this very well, feeling a little bit roomier than the Brompton, and with more places to attach luggage to, although there isn't a great deal of difference.
For leisure trips the Fold-It does cycle camping very well with the four panniers plus a tent. It does rough stuff, such as the classic "Wayfarer" route over the Berwyns (cheap day return to Chirk), and it copes with the canal towpaths (with the Y frame convenient to carry the bike up steps) and it manages the glass-strewn potholed streets of Birmingham, hauling a load back from the farmers' market. It also does touring with the CTC, alongside "proper" bikes, all with that wonderful ride, loaded or light. I have become inured to remarks like "You're doing very well on THAT!"
My own modifications are as follows: I have cut down standard front and rear racks by drilling them where the three struts meet and are welded. This makes them a more suitable height for a 20" wheeled bike. I use four Carradice "front" panniers (which didn't fit the proprietary carrier well), and sometimes a bag of other stuff as well.
The original Schwalbe tyres soon had sidewall failure (bulges), and a Top Touring 2000 seems to be splitting and has been given an easier life on the front, so I am now using Vredestein Monte Carlo semi slicks. I might try a Schwalbe Marathon, which is fatter and with a lumpier tread (I like rough stuff).
Other (slight) changes are a Brooks saddle, a Pletscher map holder and a 46T crank (all bought cheap at the York Rally), an AXA dynamo and halogen lights. The headlight is an old pattern Union because this is where size counts, and at 100 mm diameter (compared with 70) it makes one more visible, as well as throwing a good beam with none of the scattering caused by the prisms of integral reflectors found on most headlights now. I also use bar ends, and mud flaps front and rear made from car inner tube. The quick release clamps for steering and seat have been changed to alloy ones which perform better. The gearing is 46T front and 18T rear making the range 29-83 inches, roughly what Chris Juden of the CTC recommended some years ago. I may change from Sachs (now SRAM) to Sturmey Archer because the S-A service is so good. Seven speeds offers a few advantages over five, I feel, but not that many. Hub gears are fine if you simply realise that they have a somewhat limited range, and gear the bike according to your need, and instead of honking up every hill, get off and enjoy the view on foot if it gets hard to ride.
Most often I do a "quick fold" hinging the Fold-It back in a Z, Brompton fashion, and fastening it with a strap of webbing and a quick release fastener (from outdoor shops) and simply lowering the seat and turning the handlebars, covering the result with an old cape, leaving two panniers on. Army surplus capes are quite cheap, and one can still wheel the folded package on its back wheel. I find the official Fold-It bag a very tight fit.
It's not as compact as a Brompton, but there is plenty of room in the 158's and 170's of Central trains, and in the central luggage racks of Virgin trains. Bikes are freely allowed on local trains and Chiltern ones, but folding does make it easier for other passengers. I most often use the Brompton for meetings though, or if I need to go by bus or tram.
I was told that the main market for Fold-Its was overweight middle aged men with Range Rovers. I fail on the third criterion. However for me the Fold-It has proved a great success.
THE DAHON BOARDWALK
By John Phillips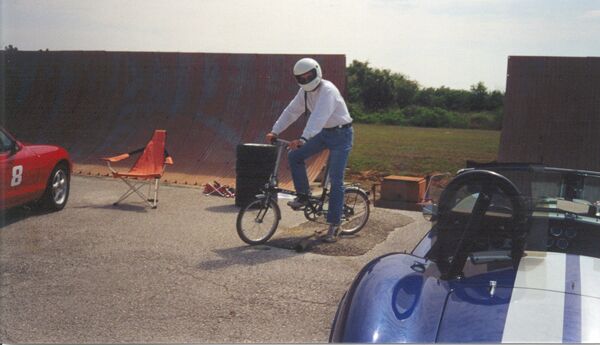 Since you asked for submissions, I attach herewith a photo of me atop my 7-speed Dahon Boardwalk. It was taken at an autocross event at McDill Air Force Base near Tampa, Florida, USA, in March, 2000. This was my first "outing" on the Dahon, and a successful one it was! I bought the folder to travel with me in the 1965 Shelby Cobra replica I built two years before. The roadster was too small to carry a conventional bike comfortably, and I wanted non-fossil-fuel transportation for use upon arriving at my destinations while traveling in the Cobra.

The Dahon folds neatly and quickly, fits perfectly atop the passenger seat, and does not interfere with the tonneau cover during bad weather. It was the most reasonably-priced multi-speed folding bike I could find after a week of web research. Cost was less than $300 including shipping. At autocross ("gymkhana" on your side of the pond?) racing events, you are not allowed to take practice laps in your race car. The course is laid out with orange rubber cones, in a serpentine fashion for about a mile. Every autocross event has a new and unique course configuration. Racers compete one car at a time, and the winner is determined by fastest elapsed time for one lap. Anyhow, drivers are allowed to walk the race course prior to the event to learn the twists and turns before driving in competition. A couple of the clubs here allow one to bicycle the course instead of walking it. That's why I took my Dahon to McDill AFB. I had a great time riding it around the lengthy course until the Air Force safety officer in charge told me I was required to wear a helmet while bicycling on the Base. Having no bike helmet with me, I used my full-face auto racing helmet for a few laps: very hot and heavy, but I learned the course, so it was worthwhile. The photo above shows me after my bike laps, and the one below shows the Cobra on course during the race.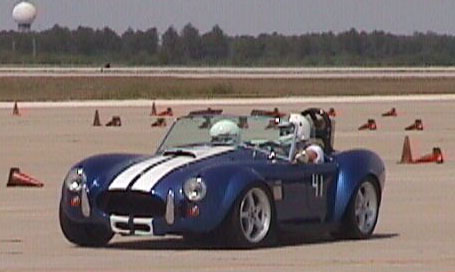 As a bona-fide newby, I am impressed with folding-cycle culture. The "Foldies" I've met are enthusiastic cyclists, and a bit eccentric, too. Not at all as serious and humorless as some of my roadie friends, and certainly cleaner, more respectable, and less rowdy than my mountain bike chums. My Dahon is a fine introductory folder, but I already find myself wondering, "Well, what if it was lighter, with better gearing, multiple hand positions on the bars, a racing seat, and narrow high-pressure tires with no fenders, and a carry bag, wouldn't that be just about perfect?"

I've done some minor off-road riding (not so hot for that), some longer "fitness" miles (15-20 miles at a
steady up-tempo pace, not so good for that either), and some cruising or errands on paved roads and paths (perfectly suited to the bike). We have no viable trains or mass-transit here in my part of South Florida, so I cannot advise how it works folded in those environments. I LOVE the folding mechanism; very simple and fast. One latch/hinge folds the handlebar-stem combination downward, then a second latch/hinge folds the frame in half. A quick-release lever releases the seat post, which slides into the frame through a nicely-fitted plastic gasket. DONE! I've timed it; I collapse or erect the bike in about 30 seconds without hurrying. Enough enthusiasm, I sound like a salesman for Dahon.
Thank you for the work you've put into FSN. I am learning tremendous amounts from reading it and following various links and ideas posted by others. Hope to make it to a folding gathering in the future. Here's my email in case someone wishes to correspond: jlphil@hotmail.com

A BIRDY ON TOUR
By Wolf-Steffen Brumm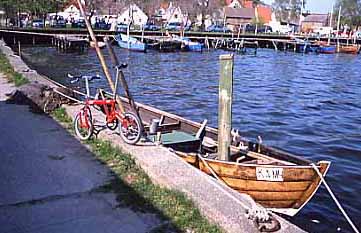 I am sending you some pictures, which I took on a tour with my Birdy. I was travelling around the Baltic island Usedom, which is located about 300 km north of Berlin, where I live. I had beautiful weather and rode about 200 km in three days on my Birdy. I took these photos on nice places or scenic views and maybe you can use them for the FSN, so that readers worldwide can see some nice places for riding a bike here in Germany.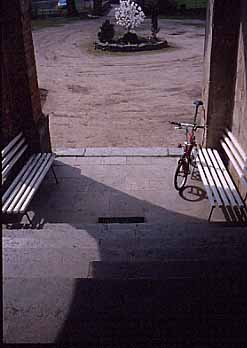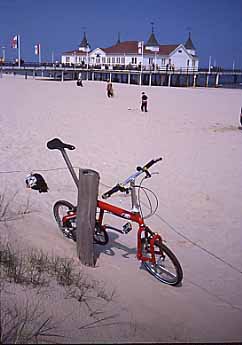 LETTERS
Roy Barrowcliffe is another who has problems with fitting mirrors:
"Like Mike, I have been having problems with mirrors, I use north road pattern bars for reasons of comfort and have tried several mirrors with very little success. A feedback of comments from readers would be a great help. Setting mirrors so they stay where they are put and adjustment so you can actually see behind you would be a bonus."
Peter Evans has some advice for owners of NS Moultons like myself who are having trouble finding somewhere to mount a mirror:
"I was interested in your comments re a rear view mirror. When I bought the NS it was lack of a mirror (I'm a bit stiff-necked at times!) that I really missed. After experimenting with some aluminium tube which could not stand up to the vibration I managed to get Shaun Moulton to send me an off-cut of SS tube. I used a clamp to fix this to the mosquito bar next to the gear shifter. The clamp allowed movement through two dimensions. I fitted about 80mm of the SS tubing to the clamp, flattened the mirror end and bent it at right angles. To this I attached a mirror from a broken fixture (I think it is called Mirror-Cycle or some such phrase - about £12 complete). To see behind I had to look down towards my knee which is not quite so convenient as for the normal arrangement. Length of tubing was important: too short and all I could see was my knee, too long and it was affected by vibration. At BOA last year I believe someone on an NS had a mirror fitted at the top of his mosquito bar but I did not bother to look more closely as by then I had moved to the flat bars. There may be scope for drilling the brake fixture."
I'm planning to cover the subject of mirrors and their fitting in more detail in the next issue, by which time I'm hoping to have tried out some possible solutions for the NS, which presents particular problems as the brake levers attach in the end of the bars, the usual mounting point for mirrors.
Mark Lang asks for some Dahon advice:
"I would like to know if anybody else owns a Tailwind, and any modifications that they may or may not have done, especially giving a better range of gears than the standard 7-speed derailleur."
This issue redresses the lack of articles on the Dahon, with the report by John Phillips.
Jeff Cain writes with a query regarding fitting the Mountain Drive to a Brompton:
"Somewhere in the Folding Society pages there was reference to a "Mountain Gear" system that mounts into the crank hub. Could you reference this page for me? My need is to be able to use the bike on soft/thick grass common at airfields. The current reduced gearing is not low enough on soft surfaces due to the small tires. Have you had experience with this Swiss system?"
Actually I can't recall the Mountain Drive being mentioned in FSN or our web pages, which is rather a serious omission. Perhaps someone would be prepared to write an article about it for use in a future issue of FSN, and for the web pages.
SALES AND WANTS
If you have a folder, separable, or accessories to dispose of, or you want to buy, you can use the Sales and Wants page (http://www.foldsoc.co.uk/sandw.html). If you want to have something put on the list, just email us the details (mike@foldsoc.co.uk) - there is no charge, but please let us know when it is sold so that we can take it off the list. As I strongly suspect that I am not being told when items are sold, I intend to introduce some changes to the Sales and Wants section. In future all entries will be dated, and will be deleted after 3 months unless a request is received to retain the entry on the list. However, please do still tell us as soon as anything is sold, so that we can remove it and avoid creating annoyance to those using the list. Take all normal precautions when buying and selling goods - the Folding Society and its officers are not responsible for the descriptions and products and services contained in the Sales & Wants list.
EVENTS
The events listed below are a combination of those organised by Folding Society members or of potential interest to members.
Remember that cycling can be dangerous (so is travelling by car, bus, train, air or water, breathing and living!); anyone participating in any way in any event does so at their own risk.
Saturday 1st July - Mud Dock
As usual, meet from about 10.30 at the Mud Dock Cafe in Bristol. Contact Gary Lovell, Tel: 0117 932 2026.
Saturday 8th July - Origami Ride at Cheltenham
The July Origami Ride will be in Cheltenham, NOT at its usual location. The starting point will be the railway station, arriving from 10.30 for an 11.00 start. The August ride is expected to start from the Tearooms at Meriden as usual. For more information, contact John Pinkerton on 0121 350 0685, email pinkertn@mwfree.net, or look at his web site at http://www.users.mwfree.net/~pinkertn/origami.html. Please note that the July ride is likely to be at a different location - more news on this later.
Thursday 22 June - The Smugglers Run
Meet at 5.45pm at Leeds Station at the barrier with a £4 Day Rover' ticket. Folding bikes travel unrestricted.15 miles of easy riding on the Spen Valley trail. More information will be found on http://www.bike.leeds.org
23rd - 25th June - CTC York Rally
Although there are some who sneer at the CTC, they do a useful job, and many of our members are also CTC members. The York Rally is their main event of the year, and attracts a massive attendance. Bill Houlder is organising a ride for small wheelers/folders, and assures us that it is a properly recce'd ride this time. Please support this ride if you are going to the event. Bill has also offered to organise/lead rides in that area on Sundays if anyone is interested. If you live in that area and would be interested in such rides, please let us know, and we will provide Bill with some feedback.
June, 2000 - Vondelpark Amsterdam
Enno Roosink, bikenno@xs4all.nl, tells us that "the party is going to be like a fair with lots of activities and exhibitors of special bicycles, recumbents, folders and the like. Please have a look at www.velomondial2000.nl for details. All participants of our annual Bike Friday Meeting will be attending the Bicycle Party/Fair; the general idea is to ride mixed with the Moultons and the Bike Fridays. The BF meeting will be stretched over the weekends 17-18 June and 24 - 25 June."
Kees Bakker provides the following additional information regarding FietsFeest:
"Races for folding bicycles at FietsFeest 2000 On 18 June there will be a big bicycle festival in Amsterdam as the start of Velo Mondial 2000. At the festival There will be many special bicycles to see and to test ride, contests, activities for children, a bicycle tour, many performances, outdoor café's and some spectacular surprises. The organisation expect 40 to 50 thousand visitors. There will be a race for folding bicycles. The race will be on a circuit where you must cycle most of the part, but where you also have to fold your bicycle, store your fold bicycle and run with your fold bicycle. There will be manches of five riders from 11:00h till 12:30 open for everyone with a folding bicycle. The first rider in every manche will qualify for the finals, hold from 12:30 till 13:00h. First overall price is a Sparta bicycle. First price in every manche is a CD, book or jersey. Kees Bakker, Dutch Cyclist Union Info races for folding bicycles: bakker@fietsersbond.nl General info fietsfeest2000: www.fietsfeest2000.nl General info Velo Mondial 2000 : www.velomondial2000.nl"
July 28-31 2000, Spokesfest 2000, Leicester. Spokesfest will have a large display area in The Shires shopping centre from Saturday 22nd July to Sunday July 30th. and has the use of Humberstone Gate event arena for both the Saturday and Sunday of Spokesfest (29th and 30th July). The Spokefest web site is at http://www.spokefest.freeserve.co.uk .
CycleFest 2000 - Lancaster, 2nd – 8th August 2000
The bi-annual cycling feast will soon be coming around again, and it'll all be up and running from Wednesday 2nd to Tuesday 8th August at St Martins College, Lancaster, UK. Quite a bit has been planned already of course, and as usual there's a theme for the sessions - this year it's "Transmissions", and some great speakers are already booked for this (Tony Hadland, Florian Schlumfp, Izzi Ureili et al) and some interesting new activities planned (50m sprints, midnight torchlight parade and BBQ etc). However, further ideas are always welcome. There will be announcements in Folding Society News, The Moultoneer and other publications in due course. The Cyclefest web pages are currently available at http://www.whooper.demon.co.uk/cyclefest/index.html, but will move to a new and more memorable address soon, and will be regularly updated as the event approaches. We hope there will be a major folder/separable presence at Cyclefest 2000 - the very provisional program already includes one event specifically for folders. We also understand that Alex Moulton will have a stand there this year. If you have any queries concerning CycleFest, contact: John Bradshaw, Tel/Fax: 01524 384474 (day) or Tel: 01524 66658 (eve)
email: j.bradshaw@ucsm.ac.uk
9-10 September - Moulton Bicycle Club Bradford-on-Avon Weekend
The annual Moulton Bicycle Club weekend is scheduled for 9-10th September this year, and preliminary information suggests that it should be better than ever this year.
21/22 September - Car free day in Paris
"We are taking our Bromptons to Paris on Sept 21 to be at the car free day on Friday 22 September 2000. We are wondering if others would go, possibly by Eurostar (approx.. 65 return for an Apex fare). Contacts are John Richfield johnrichfield@solihull.gov.uk or Simon Baddeley 0121 554 9794 / 07775 655842."
---
A to B Magazine
A to B Magazine remains the ultimate source of authoritative information on folding cycles. In the unlikely event that you aren't aware of A to B and/or don't read this magazine, then we would urge you to take out a subscription without delay. A to B can be found on the web pages at http://www.a2bmagazine.demon.co.uk, or you can email them at post@a2bmagazine.demon.co.uk, or they can be reached by telephone or fax on 01963 351649, address 19 West Park, Castle Cary, Somerset BA7 7DB, England. A subscription to A to B is only £10 per year in the UK, or $24, and the magazine is published ever two months and is packed with news, reviews and other interesting information on effective integrated transport systems in general, and folding cycles in particular.
---
Note: The views expressed by contributors and correspondents are those of the writers, and are not necessarily those of The Folding Society or its organisers.
---
Back Numbers
Back numbers of all issues of Folding Society News are available on our web site - go to http://www.foldsoc.co.uk/fsn/fsn.html for the full list.
---
Contributing material for FSN
We would very much welcome articles, photographs or any other material for inclusion in future issues of FSN, or on our web pages. Please send any material to The Folding Society at the address given below. However, if you are planning to send pictures by email, please send them at an appropriate resolution to avoid high telephone bills - a JPEG picture of 50K or less is ample for use in FSN or on the web pages.
---
The Folding Society
email: mike@foldsoc.co.uk
Web: http://www.foldsoc.co.uk
If you have any news or other information of interest to other members of the Folding Society, please email us at the above address.
If for some reason you wish to be removed from this mailing list, please send a message to this effect to the same email address.
All information given here is provided in good faith, but no responsibility can be taken for errors or for any consequences arising from the publication of this information.
Return to FSN index | Folding Society home page
---
Copyright (C)2000 Ferrets Anonymous
Last updated: 11 June 2000
URL: http://www.foldsoc.co.uk/fsn/fsn054.html