THE FOLDING SOCIETY
---
FOLDING SOCIETY NEWS
Issue 53 - 28 May 2000
---
EDITORIAL
For whatever reasons - I don't think I can put all the blame on the weather - I don't seem to have ridden many kilometres so far this year, and apart from the Birdy (now sold), I have only really used three of the bikes for any serious distance. After Weymouth, the SP had covered the highest distance this year, but now the Brompton T5 has overtaken it again - a reflection of the fact that my riding has mainly been just commuting. At least I did manage one longer ride in the last couple of weeks - a 100Km Brevet Populaire on the NS Moulton, which brings it close to the other two bikes in distance covered this year. You can find out how the NS performed on this ride in an article later in this issue of FSN. I hope to do another of these rides later in the year, but at present I don't have any different bikes to use on them, apart from the standard Brompton and the Micro, neither of which really appeals for a ride of this distance!
It now seems to be agreed that the photograph in the new Brompton brochure which I referred to in the last issue was indeed a doctored version of the one taken by Graham McDermott, and which appears in the Gallery section of our web pages. Now I think that written material, pictures, etc, are protected by copyright wherever they appear, but anyway our web site, and particularly the Gallery section, is covered in prominent copyright messages, so it's not surprising that Graham is pursuing the matter - I certainly would if anyone attempted to use my material without permission or payment. Sadly, I'm not such a good photographer as Graham (who wins prizes with his pictures), so there is not much risk of that! While the unauthorised use of the picture was probably done without thinking in this particular case, writers, artists and photographers do need to protect their work and prevent this sort of thing. I doubt anyone would think of copying a David Bailey photograph without his permission - the damages would be vast - so why should they think that using the work of other photographers, professional, semi-professional or amateur, does not matter? End of rant by an enthusiastic (semi-professional) photographer.
John Prince supplied a web address for the new Pacy folder. Unfortunately (for me) the text is all in German. From the pictures, it does not look particularly compact when folder, and the top tube is mounted unusually high for a small wheeled folder. You can find the text and pictures at www.thomas.poreski@pacy-faltrad.de
Very few of you have used the mobile telephone number to contact me, but for those of you who have that number in your records, the mobile will be going in a couple of weeks time, so in future you will need to contact me by fixed telephone, email or snail mail.
Format
If you receive this issue of FSN in a plain text form, please remember that a formatted version is available on our web pages at http://www.foldsoc.co.uk/fsn/fsn053.html, and you can receive the formatted version (suitable for reading with a web browser) just be emailing us to let us know you prefer this version.
LOOKING BACK ON WEYMOUTH 2000
At the last Folder Forum in Ventnor two years ago, it seemed that there was something of a move from Bromptons towards other makes, even though Bromptons remained by far the most common single make. The unofficial events this year and last seem to show a reversal of that trend. If we exclude Moultons, the only modern alternative, apart from Brompton-based SPs, was a single Birdy.
I had bought one of the new, larger, Brompton bags for this outing, but in the end I found I could pack everything into the old bag and a Carradice bar bag mounted on the rear carrier (using the latter alone, mounted on the front bracket, after I had arrived at Weymouth). The new bag certainly has an impressive capacity, and the extra pockets for stowing things while riding are very useful. If I were starting from scratch now, I think I would opt for this larger bag rather than the standard one, especially as it is only slightly more expensive than the standard one.
Steve Parry's new machine, with the hinge removed and with an exceptionally narrow profile, created a lot of interest, but most people were unconvinced of the advantages - lifting the bike onto an overhead rack in a train is not very practical for shorter, less strong owners.
Quite a number of Bromptons were sporting some SP features, multiple chain rings proving particularly popular. Although there were none of the latest Bromptons, this seemed to be mainly because they appeared so recently - the reaction of existing Brompton owners was almost universally favourable, and we confidently expect that they will show a strong presence at next year's event - if there is one.
Riding with Chris Dent one each of the three days, he on the SP12 and I on the SP7, we encountered a number of quite steep descents, and we were both very impressed by the handling, stability and very powerful V brakes of the SPs. I would rate their performance in these conditions as at least on a par with the best high specification, high performance small wheelers. Although Chris's 12-speed model has more gears (nominally) and a rather wider gear range, I must say that I much prefer a simple single chainwheel arrangement as on my 7-speed SP. I believe in the KISS principle - keep it simple stupid - and multiple chainwheels add complexity, weight and cost for relatively little benefit. They may have been useful in the days of 5-speed derailleurs, but with 7 to 10 speed blocks now the norm, I'm happy to do without one. I'm in good company too, as Alex Moulton does not seem keen on them either - a reason, perhaps, why factory built NS Moultons are only available in 9-speed form, and those wanting a double chainwheel need to buy one assembled from a frame kit by a dealer.
On my return home I needed to take a couple of films for processing, and I grabbed the Micro for this very short trip. After riding the SP for some days, the Micro felt alarmingly twitchy at first, but after a couple of miles I became used to it. First impressions of any bike should be treated with care - I really think you need a minimum of a few days, several rides and 50Km at least to get any sensible impression at all, and a month and 500KM is really necessary before attempting to deliver a judgment.
THE FOLD-IT - A PERFORMANCE MACHINE
By Jon Dreyer Rensmoen
The Fold-It (Pashley/Brilliant Bicycles) combines eminent ride quality, comfort, load carrying capacity and portability with a wheel size (ISO 406) which can choose from a rich variety of tyres. The hinged Y-frame is rigid and well balanced, and can compete with just any bike - foldable or not - on "fun-factor". It is a true all purpose bike (APB), well suited for commuting and touring.
The Sturmey Archer drum brakes are bomb proof, giving great stopping power in all weather conditions. And they are virtually maintenance free, compared to the more common rim brakes most cyclists use. The same can be said about the excellent 7-speed hub gear - no external derailleur and sprockets that will attract dirt and demand frequent and extensive cleaning. The gear range is from approximately 2,3m to 6,4m (29" to 81"), well suited for most utility cyclists. I have, however, increased this on my Fold-It by installing a Schlumpf Mountain Drive. With this elegant closed bottom bracket gear, the gear range is extended to 10,5m (134") top gear, allowing also high speed from 40-70 km/h where road and wind conditions allow it.
Folding is easy and quick, and although far from being as compact as a Brompton, there should be no reason to worry about difficult train officers or bus drivers. I have reduced the height of the folded package by putting a pump bracket and a hard plastic ring on the side of the seat tube - thus having a place to clamp the handle bar pillar along the seat tube. This gives the folded bike not only reduced height, but also a more compact look when folded. There is an optional, elegant black carrier bag, with shoulder straps, to put the bike in.
The riding position can be adjusted to fit most riders. The reach to the handle bar is perhaps somewhat closer than what is fashion on most bikes today. This suits me perfectly, as I have problems with numbness in the hands if the handle bar is too far away, forcing too much weight on the hands. I think the riding position can be compared with what you will have on a Birdy with a comfort stem. Both handle bar and seat height can be easily adjusted. The Fold-It is not only comfortable on shorter distances, I have also taken it for a few rides in the 100-130km range without feeling any discomfort caused by the bike.
My Fold-It is also equipped with dynamo light from Busch & Müller (Dymotec S6, Lumotec oval plus front light and DToplight plus rear light - both with
standlight function). This is a light running, reliable and brilliant (he, he) cycle light that also have an elegant look.
The Fold-It is the most versatile bike I can think of, and is perhaps underestimated? It is doubtlessly a performance machine.
ANOTHER BREVET POPULAIRE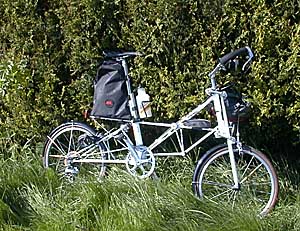 Regular readers, or those who have read some of the reports on the web pages, will know that last year I rode 5 Brevet Populaires on folders and separables - twice using a Bike Friday Pocket Rocket and once each on the Brompton SP, Birdy and Moulton AM7. These are rides of just over 100Km, and they have to be completed at an average speed (including any time for rest stops) of 15 - 30 kph. I plan some more this year, and the first was on Saturday 20th May at the CTC Meriden event, for which I used the New Series Moulton. I did not have this bike at the time of any of last year's rides, and as I was able to get it to Meriden by train without needing to separate it, and it is my most comfortable bike, it was the obvious choice. I had also found last year that the Moulton Day Bag is by far the best device for carrying the small amount of luggage (camera, tools, clothing etc) needed for this sort of ride. The only possible drawback was that the bike only has a single bottle cage mounting, though in practice it is fairly easy to get a bottle refilled at one of the controls or cafe stops along the way. The bike needed no special preparation, though I did make sure the tyres were up to 7 bar pressure (they can take rather more than this).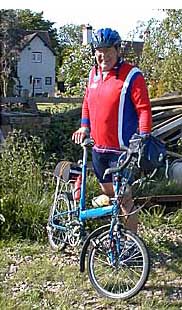 The weather forecast was for some showers later, and it was none too warm first thing, so I took waterproofs and put on tracksuit bottoms over my cycling shorts. The short train journey to Hampton in Arden was uneventful, and from there it was an easy ride to Meriden, arriving in good time to book in for the event. As this was part of a larger CTC event, there was a good turn out for the ride - I would guess at approaching 100 people. At the start I encountered a rider on a Bike Friday New World Tourist and another on a Birdy Blue (running 349 wheels with Primos), so unusually for an event of this type I was not the only one on a small-wheeled folder. Despite the forecast, the weather rapidly improved, becoming quite warm and sunny. To save trouble I didn't get around to stripping down to shorts - my legs were still suffering from sunburn from Weymouth, so I did not want to risk further damage.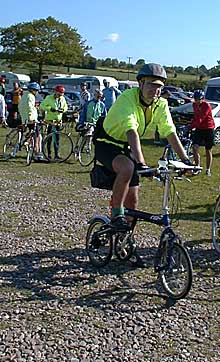 The ride was very pleasant, nearly all on quiet roads, with not much in the way of hills, and almost no wind apart from the last 10Km or so, when there was a gentle head wind. The directions were easy to follow, and the ride was generally fairly uneventful. I saw the Bike Friday and Birdy periodically during the ride, and near the half-way mark I encountered a heavily loaded Brompton by the side of the road - the rider was on his way to Meriden for the event. Unusually, as the picture below shows, the Brompton was carrying all the load on the back, with no front bag, and the rider also had quite a large rucksack on his back. The bike also sported a substantial forward extension on the bars. Unfortunately the time constraints meant that I was not able to stop to talk to the rider. Apart from the necessary stops at the Controls, I only paused briefly for coffee and a snack once, as a result of which I completed the ride quite a lot earlier than I had expected, and well within the allowed time. Unfortunately the ride claimed a casualty - it appeared to be a heart attack rather than a crash, and an ambulance was already in attendance when I passed the scene.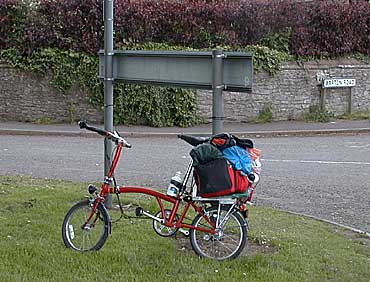 In fact there was no sign of rain until I was on the return journey by train, a drizzle starting just as I got off the train in Dudley, though I got home without getting seriously wet. To emphasise the luck with the weather, rain then set in for the rest of the day.

Comments
The New Series performed perfectly on this ride - very smooth and effortless. The overall range of gears was ideal, and comfortably spaced, and the brakes were very powerful, smooth and progressive. The tyres gave low rolling resistance, and coped perfectly with the conditions. By the last 10 Km, the saddle (a Flite Titanium), was feeling a bit hard, and the bars felt slightly too low and extended at this stage as well - but not to the extent to justify stopping to adjust the Wishbone stem. I think for another Brevet I would set the Wishbone stem one 'click' up from its usual position. The absence of anywhere on the bike to mount a mirror is quite a nuisance - helmet mounted mirrors give a very narrow field of view and need continual adjustment, and I think that having to move my head to get a view of the mirror was probably responsible for the slight discomfort around the neck and shoulders that I was suffering at the end of the ride. I did not find the narrow mosquito bars, with their single riding position, a problem. Before the next Brevet on the NS, I would like to resolve the issue of mirror/Wishbone position, which should then make the bike perfect for this type of ride. Even so, it is still the best bike for this type of event that I have tried so far. It would be my first choice for any event where train travel in which the bike has to be bagged is not an issue; where bagging the bike is necessary travelling to/from a ride of this type, I would probably opt for either the Bike Friday Pocket Rocket or the SP.
I hope to ride some more BPs later this year, depending on enthusiasm, fitness and finances, and they will be reported in due course.
TOUR OF THE SCIOTO RIVER VALLEY - TOSRV - 2000
May 12 & 13, 2000: Columbus, Ohio, USA to Portsmouth and return to Columbus
By Richard DeLombard
This year was the 39th annual event and while attendance is down from its peaks in the late 1980's, there were still around 4000 registered riders. This event is held in Ohio, USA on Mother's Day weekend each year, this year being May 12/13. The weather is notoriously wet at some point along the 210 mile, two day tour. This year was no exception with rain for most of the first 75 miles on Saturday. The sun did shine then for the last 30 miles.
Sunday was just that: Sunny. But there were winds from the west and northwest (riders were going northerly) that were gusting over 25 mph. The tour provides food every 25 miles, luggage carriage service, overnight sleeping bag accommodations, first aid services along the route, bike repair vans, and amateur radio communications all along the route. These services are seen occasionally but are very unobtrusive unless needed.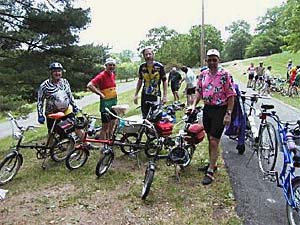 Plans for a small group of friends to ride little wheeled bikes started late last year when Joe, Tom, and Lou began to buy little wheeled bikes to match Richard's 25 year old RSW-16 non-folder. Joe bought a folding RSW-16 through an internet bulletin board, Lou bought an eBay Raleigh Twenty folder, and Tom was only able to buy an eBay RSW-16 non-folder. These two folders and two non-folders went the distance along with many other folders seen that day. Several Pocket Rockets and many other Bike Fridays were seen and greeted along the way. We chatted with a man on a Moulton at lunch on Sunday. He also had some RSW-16's and Twenty's in his collection at home.
Photograph Copyright by Richard Woodward, Cleveland, Ohio, USA

An Account of the San Francisco Summer Folder Ride Saturday, May 20, 2000
By Channell Wasson
It was a perfect sunny day for our ride I thought as I loaded my Brompton into my Chevrolet Suburban for a 40 mile drive to our starting point on San Francisco's waterfront. My car was left in a somewhat rough industrial area and I hoped it would be intact on my return. Yes it was a perfect day! The three-mile or so cycle trip along the City waterfront to Pier 41 to our meeting place was as usual very interesting. There were many tourists, cyclists, horse drawn carriages, 3 wheeled bicycle taxis, and even a few dancers, hawkers and show freaks from jugglers to posers with clothes and skin and everything else in view painted either silver or gold and too the ubiquitous red haired cocks-combed punkers. Most were working and entertaining to make a little money.
On arrival I spotted Jay Gaerlan. He is a 20 inch wheel bike frame builder and accountant in SF. Today he had a shiny all aluminum bare metal Dahon. He buys the frames only and does modifications before adding all high end rims, hubs, Shimano 105cranks, suspension forks and other up-graded components including expensive derailleur workings front and rear and Schwalbe hi-pressure Marathon tires. It was a sharp bike. I took a short ride and found it impressive. Larry Sharpe was on hand too. He does a superb job operating the server for www.Bromptonbike.com, and he handles the Bromptontalk Internet mail list. At departure time we went aboard the Sausilito ferry, and at the last minute a Moulton and two Bromptons showed up to join us. It was a pleasant half-hour voyage on San Francisco Bay to Sausilito, and as we docked we saw a gaggle of another 15 or so of the "folding" crowd gathered around our organizer, Tom Vogt. My guess would be we were 70% Bromptons with a few Moultons, Dahons, a Friday and even a home made folder. After a bit of socializing and explanations from leader Tom, we were on our way for the 20-mile summer tour. The bike paths were excellent and we passed several parks, lagoons and followed routes along San Francisco Bay with wonderful views of city and country hills on this perfect clear day. All went well except for a flat. Tom rescued this disconsolate soul.
Dwight Freund, a college computer professor who owns two Bromptons, had brought his English Brompton and his Neobike Brompton which he had left in his car. The Neobike had a failed rear triangle hinge assembly. Dwight and I rode to his car to examine the damage and I offered to try a repair in my shop later. After this inspection, Dwight and I rejoined the folder group of some 20 riders for continuation of a most pleasant ride.
Tom Vogt, who was accompanied by his beautiful girlfriend Susanne, always organizes for our group very picturesque and interesting rides. However, we had an incident that was, I believe, outside his published program! Approaching our destination a bit of an interruption on the bike path occurred when an irate walker decided to shove Tim Schyuler off his Moulton as Tim approached to pass him. Tim went flying off his Moulton into the bushes. This sort of thing doesn't generally appeal to Tim, and this occasion proved to be no exception. He untangled himself from his Moulton and came out with fists flying at the walking hooligan as though Dr. Alex's dignity had been directly and personally insulted, and he must defend it. He was met with similar vigor from his adversary. Several good blows were landed until our local folder club's UN peace-keeping committee separated the combatants. Tim was, I think, actually a bit embarrassed by the unfortunate incident. With the heat off for a few minutes and tough remarks pretty well played out etc, the ride eventually resumed. Little wheels were spinning again below sounds of talk and laughter about the recent happening.
Several miles later we filtered into the village of Tiburon and mingled our way through hundreds of other visiting tourists to this popular seaside town. We settled on a beautiful green lawn park space and ordered ample lunches from nearby watering holes. Of course continual Brompton bike demonstrations, comparisons and conversations were going on. Even a spouting whale was sighted several times. We all hoped it would find its way out of San Francisco Bay.
About this time, Ultimate Folding Bike man Len Rubin showed up with his latest Super Brompton. The unique development on show this day was his collapsible adjustable handle bar system, which can be safely (he says) adjusted on the fly with a brake type lever. Len apparently now has worldwide rights to this item and is just waiting to stumble across $10,000 so that he can have mass production begin. The system was light and most impressive and expensive. He will sell one of the few in existence for $1,200 each. His Brompton also has 1" Sun alloy rims with 18 spokes per wheel and Primo 1" tires with light weight Presta-valved tubes, titanium cranks with three titanium chain wheels, titanium chain, and several other titanium nuts and bolts. The rear derailleur has 9 sprockets yielding 27 gears. The back driving wheel is set into a completely new nicely fabricated rear frame triangle, which accommodates the new rear wheel, hub and the 9-sprocket cassette. He claims a 19lb Brompton for $3,000 to $5,000 is his end result. For a moment Len looked like a USA visit by one of the famous Weymouth Cone Heads, with his Hollywood "hi tech" sun glasses, wild biking jersey and his newly shaved head that glistened in the sunlight. For your further review here is Len's Internet website address: http://www.ufbusa.com Len's bottom line statement: "$135,000 has been spent on development and production is just a few weeks away".
A young couple visiting from Singapore also joined our group with their folding "muscle" bikes called the Airnimal. A well made machine with expensive componentry. For further information about their machine sees the Airnimal web site at: http://www.airnimal.com/airnimal.html.
After a time the call was made to saddle up for the return trip to Sausilito, and suddenly the group disappeared in a dash for home. As I was still recovering from broken elbow bones in a fall from my 52" high-wheeled bicycle, I opted to take a ferry to San Francisco that was leaving from only 20 paces distant from our lunch spot. It was a pleasant voyage to San Francisco during which I wrote this account of our day on folders.
A Day later I called to ask Tom Vogt how the ride finished up, and here is his quote:
"In true Folder Culture form it was a memorable ride! Susanne thought the crew to be quite colorful and had a great time. No excitement on the return ride other than all of us getting a great laugh at Len's expense when he hit a steep hill and, despite his two-score plus gears, ended up miss-shifting and walking it up the hill! I think even Susanne passed him."
That's life on folders!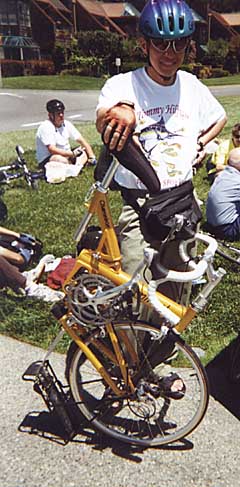 Our guest from Singapore stands proudly behind his folded Airnimal bike. It was a passing aquaintance where we only got a website address and not his name!".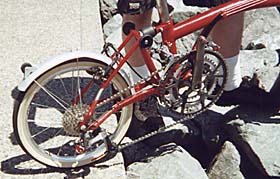 Len Rubin's Brompton rear frame member and his 27 speed gear system".

LETTERS
Have I been sent to Coventry? - correspondence seems to have dried up.
SALES AND WANTS
If you have a folder, separable, or accessories to dispose of, or you want to buy, you can use the Sales and Wants page (http://www.foldsoc.co.uk/sandw.html). If you want to have something put on the list, just email us the details (mike@foldsoc.co.uk) - there is no charge, but please let us know when it is sold so that we can take it off the list. As I strongly suspect that I am not being told when items are sold, I intend to introduce some changes to the Sales and Wants section. In future all entries will be dated, and will be deleted after 3 months unless a request is received to retain the entry on the list. However, please do still tell us as soon as anything is sold, so that we can remove it and avoid creating annoyance to those using the list. Take all normal precautions when buying and selling goods - the Folding Society and its officers are not responsible for the descriptions and products and services contained in the Sales & Wants list.
STOLEN
Unfortunately we have heard of another Brompton being stolen - a red L5, serial No. 6995. It is quite a distinctive machine, so we hope it can be traced - 2 gear change levers, one on each handlebar; two different pairs of skateboarding wheels on rear rack, one pair unusually large; two not one (MKS alloy) folding pedals. Postcoded HX2 6RJ 26 in two separate places. It was stolen not far from Euston rail station in central London on 24 May 2000. Would anyone with information on the bike's whereabouts please contact its owner, M Konrad, Telephone 0113 205 3308 (direct line at work). email k@luddenden.demon.co.uk .Fax 087 00 523 777. Reward offered.
EVENTS
The events listed below are a combination of those organised by Folding Society members or of potential interest to members.
Remember that cycling can be dangerous (so is travelling by car, bus, train, air or water, breathing and living!); anyone participating in any way in any event does so at their own risk.
NOTE that the Moulton ride in Leominster on Saturday 3rd June Leominster has been CANCELLED, due to lack of publicity in the Moulton Bicycle Club publications and illness of one of the organisers.

Saturday 3rd June - Mud Dock
As usual, meet from about 10.30 at the Mud Dock Cafe in Bristol. Contact Gary Lovell, Tel: 0117 932 2026.
Saturday 10th June - Origami Ride
The June Origami Ride will be at its usual location, the Tearooms at Meriden; arrive from 10.30 for an 11.00 start. For more information, contact John Pinkerton on 0121 350 0685, email pinkertn@mwfree.net, or look at his web site at http://www.users.mwfree.net/~pinkertn/origami.html. Please note that the July ride is likely to be at a different location - more news on this later.
Sunday 11th June - First get-together of The Toronto Folder Group
"The TFG is for people in the Toronto, Ontario (Canada) area who own, ride, and enjoy folding bicycles (such as Bike Friday, Brompton, Dahon, Birdy, etc.). The idea behind TFG is simple - we want to share the folding fun with like-minded souls, and show the rest of the world what folders are all about. We're unstructured (no membership fees, meetings, or rules) and very informal - as long as you ride a folder, you're welcome to join us! Among the events we're planning are: short group rides in the Toronto area; Show and Tell get-togethers (where we can brag about our machines); and manufacturer/retailer demos. Most of these events will take place - or start/finish, in the case of the rides - at the Urbane Cyclist bike shop, which is located at 180 John Street, in Toronto. There's more info about TFG at: http://www.praxcomm.com/tfg.htm Or contact Alan Thwaits at nomad@praxcomm.com "
Thursday 22 June - The Smugglers Run
Meet at 5.45pm at Leeds Station at the barrier with a £4 Day Rover' ticket. Folding bikes travel unrestricted.15 miles of easy riding on the Spen Valley trail. More information will be found on http://www.bike.leeds.org
23rd - 25th June - CTC York Rally
Although there are some who sneer at the CTC, they do a useful job, and many of our members are also CTC members. The York Rally is their main event of the year, and attracts a massive attendance. Bill Houlder is organising a ride for small wheelers/folders, and assures us that it is a properly recce'd ride this time. Please support this ride if you are going to the event. Bill has also offered to organise/lead rides in that area on Sundays if anyone is interested. If you live in that area and would be interested in such rides, please let us know, and we will provide Bill with some feedback.
June, 2000 - Vondelpark Amsterdam
Enno Roosink, bikenno@xs4all.nl, tells us that the party is going to be like a fair with lots of activities and exhibitors of special bicycles, recumbents, folders and the like. Please have a look at www.velomondial2000.nl for details. All participants of our annual Bike Friday Meeting will be attending the Bicycle Party/Fair; the general idea is to ride mixed with the Moultons and the Bike Fridays. The BF meeting will be stretched over the weekends 17-18 June and 24 - 25 June.
July 28-31 2000, Spokesfest 2000, Leicester. Spokesfest will have a large display area in The Shires shopping centre from Saturday 22nd July to Sunday July 30th. and has the use of Humberstone Gate event arena for both the Saturday and Sunday of Spokesfest (29th and 30th July).
CycleFest 2000 - Lancaster, 2nd – 8th August 2000
The bi-annual cycling feast will soon be coming around again, and it'll all be up and running from Wednesday 2nd to Tuesday 8th August at St Martins College, Lancaster, UK. Quite a bit has been planned already of course, and as usual there's a theme for the sessions - this year it's "Transmissions", and some great speakers are already booked for this (Tony Hadland, Florian Schlumfp, Izzi Ureili et al) and some interesting new activities planned (50m sprints, midnight torchlight parade and BBQ etc). However, further ideas are always welcome. There will be announcements in Folding Society News, The Moultoneer and other publications in due course. The Cyclefest web pages are currently available at http://www.whooper.demon.co.uk/cyclefest/index.html, but will move to a new and more memorable address soon, and will be regularly updated as the event approaches. We hope there will be a major folder/separable presence at Cyclefest 2000 - the very provisional program already includes one event specifically for folders. We also understand that Alex Moulton will have a stand there this year. If you have any queries concerning CycleFest, contact: John Bradshaw, Tel/Fax: 01524 384474 (day) or Tel: 01524 66658 (eve)
email: j.bradshaw@ucsm.ac.uk
9-10 September - Moulton Bicycle Club Bradford-on-Avon Weekend
The annual Moulton Bicycle Club weekend is scheduled for 9-10th September this year, and preliminary information suggests that it should be better than ever this year.
21/22 September - Car free day in Paris
"We are taking our Bromptons to Paris on Sept 21 to be at the car free day on Friday 22 September 2000. We are wondering if others would go, possibly by Eurostar (approx.. 65 return for an Apex fare). Contacts are John Richfield johnrichfield@solihull.gov.uk or Simon Baddeley 0121 554 9794 / 07775 655842."
---
A to B Magazine
A to B Magazine remains the ultimate source of authoritative information on folding cycles. In the unlikely event that you aren't aware of A to B and/or don't read this magazine, then we would urge you to take out a subscription without delay. A to B can be found on the web pages at http://www.a2bmagazine.demon.co.uk, or you can email them at post@a2bmagazine.demon.co.uk, or they can be reached by telephone or fax on 01963 351649, address 19 West Park, Castle Cary, Somerset BA7 7DB, England. A subscription to A to B is only £10 per year in the UK, or $24, and the magazine is published ever two months and is packed with news, reviews and other interesting information on effective integrated transport systems in general, and folding cycles in particular.
---
Note: The views expressed by contributors and correspondents are those of the writers, and are not necessarily those of The Folding Society or its organisers.
---
Back Numbers
Back numbers of all issues of Folding Society News are available on our web site - go to http://www.foldsoc.co.uk/fsn/fsn.html for the full list.
---
Contributing material for FSN
We would very much welcome articles, photographs or any other material for inclusion in future issues of FSN, or on our web pages. Please send any material to The Folding Society at the address given below. However, if you are planning to send pictures by email, please send them at an appropriate resolution to avoid high telephone bills - a JPEG picture of 50K or less is ample for use in FSN or on the web pages.
---
The Folding Society
email: mike@foldsoc.co.uk
Web: http://www.foldsoc.co.uk
If you have any news or other information of interest to other members of the Folding Society, please email us at the above address.
If for some reason you wish to be removed from this mailing list, please send a message to this effect to the same email address.
All information given here is provided in good faith, but no responsibility can be taken for errors or for any consequences arising from the publication of this information.
Return to FSN index | Folding Society home page
---
Copyright (C)2000 Ferrets Anonymous
Last updated: 28 May 2000
URL: http://www.foldsoc.co.uk/fsn/fsn053.html