The Folding Society
---
FOLDING SOCIETY NEWS
Issue 48 - 12 March 2000
---
Editorial
Spring is definitely here - I got off the train one station early on a visit to the university during the last week, the first time it has really been light enough to want to do so this year. I have also had the SP out four times in the last week, taking over from the old Brompton T5, and to a lesser extent the Birdy, which have been doing winter duty. The Micro has also seen service, on one of my rare visits to Mud Dock.
Superb weather over this weekend has meant that I have spent much of the time out riding or working on the garden. As this is quite a full issue of FSN, I have therefore postponed two items planned for this issue, "Spoilt for choice" and a discussion on achieving a comfortable riding position.
Format: If you receive this issue of FSN in a plain text form, please remember that a formatted version is available on our web pages at http://www.foldsoc.co.uk/fsn/fsn048.html, and you can receive the formatted version (suitable for reading with a web browser) just be emailing us to let us know you prefer this version.
Internet/web update
The Folding Society web pages are now at http://www.foldsoc.co.uk. All new material is being put at that new address, and unless I hear of any problems with this new site, I plan to close the old one during the next two weeks, leaving only a link to the new site. Please let me know as soon as possible if you have found any problems with the new site - send email to mike@foldsoc.co.uk .
Bickerton
Derek Baker is now providing a support service for the classic Bickerton folder. Derek is able to supply some spares including 14" tyres and tubes. Technical help is also available. Bikes for sale and wanted, dead or alive. Contact by email derek@broadstone.freeserve.co.uk.
Brompton
This has been an exciting couple of weeks in the Brompton world, with news of a new C (for Companion) model and significant improvements in the specification of the existing models. The new versions were on display at the Cycle and Leisure Exhibition at the NEC - unfortunately I was unable to attend. Some of the finer details regarding specifications and prices are only just becoming available, so in reading the summary below, please be aware that some details given may be incomplete, or may be subject to minor changes. Most of the information below is derived from that which A to B very kindly sent to me, and you can find a report on the changes in the latest issue of A to B, which, as we mentioned in the last issue of FSN, was specially delayed to be able to include reports on the new Bromptons and a prototype of a new Airframe.
The Brompton Companion
This is a new, stripped down and simplified, model to sell at a lower price (a bit over £350). It should increase the appeal of the Brompton to those looking for a basic folder, and put off by the price of the previous models. The pump, mudguards, rear rack, trolley wheels etc have been omitted, and a steel crankset etc is used. It is only available in red.
Existing models
The existing models have been upgraded, with a modest price increase to cover the improvements (about £40) - as the folding left side pedal is now standard, the effective change in price is smaller than it might initially appear. There have been some minor changes in colours, but more importantly:
Existing models (not the new Companion) have a new Brompton 7 bar, 100psi, tyre - A to B is very enthusiastic about this. There are also options of Kevlar reinforced tyres - either another version of the Brompton tyre or the Schwalbe Marathon.
Brakes - a dual pivot Alhonga is fitted at the front, and there are better levers. A single pivot Alhonga is used at the back, but one source reports that a dual pivot rear will be an option.
Changes and improvements in lighting.
What used to be the 11% reduction gearing is now the standard on the 5-speeds, with options of 12% higher (ie the original 'standard') and 14% lower still (rather lower than the previous lowest gear option). Gearing of 3-speeds is unchanged.
Plated gear links and stainless spokes, better handlebar grips, better saddle, stronger handlebars, and a mudflap on the rear mudguard. The folding pedal is now standard, as is a bell. An improved pump is also being introduced.
This list of changes refers to existing models, rather than the more basic Companion. Some details and prices were still being finalised as A to B was going to press, so there may be minor differences in production from what is described above.
Just about all of these new features can be retro-fitted to existing Bromptons, and kits will be available to facilitate this.
Comment
This is a very worthwhile set of improvements, and shows that Brompton listens to its customers, and is prepared to make significant improvements, as well as just more minor upgrades which are not always noted.
There is no news of a 7-speed version, which some people have been hoping for, but the substantial changes described make the Brompton better than ever.

With these changes, the Brompton becomes even harder to beat in its class.
Thanks again to A to B for providing this information.
Modifying existing Bromptons
Until about 2 years ago, most Bromptons you saw were almost identical - individual owners did little more than cosmetic changes, or fitted Primo tyres and/or bar end extensions. Now the situation is much more like that with Moultons - you never see two Bromptons which are quite the same. The increase in customisation has been encouraged by more modifications becoming available, and in turn has encouraged companies and individuals to produce more modifications. In the next section of FSN we refer to the SP and Steve Parry's many modifications to Bromptons, which include seat pillars, a rear hook assembly, front changer kit and bags and racks. Steve can be reached on 01934 516158. Now we hear that Kinetics are also offering a range of add-ons which include a front derailleur, rear derailleur, suspension stem, telescopic stem and a suspension seatpost. You can find Kinetics at http://www.kinetics.org.uk .
Brompton SP
Steve Parry has sent me full details of the specifications of the 3 models of the SP that he is now offering. There is a single speed, a 2-speed, with double chainring, and a 12-speed, with a six speed derailleur block and double chainring. Chris Dent has the first of these 12-speed models, and used it at the Mud Dock ride on 4th March, and again at the Origami Ride on 11th March, where it clocked up its longest ride since he has had it (only a couple of weeks) of about 45km. Apart from the differences in gearing, the current model range is not radically different from the SPs we have described previously, though there are quite a lot of detail changes. Those who have tried the 12-speed have been impressed by the performance, just as they have been with earlier SPs. We are in the process of loading the specifications and some detail pictures onto the web site - this may take a little while, as the data needs some reformatting of the tables for our web pages. In the meantime, you can contact Steve on 01934 516158. I remain delighted with my own SP, and it is now touch and go as to whether this has displaced the Bike Friday New World Tourist as the bicycle I would have if I could only have one machine.
Moulton
My NS is now due back on Wednesday 15th, so I will not be able to subject it to the new standard rolling resistance test until then. It's return is eagerly awaited, not just so that the tests can be carried out, but because, with the weather getting better and the days becoming lighter, I hope to be getting back to doing some longer rides.
The older Moulton AM range has remained in production despite the introduction of the New Series Moultons. However, production of the models like the AM8 and the AM16, which used the older, larger diameter, tubing is now coming to an end, and only the AM models such as the Jubilee L and GT which use the smaller diameter, lighter, tubing, will remain in the catalogue alongside the NS models. This does not affect the separate range of APB models made by Pashley. If you want one of the older AMs such as the AM8, you have only a very short time left to place an order.
Tyres - Part 3: More new tyres and further test results
A new tyre in the 349 (16inch) size carrying the Brompton logo was fairly widely expected, but in the event we were surprised to hear that there is not just one new tyre, but two - there is an option of whether a Kevlar belt is fitted or not. The Kevlar version should be more puncture resistant, but the non-Kevlar version should be lighter and have lower rolling resistance. Initial reports by A to B are very favourable, and we will be grateful for more news from members when they have a chance to try them. Particularly welcome is the news that the non-Kevlar version is expected to sell for less than £10, which is considerably cheaper than any of the other high performance tyres in this size. As I still have one spare set of the original Primos, and finances are stretched at present, I don't expect to be able to test them myself in the foreseeable future.
Readers of Folding Society News will know that I have been less than impressed by the latest Birdy tyres, and that in a rolling resistance test they were the worst performers, and were significantly inferior in this aspect of performance to the older Birdy high pressure tyre. The test only confirmed my subjective impressions, so the Birdy was put back on the older high pressure tyres, and felt significantly better - though the rolling resistance tests had shown this older tyre to be a poor performer compared with other small (and large) tyres.
The news, via the grapevine, that Avon Valley Cyclery had another tyre to fit the Birdy prompted me to order a set, and after a brief delay they arrived by post. I immediately re-ran the rolling resistance test on the Birdy with the older high pressure tyres, then fitted the new tyres, and repeated the test. Two runs were made in each case with the older tyres and the new ones - but before I describe the results of the tests, here is some information about the tyres..
The tyres are Vredestein San Marinos, priced at £16.95 each - so this is not a cheaper tyre than any of the others available, rather it is much the same price as the new Birdy tyre. An initial examination was discouraging - the side walls are marked 47-355 and 18 x 1.75, so these tyres are wider than the normal ones for the Birdy (38mm, 1.5 in). The side wall is also marked 2.8 bar, 40 psi - so the pressure is substantially lower than the high pressure Birdy tyres (80-90psi). Neither of these factors was encouraging - wide, soft tyres generally perform worse. The labels attached to the tyres actually give a recommended pressure of 45psi - slightly better, but still lower than one would expect for good performance. Putting the tyres on the scales was also discouraging - these very elderly and rather primitive scales gave the following very rough results::
Vredestein 14 ounces
New Birdy HP 13 ounces
Old Birdy HP 11 ounces
Old Birdy low pressure 13 ounces
Primo 349 (16 inch) 7.5 ounces
I'm deliberately quoting the weights in ounces as shown by the scales - I would not rely too much on the absolute values given by these scales, but they should be accurate in showing differences. Saving weight on the wheels and tyres is generally regarded as being even more useful than saving weight elsewhere.
The tyres look quite smart - they have a thin reflective strip on the side wall, like the latest Birdy tyres, and have plenty of rubber, suggesting (though no proof yet) that life should be good. There is a pronounced tread over the full width of the tyre - nothing very spectacular, but it looks a better pattern than the older and newer Birdy tyres. The tyre has a gentle roll off at the sides, so it should not be twitchy on rough surfaces.
I was so discouraged by the data available that I first replaced only the front tyre - usually a tight fit on my Birdy, but less trouble overall than the rear wheel with the derailleur - like at least some other Reds, the design is such that the whole quick release skewer has to be removed to get the rear wheel out.
Fitting the new tyre to the front wheel required a lot of effort, and left me very concerned that I would/will have trouble repairing punctures during rides, particularly in cold weather when the hands are not working well.
I inflated the tyre to 50 psi by my gauge - a shade more than recommended, but usually lower pressure tyres are safe with such a modest over inflation. On the very short ride up to the start of the test, the bike felt little different to the way it feels on the older Birdy high pressure tyres. The noise level was quite low - unlike the latest Birdy tyres, which are noisy. I made only one run on this test, but the result was that the bike ran several metres further than on a pair of the older Birdy HP tyres. Encouraged by this, I returned to base and fitted the second tyre - much easier to fit than the front, as always - there definitely is a difference in diameter of my front and rear wheels. Again the tyre was inflated to a gauge reading of 50psi.
Two runs were then made with both the Vredesteins fitted, and gave results over 10 metres further than the older Birdy HP tyres (this in a total distance of about 300 metres).
Just for comparison, I then did one test run with the old Brompton T5, fitted with the Schwalbe Marathon tyres. This actually gave a distance 20 metres further than the Vredesteins.
A few days later I took the Vredestein-shod Birdy out for a ride of about 65km. The weather was good, but it was rather windy, and this made it difficult to reach any clear conclusions on how the bike performed. However, it gave the general impression of running more freely than on the new Birdy tyres, but not obviously any better than the old high pressure Birdy tyre. I felt exceptionally tired after this very modest ride - no doubt a reflection of the lack of exercise in recent weeks. I did almost the very same ride 2 days later on the Brompton T5 on the Schwalbes, under very similar conditions, and felt much less tired afterwards, and the average speed of this ride was also just over 0.5kph higher than on the Birdy with Vredesteins. The same ride was done again today using the SP Brompton with Primo tyres, but under different weather conditions - virtually no wind. I think the lack of wind is probably responsible for much of the further increase in average speed of nearly 2kph.
So the preliminary conclusions are that the Vredestein San Marino has rather better rolling resistance than any of the Birdy-branded tyres, despite being wider and running at lower pressure. It has a good tread pattern and plenty of it, so I would expect life to be good. Though it does not have a Kevlar strip to reduce punctures, the label attached to the tyre claims "... manufactured by new, specially designed production techniques and materials: Maximum punture protection, very low rolling resistance, high durability". The spelling 'punture' is as shown on the label!
Just as this issue of FSN was going to press, we received an email from a Birdy owner who has been using the new Birdy tyre, and he reports that:
"Further to it blowing off when I first fitted it, the side walls have disintegrated on one of my new Birdy tyres. No I don't use a dynamo. I have had to replace it with another of the same as it is all I have."
Designing and making your own
By Drew Devereux
In total, over the last 2½ years, I have built 6 small wheel bikes, modifying and improving each one as I went along. My main focus was to make a bike that would ride as well as a non-portable, but would bag as quickly and easily as possible, and get as small as possible when in the bag. The pictures are mainly of the 16" wheel bike I made. I also made a 20" wheel version, of which there is one picture.
It started when I needed a bike I could ride to and from the airport to spend time with my wife, who had taken a job in a distant city, while I would focus on selling the house. The Bike Friday seemed the best suited to the long distance rides I liked, but I felt it would not get small enough, and I would need to lug a case around (or trail it behind the bike). The Brompton is a marvel of engineering, but seemed unsuited for the longer rides I liked to do. The Birdy didn't get that small when folded, had a strange tyre size, and I really didn't like all that suspension. Finally I decided to get a torch and make something by myself out of aircraft tubing. With a few books, a friend who had brazing experience, and a real curiosity of bicycle frame fillet brazed construction, I got started.
To get it small enough, I needed to have it break in front of the seat tube. For strength and lightness, I thought a tube clamped inside a receiving tube would be the best bet for the connections. Instead of a quick releases, I use bolts with levers brazed onto them. There is an internally toothed washer with the nut. This way, it's rather easy to tighten it and arrange it so that the lever points where you want it to at full tightness. Ride quality was very important, and I designed a long 43 inch wheelbase with a 70 degree head tube, and a 72 degree seat tube. My fitting to the bike had to be the same as on my large wheeled bike.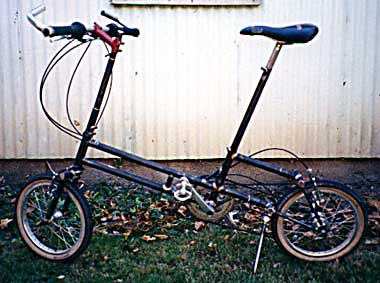 After experimenting with different tube wall thickness, the long wheelbase and seat post and handlebar stem give it the right amount of cushion to make it comfortable, even on rough roads. A Sachs 3 by 7 rear hub provides a full range of gears for the 16" one. Direct pull V brakes make it stop well. It weighs 28 pounds as pictured, with its custom made kickstand. I ride it on paved and dirt roads, as well as the occasional trail. My longest ride so far is 90 miles. I went down one hill at almost 50 mph - very stable and lots of fun! I've ridden many thousands of hard miles on these bikes in all sorts of conditions. There have been no problems so far with anything loosening up, squeaking, or breaking, I put a slight bend in the 16" wheel bike seat tube after 2 months of riding, andI1 replaced it with a thicker wall tube. I plan to try a titanium tube there in the future.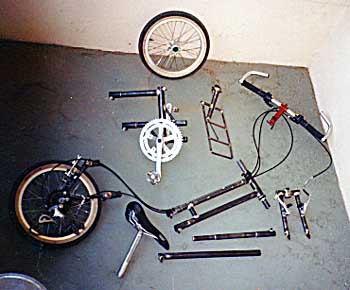 I can bag it in 6 to 8, minutes. The bag is one I made of. nylon, and it weighs 3/4 pound. It rolls up small, and I carry it along whenever there's a chance I will need it. The bagged dimensions are 16 by 23 by 11, taking up slightly less volume than the Brompton. Putting it in the bag is not easy compared to a folder. It requires some open space, and getting on one's knees or haunches to arrange all the pieces. I have to make sure I put everything in the bag before I go; fortunately none of the pieces are small. If I don't really need to bag it, I never will. I would rather walk to a destination of a mile away or less, than take the bike and have to bag it. But for longer distances, it's worth taking even when I must bag (or un-bag it), as it's a lot faster riding than walking 2 or more miles. No tools are needed except for the crank arm, which comes off with the twist of a 6 mm allen key. No cables adjustments are disturbed in the process. Mostly it's a matter of being organized and efficient.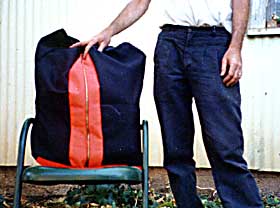 I can wear it like a back-pack. When I get on the bus, I hang it in front of me, and I can sit down with it in my lap, or get out of the seat and leave the bus with it easily. Both bikes are narrow enough not to extend into the space of the seat. next to me and I can see over them when seated.
It's a bit too big to carry on board a plane (current rules specify maximum carry-on luggage size to be 14 by 22 by 9 inches). I will ride to the airport and bag most of it, giving me the room to stuff newspaper and cardboard around the rest of it, and have it as checked luggage. The less stout pieces I will carry on board with me. In several flights, it has suffered no damage.
I plan to nickel-plate and/or powder coat the frame to reduce the chance of scratches, since the unprotected frame pieces rest against the other components.
Wax lubricant lubes the chain and the tubes where they insert, keeping everything relatively clean. Without it, bagging the bike could be a real mess.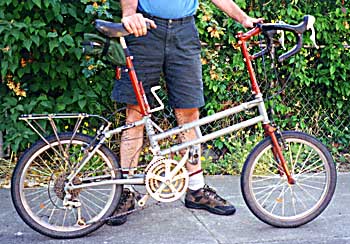 The 20" wheel version bags to 20" by 26" by 12, and takes 5 or 6 minutes. The one in the photo I rode on the "Markleeville Death Ride" in California; a 129 mile ride over 5 mountain passes with 15,000 feet of climbing. It took me about 13 hours; 30 minutes longer than my Italian racing bike, when I did it a few years before. On that ride with 2500 other participants, there was only one other small wheeled bike (a Bike Friday). The way I feel now, I prefer the smaller wheels, whether the bike is portable or not.

In the future, I plan to write some sort of booklet about the building process and specifications.
Are you sitting comfortably?
Thoughts on cycle saddles and alternatives
By "Severn Bore"
Then I'll begin……"The further you cycle, the harder your saddle should be".
It was this profound utterance, made by a very experienced cycle enthusiast during an Origami ride that made me sit up and take notice. All the way home in my car, I pondered, cradled in a wonderfully upholstered seat. At home, sitting in my comfy couch, I pondered, and later flying first class in an electronic wonder of a seat cum bed, I pondered….were all these seats wrong? Should I be sitting on an unforgiving board?
As a later comer to cycling, with my introduction on the Continent, almost the first thing to be changed when purchasing a new cycle, was the saddle. Mine, recommended by the cycle shop owner, who had been a successful professional cyclist, was a lovely job made in Holland – land of serious everyday cyclists – carefully constructed from leather, tensionable for personal preference and to allow for stretching and ageing, it sported no fewer than four compression springs leading to two springs in tension for a perfect ride. At the front a sort of torsion bar arrangement looked after comfort. This saddle, originally fitted to a brand new aluminium framed roadster did sterling service for many years, and rider and saddle fitted together perfectly. A little tender loving care was needed to keep the saddle leather in good condition, and an essential cycling accessory was a plastic bag, to be slipped over the saddle as protection when left in the rain.
When I foolishly decided that I needed a mountain bike, the cycle was sold – minus saddle - to a friend who still uses and eulogises about it today 15 years later. The saddle was transferred to the MTB. This creation from Taiwan, made for about £20 and sold here for £85, opened my eyes to multiple gears (so many identical ratios!), awful riding position and the drag of large, soft knobbly tyres. In the process of changing back to a sensible specification I heard for the first time cycle mechanics tittering about my saddle. It was explained that such a gadget weighed a ton (5½ lbs. actually) and lost a lot of energy* due to bouncing the rider up and down. So I changed it and have regretted it ever since … I saved some weight but never found the comfort again.
Now riding a recumbent every day as I do can spoil you for saddle equipped "wedgies", and I have cast around far and wide (mainly Halfords actually) for a comfortable substitute. The latest offering is a comfort saddle weighing about 2 pounds, around 10 " wide, and filled with gel……but am I going in the right direction??
Many others have had saddle problems, among them that great individualist Pedersen, who, having designed a hammock alternative, set out to redesign the standard cycle to fit. The resulting Pedersen sported a "sitting device" which was light (4 ozs) and although sprung used springs of different rates to achieve advanced ends. The real advantage was that the seat was permitted to swing or oscillate to left and right in sympathy with the riders (pardon me) buttocks, thus enabling a wide seat area without the associated chaffing this would give on a standard saddle. The woven silk allowed good ventilation. The seat could be tensioned in the "north-south" axis, cunningly varying both spring tension and the extent of saddle "give" under the rider's weight. It also allowed adjustment for riders of different weights. The original leather, woven silk and steel creation was changed (some say pressure from buyers but most likely in my opinion for reasons of practicality to stop the silk rotting from the wet) to one with a leather top covering. Several examples still are preserved in the Gloucester Transport Museum.
So how does it work? Having ridden a few miles on a similar replica saddle, I would say it is a step forward over the usual "bum cracker", but the central area still presses on bits of male anatomy best left un-pressed; numb bum is still there but the chaffing aspects have been eradicated.
Looking to get to the bottom of this (sorry), a little fundamental research carried out whilst lying on my side in bed, clutching a buttock with one hand and make cycling motions with that leg brought not only strange looks from my Partner, but also the knowledge that the shape of the buttock changes continuously when cycling. So a saddle made to measure would end up being a pain in the bum, so to speak. There is also the fact that due to the varying forces acting through the legs to the pedals during cycling there are equal and opposite forces generated which are trying to lift the rider out of the saddle. That the forces acting on the pedals varies can be seen by the way the chain wheel teeth wear with the most wear (on a standard cycle) occurring where the pedals are parallel to the ground coinciding with the maximum force. So a handy tip when reversing detachable chain wheels to compensate for wear is rotate them through 90 degrees to get back to almost unworn teeth. As the rider struggles to push harder to climb a hill, for example, these forces lifting the rider out of the saddle cause the rider to grip the handlebars more firmly to get an equal and opposite effect. When all else fails, standing on the pedals cuts out this feedback entirely …. perhaps the perfect saddle is the one we choose not to sit on?
Professionals have found the answer. A small saddle combined with a layer of spongy material in the seat of their shorts provides the necessary compensations, and at the seasons end any sores can be removed with a simple operation. Not something your everyday cyclist wants to be confronted by. What now? Leaving aside the recommended (but never personally tried by this author) pound of steak between buttocks and saddle, I see several alternatives………
Make the saddle so small, narrow etc that the buttocks do not touch. What does not touch can't get sore….can't get hot and sweaty…but all bought at the price of high localised pressure points which I understand do not do wonders for a man's reproductive talents….
Have a large saddle area which will mould itself to changes in buttock shape (using gel?) but pivoted east to west to allow rocking side to side a la Pedersen, thus obviating chaffing, but what of ventilation?
Get around the problem by sitting in a properly designed seat, with a wide, ventilated seat area made of mesh or similar, adjustable for rake and having a back rest with the same properties. Recumbent is the answer for me, taking away further pain areas of neck, back, wrist and hands. Having said that, seats on recumbents vary a lot, and I am not convinced that the people designing them have found the best solution for all variations of the human form. The problems of seat design differ from that of the ideal saddle, as the forces generated are supported differently. Problem areas are the larger the sitting area is, the greater the likelihood of having chaffing of the thighs due to the cycling leg action. I have hopes of designing a seat which will get around this problem. The back rest can take a lot of force and can cause profuse sweating which is not easily avoided. Also numb behinds and pins and needles hands are not unheard of in recumbent circles, and the search for perfection goes on.
Heard of the Doctor who finally achieved his life's ambition when he finally afforded a luxury German motor car? Within a week he was crippled by back pain and complained. As he specialised in back problems he suggested co-operating with the manufactures in improving their seat design. Goes to show what suits large fat Germans (sorry for the generalisation) is not necessarily the answer for a shorter, lighter Englishman, and that even the best must learn from experience.
I would be interested to hear riders' solutions to their perfect saddle.
* How important is this to the everyday cyclist? If a rider sits on a sprung seat it will naturally compress the springs due to his/her weight. Pushing on the pedals will unload this to an extent, and the saddle complete with rider will rise. The compression cost no energy, the recoil slightly reduces force to the pedals, but is that significant in everyday riding and is not the comfort bought worth the price? Subsequent recompression of the seat springs is also energy free; perfectionists will point out that the forces in compressing the spring(s) is not fully released on load removal, but let us not nit pick. The springs do also work the opposite way; when road shocks find their way to the saddle the shocks are reduced and the rider benefits.
I have a German saddle, designed for the everyday cyclist which attempts to addresses a number of problems. The springing is via an adjustable "silent block" type rubber in torsion spring at the front of the saddle. This is a "swing" type unit, pivoting from the front. The ride height, seat angle, spring rate, rotation above and below the horizontal position are all adjustable to allow for rider weight and preference. One important advantage is the possibility of adjusting is such a way that "pogo- ing" through rider weight and pedal forces can be eliminated, but road shocks still cause the spring to work. The saddle itself is moulded and the complete unit gives a large (9" wide) seating area. Snags are the weight (about 2 ½ lbs) and the multitude of adjustments possible, not always fully understood by the layman. Price about £30.
Letters
Rod Shinkfield writes asking for comments on fitting and removing tight-fitting tyres:
My Brompton T5 originally came with Raleigh Record tyres. When a worn out rear tyre needed replacing while on a three week cycle-camping tour of North Wales (1999), I could only buy one made in Taiwan. While the Taiwanese tyre slipped easily onto the rim with medium hand pressure, not so the Raleigh Record tyres. Raleigh Record tyres prove too tight to slip onto the rim without resorting to 'very careful' use of tyre levers. Yes, I know I shouldn't have, but, with straining hands rapidly tiring and blistering, and still failing to fit the tyre to the rim, using the levers was the last resort. Thankfully, the slightly inflated inner-tube wasn't pinched and punctured between the rim and the levers. Surely, there must be a easier, less tiring way, or a better tool to use? I've tried wetting the rim with water while puncture mending at the roadside, and using washing-up liquid while at home - both liquids caused better slippage, but still proved hard work. How do other 'tight tyre' sufferers cope?

My initial comments are:
It is reassuring in some respects if the tyre does require some effort to get it on and off - it suggests that it is less likely to blow off!
Small wheels generally seem to result in more problems fitting and removing tyres - there is less to stretch.
Always make sure that the bead is right down in the 'well' on the opposite side to where the final effort is being exerted. I would suggest that inflation of the tube prior to fitting actually makes this more difficult.
There are some tools which at least claim to make fitting and/or removal easier - for example, the VAR tyre lever, and I have seen a sort of folding lever which offers very high leverage: I'm not altogether convinced about these.
Personally I suspect that rim size variations can make a big difference - on my Birdy, the rear is always relatively easy to do (and the tyre has blown off once!), while the front is hellish.

It would be useful to hear suggestions from any other sufferers.
John Prince follows up on two points raised in the last issue of FSN:
Clearly, any manufacturer who does not use his own product is sending out a clear message to potential users. However, there can be a downside to only using your own product. This was clearly illustrated when a certain titled English nobleman decided to produce a world beating large motorcycle. Testers described in glowing detail the world shattering performance of the product they had helped to develop. On launch day the world's press lined up to test it. Their comment: amazement that such a poorly developed machine was being released with so many obvious defects. They also discovered a fundamental marketing flaw (Mike Hessey take heart). Most potential buyers, who by definition needed to be rich or very dedicated, turned out to be much shorter than average height and could not accept the (non-adjustable) saddle height. This major design flaw was almost impossible to change without the huge costs of retooling and the associated retest program.
Other manufacturers in the cycle and HPV field have in my experience shown a biased opinion of their product, the result of exclusively riding it to the point where everything else in the market place is ignored. Just because a product suits you (i.e. your height, weight, sex, usage pattern, in your country ridden on the left etc) does not mean that someone on the other side of the world will find it acceptable.
Also, without naming names, success can also have its downside. When a product finds a ready market, and demand outstrips production, the focus can shift to making enough to keep up with demand. When, in the fullness of time, this is achieved, is the product (with no development over these years) still a market leader? Examples abound from the model T Ford to the "beetle" Volkswagen to prove that he who is blind to the changing requirements of the customer and the improvements made by his competitors will learn a painful lesson.
I well remember talking to a well known manufacturer of folding cycles and pointing out that my next overseas trip would result in increased exposure of his product leading to higher demand and sales. He begged me to go away, he did not wish to sell more than his current production. Such attitudes are not understood by our trading partners abroad, and may lead to generalised comments reflecting adversely on Great Britain. It is not unheard of, that at such a time, spare parts and service may deteriorate.
Afterthoughts on Rob Cope's comments re small wheeled cycles: I don't think there is any doubt that generally, small wheel cycles handle differently from large wheel cycles. The main reason is clearly the different wheel size resulting in hugely different forces generated (proportional to the square of the wheel diameter??). These gyroscopic forces have to be overcome to steer, and it is this that makes the cumbersome (generalisation) feel sluggish. Every rider can only speak from his or her own experience. When this is widened by riding a different cycle, the reprogrammed brain sees things differently, and previous value judgements may no longer be valid. We adapt amazingly quickly, and equally forget previous experiences, all of which a test rider should be aware and allow for. Variety is the spice of life!
Sales and Wants
The S&W list is still quite active - if you have a folder, separable, or accessories to dispose of, or you want to buy, you can use the Sales and Wants page (http://www.foldsoc.co.uk/sandw.html). If you want to have something put on the list, just email us the details (mike@foldsoc.co.uk) - there is no charge, but please let us know when it is sold so that we can take it off the list. As I strongly suspect that I am not being told when items are sold, I intend to introduce some changes to the Sales and Wants section. In future all entries will be dated, and will be deleted after 3 months unless a request is received to retain the entry on the list. However, please do still tell us as soon as anything is sold, so that we can remove it and avoid creating annoyance to those using the list.
Events
Saturday 1st April - Mud Dock
As usual, meet from about 10.30 at the Mud Dock Cafe in Bristol. Contact Gary Lovell, Tel: 0117 932 4633.
Saturday 8th April - Origami Ride
The April Origami Ride will be at its usual location, the Tearooms at Meriden; arrive from 10.30 for an 11.00 start. For more information, contact John Pinkerton on 0121 350 0685, email pinkertn@mwfree.net, or look at his web site at http://www.users.mwfree.net/~pinkertn/origami.html.
12-14 May 2000 - Mystery Brompton Riders meet, Weymouth Pavilion. "Strictly no organisation, other folders welcome". This notice appeared under "Events" in issue 16 of A to B. I know nothing at all about this event, and have not received any notification of it, so I think I can take the hint. However, others appear to be welcome.
Sunday 21st May Sussex Coastal Plain Ride
30 miles approx Meet Chichester Railway Station 10.00 for 10.30 start. Further details from Eric Jones, Tel 01903 782631
Saturday 3rd June Leominster, Herefordshire Ride
Meet at Etnam Street free car park at 10am for 10.30 start for an easy 20 mile ride along very pleasant country lanes with cafe stops. Further details from Alan Mason Tel 01568 612905
June, 2000 - Vondelpark Amsterdam
Enno Roosink, bikenno@xs4all.nl, tells us that the party is going to be like a fair with lots of activities and exhibitors of special bicycles, recumbents, folders and the like. Please have a look at www.velomondial2000.nl for details. All participants of our annual Bike Friday Meeting will be attending the Bicycle Party/Fair; the general idea is to ride mixed with the Moultons and the Bike Fridays. The BF meeting will be stretched over the weekends 17-18 June and 24 - 25 June.
July 28-31 2000, Spokesfest 2000, Leicester. Spokesfest will have a large display area in The Shires shopping centre from Saturday 22nd July to Sunday July 30th. and has the use of Humberstone Gate event arena for both the Saturday and Sunday of Spokesfest (29th and 30th July).
CycleFest 2000 - Lancaster, 2nd – 8th August 2000
The bi-annual cycling feast will soon be coming around again, and it'll all be up and running from Wednesday 2nd to Tuesday 8th August at St Martins College, Lancaster, UK. Quite a bit has been planned already of course, and as usual there's a theme for the sessions - this year it's "Transmissions", and we already have some great speakers booked for this (Tony Hadland, Florian Schlumfp, Izzi Ureili et al) and some interesting new activities planned (50m sprints, midnight torchlight parade and BBQ etc). However, further ideas are always welcome. There will be announcements in Folding Society News, The Moultoneer and other publications in due course. The Cyclefest web pages are currently available at http://www.whooper.demon.co.uk/cyclefest/index.html, but will move to a new and more memorable address soon, and will be regularly updated as the event approaches. We hope there will be a major folder/separable presence at Cyclefest 2000 - the very provisional program already includes one event specifically for folders. We also understand that Alex Moulton will have a stand there this year. If you have any queries concerning CycleFest, contact: John Bradshaw, Tel/Fax: 01524 384474 (day) or Tel: 01524 66658 (eve)
email: j.bradshaw@ucsm.ac.uk
9-10 September - Moulton Bicycle Club Bradford-on-Avon Weekend
The annual Moulton Bicycle Club weekend is scheduled for 9-10th September this year, and preliminary information suggests that it should be better than ever this year.
---
A to B Magazine
A to B Magazine remains the ultimate source of authoritative information on folding cycles. In the unlikely event that you aren't aware of A to B and/or don't read this magazine, then we would urge you to take out a subscription without delay. A to B can be found on the web pages at http://www.a2bmagazine.demon.co.uk, or you can email them at post@a2bmagazine.demon.co.uk, or they can be reached by telephone or fax on 01963 351649, address 19 West Park, Castle Cary, Somerset BA7 7DB, England. A subscription to A to B is only £10 per year in the UK, or $24, and the magazine is published ever two months and is packed with news, reviews and other interesting information on effective integrated transport systems in general, and folding cycles in particular.
---
Note: The views expressed by contributors and correspondents are those of the writers, and are not necessarily those of The Folding Society or its organisers.
---
Back Numbers
Back numbers of all issues of Folding Society News are available on our web site - go to http://www.foldsoc.co.uk/fsn/fsn.html for the full list.
---
Contributing material for FSN
We would very much welcome articles, photographs or any other material for inclusion in future issues of FSN, or on our web pages. Please send any material to The Folding Society at the address given below. However, if you are planning to send pictures by email, please send them at an appropriate resolution to avoid high telephone bills - a picture of 50K or less is ample for use in FSN or on the web pages.
---
The Folding Society
email: mike@foldsoc.co.uk
Web: http://www.foldsoc.co.uk
If you have any news or other information of interest to other members of the Folding Society, please email us at the above address.
If for some reason you wish to be removed from this mailing list, please send a message to this effect to the same email address.
All information given here is provided in good faith, but no responsibility can be taken for errors or for any consequences arising from the publication of this information.
Return to FSN index | Folding Society home page
---
Copyright (C)2000 Ferrets Anonymous
Last updated: 12 March 2000
URL: http://www.foldsoc.co.uk/fsn/fsn048.html