The Folding Society
---
Dahon Speed D6 Review
By Andrew Macrow
---
Introduction
Sharing the same frame and wheel size as the SPEED PRO and SPEED TR, the SPEED D6 is another extremely capable little bike that's easy to use and constantly rewards its owner with large doses of fun but remains a totally practical little bike.
I was looking out for a folder for my wife to use and as a backup in case my own folding bike needed to be off the road for any reason. Price was a consideration, but the bike had to be of good quality, a comfortable ride but easy to fold – sadly not all these things are present at the cheaper end of the market. Having been very pleased with my first Dahon – a 2003 SPEED TR, I decided to see what was on offer from the 2004 range.
After a visit to the Dahon website I settled on a SPEED D6 – it appeared to suit all of my shopping list wishes- and an updated frame from my own SPEED TR but very competitively priced at £269.00.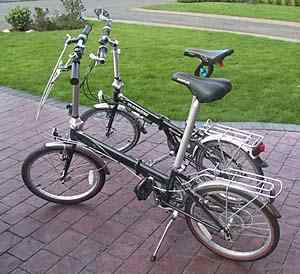 I once again contacted Mark Bickerton at Cyclemotion and the D6 arrived smartly via courier the following day. Unpacking revealed a purposeful bike complete with mudguards, rear rack, kickstand and even a bell. All you needed to do was to screw on the folding pedals, pump up the tyres, slide in the seat post and off you go.
During the first week of riding about I was struck by how ridiculously easy the SPEED D6 is to use, returning a stable ride even down steep hills, positive and assured handling and braking despite rain, snow - and sadly inattentive motorists and pedestrians. The six speed SRAM shifters and Shimano Tourney derailleur provided a good spread of gears. The gripshift handlebar twist changers proved again to be a real boon in commuter traffic as you never have to take your hands away from the bars.
Folding and unfolding
The bike folds up and down simply. The frame lock secures with a positive click. Using the handy kickstand frees you up to swing up the handlebar stem, lock it and use the clever Revolve handlepost system to rotate the bars for riding. Clamping the seat post completes the process.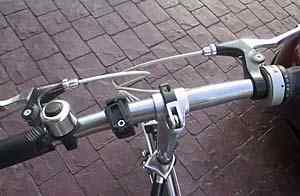 Folding is a reverse of the same process with the Magnetix system – two magnets that are attached to the frame to hold the bike shut –proving to be easy and sturdy to use. The folded package is reasonably small – still larger than a Brompton, but lighter, rides better and undercuts even the basic C3 UK Brompton by £106.00 – and you gain a carrier rack, mudguards and a bell as standard.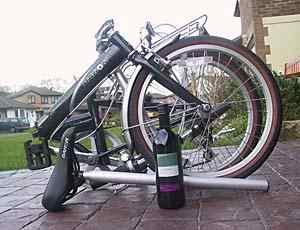 Overall quality of build and components
Dahon claim that they are constantly re-working all aspects of their bike design. On examining the differences between my 2003 frame and the 2004 frame I would say that claim bears itself out.
For those more technically minded they are:
Replacing the stamped steel frame hinge for a stronger and stiffer investment - cast hinge, a ViseGrip latch made from stainless steel for a stronger and simpler latching and unlatching.
Frame drop outs are now forged steel and a derailleur hanger has been added to allow easier wheel removal.
Brazed rear rack mounts replace the 03 models pressed steel ones.
The SPEED D6 frame is of a high quality and sturdy construction. Finished in a pleasing durable graphite colour, it gives a lively feel back from the road surface. The frame hinge is a clever strong design that uses steps on either side of its faces. When the joint is closed the steps mate together to reduce any up or down movement when ridden. A simple lattice hinge secures the joint neatly and is further secured with a plastic safety catch to prevent anything snagging the catch and springing it open.
Bosses are included underneath the frame to attach water bottle cages and bike pumps. The sturdy mudguards and the steel rear rack have their own mounting points. A rather snazzy hologram sticker on the seat downtube and subtle badging finish off everything nicely.
The chainset has a guard to keep your clothes away from the chain - in fact you can do away with bike clips altogether as there is nothing to get caught up on – unlike my old Brompton whose rear rack wheels I found would either clip an ankle or snag at my trouser legs.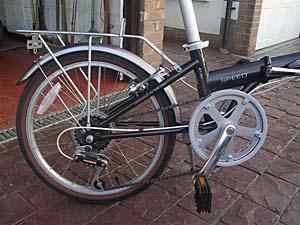 The SRAM gripshifter and Shimano Tourney gears worked well after an adjustment to stop them missing a gear. The V- brakes are powerful stoppers even performing well during heavy rain. The brake levers themselves fall easily to hand and the bar grips cushioned the hands nicely.
The SPEED D6 twenty inch wheels have alloy rims, stainless steel spokes and are shod with 65lb rated Kenda tyres, the tread profile is ideal for commuting along on tarmac roads and bike paths. Sturdy chrome plastic mudguards keep the road dirt and water at bay. A pair of strong basic folding pedals, rear steel rack and a ping bell completes the package.
A Velo comfort saddle is fitted which I found to be a little too soft for my liking – but saddles are personal things and can be changed with ease. There is no bike pump included, Dahon seem to prefer to leave that choice up to the individual.
In summary, the SPEED D6 components are of very good quality, well up to the job and a pleasant surprise at this price level. Despite exposing the bike to frequent downpours, snow and gritted roads there was no noticeable deterioration on frame or parts. Cleaning down and lubricating is easy as all areas are accessible.
Compared to my more expensively equipped SPEED TR, I would say the SPEED D6 uses cheaper parts but cannot be accused of using cheap components. Remember at current prices the SPEED D6 and the SPEED TR have a £450.00 price difference between them.
Riding the SPEED D6
The SPEED is a very easy bike to ride, its upright position gives a good view ahead. When mixing with town traffic you are as secure as if you were on a full sized conventional bike. Despite the high handle bar stem I found there to be very little flexing evident even when climbing uphill. The 20" wheels enable you to move along at a brisk pace but with the advantage of increased manoeuvrability in tight spaces. Steering geometry is very direct presenting the rider with good feedback from the road surface.
Having six gears means you can keep your pace up pretty well, steep hills can be tackled with confidence, however at times I did feel that when speeding downhill I could have done with some higher gears. I feel that indicates just how good the frame design is, that you feel you want to push it that little bit harder. Dahon are planning to alter the gearing again to give the SPEED D6 longer legs for downhill stretches. However at the moment its a case of sitting back and enjoying the stable ride the Dahon returns to you.
The rear rack gives you a choice of mounting either a rack pack or panniers for carrying things about. I found that normal front bike panniers work very well on the back and still give adequate heel clearance even when using toeclips.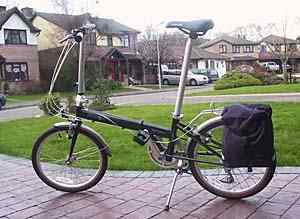 Owners can also alter the standard bike by choosing from a range of components from Dahon, everything from seat post suspension, adjustable handlebars, wheels and saddles to removable pedals.
Summary
There can be little doubt that the SPEED D6 offers an awful lot of bike for very little money, priced competitively Dahon are clearly aiming to increase their sales in this important section of the folding market place. Undercutting even the entry level Brompton range by a clear £131.00, the Dahon SPEED D6 has so much more to offer with its better brakes, standard mudguards, rack and six gears. For the taller rider the SPEED D6 has as standard a longer reach from saddle to bars than the current Brompton.
Conclusion
I found along with others the SPEED D6 to be a very easy bike to ride, fun to use, simple to fold up or down, rides along well and holds its own in traffic. With its black and silver livery it looks to be a far more expensive bike and frequently attracts attention from other cyclists and pedestrians.

Interestingly it aroused an interest amongst a number of my colleagues, who were put off my Brompton by its small wheels and big price tag.

The final acid test for me is that whenever I used the SPEED D6 I always seemed to get to my destination rather too quickly - just as you really were getting settled into the ride, you found you had arrived, and had to reluctantly get off again. There can be no better tribute for any bike than this yet alone one at this price level.
---
Folding Society Home Page | Test Reports | Dahon Special Interest Group | Dahon UK | Dahon USA
---
Copyright (C)2004 Andrew Macrow
Last updated: 21 April 2004