The Folding Society
The Dahon Curve SL
First published July 2007
---
Contents
---

1. Introduction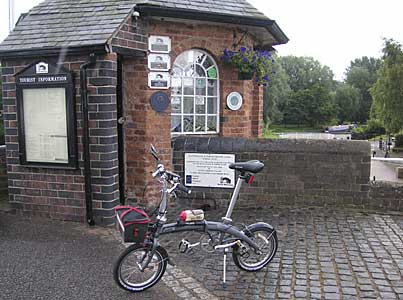 Dahon is currently the largest manufacturer of folding bikes in the world. It not only designs and makes bikes under its own name, but also produces machines which are sold under other names, and even designs bikes which are manufactured and sold by some other major names in the cycle industry. Not only is it the biggest, but it is the oldest specialist folder manufacturer, at least in terms of continuous production. By today's standards, its first machines were very basic compact folders, with 16 inch wheels, and no real aspirations to be used for long distance riding. Of course at the time, with very little else available, they may have had limitations, but it was diffiicult to critise them. As time passed, and the folder market evolved, so did Dahon, and many more models were introduced. In recent years they seem to have concentrated on a more central position in the market, manufacturing primarily 20 inch wheeled machines, ranging from decent budget machines to some really rather nice, and still reasonably priced, higher specification models. There have always been 16 inch wheeled models in the range as well, but although these have had their virtues, Dahon seem to have been avoiding a real onslaught on the compact folder section of the market. They have also introduced in recent years some rather nice folding 26 inch wheeled bikes, utilising a simple mid-frame fold, which is certainly not compact, but useful for anyone who needs a large-wheeled folder.
The introduction of any new folder creates interest in the minds of folder enthusiasts, but when it is aimed at the compact sector of the market, the interest is particularly high. I guess there are a number of reasons why such introductions are greeted particularly keenly:
In today's environment (at least here in the UK), the use of folders for commuting with train assistance is very important, and represents a significant proportion of the total folder market. For this application, a quick and compact fold is very important, and usually the distance ridden is not very great.
The challenge of designing a folder which is really compact when folded, but which rides well and is not too expensive, presents particularly significant challenges.
The Brompton has for many years dominated this sector of the market in the UK, and I think it is fair to say that it continues to set the standard by which other folders are judged; it has some shortcomings, but it also has some great strengths, and as an overall package for this type of use it is generally rated very highly, so it is always interesting to see how any new bike will compare with the Brompton, whether this was the intention of the manufacturer or not.
Dahon announced their new Curve machines late in 2006, but availability, at least in the UK, was a problem until quite recently (mid 2007). Though Dahon have had some nice 16-inch wheeled models for some years (the Presto Lite model for example), the introduction of a new model with the smaller 16 inch wheels, and a compact frame, inevitably created a lot of interest.
The Curve differs from its immediate predecessors in the Dahon range (the Presto and similar) in having a significantly different, more curved frame (hence, presumably, the name, and rather like a grown-up Sweet Pea, or a less than fully grown Mu), and a means for attaching and removing luggage quickly (using standard Rixen & Kaul mounts, rather than a new proprietary system). Dahon themselves do not seem to have been pushing the model particularly hard here in the UK, and they themselves do not seem to have been claiming it is a 'Brompton beater'.
Two models are available, the Curve D3, with a 3-speed Sturmey-Archer hub gear, and the better-equipped and more expensive (£550) Curve SL, which has a 5-speed Sturmey-Archer hub gear and is rather lighter than the D3. The price in the UK is £350 for the D3, and £550 for the SL - certainly more expensive than some very cheap machines from the far east (and more expensive than some of the other, 20 inch wheeled, models in Dahon's own range), but cheaper than the nearest equivalent Brompton models, and most other good quality, high performance folders.
We have tested the higher specification SL model - the main difference between the two is that the SL has a 5-speed rather than a 3-speed hub gear, and it somewhat lighter, due presumably to the use of higher quality components, and the SL is also significantly more expensive. The Dahon model range is huge, and changes significantly every year (though not all models will be available in all countries). We tested the Curve SL in July 2007, so if you are reading this report in later years, please be aware that there may well have been changes to the specification since this test.
2. Frame, major fittings and components
The frame and forks of the Curve are aluminium. Folding is via a simple mid-frame hinge, as on most Dahons, and the handlebars fold down - see section 8 for more on folding. The frame seems well made and solid, with no obvious flex anywhere in the main frame (see comments later about flex in the stem and handlebars). The finish of the SL model that we tested is described as 'magnesium' - a darkish, semi-matt metallic grey. Although well-made, and superior to most modestly priced folders, it does not quite feel as though it has quite the 'bullet-proof' robustness of a Brompton.

The bike arrived fully assembled, but folded, in a surprisingly compact box measuring 74 x 36 x 60cm (outside dimensions of the box). It was well protected and packed in the box, although it was ready for use within a few minutes. Once it was unfolded, the first impression was how small it is - considerably shorter than most folders, with a wheelbase of 960 mm, which is certainly less than most machines. On the other hand, the handlebars are unusually wide (600mm), with a gentle curve back at the ends towards the rider. Generally wider bars help with stability and control of the steering, and more width allows space for fitting extras like computers, lights etc. Handlebar grips seem to be the same cork ones that I commented very favourably on when testing a Dahon Jetstream XP. No bar end extensions are fitted, and the curve of the handlebars might result in them being angled outwards excessively if they were added (look for types which angle in
- they will be more appropriate). I would certainly want to fit bar end extensions for longer rides, to give the opportunity to change the grip and riding position a little - more on this later. The handlebars are adjustable for height with a quick-release clamp, and the stem is keyed, which helps to maintain reasonable alignment of the bars, though with sufficient clearance in the key to require fine tuning of handlebar alignment after adjustment. There is another QR clamping the bars to the stem - both QRs can be used in re-positioning the bars when folding - see section 8. Handlebar height is adjustable beween 89 and 100 cm

There is no suspension either front or rear, which with small wheels might result in a very harsh ride - something that Dahon have sought to overcome (VERY successfully, see later comments) by their choice of Schwalbe Big Apple tyres - see section 5.

The quoted weight of the SL version is 9.9Kg (just under 22 pounds), while the DL is quoted as being 11.4Kg (25.1 pounds). When we removed it from the box, it certainly felt light, though adding various accessories brought the weight closer to that of the other folders I use, which have similar additional equipment fitted. Nevertheless, this is still a light machine, and compares very favourably with most other machines of this type when they are similarly equipped.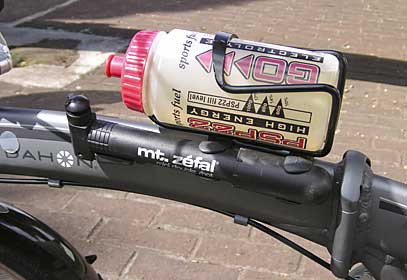 The frame, like many other Dahons for 2007, has a small mounting lug on the front of the frame, which is designed to take a KLICKfix mount to support a handlebar bag - see section 7 for more details. At the back there are mounting points for a rear rack - not a standard one; it seems this rack may be standard on the D3 model; a photograph suggests it is rather small, and would probably not take even small panniers. Very unusually for a compact folder (or indeed folders in general), the frame has one set of bosses to take a bottle cage (and/or mounts for a mini-pump). Hurrah! The lack of such bosses is a major annoyance on many folders; there may be some excuse on those intended primarily for short distance commuting (such as the Brompton), but it is really aggravating on a machine like the Birdy. All the mounting holes have plastic plugs in a grey colour matching the frame of the SL, which prevent water ingress until you choose to use them.

The Curve SL uses a large diameteter seatpost topped with an SDG adapter, which means that normal saddles cannot be fitted (the D3 seems to have a standard type of seat post and saddle mountings, but with the ingenious Dahon built-in pump). This adapter has a number of good points, including the fact that it is light, and easily and positively adjusted for angle and fore and aft movement. However, alternative saddles would be difficult to come by in most bike shops, at least in the UK, and if you really must have a Brooks leather saddle, you would not be able to fit one. The UK distributor of SDG, Silverfish (http://www.silverfish-uk.com/content/sdg-saddles.php), lists quite a wide variety of saddles though, and these could no doubt be ordered direct if required - you can see some of them here. The seat post itself seems a standard (in Dahon terms) large diameter one, and Dahon used to offer a heavier one with a conventional mounting at the top as an alternative for some of their models, which would allow standard saddles to be used, though with a small weight penalty. The post is marked at 1cm intervals, which makes it slightly easier to set the right height when unfolding, although the marks are very difficult to read. The saddle on the SL is a 'Biologic' - a bit wider than I would normally choose, and also softer, but on a longer ride of just over 80Km (50 miles) I suffered no discomfort. The saddle height can be adjusted between about 73 and 101 cm from the ground - the figure is slightly misleading, as the bottom bracket height is unusually high at about 29.5 cm, which means that the quoted saddle heights are in effect rather less than on most bikes when using a normal saddle-to-pedal distance (ie leg almost straight with the pedal at its lowest position). Dahon's own web site actually quotes a pedal to saddle top range of 650mm (25.6") to 930mm (36.6"). Fore and aft movement of the saddle allows some adjustment of reach - Dahon's web site quotes 610mm (24") to 650mm (25.6"); the SDG mount seems to allow more fore and aft adjustment than the more conventional saddle mount.
The general quality of the standard equipment of the Curve SL seems very good.
Mudguards are standard on both the SL and D3 - they are black and are branded SKS. They are quite wide and quite deeply curved, so that they adequately cover the very fat Big Apple tyres. Clearance between the mudguard and tyre is good, without being excessive, so there should be no problems of the wheel getting jammed if riding in muddy conditions, which can happen with some machines (including the Brompton). Mudflaps are fittted to both mudguards, and riding in extremely wet conditions, and on a towpath to boot, there was no sign of water having hit my back, nor was any water being thrown off the front tyre onto my shoes or legs - though the small wheels themselves got very dirty.
The pedals fitted on the SL are MKS detatchable ones - remove a safety clip, push in a collar, and the pedal lifts off; reverse the process to re-fit the pedals. These are nicely made and good quality, and better in these respects than most folding pedals, but have the siginficant drawback that you have to find somewhere to carry them, and losing one would be a disaster. They come with a small carrying pouch, but if you fit toeclips and straps, they are too big for the pouch, and quite awkward to carry. The MKS pedals are available in several patterns, including a clipless version, but unfortunately this is not compatible with the most common Shimano SPD system - it is a clipless system unique to MKS.
3. Gears
The D3 model uses the Sturmey-Archer 3-speed hub gear. Since the demise of Sturmey-Archer in the UK, manufacture has been transferred to the far east, and no doubt there will have been some detail changes in manufacture, but the basic design remains unchanged. This is a very well-established and reliable gear system, and provides a reasonable range (183%) for a three-speed system, though the gaps between the gears are uncomfortably wide for me. As fitted to the D3, the overall gearing is quoted as 42, 56 and 77 inches. Sturmey-Archer's 5-speed also first appeared many years ago, but there have been significant design changes during its existence. I have experience of an early version on a Bickerton, an AM5 Moulton and an early (1990) Brompton T5, all of which used a version which need two cables and changers to operate it, one handling the middle three gears, and the other engaging under/or over drive on the lowest and highest gears. I have also used a later UK version, which had a single cable and trigger, and which was fitted to a Brilliant Bicycles (Pashley) Micro. In fairly limited use I found both types reliable, though a bit difficult to engage the under/overdrive gears on the earlier version, and also the inefficiencies in the bottom gear of that early version meant that not much was gained by engaging it. The later offering on the Micro was a significant improvement. It is difficult to be sure how much, if at all, the current, far-eastern, 5-speed differs from the final UK version, though we did find it behaved distinctly differently on the road from its UK predecessors. The range is 223% - greater than a 3-speed, but not by a huge margin, as the gears are rather more closely spaced than on the 3-speed, which is more to my taste. Even so, I find the gaps a bit wide, so that one can be either pedalling like a maniac in a lower gear, or the knees are creaking pedalling slowly with the next gear up. Although a change of chainring (or rear sprocket) can lower or raise the overall gearing, it cannot do much about the spacing. However, to my surprise I found with the Micro and Brompton that choice of chainring could make an apparent difference - by gearing the bike rather on the low side overall, the result seemd to be that the wide gaps in the ratios seemed to correspond better for me to where there was a significant change in gradient, so that the large change in ratio was quite appropriate. In the case of the Curve, the actual gearing, with a 13 tooth sprocket and 46 tooth ring, is quoted as 38 to 85 inches. This is a bit higher than I found most effective (for me) on the Micro and Brompton, but this is very much a matter of the rider's strength, riding style, and typical terrain. My choice would have been to replace the 13 tooth sprocket with a 14 tooth one to slightly lower the gearing, but the Curve uses a 3/32 in chain, and 14 tooth sprockets for the hub gear only seem to be available for 1/8 in chain width (which is generally more common with hub gears). The chainring is integral with the pedal - you could not replace the ring with a larger or small one without replacing the complete crankset (or at least the right-hand part).
A twist grip is used to change the gears. It operates quite positively and is not too stiff. However, I found gear changes were not as foolproof as on my last (UK) Sturmey-Archer 5-speed - it seemed necessary to stop pedalling for a moment when changing gears, otherwise they would not always change immediately, or would appear to lock. I can't recall this problem with the last 5-speed I had. With hub gears, it is usual to be advised to reduce pedal pressure during a gear change, but with this 5-speed it seemed that this was insufficient, and that actually stopping pedalling was necessary to avoid problems. Adjustment is via two screw fittings at the hub - one affecting the inner cable and the other the outer - I guess this is just the result of using standard mounting components, as only one would need adjustment normally. There is no means for adjusting the cable tension on the handlebar twist grip. The cable/adjusters are protected by a long plastic cover at the hub, which should reduce possible corrosion or physical damage, but it makes access for adjustment more fiddly. I also found that just occasionally my heel would brush against this plastic cover while pedalling, and I don't have particularly large feet. The adjustment process outlined in the instructions is not particularly clear - align the end of the actuator rod with the end of the axle, but which part of the actuator (the actuator connects to a chain, so before the first link, centre of it , or ...?) In the past I found an easier method on old Sturmey-Archer hubs was to adjust the cable to be just as tight as it would go (without straining anything) in bottom gear; this also meant that if it was not quite right, there was only one way you could adjust it, rather than two. However, this is not the official way to do it, so you should not copy my method in case it causes damage. As is usual with hub gears, you will need a 15mm spanner to remove the rear wheel (no quick release), and a spanner is not usually part of the popular multi-tools, so make sure you pack one. It needs to be an open-ended one, as there is not enough space to get some ring-spanners in. With the Sturmey-Archer cabling, you need to undo the gear cable as well, which may mean re-adjustment of the gears afterwards. If you are careful to keep the lock-nut position unchanged, you can probably avoid this re-adjustment. Note that if you tighten the lock nut with pliers, you will not be able to release the cable without pliers, so you may need to include these in your tool kit on the road as well for repairing punctures.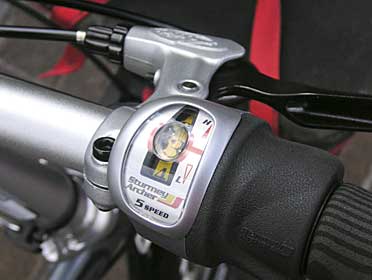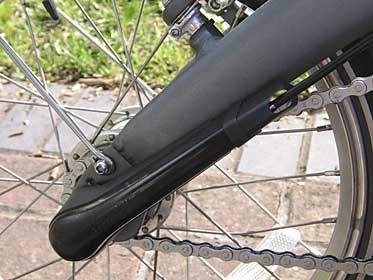 Above: Left - Twist grip gear change; right - plastic cover over the cable/adjustors
Comparisons are inevitable. The 3-speed of the D3 is the same as fitted to the 3-speed Bromptons. The 5-speed hub is basically the same as used to be used in 5-speed Bromptons, but with the demise of that hub when Sturmey-Archer collapsed in the UK, Brompton were forced to change their gearing system, and have never reverted to the 5-speed hub when it became available again. The Brompton's 6-speed is a combination of the 3-speed hub (actually an SRAM version) and a 2-speed derailleur. The Sturmey 5-speed system gives a marginally wider range (223% instead of 213%), and only requires a single control, rather than 2 controls, with a much simpler changing sequence. The Brompton system gives very nice gear spacing, though at the expense of a complicated pattern of using the gear change levers. While the Sturmey system has wider and less even gear spacing, the single operating control should make it far more convenient to use. The 5-speed hub is probably rather less efficient (especially in bottom gear), but I would rate it overall as a much better solution for most users in theory - indeed, I've expressed surprise before that Brompton have not reintroduced a 5-speed hub now that it is available again. However, note that I did not find the actual change as clean as with the 3-speed hub - as mentioned, it seems important to completely stop pedalling during gear changes, rather than just reducing the pressure on the pedals. Some other compact folders use derailleurs. The low maintenance and protection from mechanical damage make hub gears particularly attractive for this sort of bike (commuting, used in all weather conditions, and lots of folding and unfolding), though they are probably rather less efficient overall. Derailleurs should in theory be able to offer a wider range and more even spacing than a hub system (at least 3 or 5 speed ones), but in practice this depends very much on the chainrings and sprockets fitted, and in at least some cases an apparently larger number of gears using derailelurs does not offer much benefit in terms of overall range of gears.
4. Brakes
The Curve is equipped with V-brakes. The levers are marked 'Avid' (a well-known make), and are nicely finished - no slack, adjustable for reach, and with cable adjustment in the levers. The brakes seem excellent - plenty of feel, just the right amount of travel, progressive braking and enough 'bite' when you need to stop quickly. We haven't had the test bike long enough to be able to comment either on whether the performance deteriorates over time, nor have we tried any long, steep descents, so we can't comment on possible loss of performance in such conditions. Overall, very impressive, and significantly better than on other compact folders (and many not so compact ones too) that we have tested. During the test a child on a mountain bike rode out from between a lline of parked cars and vans only a few feet in front of me. I did an emergency stop, but was convinced there was no chance of stopping in time - in fact the Curve stopped with about 2 cm to spare. I very much doubt that any of my other bikes could have stopped so quickly - the tyres also help in this respect.
5. Wheels and Tyres
The Curve, like previous 16 inch wheeled Dahons, uses the 305 sized wheel, which is significantly smaller in diameter than the 349 version of 16 inch wheel (which is used, for example, by the Brompton). Availability of high pressure narrow tyres is much better for the larger 355 rim. Conventionally, the view has been that narrow, high pressure tyres run much more freely than fat, lower pressure, wide ones (ie less rolling resistance). However, this view has been challenged more recently, and indeed it would seem that good quality fat tyres, with supple side walls, may well perform almost as well as much narrower, higher pressure ones. Generally 305 tyres are wider and run at lower pressures, and are higher profile, which reduces slightly the difference in overall rolling diameter of the wheel and tyre compared with the 355 size; the larger air pocket and lower pressures also serve to reduce the harshness of ride which tends to come with smaller wheels and no suspension. The Curve is fitted with the Schwalbe Big Apple tyre, which is exceptionally wide for a road tyre (2 inches), and is designed to run at relatively (by recent standards) low pressures (up to 70 psi, but many users seem as/more happy with its performance at 45 psi or so), but with remarkably good rolling resistance. The choice of tyre is no doubt partly an attempt to compensate for the lack of suspension with such a small wheel, but the Big Apple certainly has a good reputation. The tubes are fitted with Presta valves - my preferred choice, although for low-pressure tyres I don't feel particularly strongly on this point. Tyre and tube availability in this size is likely to be a problem in the UK, so I'd advise keeping a tube in stock - Presta-valved tubes of this size are particularly uncommon, and as the rims are correctly pierced for these valves, you would not be able to use a Schraeder valved tube instead.
On the road, the reputation of the Big Apple seems entirely justified - more on this later, but suffice it to say that the ride is very comfortable, much more so than many folders with bigger wheels but narrower tyres, even suspended ones! Rolling resistance is not a problem either, and on my standard test (not very scientific as wind and other factors can influence it), the Curve performed well - not up with the IRC Roadlite 451-shod Bike Friday or Airnimal Chameleon, but at the upper end of the rest, and far ahead of the worst performers.

6. Extras
In the UK, the listed accessories which are included are:
D3: Reflective Trouser clip, Rear rack, Mudguards, Bell & Post pump
SL: Reflective trouser clip, Mudguards, Bell & Reflex Tyres
The SL arrived quite fully equipped, as already described, plus a bell and reflectors (the one in the back wheel fell into two parts the moment I touched it with a sponge to wash the bike the first time though!).
A propstand (kick-stand) is provided as standard. I'm generally not a great fan of these, as apart from adding weight, the mounting often potentially damages or overloads parts of the frame, and stability when parked on it can be marginal if the bike is loaded. In the case of the Curve, though, there is a proper mounting point for the propstand on the frame, so this eliminates one of my possible concerns. With a lightish rear bag or front bag, there seems no problem of stablility when using the propstand, though on an incline the bike would tend to roll forwards or backwards as there is no parking brake. It might be noted that a Brompton does not need such a stand - simply folding the back wheel under provides a stand. However, I would point out that a Brompton is highly unstable when parked like this unless on an extremely level surface - you often see a parked Brompton fall over (drop the saddle when parking it like this, which lowers the centre of gravity enough to make it much more stable). I found the propstand on the Curve was useful, and I'd probably keep it.
The mounting lug at the front for the new luggage system (also used by other 2007 Dahons) is standard, but the plastic bracket to fit it is not included - see the next section for more details.
As is usual with Dahons, various manuals are included, none specific to this particular model, and most including some irrelevant material, and you need to pick through the manuals to find what does apply to your model. This is rather annoying, but is no doubt partially a consequence of the huge range of models which Dahon produce, and the fact that they change specifications almost every year.
No tools or pump are included with the SL (I believe that the D3 uses the ingenious pump combined with seat post). The bottle bosses can be used as a means of mounting some popular mini pumps, as well as (or instead of) a standard bottle cage.
7. Racks and Luggage
Luggage carrying has not been a particularly strong feature of some of the Dahon models in the past. Though the luggage options on the non-suspended models improved with the availability of rear racks, the options for suspended models were quite limited. Now for 2007 Dahon have equipped many of their small-wheeled folders with a mounting lug on the front tube, onto which a special bracket can be fitted - more on this in a moment, but first a few comments on the other options.
On many folders I have found that the Carradice SQR system is potentially very good - it allow a bag to be fitted to the seat post, and removed very quickly indeed. The Carradice SQR mounting is very robust, and as well as some bags specially intended for use with it, Carradice have a mounting which allows any of their (or other manufacturers) saddlebags to be mounted this way. This means that quite substantial loads can be carried in this way, and can still be very quickly and easily removed when folding, or when leaving the bike. Large diameter securing rings are available which will just cope with the exceptionally large diameter seatpost used by most Dahons. When the Curve first arrived, I fitted an existing SQR and bag this way, and it was certainly effective for carrying luggage. With a fairly light load in the bag, it did not seem to have any adverse effect on handling (with the saddle fairly low). The SQR system does have a number of drawbacks though:
It is quite heavy - you will add around 1Kg, 2 pounds, to the weight of the machine by adding the mounting and a typical bag, even before you put anything in the bag.
The very robust and secure mounting prevents the seat post being lowered fully, which increases the size of most folded machines significantly (though height is not usually the most critical dimension).
There can be other implications for folding - on some folders where lowering the seat pillar also helps to lock the folded bike together, the increased height of the seat post in its lowest position when folded may prevent locking taking place. Also some folders use the bottom of the seatpost to help stand the folded bike upright, and if it cannot be fully lowered, then the bike will not stand up in its folded state unsupported.
In the case of the Curve, the SQR increased the folded height, but did not affect the folding otherwise.
The Curve SL also has mountings on the rear forks for a special rack. The D3 model comes with the rear rack as standard, although this appears to be very small, and probably would not support even small panniers. A Dahon Arclite rear carrier to fit 16 inch wheeled models is available to fit the SL, presumably the same one that is used on the D3 as standard here in the UK.
This brings us back to the new mounting lug incorporated on the Curve (and some other 2007 Dahons). The concept is rather similar to that used by Brompton on their front luggage system, which is one of its most practical and useful features (it is not compatible with the Brompton system, though one of our members has adapted a Brompton block to fit the Curve, but standard Brompton luggage would interfere with the brake and gear cables in this case). In the case of the Curve, the basic mounting lug is part of the frame, with two mounting holes plugged with grey SL-frame-coloured plastic plugs. The intended luggage is that which uses the Rixen & Kaul KLICKfix handlebar mounting. Note that KLICKfix is a general brand name - there are many entirely different products in the range - it is the handlebar mount version for which the lug is intended. First you need to obtain a special KLICKfix frame mount, for which the currently listed standard part number 0211R. These are not readily available, so if you have trouble finding one, use this link to order one online. This is a U-shaped bracket which can be bolted to the mounting lug on the frame of the Dahon - though it comes without mounting bolts, so you will need to get these separately (they are rather larger diameter than usual, M6). You cannot mount your barbag directly to this - you will also need a KLICKfix handlebar mounting unit - most bags intended for use with this system will originally come with the mounting, but if you want to use an existing bag with both the Dahon and another bike, you will need to buy another handlebar bracket - these are fairly readily available. This form of mounting is quite popular, and many (though not all) handlebar bags are designed to use it. When fitting the handlebar bracket to the 0211R frame bracket, the latter comes with 4 self tapping screws, longer than the normal ones supplied with the handlebar bracket itself. I found it most satisfactory to route the rear brake and gear cables through the loop formed by the brackets, with the front brake cable outside the mounting. This arrangement avoids interference between the bag and the cables. Choice of a suitable bag will depend on finding one compatible with the KLICKfix system (not difficult), finding one that does not cause any interference with the front wheel etc (none that I tried caused a problem, but be aware it is a possibility, especially with a large bag), and finding one the right size. Compared with the massive front bags available for Bromptons, handlebar bags are relatively small. On the other hand, personally I often use my Brompton with just such a handlebar bag mounted on the Brompton bracket via an SP adapter, and prefer this as being lighter and creating less wind resistance, and adequate in capacity for day rides. I've tried a couple of existing Carradice bags on the Curve, the original Super C type (there is a slightly lighter Carradura version) and the Overlander, which is lighter still. Several ounces can be saved on these bags by leaving off the map pocket, which with this low-level mounting is not very useful anyway. The Super C has a quoted capacity of 5 litres, while the Overlander is quoted at 7 litres. The Overlander is taller (top to bottom), but the front-to-back dimension (depth) is quite a bit smaller, and it uses a slightly awkward zip fastening, rather than clips on the Super C. The Overlander is cheaper too. Larger (and smaller) capacity bags are available to suit this mounting from other manufacturers, but do check for clearance. Carradice have recently introduce a Carradry 9 litre front bag, which I have not seen or tried. As well as handlebar bags, there are some larger bags, including medium-sized backpacks, which will fit this mount, as the photograph below shows. The Rixen Kaul Freepack City, Freepack Meta and Freepack Sport are of this type, though not apparently available here in the UK at the time of writing. These have substantial capacity, though I would suggest not putting too much weight in when mounting them on the bracket, as I am not sure how well the plastic mount would stand up to a heavy load (the actual frame mounting lug should be very sturdy).
ADDENDUM: Apparently Rixen & Kaul have designed some new mounts specically for the Dahon, angled upward to give more clearance. We do not have a part number or source for these at present, but they would presumably be a better choice than the 0211R referred to above if you can get them. We think that Dahon may plan other mounting systems and bags for the frame lug as well.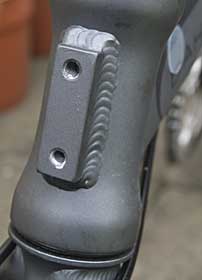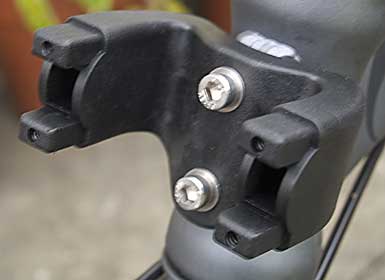 Above: The bare lug, with the plastic plugs removed to show the bolt holes. Right: With the 0211R mount.
Below left: The KLICKfix 0211R bracket and KLICKfix handlebar mount - you can just see the join. Right: A Carradice Super C handlebar bag mounted on the brackets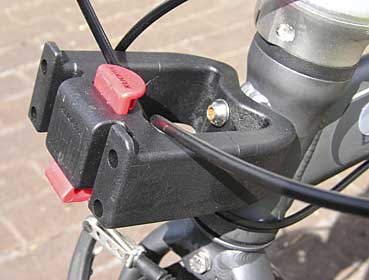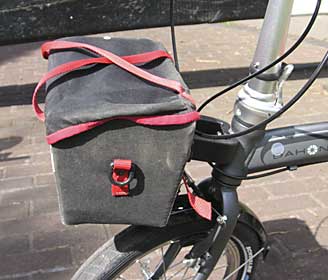 Below: Rixen Kaul Freepack mounted on the test bike during the lunch stop at the July 2007 Origami Ride.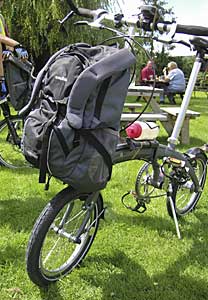 I found the front bag mounting extremely convenient - it is very quick and easy to detach and fit the bag, and for a day ride or general commute, 5-7 lire capacity is plenty. With relatively light loads, the effect on the handling of the bike is undetectable - on a Brompton, even with a bag so heavily laden that you can barely lift it, the handling is remarkably good. Using a special rack system of his own design, mounted on a different bracket, on the frame lug, Chris Eley tells me that he has carried 10Kg with little effect on the handling.
8. Folding and unfolding
The folded size of the Curve is quoted on the Dahon web site as 34 x 60 x 65 cm (13" x 24" x 26"). This is quite compact (aided by the small wheels and short wheelbase), though still larger than a Brompton, but smaller than most other folders. Personal experience suggests that overall dimensions don't always tell the full story - for example, I can fit some folders very easily into the back of a Smart, while others, which might theoretically seem smaller overall, are more awkward to fit in. The folded size of the Curve is not likely to be a problem for most people. The folded package is quite neat and self-contained, with no projecting parts, so you would probably not normally need to bag it on a train etc.
Above: The Curve fully folded. Note that the seat-mounted rear light which is present on the bike in the picture above means that the seatpost cannot be lowered to quite the full extent, which increases the height slightly. The folded bike stands up quite securely, balanced on a tripod formed from the two wheels and the end of the seat post.
As with all Dahons, the folding process is extremely simple and quick, and it does not much matter which order you do the foling operations in, nor does it matter what gear the bike is in (generally I'd put it in top to reduce the strain on the gear cable, but with a hub gear you can of course engage a lower gear before riding off). Basically the steps are:
Raise the handlebars so that when they are folded down they will be below the centre of the wheel and the locking catch, or possibly lift them out altogether for the most compact fold (quick release)
Rotate the handlebars round in the stem so that the brake levers are vertically below the bars (quick release)
Fold down the handlebar stem (locking safety ring and quick release)
Fold the bike about the central hinge (locking safety catch and quick release)
Lower the saddle
Remove the pedals (safety clip and collar) - you may not always need or bother to do this
If the handlebar unit was completely removed, stow it inside the package.
The folded frame is held together by a moderately substantial magnetic catch. If you don't carry out step 2 above, you will not be able to bring the two parts of the frame quite together and engage the magnetic 'catch', though even in this case there is enough friction in the frame hinge to hold the folded frame together, so unless maximum compactness is required, or ensuring the catch is engaged is necessary (for carrying for example), you may be able to omit step 2. For most purposes, I'd find it sufficient to carry out steps 1, 3 , 4 and 5, and perhaps just remove one pedal.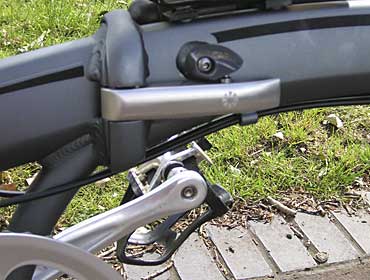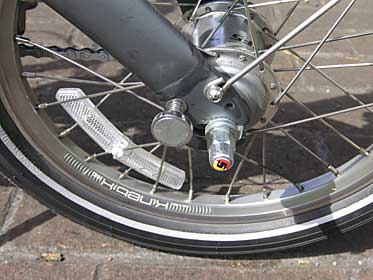 Above left: Main frame hinge and catch. Right: Magnetic catch used to hold the folded frame together
Below left: Quick release for the telescopic handlebar riser. Right: Quick release for handlebar rotation - note the rubber collars which keep the bars central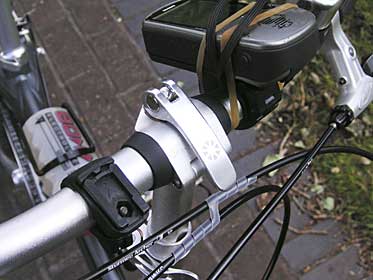 When folded, the chain is on the outside of the package.
Once folded, carrying the bike is not too much of a problem, especially as the SL version is quite light. The best position in terms of grip and balance is to hold the front part of the main frame tube close to the headset, and this is very comfortable except that the chain is then towards you, with the risk of transferring oil and grime to the clothes - although actually the balance when held like this tends to swing the the bike and the chain away from you, so you may be prepared to risk it. The other alternative would probably be to hold the saddle, but I've never been happy with the idea of carrying any folder this way, as the load on the saddle will be quite high, and it is not really what a saddle and mountings are designed for. It is rather difficult to find anywhere else where you can grip the Curve properly and keep it reasonably balanced. It is not convenient to roll the bike along in its folded form on the road wheels. Given the ease and speed of folding, it's probably best to minimise the amount of carrying time. Note that many other folders suffer similar problems in terms of carrying them, and the fairly light weight of the Curve gives it a distinct advantage over many machines.
Unfolding is the reverse of the folding process, and is also easy and quick.
9. On the road
During the test period (so far), we've used the Curve for many different types of ride:
Short rides into town to visit cash machines or the PO Sorting Office.
Train assisted commutes (6Km to station, train, change trains at Birmingham International, 4Km from the station; the return journey is usually a longer ride to Birmingham International, train to Birmingham New Street, change trains, and 2.5Km ride home, bringing the total ride to 32Km; in bad weather a shorter 17Km version is used).
Leisure ride largely on towpaths (to Stourbridge, Staffs and Worcs etc - reasonable, but not tarmac, surface) in both wet (though not muddy) and dry conditions, about 45Km.
Longer day ride on roads, fairly flat overall, 83Km.
Shorter leisure rides, 40 - 50Km.
On the trains the bike was usually folded (not necessary sometimes on local services), but not bagged. It was not put in a car boot for serious travel, but a quick test confirmed that it fits very comfortably into the back of a Smart fortwo without needing to remove the luggage separator (though the top of the separator needed to be left folded back). For my purposes, I found the folding convenience and folded size were fine - I don't do regular commuting on packed rush-hour trains, but even if I did, there are few folders that are better in this respect (the Brompton has the edge in this respect, as it does over nearly all other folders, certainly ones that can be riden comfortably for substantial distances).
The most striking impressions of riding the Curve are the smoothness of the ride and the remarkably low rolling resistance for such fat tyres - actually, rolling resistance is very impressive by any standards. The Schwalbe Big Apple tyres are very impressive in retaining low rolling resistance, but, providing such a large air pocket at relatively low pressure, they give really effective suspension. They are exceptionally effective in absorbing the unpleasant high frequency vibration which results from coarse or damaged top dressing, which high pressure tyres seem to pick up, even on most suspended bikes. Almost any other type of road damage is also handled remarkably well, and I would rate the net result as at least as good as most suspended small wheelers with elastomer-type suspension - though not as good as a full (long-travel) suspension bike with 26 inch wheels. On the strength of the performance of these tyres, I've ordered a set of the 406 version for my Trice recumbent (they arrived just as I was typing this!). In their test of the Curve, A to B mentioned that the short wheelbase results in some pitching - had I not read this, I would probably not have noticed it at all, but on certain bumpy roads this does happen (as it is to some degree with any machine). Overall though I think the ride quality is outstanding, and the bike rolls extremely freely despite the fat (relatively) low pressure tyres (equal to all but the very best performers). I found the ride seemed best for me with pressures of just over 40psi in the tyres. The width and medium tread seem to give good grip in all conditions, and help the handling in muddy, gravelly, sandy etc conditons. Mercifully there was no chance to try them in snow or on ice in July, even in England this year.
The riding position is generally quite good, although the short wheelbase does mean that you feel more 'over the front wheel' than on some machines. I was pleased to be able to lower the bars to a height which suited me (as low as they would go), and moved the saddle fairly well back (not quite all the way). As a short rider, I did not need to use anything near the full height of the saddle. The saddle itself proved quite comfortable, in all conditions, including the slightly rough towpath (c 45Km) and a longer road ride (83Km). The cork handlebar grips are firm but comfortable, and easy to grip. The brake levers do not have any undesirable free play, but offer very progressive action, they are adjustable for reach, and the performance of the V-brakes was outstanding - smooth, progressive, not too easy to lock a wheel, but with plenty of bite when it is needed (we did not try any fast Alpine descents, so cannot comment on use in extreme conditons). On the longer rides I did initially find the single riding/hand/shoulder position which results from flat bars became a bit uncomfortable, and I later fitted bar end extension to overcome this.
I'm not a strong rider, and I did not detect any frame flex in any conditions. However, there was certainly some flex somewhere in the handlebar/stem system - more than on many good folders, but not unacceptable. All the quick releases were done up very tight, but this did not seem to help. I suspect that some of this came from the fit of the handlebars in their clamp - the clamp presses down hard on the bars, but the diameter front to back of the clamping surface seems a smidgen bigger than the diameter of the bars, so that there is the possibility of a little movement side to side under heavy loads. I put a thin sliver of insulatig tape along these surfaces, and this did seem to help. The telescopic height adjustment, though welcome in most respects, probably does not help either. It is also important to makes sure that the headset bearing is as tight as it can be without hindering steering - you need a 10mm allen key to adjust this. Although I would have much preferred that there was not this flex, it certainly was not an 'order loser' for me. The unusually wide handlebars do of course both increase the leverage which may induce flex, and result in a greater movement at the hand position; they also mean a bit more care is needed when approaching narrow gaps. I'd be tempted to take 1cm off each end, which would still leave ample real estate for mounting lamps, computer etc. When bar ends were fiitted part of the way through the test, they did have the advantage of providing an alternative riding position, but increased the leverage on the bars, so that the flexing became slightly more noticeable.
I found the gearing just a shade high for my taste - it is fine to have a top gear of 85 inches or more, but I don't want to sacrifice low gears, and overall, given the total range available with the 5-speed hub, I would have preferred a 14 tooth sprocket to the 13 tooth fitted. As mentioned before, changing the overall gearing is not entirely straightforward, as the chainring is integral to the cranset, meaning you cannot just replace the ring, and the 3/32 chain means that there are no 14 tooth sprockets available (I ground down a 1/8 in 14 tooth sprocket and fitted it at the end of the test, and found this more to my taste). The twist grip operated fairly well - quite stiff, though not unacceptable, and quite positive, though it was my impression that a stronger 'click' into the exact required position would be an advantage (I found that it was best not just to rely on the click action when twisting the grip, but to rotate the grip to make sure it had settled in the optimum position). I also found it essential to stop pedalling, if only for a small fraction of a second, to help gear changes - if this was not done, the gear change could be delayed, or an apparent lock-up could occur. Just reducing the pressure on the peadals was not enough to ensure clean gear changes on the test bike. Hub gears are inclined to need a bit of help, and it is largely a case of adpating to them (stopping pedalling or reducing pressure substantially when changing gear), but I did think that this unit seemed much more fussy than earlier Sturmey 5-speeds (UK manufactured ones) that I have used; that said, my 14-speed Rohloff, a far more expensive hub gear, is a bit quirky too.
As with other hub-gear systems (Rohloff excepted), I found the spacing of the gears was a bit wide for my taste, though this could only be overcome with more gears or a loss of overall range, which would not be desirable. For me, the result is that when I change up a gear I seem to go from pedalling like a maniac to pedalling very slowly, while my elderly knees creak. Preferences in gear range, spacing etc are a notoriusly a matter of personal choice, so others may be quite happy with it, and I can certainly live with the 5-speed in this respect, though the wider spacing of the 3-speed hub on the D3 would be a real disadvantage for me.
For most of my cycle travel, the luggage system was fine - 5-7 litres allows me to carry tools, spare tube, waterproof, a banana or other light refreshment, a lock, and still have a bit of spare space. The quick release front luggage system is very convenient, and better than almost all other folders - except the Brompton, which offers optionally far larger capacity in volume and weight in this respect. For shopping, capacity is rather limited with the bags currently available in the UK - an SQR mount and bag at the back help, but still won't hold a week's shopping (I have carried fish and chips home that way though). I'm not entirely sure about the rear rack, which is not standard on the SL model, though apparently included on the D3 (a picture suggests it is very small, and may not support even small panniers). If you must use it for heavy duty shopping, a trailer might be an option (I sold my BikeHod a few years ago, so I have not been able to test the Curve's performance when towing). For touring (B&B, not camping), a large front bag and a large saddlebag might suffice for some, but would be a bit restrictive, but to be fair, this is not really what the Curve is intended for. When larger bags are available here to mount on the front bracket, the Curve, and other Dahons which use this mount, will have very versatile luggage options.
Other riders' comments
We took the Curve to the July Origami Ride at Malvern to give other folder enthusiasts a chance to try it. Six other people tried the bike, and all were generally very favourably impressed by it. Most commented positively on the quality of the ride, although some found the short wheelbase, which places the rider rather over the front wheel, seemed strange (more a question of lack of familiarity than anything else). Several people commented on the flexibility the stem though, which I have already referred to. Though the other testers did not appear to experience any problems with the gear change, two other Curve SL owners on the ride confirmed my findings that the gear change is more fussy than one would expect on their bikes too.
10. Second opinion
Chris Eley, a folder and Moulton enthusiast, bought one of the first Curve SLs in the UK. Chris is perhaps not a typical compact-folder owner - he carries out quite sophisticated modifications to his bikes, rides quite long distances, and often carries quite a considerable amount of luggage. Apart from Moultons and the Curve, Chris owns an SP (which is based on a Brompton) with 14-speed Rohloff hub gears and hydraulic disc brakes. His Curve now sports, amongst other things, a special front pannier system and modified pedals which fit via the MKS mounts, but which have Shimano SPD fittings. We asked Chris to add some comments to this report before it was published, and here are his thoughts on the Curve, and our report on it.
The front mounting holes are threaded M6 (v M5 on the Brompton, but that's a steel frame, so both will be about as strong in practice)
With a Brompton block modified to fit mine, I've carried loads of 10Kg+ and can confirm that the handling is almost unaffected, apart from heavier steering. [Chris tells me that he had to mill out the recess in the Brompton block, and also ovalise the holes, due to the slightly greater size and hole spacing on the Dahon mount - so this is not something most of us will have the resources to do. He did this to mount his own custom luggage system - normal Brompton luggage would interfere with the cables of the Curve. - Ed.]
I find the choice of tyre pressure is a compromise between rolling resistance and comfort - the tyres do indeed run well at 70PSI but I then find the ride rather harsh. I've decided 60 rear/40 front works pretty well. The tyres work very well in wet conditions, and on loose surfaces.
The Sturmey-Archer hub doesn't seem to need running in. After 500 miles it feels just the same - reasonably free-running, but still a bit obstructive on 'unsympathetic' down-changes. Adjustment is easy, but setting the chain is slightly tricky because the chainring is fixed, so it can't be properly centred to eliminate the inevitable high-spot. [Chris has Rohloff 14-speed hubs on two of his other bikes, and these do certainly need running in - hence his allusion to this - Ed.]
One 'feature' I've noted is the 'Q-factor' (distance between the pedals) is noticably larger than on my other bikes. This is a result of the curved cranks (needed to give heel clearance with the gear cable cover) and the MKS detachable pedals. I suggest any prospective purchaser takes a test ride to check that this is acceptable. [I had not noticed this until Chris mentioned it, but have done since then, though only when getting on the Curve after using something else for a while - Ed]

As part of the folding sequence, Dahon suggest turning the handlebars so that the brake levers are uppermost (to allow the handlepost to nestle between the wheels after folding the frame) but with Ergon grips now fitted to mine, I turn the bars so the brake levers face downwards. (I'm doing further modifications to improve the speed and convenience of folding)

.
11. Conclusions
Choice of a folder is always a case of horses for courses and riders. The Curve seems primarily intended for purposes such as public transport assisted commuting - if you want a folder to do 200Km Audax rides, it would not be your best choice. The gear range is also a bit limited for serious touring, especially with a load, and until more bags are readily available here in the UK (and no doubt they will be in due course) luggage capacity is a bit limited, though Dahon have informed us that they have plans for other luggage to fit on the front mounting. Tall riders (those over 6ft 2in) may find the relatively small frame a limitation.
But with those provisos out of the way, almost everything else about the Curve deserves praise. The ride quality, low rolling resistance and excellent brakes deserve particular mention. The new quick release front luggage system is a major step forward for Dahon in terms of convenience, if not outright luggage capacity (though there seems no reason why a larger capacity system to mount on the lugs should not be developed in the future - PS Dahon tell me that this is indeed going to happen). The Curve folds easily and quickly, and is very compact when folded. In SL form, it's also quite a light machine. I found it enjoyable and fun to ride under all sorts of conditions, including short commutes, longer day rides, and canal towpaths. The 5-speed hub gear seems a good choice for a machine of this kind, though I was rather disappointed in the quality of the change on this machine (I have since spoken to Sturmey-Archer Europe and UK, and they have been helpful, though not in a position to solve my problems, and those of the others who have similar bikes and similar problems) - range is inevitably not huge, but not bad for the intended use, and though slightly high overall for me, it would suit many. There was some flex in the handlebar/stem assembly, certainly more than I would like, but not to an unacceptable degree.
A question many may want answered is whether it is better than what many may perceive as its most obvious competitors - machines like the Brompton and the Mezzo, or even some other Dahon models with 20 inch wheels. I can only reiterate that it is horses for courses and riders - conditions, individual riding styles and preferences are the key, and each machine has strengths and weaknesses. The Brompton is still the leader in terms of the most compact and neat folded package, though the margin is not as great as it used to be a few years ago. The Curve has excellent brakes, a very good ride, a 5-speed hub which should be the most appropriate for typical use of this type of bike (though I must say I was a bit disappointed to find that just reducing pedal pressure during gear changes was not enough, I had to stop pedalling to be sure of clean gear changes), and the new front luggage system, while limited at present in total capacity, is a significant step forward. Prices are quite competitive with other good quality folders.
I like it very much, and I may well buy one, but that does not necessarily mean I think that it would be my choice if I only had one folder (different machines for different situations), nor that it would necessarily be the best machine for anyone else. It certainly deserves to be successful, and I'm sure that it will be. If you are looking for a compact folder though, make sure that the Curve is on your list of machines to consider.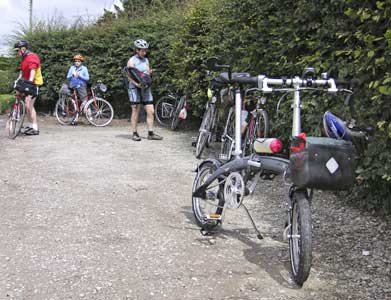 Above: The Curve on a Shrewsbury CTC midweek ride in July 2007. It covered just over 80Km (50 miles) that day. In this picture it is fitted with the Carradice Overlander bar bag.
12. Acknowledgements
We would like to take this opportunity to thank the ever helpful and enthusiastic Mark Bickerton, and www.world-wheels.co.uk, who provided the test bike.
Thanks also to Chris Eley for his comments and advice, and thanks also to all those who tried and commented on the bike at the July 2007 Origami Ride at Malvern.
13. Contacts
Dahon USA/World: http://www.dahon.com

Dahon UK: http://www.dahon.co.uk

Distributors/Dealers:

Dahon machines are fairly widely available - see the company web sites for more information. Thanks again to www.world-wheels.co.uk who supplied the test bike.

Rixen & Kaul KLICKfix 0211R mounting bracket - available online at http://www.hikebikeandride.com/p-rixen_kaul_klickfix_handlebar_support-1354.aspx
---
Dahon SIG | Test reports | Folding Society home page | Dahon home page