The Folding Society
The Pacific Reach
By Karl Wooldrige
First published 19 June 2008
Last updated 12 November 2009
---
Contents
8. Frame, equipment and frame fittings
15. Links to other reviews of the Reach
---
1. Introduction
Pacific Cycles of Taiwan are a specialist manufacturer of frames for other cycle manufacturers; they fabricate frames for Airnimal and the Riese und Müller Birdys among others.They also manufacture a number of specialist bikes in their own name, including some special needs bikes, a side-by-side 2-4-seater, a small (8")-wheeled folder called the Carryme, and the Reach series of high-performance full-suspension folding bikes. The 2007 Reach line-up comprises the utility City/Trekking version, the Off-Road version and the Road version (reviewed here). Pacific appear to have 'borrowed' a number of ideas from those Airnimal and Birdy frames they manufacture – the Reach folds like an Airnimal and has a folding rack like that of the Birdy!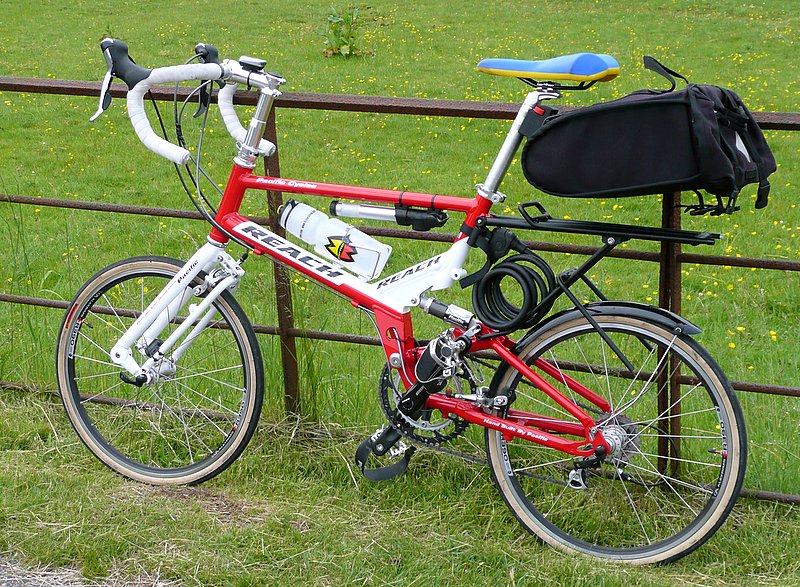 Pacific Reach ( Road) fitted with rack, rear mudguard, Rido Saddle and Carradice 'SQR Slim' seat post bag.

2. Choice of bike
I bought my first folder, a Dahon Vitesse D5 (reviewed elsewhere on this website), a little under a year ago. This was primarily for train-assisted commuting from my home in Syston (Leicestershire) to Nottingham, with a 2.5 mile cycle ride at the Nottingham end; the bike is particularly suitable for this type of transport. More recently, especially as the days have grown longer, I have found myself tempted to do the whole journey (22 miles each way door-to-door) by bike. After doing the journey a couple of times each way on the Dahon I concluded that it was probably not the best bike for this type of journey and decided to take advantage of the UK government's Cycle-to-work scheme to purchase a new bike for the commute. I wanted a bike that would be good for the longer journey, and also capable of folding and/or separating/bagging to facilitate the occasional train commute on days when I only wished to cycle one way, and also to be able to bag the bike and bring it into my office (to avoid the attentions of the bicycle vultures that unfortunately frequent my place of work). After some research I arranged a trip to Avon Valley Cyclery in Bath to test a number of contenders. These included the Airnimal Chameleon (Performance Sport) and Joey (Explore), the Pashley-Moulton TSR 27, the Birdy Touring, as well as the Reach. Of the bikes tested the TSR offered the most pleasing ride, but was non-folding and time-consuming to separate and bag. The Chameleon was almost as good to ride as the TSR, but would not fold with a rack in place. These two were also both above the £1000 Cycles-to-work scheme limit. The Joey also offered a very nice ride, especially considering that, unlike the other bikes tested, it was unsuspended. Like the Chameleon though, it could not be fitted with a rack that was compatible with folding. At the time I did not like the rather twitchy feel to the Birdy, although I have ridden another since for a longer time and found that I got used to this rather quickly. The Reach had a rather similar feel to the Chameleon, could be fitted with a folding rack and, at £899, came in under the Cycle-to-work scheme limit. My choice was made!
3. First impressions
I've had the bike for about a month now and my first impressions have been very favourable. In that time I've done a few 20-mile-ish rides, including my Nottingham/Leicester commute (for various reasons I have not done this regularly yet). The furthest I've ridden it in one day was a rather leisurely 27-mile Origami ride (the June 2008 ride in Bicester). My 22-mile commute takes me just under 90 minutes, which is about equivalent to my absolute best on the Dahon Vitesse and around 10-15 minutes faster than an average ride on that bike. The Reach does encourage you to put more effort in, but I have not really pushed it yet over a long distance. It is certainly much more fun and less tiring to ride over that distance. The suspension results in a comfortable ride yet you still feel very much in touch with the road on this bike, which is very responsive, and feels similar to a full size bike in many ways. My only dislike so far are the drop bars; I do not particularly like drops, but there was no option to change them for something else at the time of purchase. I thought I would give them a good try before changing them but I think I will ultimately change them for something else – perhaps bull horn type bars similar to those fitted to the Dahon Hammerhead that are still compatible with STI shifters, which I do rather like, but will allow me to adopt a slightly more relaxed riding position.
A number of people at the June Origami ride tried the bike and all gave generally positive feedback, although one rider who had a generally good impression of the bike, like me, did not like the low handlebar position.
The bike is rather striking, both in its colour and design, and tends to attract attention. This could be a disadvantage, particularly if it attracts the attention of magpies, but also invites conversation. I have heard it described as "rakish" and, by the young son of friends of mine "gay" - I'm not sure quite what he meant by that but it didn't stop him from wanting to ride it!
4. Folding
The Reach is no Brompton when it comes to folding. Nevertheless, within a couple of minutes it folds down into a reasonably compact package and, where fitted, the rack acts as a convenient stand for the folded bike. The sequence involves quick-release and removal of the front wheel (facilitated by quick-release brakes), quick-release of the rear suspension (which does not need to be removed) and the bike folds in half at a pivot a few inches above the bottom bracket such that the rear wheel sits between the forks. The saddle and seat post are also quick-release and need to be removed (as one unit). To reduce the width of the folded package the handlebars can also be released using a quick release on the stem riser, after which the they can be hooked onto the bike. You are left with 3 items to carry – the folded bike, the saddle/seatpost and the front wheel - which can be a bit awkward.
For 2008 Pacific have unveiled a version of the Reach that incorporates IF (Integrated Folding, formerly known as 'Swivelhead') technology developed by Mark Sanders (MAS Designs). This allows the bike to be folded in two at the centre of the frame and the folded bike to be wheeled along. This development will probably make the Reach a more attractive proposition for train commuters.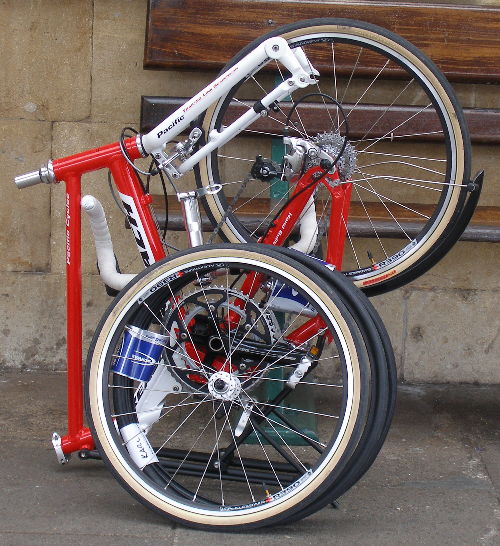 Reach folded and resting on the integrated rack. The picture was taken on Bath Spa station to the rear of AVC, just after I had purchased the bike from there, and includes a couple of spare tyres behind the front wheel. The saddle/seatpost has been removed and is not shown in this picture.

5. Wheels/tyres
The rims used on all the Reach models are the rather uncommon ISO/ETRTO 451 mm size as used on some Bike Fridays and recumbents. While nominally "20 inches" they are not compatible with the much more common ISO 406 mm "20 inch" tyres/tubes. It might be hard to obtain tyres and tubes in this size in a hurry (at least most UK bike shops do not stock them) but there are plenty of options available (a quick Google search identified more than 20 tyres in this size ranging from tread-free to knobbly, and even a range of air-free tyres). The Road version is fitted with slick Primo Comets (110 psi); other available tyres include Schwalbe Stelvio (120 psi; standard or folding versions), Kenda Krankit (a BMX tyre fitted to the Off-Road Reach), the tread-free Primo Champion and the air-free Sebring Tour. As a precaution I purchased a spare pair of Stelvios and matching tubes when I bought the bike. If travelling with the bike, packing a spare tyre (a folding Stelvio would be ideal for packing) and spare tubes would be advisable.
6. Suspension
"Trailing link" front suspension is superficially similar to the "leading link" suspension seen on a number of Moultons (the TSR and AM ranges), although the elastomer-based suspension pods are located at the ends of the forks close to the hub rather than in the head tube. It provides a rather limited travel but is sufficient to smooth out the worst of poor road surfaces etc. I am not sure how it would stand up to more rigorous off-road use but the same unit is used in the Off Road version of the bike.
The rear suspension unit looks like an air shock, but is in fact an enclosed elastomer device. The suspension can be adjusted by replacing the elastomer, which is interchangeable with the range of elastomers supplied for the Birdy range of folders. The unit connects the main frame to a unified rear triangle that pivots at the same point that is used for folding the bike.
After receiving the bike both front and rear suspension developed squeaking/creaking noises. I contacted Pacific about this, as well as a contributor to a Bike Forum and fellow Reach owner. Both were very helpful and provided me with the information I needed to grease the units (I used Bikehut Teflon grease) and they are now both very smooth-running and quiet. Greasing the rear unit (or replacing the elastomer) requires some tools (2 32-mm wrenches and a 13-mm long-reach socket) while greasing the front unit only requires a pair of 5-mm Allen keys.
7. Gear range
The FSA Gossamer double chainring (53T/39T) and Shimano Capreo cassette (9T-26T) of the Road version result in a total gear range of approximately 30-117" (according to my calculations). I find that the lowest gear is low enough for even steep hills (it seems to me that much lower than this and you might as well get off and walk anyway), while at the top end I can still pedal at around 30 mph (down hill that is – I'm not that strong-a-rider!). The Off-Road version has a range of approximately 19-96" and the City/Trekking version 38-104".
8. Frame, equipment and frame fittings
Pacific specialise in fabricating aluminium frames and the Reach frame is made from 7005 aluminium alloy. The Road version is generally well equipped with Shimano Tiagra dérailleurs, brakes and STI shifters, Shimano Capreo hubs and cassette, FSA Gossamer MegaExo crankset and Alex R390 rims. The saddle is a very basic 'Velo Plush' model that would probably be replaced by most owners. I did not like it and, as a temporary measure, I have fitted a Rido saddle that I will probably change again before I'm happy. Similarly, the very basic unbranded platform pedals will probably be swapped by many owners. I have fitted MKS AR-2s with PowerGrips, which I am very happy with (although I bought the non-demountable version by mistake – I should have realised that they were too cheap!). The frame is common to all three versions of the bike so it is possible to retrofit a number of alternative components, for example V-brakes in place of the Tiagra caliper brakes fitted to the Road version, and in most cases will take standard gear. Exceptions include mudguards,which are not fitted as standard but may be specified. I specified them only to find that fitting of the front mudguard was incompatible with folding. It is possible to fold the bike after a fashion with the front mudguard in place by turning the forks through 180°, but then the rear dérailleur mechanism clashes with the fork, potentially leading to damage, and the mudguard sticks out at the top. For these reasons I have removed the front mudguard.
9. Weight
According to the manufacturers' specifications the Road version weighs 10 kg. After adding rear mudguard, rear rack, SQR seatpost fitting (without the bag), a bottle cage (without a bottle) and swapping the pedals and saddle as described above I've added about a kilogram to that figure.
10. Rack/Luggage
The Road version is not equipped with a rack as standard but the rear rack designed for the Trekking version can be added (at least to the 2007 version – Pacific's website suggests that this might not be the case for the 2008 versions of the Road bike – which is re-named the Racing). This will take small panniers (such as Ortlieb's Front panniers) but not some full-sized panniers that I have tried due to heel strike (at least in my case and I do not have particularly large feet). The rack folds with the bike in a similar manner to that of the Birdys and the folded bike sits nicely in an upright position on the rack (see picture of the folded bike). The Reach front rack could probably also be fitted but I have not tried this. If you do not plan to carry a large amount of luggage the Carradice SQR range of seat post bags is a viable alternative to panniers (the 'SQR Slim' is attached in the picture above).
11. Bagging
The optional bespoke bag is too small to fit the folded bike into: the rear wheel, rack (if fitted), and rear mudguard (if fitted) must also be removed before bagging. Removal of the rack and mudguard both require tools and some time so this would make bagging the bike impractical for purposes such as daily train commuting or taking the bike into an office. I also found it extremely difficult to fit the wheels into the wheel covers supplied with the bag as they were a very tight fit, and the bag itself was of rather poor quality such that the stitching was starting to come apart after only one (attempted) use of the bag. I have found that the folded bike will fit into the Dahon 'el bolso' bag and I was told by staff at AVC that the Airnimal First Fold bag will also fit the folded Reach. For air transport I imagine that the folded bike (with rear wheel, mudguard and rack removed) would fit into a number of largish hard cases but I have not tried this.
12. Strengths
Full size road bike geometry.

Compact when folded.

Excellent quality ride due to front and rear suspension.

Versatility – mostly standard components so can be easily modified.
13. Weaknesses
Necessity to remove the front wheel and seat post to fold makes the final folded package slightly awkward.

Incompatibility of the front mudguard with folding is a drawback, especially for commuting in a wet country like England.

The bespoke bag is virtually useless, at least for my purposes, due to the necessity to remove both wheels as well as rack and rear mudguard (if fitted).

Rather limited availability of tyres and tubes in the 451 size might mean that obtaining a replacement in a hurry could be difficult.
14. Conclusion
The Reach Road is not perhaps an ideal bike for train-assisted commuting (although this is entirely possible) but it is particularly suitable for a longer commute, day rides, or perhaps light touring (I'm guessing as I've never done any touring on this bike or any other so please take this with a pinch of salt). It is very versatile and has reasonable luggage-carrying capabilities. It is also great fun to ride! Overall this is a very capable bike and represents very good value for money for a bike with its specifications.
15. Links to other reviews of the Reach
http://nycewheels.com/reach-review.html – a detailed review of the Road version
http://www.bikeforums.net/archive/index.php/t-351142.html – another review of the Road version with some nice pictures and feedback from forum readers.
http://www.buzzillions.com/dz_801241_pacific_cycle_reach_off_road_reviews#reviews – a very short review of the Off Road version.
16. Other relevant links
Avon Valley Cyclery (note, at time of writing this website was out of date and only featured the City version of the Reach).
---