The Folding Society
A cycling holiday in Skye - the bikes
By Graham and Amanda McDermott and Peter Evans
---
This is to be a Moulton outing. Amanda will be on her AM8 (twin ratio, ie two chainrings but no front changer), Graham on his AM-GT and Peter will take his New Series.
Watch this space for more details.
Stop Press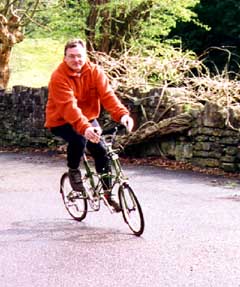 No sooner had we typed the above, than news reached us that Graham's New Series is completed, and Peter will be going down to Bradford on Avon on Thursday to collect it. So the event is going to be even more special, with two NSs, and the results of the ride will be the basis for an extended test report.
Photograph above: Graham McDermott testing a New Series Moulton at the launch in April 1998. His own bike will be white.
17th June: Peter Evans reports on preparation of his NS for the ride
Fitted the rear rack and bag - last used in February - and surprised to find it wobbled. Checked the fittings - all nice and tight. Discovered there was clear sideways movement where the rear triangle meets the frame.
Definite colleywobbles for me, as I had visions of doing Skye on an APB or BF [Bike Friday]. I removed the rear bearing fitting and dropped the rear triangle - this can be done very quickly. The steel spindle pushed out of the fitting very easily - it seemed to me to be too easy. I put it back in reverse to the way it had been and reassembled everything. Play not so bad but still there - the bike is clearly rideable but it seems to me that wear has already started on the bushes. Mileage so far is 1400.
When I am at BOA on Friday (collecting Graham's NS) I will ask about it, but I won't take the bike for them to look at; time is too tight. It will be interesting to see if this play becomes more pronounced while we are on Skye. I believe these bushes are meant to be Teflon coated. It has occurred to me that I might have left out a shim or washer when I had to remove the rear triangle for a repair earlier in the year, although I am sure I would have noticed such a thing.
18th June: Graham McDermott's NS Moulton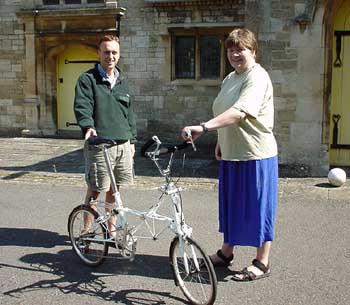 Amanda McDermott taking delivery of Graham's New Series Moulton from Shaun Moulton on 18th June

---
Folding Society home page | Return to event report page | Return to the Skye page
---
Copyright (C)1999 Graham and Amanda McDermott and Peter Evans
Last updated: 18 June 1999
URL: http://www.whooper.demon.co.uk/foldsoc/skyebike.html