The Folding Society
A cycling holiday in Skye - live illustrated reports
Day 6 - 24th June 1999
---
Thursday
The effect of sun, wine and chocolate cake combined deterred us from any cycling on Thursday [Glad to here that you are human, and, like the rest of us mere mortals, sometimes don't feel like riding the bike - MFH].
After a late start we went for a drive around the island stopping again at Duntulm Castle hotel for a light lunch. Then a pleasant drive around the island with occasional stops for looking and photography. In the afternoon I tried a climb out of Portree that works its way up about 1200 feet to some radio masts above the town. Parts were too steep for me to cycle, which brings in the interesting point of gears on the NS. The 9T to 32T [I thought the smallest sprocket on the NS was 10T rather than the 9 of the AM - MFH] sprocket is ideal with steps that seem to glide into each other. I use a 50T chainwheel which gives, I think, a low gear of about 28 inches : not as low as I would like, but adequate for most hills. Hill climbing is made better by locking out the front suspension. The suspension is not as 'comfy' as that on the AM, but I have now got used to the occasional harshness. I measure suspension comfort at the front of the bike by mirror vibration. On the NS the mirror vibrates far more than on an APB or AM.
This is our last live report as we will not have access to a phone line again until Saturday when we hope to send a summary report.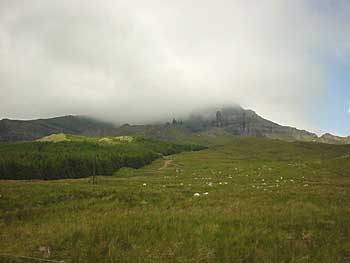 1. The Old Man of Storr under low cloud - seconds later it was clear.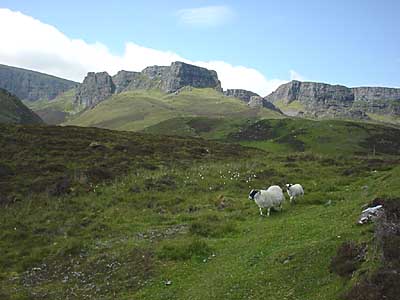 2. Rugged scenery near Dunans.

3. The views were even better on the other side of Skye. Amanda does some birdwatching.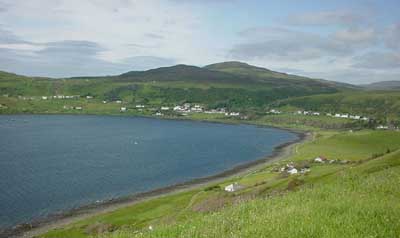 4. The bay at Uig, a ferry port to the islands of Harris and Lewis.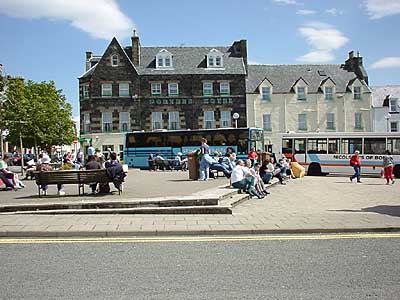 5. Our hotel base at Portree. Very central, but noisy with a never- ending stream of coaches coming and going.
---
Folding Society home page | Return to event report page | Return to Skye ride page
---
Copyright (C)1999 Graham and Amanda McDermott and Peter Evans
Last updated: 1 July 1999
URL: http://www.whooper.demon.co.uk/foldsoc/skye6.html