The Folding Society
A cycling holiday in Skye - live illustrated reports
Day 5 - 23rd June 1999
---
Wednesday
Another good clear day with hot sun. Graham and Amanda cycled in shorts and tee shirts and so have caught the sun. Not so yours truly as I dress on the assumption that snow is expected.
This was another car based ride. Graham and I started out from Portree on what is known locally as the 'hill road'. Beautiful, gorgeous hills which go up and up and therefore down and down. The road runs from Portree to the west coast meeting the A863 at Bracadale. Its not very long at about 10 miles, but 5 miles are up and 5 miles are down. Well, sort of. Nearby is Struan, where Amanda parked the car and joined us in a run along the tiny lanes of Ulinish. A very good day.
So what about these bikes? First the AM8. This is running well on its Shimano 105 hubs, but a minor incident could have caused trouble out of all proportion to its effect. When stopping, Amanda put a foot down onto a grass verge which wasn't there. She tumbled on to the grass, uninjured, but entwined with the bike. In due course we went on our way. It was not until we came to separate the AM at the end of the ride that we discovered, after much cursing and struggling, that the reason the bike would not separate was because the small spindle that stops the joining mechanism from falling out had bent at right angles. Fairly easy to deal with once the problem was identified.
Both NSs are running smoothly and superbly. I was able to compare the factory specified mosquito handlebars etc with my own straight handlebars and flick change changer. Graham had no doubts that his was best. I pointed out that my gear changes were silent and exact compared to some of his which were distinctly audible. He muttered the cyclists' mantra of "cable stretch", and said this was to be expected for the first few miles. His bike has developed the same squeak as mine had. This is easily dealt with once identified. It is caused by the plastic cover of the mudguard rubbing on the frame where the fit is very tight. We will have to advise the factory about this one as I believe one or two other owners have had the same trouble. Some early doubts I expressed about the suitability of the Conti Grand Prix for this sort of riding have been laid to rest. These tyres seem to glue themselves to the road wet or dry. Graham's NS separates more easily then mine which often sticks despite much grease. When I get back I will rub the appropriate surfaces over with some 1200 grade 'wet and dry' paper. This should give a smoother run. Graham says all trace of shimmy has gone now that the headset has been tightened.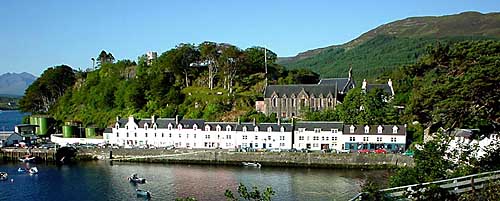 1. Our base at Portree. Photo by Peter Evans.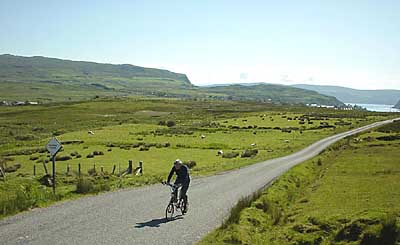 2.Peter on the B885 heading towards Bracadale.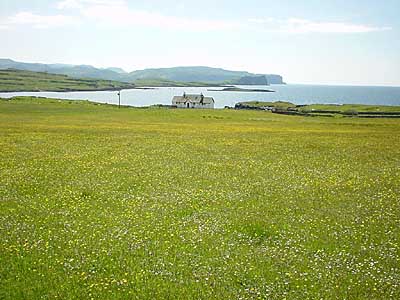 3. A rare sight nowadays.. a field full of buttercups.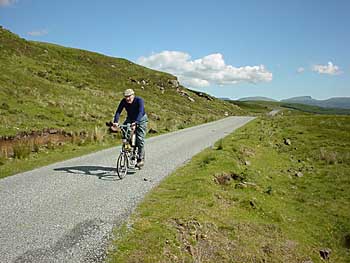 4. Peter climbing again - no problem on a NS Moulton.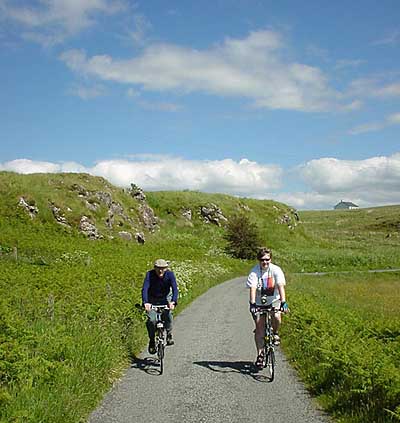 5. Peter and Amanda enjoying sunshine and quiet car free roads at Ullinish.

---
Folding Society home page | Return to event report page | Return to Skye ride page
---
Copyright (C)1999 Graham and Amanda McDermott and Peter Evans
Last updated: 23 June 1999
URL: http://www.whooper.demon.co.uk/foldsoc/skye5.html