The Folding Society
A cycling holiday in Skye - live illustrated reports
Day 3 - 21st June 1999
---
Monday
The weather was not up to the forecast. We had far more rain the sun. Decided on a fairly short ride which would accommodate Amanda's visit to a reptile sanctuary and allow for us to meet her for coffee.
We headed south from Portree on the A850 with traffic fairly heavy. Then as we deviated onto what was the old main road - a lovely ride - the heavens opened. But Graham spotted what every cyclist wants at a time like this: a cafe at a small golf course in the middle of nowhere. While the rain poured we had toasted sandwiches and tea.
Rain over, we followed the deviation until it joined the main road. Unlike some of the main roads, which are single lane with passing places, where traffic is forced to keep to a reasonable speed, this was two lanes. In the driving squalls we were given little quarter. It was heartstopping to see White Van Man followed by Oil Tanker Man (who said they were experienced drivers?) with his wheels locked as they came upon (surprise, surprise) a cyclist.
As to Graham's NS, he said it was still shimmying - I decided to look more closely. There was play in the steering due to the head being loose. If Shaun (or anybody from the factory) had been there they would have got a real ear full from me. I know everybody was going on holiday at the factory, but that is no excuse for a bike costing this much. We had no tools with us, but luckily there is a small bike shop in Portree so we were able to get it fixed when we returned. Lucky, also, it wasn't one of those that refuse to touch Moultons of any vintage. [The explanation for the looseness of the headset is that there is an O-ring in the top of the headset assembly, and the headset needs to be loosened slightly to insert the stem. After the stem is inserted, the headset should be tightened down as a matter of course; a suitable spanner should be in the tool kit. MFH]
1.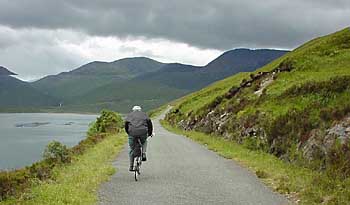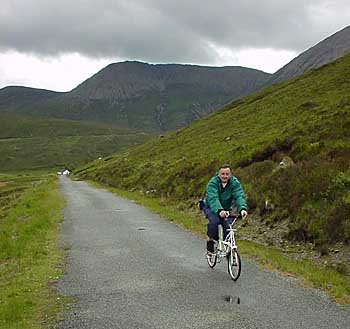 2 I was beginning to fear that we would not get a picture of Graham, as he is usually the other side of the camera. Threatening looking sky and a puddle.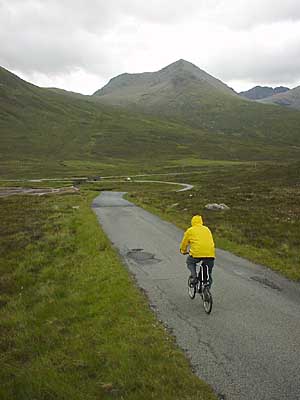 3. In view of the previous picture, it's perhaps not surprising to see the wet weather gear in action again.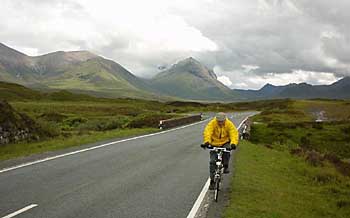 4. Peter Evans, still in wet weather gear.

---
Folding Society home page | Return to event report page | Return to Skye ride page
---
Copyright (C)1999 Graham and Amanda McDermott and Peter Evans
Last updated: 22 June 1999
URL: http://www.whooper.demon.co.uk/foldsoc/skye3.html