The Folding Society
A cycling holiday in Skye - live illustrated reports
Day 2 - 20th June 1999
---
Sunday
After a gloomy start, the weather cleared up enough for Peter and I to have our first proper ride on this trip and for me to try out the NS Moulton for the first time.
We decided to leave our base in Portree and head for lunch at the Glenview Inn at Culnacnoc some 14 miles north along the A855. Although classed as an "A" road, this is what I would class as a "B" road, with splendid scenery all around.
The first thing I noticed with the NS is how easy the hills seemed to be. The bike certainly climbs very well - and it is the bike, not me! The handlebars seemed to be ideally positioned and the Lepper saddle trouble free from the off. The gears did not index properly, but within a few minutes Peter had made a suitable adjustment to the cable and they were trouble free thereafter. My major gripe is that the pedals supplied always seemed to be the wrong side up when you set off, so these will be changed asap.
The weather was bright, but breezy, which made everything look very photogenic, resulting in my taking quite a few photographs, mainly using the Sony digital camera. I hope you like the results!!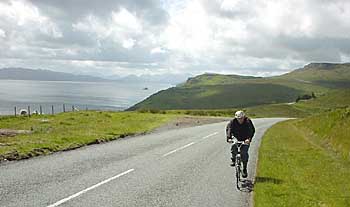 1. Peter heads out of Portree on a fine Sunday morning.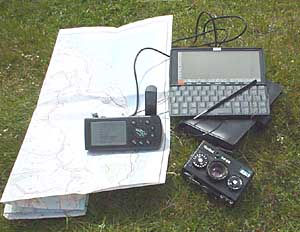 2. Techie Toys! What the high-tech cyclist carries. Except for the camera, of course.

3. Peter enjoys a rest after a hard climb to Rigg.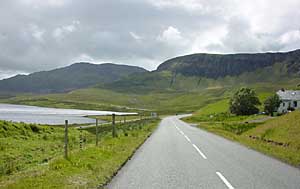 4. The open road - Skye is full of lovely stretches like this.

---
Folding Society home page | Return to event report page | Return to Skye ride page
---
Copyright (C)1999 Graham and Amanda McDermott and Peter Evans
Last updated: 20 June 1999
URL: http://www.whooper.demon.co.uk/foldsoc/skye2.html