The Folding Society
A cycling holiday in Skye - live illustrated reports
Day 1 - 19th June 1999 - Arrival
---
We have now arrived on Skye. All went well as regards train connections. Only drawback has been the terrible weather. There is a strong wind and the roads are awash with water. Graham and I had intended to cycle the 35 miles from Kyle of Lochalsh to our base in Portree with Amanda coming by car but the rain and wind put us off. All three bikes were split and we used a taxi. Alas the latest object of veneration got its first paint chip as we squeezed four adults, three bikes and associated luggage into the car in the pouring rain.
I spoke to the factory about the wear on my rear suspension. They are well aware of the problem which apparently relates to some early models and will deal with mine as soon as I can let them have the bike. Peter
1. Gloomy weather from the train window on the Inverness-Kyle line.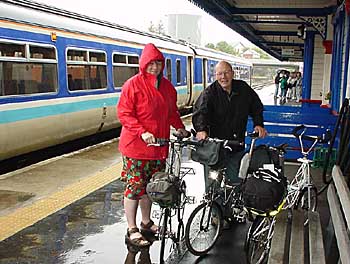 2. Arriving at Kyle - waterproofs on!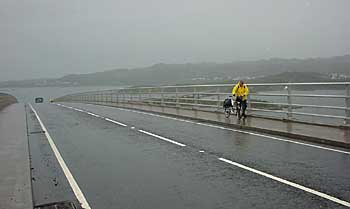 3. Crossing the bridge to Skye. You may care to see the difference the weather makes by comparing this with the picture of the same view on the Gallery page.

4. K. from the bridge.

---
Folding Society home page | Return to event report page | Return to Skye ride page
---
Copyright (C)1999 Graham and Amanda McDermott and Peter Evans
Last updated: 19 June 1999
URL: http://www.whooper.demon.co.uk/foldsoc/skye1.html