The Folding Society
A Moulton Tricycle
---
Details of this rather unusual tricycle built from Moulton parts were supplied by Julian Kowalewski.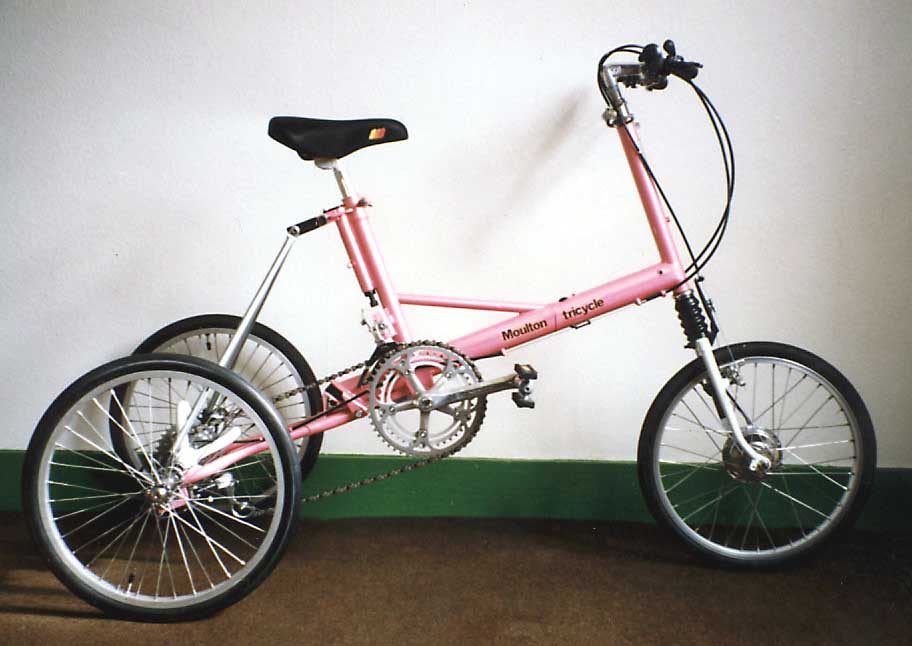 A friend of mine, Robert McCann, converted a Moulton Mini into a trike for his wife to use. The back end was supplied by, I think, Frank Taylor, near Heathrow, and the special rear fork was made by Robert. The trike included full rear suspension which could be adjusted by pre loading a front suspension spring and rubber in a tube, which was brazed on to the back of the seat tube. Brakes were on the front wheel: a drum and a caliper. It had six speed indexed gearing and was shocking fluorescent pink in colour.When ever it is taken out, it's a show stopper: every one wants to know all about it. The colour has now faded as this was about 10 years ago.
Also many years ago at Bradford on Avon, John Pinkerton was riding a converted Moulton trike, and I got the impression that Alex Moulton did not like the idea.
When I saw Robert recently he added that the trike has 17'' hp AM wheels and a Stowaway joint, and would go in to the back of a Renault 5 with little trouble. I have ridden it, but as this is the only time I have ridden a trike, it felt a little strange. It was not very happy on the banking at Herne Hill race track.

---
Folding Society home page | Moulton special interest section
---
Copyright (C)1999 Ferrets Anonymous
Last updated: 30 July 1999
URL: http://www.whooper.demon.co.uk/foldsoc/moulttri.html