The Folding Society
---
FOLDING SOCIETY NEWS
Issue 42 - 4 December 1999
---
Editorial
Yes, this is issue 42, which those of you who are Hitch-Hikers Guide to the Galaxy fans will know is the answer to life, the universe and everything.
I have a number of large work projects (nothing to do with cycling) to complete within the next 6 weeks, so a few items intended to be included in FSN are currently being delayed. I have also started on 'Project Y', which is cycling related - more news of that over the next few weeks.
This is the third issue of FSN in less than 2 weeks, but we expect to get back to the normal frequency for the next issue, which means that it should appear over the weekend 18-19 December.
Portmeirion 1999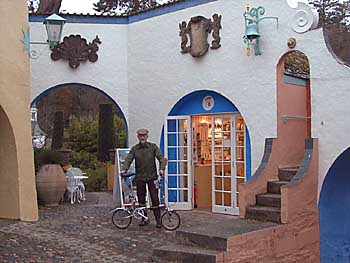 During the last week a number of members have been at the annual autumn/winter gathering in Portmeirion in North Wales. Considering the time of year, we did very well for weather - a bit windy some days, but largely dry and very mild. Most of Monday was spent travelling down to Portmeirion, and most of Friday was used for the return journey, but people found plenty to do from Tuesday to Thursday.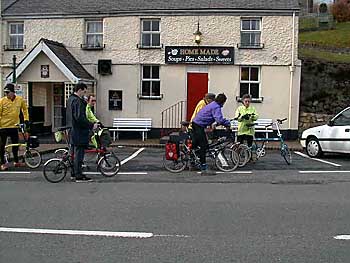 Most people stayed close to Portmeirion and Porthmadog on Tuesday, but a few ventured further afield, and on Wednesday a group of 10 rode to Caernarfon and back (see photograph) - about 47 miles for the round trip. The main activity for Thursday was bike testing, when we had an opportunity to try out plenty of different machines. The most unusual bike present was Paul Stobbs' new Panasonic Traincle (see photograph above), believed to be the first one in Europe, and a brief report on this is included in this issue of FSN. Apart from this, the bikes included 4 Bike Fridays, 3 Birdys, no less than 3 Brompton SPs, a Bickerton, a (sometimes petrol powered) Micro, a Longstaff separable tricycle - oh, and of course some standard Bromptons. We took a digital camera and Psion Series 5mx computer with us, and daily reports and pictures were loaded onto our web pages during the week. You can see these reports and pictures, plus a longer final overall report on the web pages at http://www.whooper.demon.co.uk/foldsoc/pmrep99.html.

The Panasonic Traincle
Although the Traincle only seems to be being sold in Japan at present, Paul Stobbs has recently managed to buy an ex-demonstrator via a contact in Japan, and he brought it to the recent Portmeirion event, where I was able not only to look at it but also have a couple of short test rides. This report gives initial impressions - the next issue of A to B will have a more detailed analysis of the bike.

The Traincle is being sold by Panasonic and a Japanese train company, and is aimed at the commuter market. This titanium model is very light (about 15 pounds excluding mudguards pump etc), but also very expensive at the equivalent of over £1000. It has a short wheelbase and 12 inch wheels, which help to reduce the size of the folded bike, but the folding process is quite fiddly and time consuming. Folding is much less convenient than a Brompton, and although the resultant package is fairly compact, it is certainly not as neat as a Brompton. The short wheelbase means that the handlebars are rather close to the rider, and this, combined with no bar position adjustment and quite a short seat post, means that the riding position is less than ideal even for people of only medium height. The 12 inch wheels are fitted with National tyres intended for only quite low pressure, and alternatives in this size are likely to be limited. As a further aid to keeping the weight down, plastic tubes are used in the tyres, but an unfortunate consequence is that conventional patches will not stick, so that most people will need to be prepared to switch to normal rubber tubes when they get a puncture, and even then suitable sized tubes may not be easy to come by.
No mudguards are provided, which again helps to keep the weight down. Paul Stobbs had fitted mudguards off an old Bickerton.
Brakes are fairly basic Dia Compe calipers, with rather flimsy and floppy levers. The single gear is about 46.5 inches - a 42 tooth chainwheel driving an 11 tooth sprocket with a 12.2 inch rolling diameter.
Riding impressions
First impressions are of the rather cramped riding position and once underway one is rather reminded of the Microbike, a Bickerton (but MUCH more rigid), or perhaps the Pashley/Brilliant Bicycles Micro. Compared with these machines the position and stability and ride quality feel better than all except the Micro, which I personally would rate as better Saddle height adjustment is just adequate for me, and I am short.
The Traincle rolls along surprisingly freely bearing in mind the small wheels and quite low tyre pressure. However, this still feels subjectively significantly worse than a Brompton on standard Raleigh Records. On the very brief tests, the brakes felt about adequate - comparable to those of a standard Brompton. The single gear was about the right ratio for me, though some might wish for something slightly higher, and I would be reluctant to forgo a range of gears, even for train-assisted commuting.
I found riding it quite hard work - adequate for getting to and from a station, but I would not want to use it for rides of more than a few miles. Mudguards (not fitted as standard) would be essential unless you do not plan to use it if it is wet, and it would appear that any luggage, papers, shopping etc would have to be carried about your person or in a conventional saddlebag.
Conclusions
All folding cycles involve compromises, and the Traincle seems to have given weight the highest priority. In my view this has been taken too far in terms of the negative effect on other aspects of the design. While the bike is exceptionally light, folding is slow and the resultant package is not particularly easy to handle. The single gear and 12 inch tyres limits its suitability for much more than short trips to and from the station etc. However, as with all bikes, it can certainly do longer journeys - with Paul Stobbs riding, the machine kept up a very good speed on the road and coped very well with loose gravel on a cycle track, but I would put that down to the rider. Riders of above medium height are not likely to find the seat adjustment and riding position satisfactory. Light weight is certainly important in a folder when you are carrying it, but if folding is sufficiently easy then carrying the bike can be minimised - roll it on its own wheels as much as possible. I would rate the Brompton a far better folding cycle in every respect except weight, and the ease of folding of the Brompton means that it does not have to be carried often, and when it is, then the shape of the folded bike compensates to some degree for the weight - and of course a Brompton is cheaper than a titanium Traincle. If weight is a major factor, then remember that a Pashley/Brilliant Bicycles Micro in single speed form without mudguards (which is comparable therefore with the Traincle) is 21 pounds in standard form, and could probably be made a bit lighter still by component substitution, at a much lower price.
The Traincle is technically interesting, but it does seem to use 'advanced' technology for the sake of it, and the end result is not as practical and does not perform as well in almost all respects as existing leading folders.
The new Schwalbe Marathon 16 inch tyres
When I got back from Portmeirion, there was a note through my door to say that the Post Office had tried to deliver a package during my absence. When I went to collect it on Saturday morning I found a pair of the new Schwalbe tyres for testing, courtesy of Phoenix Cycles. Unfortunately by the time I had finished shopping the weather had deteriorated here, and when I got the bike out this morning, Sunday, I found there was black ice on the road, so I decided against a test ride. I expect to be able to give the tyres a short road test during the coming week, but in the meantime I am limited to describing them - a picture appeared on our pages some weeks ago when I visited Pashley to test the fx8.
The new tyre looks very smart, all black with just a thin reflective strip around the sidewall, rather like the new Birdy tyre. I think this is preferable to white walls, as on the Primo, which rapidly get dirty and look very scruffy. The tread consists of a thin central bead (not very pronounced), with quite a substantial tread on either side as the tyre curves gradually away from the central bead. This should give reasonable rolling resistance on the road, when the central bead is in contact with the road, but with more grip coming from the tread on rougher and more muddy ground - whether this is what happens in practice we shall have to see when we are able to road test it. There looks to be plenty of rubber there, but of course we cannot at this stage predict the life. The tyre has a Kevlar strip to increase puncture resistance, but again we cannot comment on its effectiveness yet. There is a dynamo tread on the side wall, and although the side wall seems quite flexible, it also seems to have more rubber there than the rather thin Primos. On my very elderly scales the tyre was just over an ounce heavier than a Primo, but over 2 ounces lighter than a Raleigh Record, and the pressure rating is up to 100psi. The tyres went on the rims without any undue problems - a reasonable amount of leering was required, but nothing excessive. Both tyres seated well and remained properly seated during inflation (to about 90 psi), and neither has yet blown off the rims, as one of the new Birdy tyres did a week or two ago!
Clearly it is not sensible to make a judgment of a tyre without at least some on-road testing, but the specification and appearance are promising. We should have more news on road performance in the next issue of FSN.
Christmas 1999
If you are still looking for a Christmas present for yourself, or a folding friend, here are a few suggestions for some good reading over the Christmas and New Year period.
It's difficult to believe that some of you don't subscribe to A to B, but this seems to be the case. What better as a Christmas present then than this, the most authoritative and entertaining publication on folders, and the integrated transport scene generally. And its only £10 per in the UK for a one year subscription, covering 6 issues. A to B can be found on the web pages at http://www.a2bmagazine.demon.co.uk, or you can email them at post@a2bmagazine.demon.co.uk, or they can be reached by telephone or fax on 01963 351649, address 19 West Park, Castle Cary, Somerset BA7 7DB, England.
Another essential piece of reading for any folder enthusiast is the book "It's in the bag", which is a history of portable cycles in the UK by Tony Hadland and John Pinkerton. This is available as a soft back for £9.45, or hardback at £13.95, including post and packing in the UK. Orders should be sent to Mrs D Pinkerton, 522 Holly Lane, Erdington, Birmingham, B24 6LY.
Moultoneers may want to save some money for the hardback version of Tony Hadland's book "The Moulton Bicycle", which should be out early in 2000. I understand this is basically just a reprint of the original book, but it will certainly be good to have a hardback as well - my own soft back version is beginning to look rather worn, and I shall certainly want the new one on my bookshelf, especially at the very reasonable price of £13.95 Tony's web pages are at http://www.hadland.net. We'll let you know when the book is actually available.
Sales and Wants
The S&W list is still quite active - if you have a folder, separable, or accessories to dispose of, or you want to buy, you can use the Sales and Wants page (http://www.whooper.demon.co.uk/foldsoc/sandw.html). If you want to have something put on the list, just email us the details (mike@whooper.demon.co.uk) - there is no charge, but please let us know when it is sold so that we can take it off the list.
Letters
We have received two responses to the letter from Andrew Middleton on the subject of lights in the last issue of FSN. Julian Lusby writes:
I'm puzzled by your immediate general comparison of the light output of bicycle dynamo to that of a car. Personally I find the standard Union dynamo setup (no regulator) on my Elswick/Hopper folder embarrassingly bright. I use an LED backup on my backpack. For a relatively cheap upgrade, I recommend a 3W halogen front headlamp bulb GH103 and Reflectalite X1 dynamo regulator and no rear light off the dynamo. I find cycling the Suffolk country lanes at night with either of these setups more than adequate and comparisons with car headlights never enters the equation. I also recommend Francis Thurmers' HARD TO FIND catalogue.
Jon Dreyer Rensmoen adds:
I have been using a dynamo lighting system from Busch & Müller on my Greenspeed recumbent trike this autumn, and I am very satisfied with it. I have also ordered one for my new Fold-It now. The dynamo - Dymotec S6 - is very light travel, and comes with a weatherproof roller (in addition to a rubber roller) which avoids slipping in wet conditions, and that has worked perfectly in rainy conditions; it failed once in 20 cm new fallen snow which built up like a snowball around it. But in rain and water, I don't think it can fail. The front lamp - Lumotec plus (I've ordered the Lumotec oval plus for my Fold-It) - illuminates the road excellently. I have been using different rechargeable battery systems the last 10 years, the last one, and the best, was a 10 watt from Smart which gave very good light, as long as the battery had more power to feed the lamp. The dynamo light from Busch & Müller that I use now, gives light that is not quite as good as the 10 W, but it is very close. And there is no battery that will become empty in places far from home. There is also another good thing about this light: it stays on for a while (several minutes) after a stop. There is a condenser in the lamp which requires 2 minutes riding time to be fully charged, and then powers a LED which gives light also when waiting for traffic lights etc. The rear light - DToplight plus - does also have the stand-light function, and gives strong red light that can be seen from a very long distance. I am very satisfied with the dynamo lighting system from Busch & Müller, and can recommend it to any who wish to use reliable dynamo light. Returning to dynamo light again feels great, not only because I never have to worry anymore about how much burning time that is left in the batteries, but also because I like the feeling of producing the light myself. Busch & Müller is on the internet at www.bumm.de.
For those interested in the Moulton-Bridgestone mentioned recently in FSN, David Whittam, of Christchurch, New Zealand tells us:
For pictures of the Moulton/Bridgestones shown at the Osaka Japan International Cycle Show held earlier this month, try http://www.netlaputa.ne.jp/~nasci/FoldingBikeFun/99CS02.html
Also: http://www.e-brain.co.jp/jics_e/digest/etc3.html and http://www.e-brain.co.jp/jics_e/digest/etc4.html show some interesting folders from that show.
Chris Dent supplies details of another link of potential interest, the Skoot web site at http://www.skoot.net. The Skoot is described as a 'portable pedal scooter' - which we would refer to as a folding bicycle! - and it folds into the main, box like, frame section, which then acts as a carrying case. The folded dimensions are given as 569mm x 797mm, with a weight of 14.5Kg. The machine is available in a variety of colour schemes, and the price is given £895. Skoot International is at 24 Peartree Business Centre, Peartree Road, Stanway, Colchester, Essex CO3 5JN. Fax +44 (0) 1206 542 543

Events
Saturday 11 December - Origami Ride
The December Origami Ride will be at its usual location, the Tearooms at Meriden; arrive from 10.30 for an 11.00 start. For more information please see the web pages at http://www.whooper.demon.co.uk/origami, or contact John Pinkerton on 0121 350 0685, email pinkertn@mwfree.net . When we can work out how to upload web pages at mwfree, we will probably relocate the origami web page to that location, but the existing site will provide a link to there - we'll keep you posted on developments.
Mud Dock January 2000?
Mud Dock rides are normally on the first Saturday of the month, but as this coincides with January 1st it seems unlikely that there will be many if any takers, and I am not sure if there is going to be a meeting. If you want to check what the situation is, contact Gary Lovell, Tel: 0117 932 4633.
Sunday 30th January 2000 - 4th 'Bikes 'N' Bits' Cycle fair, Manchester Velodrome, Stuart Street, Manchester
This event will be open from 12 noon until 4pm, and will include retail, club and individual stalls. The admission price is £1 per person, and track tasters will be available - half an hour for £3. There is nothing specifically scheduled for folders, but those in the area may find it worth a visit - you could take the opportunity to look at some of the Pinkerton Collection which has now been relocated at the Velodrome.
10 - 12 March 2000 - Australian Bike Friday Club (ABFC), Bright
For more information on this event, contact Margaret Day, email mday@pickowl.com.au
June, 2000 - Vondelpark Amsterdam
Enno Roosink, bikenno@xs4all.nl, tells us that the party is going to be like a fair with lots of activities and exhibitors of special bicycles, recumbents, folders and the like. Please have a look at www.velomondial2000.nl for details. All participants of our annual Bike Friday Meeting will be attending the Bicycle Party/Fair; the general idea is to ride mixed with the Moultons and the Bike Fridays. The BF meeting will be stretched over the weekends 17-18 June and 24 - 25 June.
CycleFest 2000 - Lancaster, 2nd – 8th August 2000
The bi-annual cycling feast will soon be coming around again, and it'll all be up and running from Wednesday 2nd to Tuesday 8th August at St Martins College, Lancaster, UK. Quite a bit has been planned already of course, and as usual there's a theme for the sessions - this year it's "Transmissions", and we already have some great speakers booked for this (Tony Hadland, Florian Schlumfp, Izzi Ureili et al) and some interesting new activities planned (50m sprints, midnight torchlight parade and BBQ etc). However, further ideas are always welcome. There will be announcements in Folding Society News, The Moultoneer and other publications in due course. The Cyclefest web pages are now available (http://www.whooper.demon.co.uk/cyclefest/index.html), and will be regularly updated as the event approaches. We hope there will be a major folder/separable presence at Cyclefest 2000. If you have any queries concerning CycleFest, contact: John Bradshaw, Tel/Fax: 01524 384474 (day) or Tel: 01524 66658 (eve)
email: j.bradshaw@ucsm.ac.uk
---
A to B Magazine
A to B Magazine remains the ultimate source of authoritative information on folding cycles. In the unlikely event that you aren't aware of A to B and/or don't read this magazine, then we would urge you to take out a subscription without delay. A to B can be found on the web pages at http://www.a2bmagazine.demon.co.uk, or you can email them at post@a2bmagazine.demon.co.uk, or they can be reached by telephone or fax on 01963 351649, address 19 West Park, Castle Cary, Somerset BA7 7DB, England. A subscription to A to B is only £10 per year in the UK, or $24, and the magazine is published ever two months and is packed with news, reviews and other interesting information on effective integrated transport systems in general, and folding cycles in particular.
---
Back Numbers
Back numbers of all issues of Folding Society News are available on our web site - go to http://www.whooper.demon.co.uk/foldsoc/fsn/fsn.html for the full list.
---
Contributing material for FSN
We would very much welcome articles, photographs or any other material for inclusion in future issues of FSN, or on our web pages. Please send any material to The Folding Society at the address given below.
---
The Folding Society
email: foldsoc@whooper.demon.co.uk
Web: http://www.whooper.demon.co.uk/foldsoc
If you have any news or other information of interest to other members of the Folding Society, please email us at the above address.
If for some reason you wish to be removed from this mailing list, please send a message to this effect to the same email address.
All information given here is provided in good faith, but no responsibility can be taken for errors or for any consequences arising from the publication of this information.
Return to FSN index | Folding Society home page
---
Copyright (C)1999 Ferrets Anonymous
Last updated: 4 December 1999
URL: http://www.whooper.demon.co.uk/foldsoc/fsn/fsn042.html