The Folding Society
---
FOLDING SOCIETY NEWS
Issue 40 - 23 November 1999

---
Editorial
First of all please accept my apologies for the late appearance of this issue of FSN, which is due to my recent eye problem. Secondly I'd like to thank those of you who sent their good wishes while I was suffering; I should also thank the Wolverhampton Eye Infirmary (not the source of the original problem) for their help and also the taxi company and drivers who took me there and back - cars are wonderful things, at least at times like that. The eye is still not back to normal - I have some problems focussing clearly, particularly for reading the screen. For that reason I have not put all the available material in this issue of FSN, and will some will appear in the next issue of FSN. Proof reading has also been a problem, so please excuse any typos or other errors.
In this issue of FSN we have some first impressions of the new Birdy tyres on the road - fewer miles have been covered than we had hoped due to the eye problems, but we will report on the tyres again later when we have put a few more miles on them. We are also delighted to have some more articles from members, and we'll take this opportunity to encourage more of you to send in material - articles and/or pictures are always welcome.
Next week, 29th November to3rd December, is the annual visit to Portmeirion. If you are going there for the first time and need more information on travel, Portmeirion itself, etc, we have some details on our web pages at http://www.whooper.demon.co.uk/foldsoc/portm.html. You can read the report on last year's event on the web pages at http://www.whooper.demon.co.uk/foldsoc/pmrep98.html Portmeirion also has its own web site at http://www.portmeirion.wales.com. If you are travelling by train, Railtrack's site with timetables, is at http://www.railtrack.co.uk. From the South and the Midlands it is probably best to travel via Shrewsbury, changing at Machynlleth to the Pwllheli line. The nearest station is Minffordd. From the North it is probably better to go via Chester and change at Llandudno Junction for the Blaenau Ffestiniog line. From Blaenau there is an exhilarating descent on the way to Porthmadog. I expect I shall be on the 10.38 from Wolverhampton on Monday morning, leaving Birmingham New Street at 10.20, so if you want to avoid me, catch an earlier or later train! During the Portmeirion week we shall be having some discussions regarding possible events during 2000 - more news of this later.
We are looking into whether we can publish reports and pictures from Portmeirion during the week itself, using a Psion Series 5mx palmtop computer, some newly released ftp software, and a digital camera. Watch the web pages during the week to see if we manage to do this. Regardless of whether this is successful, we hope to have the next issue of FSN out the following weekend, 4-5th December, and it will include a report on the week at Portmeirion.
Moulton
We are indebted to Gary Lovell for news of the fact that Alex Moulton is now acting as a consultant to Bridgestone, one of the major cycle manufacturers in Japan. Amongst Gary's many talents is the ability to find or be given news which doesn't seem to get to us otherwise. My public apology to him for being rather rude when he rang me recently - I was feeling particularly low after a frustrating day in which I could not do anything worthwhile due to my eye problem. Anyway, I subsequently contacted the Moulton factory, and they sent me a copy of the press release regarding this new development. The most interesting sections are quoted below:
"East meets West with the announcement that the Bridgestone Cycle Company has entered into an agreement with Dr Alex Moulton for the design and development of unique bicycles to meet the special requirements of the 21st Century. Ö Bridgestone Cycle Company anticipates that by mid-year 2000 this collaboration will result in a bicycle range that will not only be attractive to the discerning rider, but will also confirm Bridgestone's leading position in the Japanese market. Ö Moulton Bicycles will continue to manufacture in the Bradford on Avon factory the exclusive New Series range and other highly specilised AM models, whilst at Stratford on Avon, WR Pashley will still be responsible for the production, under licence, of the 20" wheel A P B's."
Birdy
A serious test of tyres really requires at least 500 miles of use, and in the two weeks that I have had them fitted I haven't managed even 100 miles on the new Birdy tyres, my ability to cycle having been curtailed. Nevertheless, in view of the interest in them, here are some preliminary observations. More news of their progress will appear in future issues of FSN.
The Post Office tried to deliver the tyres on Saturday 6th November, but as I was out on a Moulton Bicycle Club ride I did not collect them until Monday morning. They were fitted almost immediately, but as I was very busy I did not have time to go out and test them immediately. Although rated as 1.5 inches wide, like the previous road tyres, they look significantly wider, and this was confirmed when I folded the bike - the bolt which rubs against the tyre and holds the front wheel in position when folded had to be repositioned, as the tyre would not go past it. They certainly look attractive, judged by today's fashion for wider tyres and pronounced tread, and the narrow grey reflective strip is both effective and enhances the appearance, without the risk of it looking shoddy when it becomes dirty, as is the case with white walled tyres like Primos. The tyres carry the names Maxxis and Birdy equally prominently. The price from Avon Valley Cyclery (http://www.bikeshop.uk.com)was £16.95 each.
The tyre has a Kevlar belt to reduce the risk of punctures - it's rather too early to judge how effective this is! The tyre has a central groove round the circumference, virtually unbroken, and the rubber immediately on either side of it is virtually smooth. In cross section it is quite rounded, with pronounced tread away from the central smooth part. I guess the theory is that the smooth part keeps rolling resistance low on the road, but in muddy conditions etc the tread on the sides comes into play. Overall the tyre looks more substantial then its predecessors, and this is borne out by the weight. My scales aren't very accurate in absolute terms, but the relative weights should be reasonably accurate - the difference came out as 2 ounces per tyre. That isn't much, but weight saved on the wheel is reckoned to be worth more than the same weight saved on the frame.
I had a lot of trouble fitting the front tyre - it needed a lot of effort with the tyre levers. The back tyre, however, went on with only a small amount of levering. I have noticed the same in the past with the old tyres - I think my front rim is slightly over size and the back one is slightly under size - more of this in a moment! Both tyres apparently seated well, and were inflated to the recommended 90psi. I then left the bike in the kitchen and went to work in my office upstairs. Later in the morning a loud bang startled me, but after much searching round I couldn't find anything in the house that had fallen over, or any electrical equipment that had blown up ... At lunch time when I went into the kitchen I looked at the tyres, as I always do after fitting new ones, in case I pinched a tube during fitting, and the back tyre was flat - in fact it was off the rim. Investigation showed a 2 inch split in the tube - the explanation for the loud bang earlier! A new tube was fitted, and the tyre was reinflated, checking even more carefully than usual that it was seating properly. The fact that the rear rim is possibly slightly under size may be relevant here - has anyone else observed differences in rim sizes?
I have used the bike a number of times since then, but with overseas business travel and the recent eye problem the distance I have covered is considerably less than I would have hoped - about 70 miles. Subjectively I am not at all convinced that the tyres roll any more freely than the high pressure tyres I had on before; they certainly seem noisier, which suggests no improvement in rolling resistance. On wet roads the grip seems reasonable, but I haven't made any real efforts to determine just how good - I don't enjoy falling off! Nor have I yet tried them off road. A quick grab on the brakes on a slightly damp road, when a car pulled alongside and then indicated a left turn, resulted in the back wheel locking; past experience with previous tyres and the very powerful V-brakes suggests that this would have happened under these conditions with the previous tyres as well.
Clearly it is much too early to judge the life, but if the depth of rubber around the central groove and the quite deep tread elsewhere is anything to go by, then I think it is very likely to be better than the old high pressure tyres.
A very preliminary judgment would be that this looks like being a useful improvement, probably offering better life, better puncture resistance and more suited to some off road use than the old standard high pressure tyre. But it is of generally similar character to its predecessor, and those who were hoping for a light, fast, responsive tyre of the Primo type may be disappointed.
Trailers and Load carrying
By Michelle Whitworth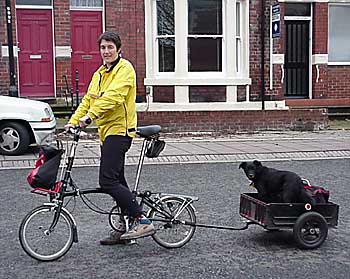 Someone was recently asking about taking a Bike Hod on tour. We use trailers a lot so I thought you might be interested in our experience.
In general, we tend to use trailers for load carrying over short distances Ė shopping, shifting earth, transporting the dog, taking someone to the station (their luggage in the trailer on the way there, their folder on the way back or vice versa).
Iím not so keen on trailers on tour, preferring panniers, for a variety of reasons which include:
Storage at rest stops (panniers can be stuffed under things)
Versatility of panniers if you stay somewhere Ė you can just take one with you for day purposes
Difficulty of manoevring past cycle path barriers and over rough off road terrain (that said, we have gone over the most amazing rough stuff with various trailers towed behind everything from a Brompton to a long wheelbase recumbent)
On the other hand, there is no doubt that motorists give you a wide berth which makes town shopping a joy.
Types of trailer
We own (have owned) a variety of trailers as follows:
Bike Hod
We have an older version with tubeless tyres. Excellent for shopping as you can detach it and wheel it round the market. I wouldnít choose it for a tour because I prefer trailers which are towed lower down but Iím sure it would work OK.
Donkey
This was similar, with its own plastic hod and cover. We even carried the dog in it. The reason we got rid of it was that you had a permanent heavy piece of ironmongery on the back of your bike to which the trailer was attached. So, it was more suitable for an older bike than a folder.
Columbus
Large, stable, can carry up to 100 kilos (weíve recently fitted it with tubeless tyres). Derek has carried all sorts of things like gas bottles and Land Rover wheels in it. We have successfully towed it off road behind the Brompton with the dog in it. Folds up for storage and carrying. Highly recommended for large loads.
Bike Friday trailer
This is the trailer we use the most, though not in its original form, since a Samsonite suitcase isnít suitable for the sorts of things we do (also it makes an annoying drumming noise). I substituted a crude trailer out of a plastic milk crate on a plywood base which works well on the original chassis. I can get the dog (who only weighs 22 lbs) and a large supermarket load into it. You just pile your bags into the trailer and bungee them down to the plastic mesh sides. The trailer is good in that it is towed from low down and we have fitted all our small wheeled bikes and trikes with a towing attachment for it.

It is not ideal in that the handle doesnít fold - you canít tow it by hand and use it as a shopping trolley. You can take it apart reasonable easily but I would like something easier still and we are thinking of making a much better modified version. I have taken it on the train as it is but it is very unwieldy with the long handle and the guard complained.

I have no personal experience of the YAK Bob but have met people on tour who spoke highly of it. My preference however is for trailers which fold so I have looked at ones like the PacDog (which, ironically, will carry all manner of things such as surfboards but not my dog) and the Vitelli. I particularly like the look of the Vitelli as a camping trailer since it is low and has lots of nice features like a carrying handle arrangement and the ability to be folded neatly.
Panniers
As far as these are concerned, I use Ortliebs. I took them round the world on a fairly rough trip and the only problem I had was the hooks getting pulled off (the newer models donít have this problem because they use a different fixing system). They are very tough and, of course, waterproof. The main drawback them I have found is a tendency to overfill partly because they donít have any outside pockets. When I was on tour, I put all my bulky stuff in the rear panniers and reserved my smaller front panniers for my day stuff Ė money, camera etc. For those who donít camp, a handlebar bag is a good alternative to front panniers. Again, the Ortlieb is very good because it has the best map holder I have come across.

I even use them on the Brompton on my new custom made front rack (which is designed to take any pannier or briefcase). This is extremely useful for work. Otherwise, I still use the old fashioned Carradice saddlebag as I feel that I can leave it on my bike without it being attractive to thieves.
Silent Shadow
By Andrew Hague
You are riding along at 15 miles an hour and no sweat. At this speed the air blows over you like a hot air drier. You bring your Brompton bicycle to a stop, the air drier gives way to the solar heater and the sweat pours out of you. You are dehydrating. Whilst riding you were being dried. You take another photograph. The desert stretches away for miles around, rippled sand until a sheer wall of mountain rock rises thousands of feet to a rounded, red summit. You have only two litres of water and an Arab wife to help communicate with the Bedouins and she is a mile ahead and she has the water.
You press on. Two hours ago you had asked your Swedish friend Kjell, "Can you drive the Shadow?"
"Yes, I think I have a Shadow", says Kjell unable to remember what Rolls-Royces he has because he has so many and some are in Gothenburg and others in Florida.
"So we'll ride on for a couple of hours to see the desert in detail and then you can catch us up along the road." That was the big idea.
Your wife has stopped. You catch her up and she is swigging the water. The bottle is almost empty. At that rate you know you won't last another hour. As you get back on the bike a small lizard slides behind a rock and you don't wait to find out if it is poisonous. There is no other sign of life.
There is no sound. You are following a woman with flowing black hair and tight, white clothing through a natural oven. Maybe in the distance that is a camel grazing on dry sand. It is hard to tell how far away the mountains are, the air is so clear. The drier wafts over you and you try to ignore the empty water bottle.
Then a car overtakes. You didn't hear it coming. A silent Rolls-Royce. It is your car. Kjell pulls up and you greet him like he is the last person on earth which, of course, he is. You fold your bicycles, put them in the boot and shiver into your air conditioned car. The outside temperature reading is off the scale; it must be over forty. The car keeps accelerating so you ease back to seventy and you say to yourself, "This is the answer. A bicycle and then a Rolls-Royce. The best of both worlds."
Sales and Wants
The S&W list is still quite active - if you have a folder, separable, or accessories to dispose of, or you want to buy, you can use the Sales and Wants page (http://www.whooper.demon.co.uk/foldsoc/sandw.html). If you want to have something put on the list, just email us the details (mike@whooper.demon.co.uk) - there is no charge, but please let us know when it is sold so that we can take it off the list.
Letters
Lindsay Perks, a new Brompton owner, writes:
As a comparatively new Brompton owner and already an enthusiast (after only three months) I was particularly interested by the items on possible developments of the marque and the rigors of winter cycling a la Brompton. I concur with your view that the brakes may be the weakest feature of this otherwise well engineered machine and, as someone with smallish hands and less than Herculean strength, I do find the effort of applying them considerable. However, I am getting used to them with practice, but I am none too happy at the damage that the blocks supplied seem to be doing to my rims. Is there a preferred alternative that could be fitted?
I have heard and read a lot about tyre options. I can see how the Primo may be better if one is using the bike exclusively on the road on good surfaces. However, I am sure I am not alone in using mine on very mixed terrain with a good deal off metalled roads. I find the supplied tyres on my L5 a good compromise and find I have been able to maintain good progress even in quite muddy conditions as long as I do not attempt - in the words of the highway code - to change speed or direction too rapidly. And, they are quite satisfactory on the roads. Changing wheels for different uses would be a fag!
Regarding cleaning, it is a messy job when you have been out on local bridleways and old railway tracks after rain. But I just lean the bike up against the garden wall and use a high power hose to blast all the mud away. No harm yet - but I do as is recommended and do a spin round the block to drive off afterwards. I am also pretty liberal with chain cleaner /lubricant to containing teflon and apply light oil to all moving parts - which seems to work. Worst spots are the rear chain mechanism as you mention but there is not much space between the rear wheel and the mudguard which also require special attention. I.have a rigid rear mud flap, which helps.
Actually my Brompton spends much of its time in the car boot. This both solved the problem of finding space in my small garage for a second bike and means it is handy if the mood takes me or I have a need for it when I am driving - as seems to happen regularly. I think if I had to limit myself to one bike, it would now have to be my Brompton much as I love my Trek 750 sport. Incidentally, I live near the Tyne & Wear METRO route. The operators welcome folders but have no truck with regular bikes. Not only is it useful to convey myself to a fresh start point when I go out on a weekend or evening run, but it is comforting to know that if I get tired or the weather turns too inclement I can stop at the nearest station and be transported home in comfort.
Aztec or similar blocks are generally regarded as providing an improvement in stopping power with the standard brakes, and with no worse (perhaps better) effect on wear of the rims. Primos actually handle rougher riding conditions remarkably well, and some of the new tyres in the pipeline (eg the Schwalbe Marathon) look as though they may suit more varied riding conditions well. I have never been keen on the idea of using a high pressure hose system - if you do use one, take care not to direct it at any bearings.
Events
29 November - 3 December - Portmeirion
This year's visit to Portmeirion takes place over the next week. As mentioned in the editorial, we hope that we may be able to produce reports and photographs each day during the week, and load these on our web pages. Watch the web pages at http://www.whooper.demon.co.uk to see if we succeed in doing this, and if we do, what goes on. If you are going to this event for the first time, we have rather belatedly loaded some information on travel etc on the web pages this is at http://www.whooper.demon.co.uk/foldsoc/portm.html.
Saturday 4 December 1999 - Mud Dock
It seems to have been agreed to stay with the Mud Dock venue in future, after some suggestions that an alternative might be used. Meet from about 10.30am. For further information contact Gary Lovell, Tel: 0117 932 4633.
Saturday 11 December - Origami Ride
The December Origami Ride will be at its usual location, the Tearooms at Meriden; arrive from 10.30 for an 11.00 start. For more information please see the web pages at http://www.whooper.demon.co.uk/origami, or contact John Pinkerton on 0121 350 0685.
Sunday 30th January 2000 - 4th 'Bikes 'N' Bits' Cycle fair, Manchester Velodrome, Sturat Street, Manchester
More on this in our next issue, by which time I hope I shall be able to read the blurb I have been sent!
10 - 12 March 2000 - Australian Bike Friday Club (ABFC), Bright
For more information on this event, contact Margaret Day, email mday@pickowl.com.au
June, 2000 -Vondelpark Amsterdam
Enno Roosink, bikenno@xs4all.nl , has sent the following message about this event in the Netherlands. The party is going to be like a fair with lots of activities and exhibitors of special bicycles, recumbents, folders and the like. Please have a look at www.velomondial2000.nl for details. Please help me contact the Moulton Owners Club so we can send an invitation to come and join the party. All participants of our annual Bike Friday Meeting will be attending the Bicycle Party / Fair, to show people what an "Owners Club" means (not very common in the Netherlands for bicycles, maybe the Petersen and or tandem club ). The general idea is to ride mixed with the Moultons and the Bike Fridays. The BF meeting will be stretched over 2 weekends since we do expect some participants from abroad who like to stay for a longer period in the Netherlands ( since they spend a lot of money to come over) and make a holiday out of it. (weekend 1 : 17-18 June weekend 2 : 24 - 25 June) Please could you use your cycling network and do some promotion for me and the ENFB / Velo Mondiale Party!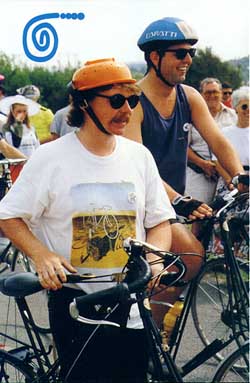 CycleFest 2000 - Lancaster, 2nd Ė 8th August 2000
The bi-annual cycling feast will soon be coming around again, and it'll all be up and running from Wednesday 2nd to Tuesday 8th August at St Martins College, Lancaster, UK. Quite a bit has been planned already of course, and as usual there's a theme for the sessions - this year it's "Transmissions", and we already have some great speakers booked for this (Tony Hadland, Florian Schlumfp, Izzi Ureili et al) and some interesting new activities planned (50m sprints, midnight torchlight parade and BBQ etc). However, further ideas are always welcome. There will be announcements in Folding Society News, The Moultoneer and other publications in due course. The Cyclefest web pages are now available (http://www.whooper.demon.co.uk/cyclefest/index.html), and will be regularly updated as the event approaches. We hope there will be a major folder/separable presence at Cyclefest 2000. If you have any queries concerning CycleFest, contact: John Bradshaw, Tel/Fax: 01524 384474 (day) or Tel: 01524 66658 (eve)
email: j.bradshaw@ucsm.ac.uk
Photograph by Pat Strachan

---
A to B Magazine
A to B Magazine remains the ultimate source of authoritative information on folding cycles. In the unlikely event that you aren't aware of A to B and/or don't read this magazine, then we would urge you to take out a subscription without delay. A to B can be found on the web pages at http://www.a2bmagazine.demon.co.uk, or you can email them at post@a2bmagazine.demon.co.uk, or they can be reached by telephone or fax on 01963 351649, address 19 West Park, Castle Cary, Somerset BA7 7DB, England. A subscription to A to B is only £10 per year in the UK, or $24, and the magazine is published ever two months and is packed with news, reviews and other interesting information on effective integrated transport systems in general, and folding cycles in particular.
---
Back Numbers
Back numbers of all issues of Folding Society News are available on our web site - go to http://www.whooper.demon.co.uk/foldsoc/fsn/fsn.html for the full list.
---
Contributing material for FSN
We would very much welcome articles, photographs or any other material for inclusion in future issues of FSN, or on our web pages. Please send any material to The Folding Society at the address given below.
---
The Folding Society
email: foldsoc@whooper.demon.co.uk
Web: http://www.whooper.demon.co.uk/foldsoc
If you have any news or other information of interest to other members of the Folding Society, please email us at the above address.
If for some reason you wish to be removed from this mailing list, please send a message to this effect to the same email address.
All information given here is provided in good faith, but no responsibility can be taken for errors or for any consequences arising from the publication of this information.
Return to FSN index | Folding Society home page
---
Copyright (C)1999 Ferrets Anonymous
Last updated: 23 November 1999
URL: http://www.whooper.demon.co.uk/foldsoc/fsn/fsn040.html