The Folding Society
---
FOLDING SOCIETY NEWS
Issue 38 - 24 October 1999

---
Editorial
Although I have now cleared the backlog of email and snail mail which accumulated while I was away in Scotland, more has built up while I have been clearing this backlog! Preparing the most recent issue of The Half Framer (the newsletter of the half frame photography group) has also taken quite a lot of time, so I must apologise again if some of you have had to wait a day or so for replies to messages you have sent me, and the updates to our web pages have not been as frequent as usual. Preparation for John Pinkerton's very successful first Equitable Silent Cycle Auction which took place at Kidderminster on Saturday has also occupied some of my time - there were no folders on sale there, but there were 4 Moultons, three of which sold at very modest prices, and the third (a Stowaway) did not sell at all.
The weather here is giving clear warnings that winter is on the way. Most of us probably adjust our cycling habits to some degree in the winter months, but although most of us will reduce our mileage, I think folder owners in general will continue to use their machines both for pleasure and utility reasons over the winter. Three factors which become particularly relevant during this period are corrosion and other causes of additional wear and tear on the bike, lighting and clothing. None of these are exclusively problems associated with folders, and huge amounts have been written on these subjects already, and will no doubt continue to be written. Consequently we don't intend to open long discussions on these subjects in FSN, but we will give them brief exposure from time to time, starting in this issue.
If all goes to plan, the next issue of FSN will appear on 7th November, and will include some comments by members on carrying luggage on folders when touring. The article on tyres continues to be put on hold pending the opportunity to try the new Birdy tyre and the new Schwalbe 16 in Marathon tyre.
Winter cycling - Part 1
Wear and tear on the bike
Water, mud and the salt put on the roads are all bad for bicycles - apart from making the bike dirty, they induce corrosion. I don't think that there is really any way you can prevent damage being done, although regular cleaning, particularly after use in very bad conditions, and regular lubrication do help. Some people with access to more than one bike use one of their less valuable machines during the winter, or in particularly bad weather - this machine still suffers, but it does save the most cherished bike(s). During the winter my best bikes ('best' in this case generally means those which are newest and/or in best condition and/or most cherished) do not normally get used on the days when the weather is at its worst. As I normally clean any bike which has been used during a week at the weekend, I avoid using more than 1 or 2 bikes each week, and will nominate particular bikes for foul weather winter use - the Moulton APB, Brompton T5, and to a lesser extent the Bike Friday New World Tourist and the Birdy have had this dubious privilege in one or more previous winter. This year the Birdy and Brompton T5 have drawn the short straw, while the Marin mountain bike will have to tackle any really rough conditions at weekends.
Lights
I fitted one of the Cateye rear lamps of the new shape - very small, flat and with a very curved lens - on the Birdy, and used it recently in heavy rain. When I came to unfold the bike later, I found to my surprise that the lamp was apparently on, although I had turned it off. In fact it refused to turn off, as water had got in and was shorting out some of the circuitry. In the end I removed the batteries, and placed it in a warm place to dry out (not too warm, or the plastic will melt!). After a couple of hours it was all right again, but this seems a potentially serious problem. If you have one of these lamps, or any other lamp with low current circuitry for controlling flashing etc, be warned that even quite small amounts of water getting into the lamp - perhaps even condensation - can result in leakage which may flatten the batteries without you being aware of it. I have not noticed the problem with the Vistalite 300s I have used in the past, but the plastic lenses of these fall off very easily, particularly on rough surfaces.
Particular issues associated with lamps on folders are where and how to mount them, and weight. Seat pillar mounting is particularly popular nowadays, but on a folder this can be a problem on models where the seat pillar is lowered as part of the folding operation, and if a wedge bag under the saddle is used for storing tools, this becomes even more awkward. At the front, handlebar mounting is usually not a problem, although shortage of real estate may make it difficult - unless you have wide bars it is not always easy to find room for the changer, computer, bell and a lamp - and in some cases it may make folding difficult. Please let us know if you have solutions to any of these problems
Birdy
The appearance of the new riese und muller catalogue means that most of our news in this issue comes from there. The catalogue, in German, and currently lacking the photocopied English translation which has been available in the past, confirms what we have reported recently regarding model changes in the Birdy range; the Birdy Elox has become the Birdy Black, now sporting a 9-speed derailleur system. Most models have at least some minor component changes. The new tyre is listed and pictured, and it appears that this replaces the previous tyres, apart from the knobbly off-road tyres. A low-rider front rack, with a load capacity of 10kg, is now available for fitting to the current models, but cannot be fitted to older models without a front fork change, as it needs the relevant mounting points. The pictures do not show the rack and its mountings very clearly, but from what we can see, the rack appears to have only two mounting points, one on each suspended fork, and there is a separate location attached to the unsuspended part of the fork where the wheel is mounted, which would also serve to prevent panniers going into the front wheel. We haven't yet heard from anyone who has tried these new racks, so the effect on the handling of carrying a load is as yet unknown.
The new tyres do not seem to have reached the UK yet - we have some on order and will report on them when we have had a chance to try them.
Another major development at r & m is that the well-known folder personality Gunnar Fehlau is now working for them, and is pictured in their catalogue with the Delite black tourer (not a folder). Just how Birdys will stand up to Gunnar's 'vigorous' riding style remains to be seen. Gunnar is already contributing useful information to the very popular Birdy email list.
There are a number of other new bikes in the r & m catalog, but these are not folders - the mountain bike style Delite (available in touring, sporting and streetbike forms), and the Equinox, described as a city cruiser, and fitted with the Shimano 4-speed automatic gear change which we described following our recent visit to Pashley. As in the past, the catalogue and at least some of the bikes seem to place the emphasis on being trendy, with the pictures generally showing people posing with the bikes, rather than riding them seriously. The Equinox seems to fit particularly into the trendy category, and looks as though it may be targetted at those who think the Raleigh Chopper was a desirable bicycle.
New Schwalbe 16 inch tyre
The new Marathon tyre has been mentioned, and pictured, in previous issues of FSN, and on the web site. It still is not available in the shops here in the UK, and one interested Brompton owner who contacted the UK agents has been told that they will not be available here until the end of November. We hope to be able to test them as soon as they are available.
The Ruhrgebiet on a Brompton
By Graham Evans
In my other life I am a Town Planner and last week I went to the Third European Planner Biennial, a conference held in Herne in the Ruhr. The theme was regional planning and sustainable development so I decided that it would be fitting to use my Brompton as my local transport.
I limited my luggage to a small rucksack and the Brompton front bag (I needed a few moderately smart clothes) and flew with BA from Manchester to Dusseldorf. I decided not to put the bike in a bag on the principle that the baggage handlers would see what it was and that they would then have to take a conscious decision to abuse it. The strategy worked and it was fine. I did use a toe strap to stop the bars from swinging out and I taped a rectangle of high density foam to the folding pedal to stop it from scratching the frame.
I had the bike bag with me in case of any confrontations with ticket collectors, but I had no problems on either the S Bahn (local express) or the U Bahn (Underground). I also took it on local busses without any difficulties. Indeed I found that people were interested and/or amused rather than annoyed by it.
My hotel was by the main station at Bochum and I had a pleasant journey of about 9km to Herne. Once out of the Town Centre the route used quiet suburban streets and cycle tracks for most of the way. The cycle routes vary from marked strips on pavements to beautiful tracks through woods and fields. The network is very extensive and generally well signed, but the signing is not completely consistent and you have to pay attention to the map until you know the route. I did run over a broken bottle in a subway, but the well-inflated Primos were undamaged.
The conference was held in the Academie Mont Cenis, a former coal mine which has become the site for the biggest solar powered building in the world. As a building it is both interesting and stunningly beautiful and well worth a detour if you are in the area.
I completed my trip by visiting friends near Dusseldorf and then cycling to the Airport for my flight home. The integrated ticket system and frequent, reliable services make this an excellent area for combining the use of public transport and a folder. I met a young planner from Dortmund who does not own a car and makes all her journeys by train, bus and Birdy folder.
I would have enjoyed the conference anyway, but I got even more out of the trip by taking the Brompton.
A demountable bicycle in the USA
By John Pinkerton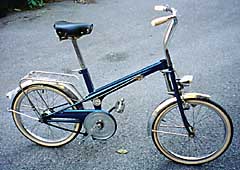 While visiting Chicago recently, I came across an interesting demountable bicycle - pictures are included in the web version of this issue of FSN at http://www.whooper.demon.co.uk/foldsoc/fsn/fsn038.html. Although badged as Columbia, one of the USA's first brand names, made by Col. Pope, it is believed to have been manufactured by Sparta in The Netherlands. It certainly bears many of the features that can be seen on the Sparta 8 - 80 in The Pinkerton Cycle Collection, especially the square seat pin and the chain guard.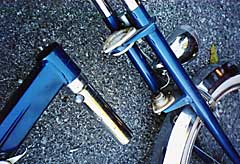 As can be seen in the photographs, it closely resembles the Trusty Spacemaster (see "It's in the bag!") in the following ways:
Separable joint which in this case also carries the current from the dynamo to the rear light
Swivel handlebars for stowing
Pressed steel fork crowns top and bottom with straight tubular fork blades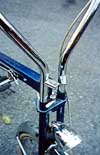 One slightly unusual feature is the Sturmey-Archer 3-speed control fitted on the main frame rather than the handlebars.

Sales and Wants
There have been quite a number of additions to the list in the last few days. If you have a folder, separable, or accessories to dispose of, or you want to buy, you can use the Sales and Wants page (http://www.whooper.demon.co.uk/foldsoc/sandw.html). If you want to have something put on the list, just email us the details (mike@whooper.demon.co.uk) - there is no charge, but please let us know when it is sold so that we can take it off the list.
Letters
From C Brady:
I have just received my New Brompton Type L 3-speed bike. I live in the metro-New York area, and I have been riding road and mountain bikes for many years. It has always been a hassle to ride to work. But as of last Monday this problem is no more. I have taken the bike on the New Jersey transit trains with no problems during rush hour, I have been getting some looks and questions but not to bad. I have also taken the bike on the New York subway without any problems. As far as ridding the bike I am very pleased with the machines performance. It took a little getting used to but I can really get around on the bike know. I used to walk about 15 blocks to my office, it was about 15-20mins depending on the crowds, no I make the trip in less than 10. It has saved me almost 30 mins a day and that adds up.
Yesterday for lunch I checked out the new park that has opened on the Hudson river (west) side of the city. I was passing all kinds of full size bikes and really enjoying it. It felt great to get out and enjoy the city in a whole new way. I can't get over how fast I can get around town. I am very happy to be part of the folding bike society, and I look forward to years of good riding...
PS Are there any other Brompton owners in the New York Area?
This is a typical reaction of an enthusiastic new Brompton owner - the convenience and mobility they provide is really excellent. I'm sure that there are plenty of other Brompton owners in the New York area - probably the best way to make contact would be through the Brompton-Talk email list.
From J D Plunkett
I am living in Japan, and I enjoy reading your web pages. I am puzzled: I just bought a near clone of the r & m Birdy design, marketed by Peugeot, but I find nothing on their web pages about. Its the SAME BIKE as a Birdy, but 20in wheels and 8speed standard. I could not bear the 18inch wheel, that put me off buying it for a year. The other MAJOR difference is the rear suspension. Is not foldable, but more real mountain bike type shock in lieu of elastomer. I have refitted the handle bars for road type drop bars; I really enjoy it so far.
I am curious if anyone else has seen this bike. Anyone modified one for multiple chainrings? The same modification used for the Birdy frame surely won't fit?.
Peugeot badged versions of the Birdy have been seen before - there was one at the last Folder Forum in May 1998. However, we haven't heard of this version, and would be interested to hear from anyone who knows any more about it. I am not aware of a commercially available multiple chainring modification for Birdys.
From Paul Mylrea
Less "news", more of a question (or the start of a debate?!) for general release.... First off, congratulations on the FSN. As a "webmaster" I know content is King and there is certainly content here.
Now how about this one. I've scanned through the FAQ's and various listservs, but not yet found the exact answer. I am an enthusiastic folder (Brompton T5 the main commuter vehicle and a much loved, but aging (a bit like me, perhaps?) Bickerton for those fine days). However, I am also extremely stressed in terms of time and commute from Oxford to London each day. With three kids who also need my time, plus efforts to launch a cycle initiative at the local first school, this gives me little time to cherish the Brompton. Now add in that new traffic schemes in Oxford mean I cycle to the station along the (muddy and gravelly) towpath and you begin to appreciate the state of my Brompton. Before you send out Social (Folding Bikes Subdivision) Services, I do not intend to abuse the wonderful machine, I just have little time, so, the questions are these:
What is the easiest and quickest way of keeping the Brompton clean and lubricated? Quick spray with Gunk, hose down and all over lube spray? Or what? (I have to admit to taking the bike in to BikeFix or to Walton Street Cycles in Oxford for routine maintenance at regular intervals. Know I should do it myself, but... anyway, the question is what to do on a WEEKLY basis?)
Have other people had problems with the guide roller (GRA on page 15 or the manual). Mine has never seemed to be properly seated and is now quite worn, causing the gear cable occasionally to slip off when unfolding.
Any other ideas why the chain may be coming off between the fixed idler sprocket (CTIDL on page 14) and the main sprocket? I've checked the tensioner. The thin metal plate inside the main sprocket appears a bit dented and I shall be straightening it this weekend, but any ideas welcome.
The method I use to clean all my bikes is to sponge them down using a bucket of water containing Turtle Zip-Wax (which claims to wax the car - sorry, bike - while washing it) and then to wipe it down with a soft cloth. This usually takes about 15 minutes, and normally is done once a week on the bike(s) I have used during the week. I try to use no more than one or two of my bikes during the week to avoid too much cleaning. Mechanically, I lubricate the chain as required - more than once a week sometimes if it is wet weather. I favour the non-oily chain lubricants, but most seem to wash off when it is wet. Other parts are lubricated and serviced as required. The Brompton receives no different treatment from the other bikes. I've never had any problem with the guide roller (actually 2 of them on my elderly Brompton T5 with the old style twin cable S-A 5-speed), so I can't really advise on this one. I have experienced the problem with the chain coming off when unfolding the bike. Originally my early T5 did not have the metal disc at all, but when I contacted Brompton about the problem, they sent me a disc and a service sheet. Basically the recommendation is to make sure that the tensioner mechanism is clean and lubricated - the pivot as well as the jockey wheels. I replaced the tensioner completely about a year ago - I needed new jockey wheels, and my old tensioner was not the current pattern. This was fine for some months, but occasionally the chain comes adrift now, so I probably need to dismantle and clean it. The other suggestion is to fold and unfold gently - you don't need to take this to extremes, but I do cringe when I watch some people fold and unfold the bike very brutally. The same goes for other folders and not just Bromptons (and indeed other products as well).
Events
Sunday 31 October - Moulton Bicycle Club 8th Troglodytes Ride
Meet at Ken and Barbara Newby's house 10.30 for 11.00 approx start at 3 Wesley Close, South Cave. 20 mile ride with pub lunch stop. Further details - Tel: 01430 422843.
Saturday 6 November 1999 - Mud Dock
It seems to have been agreed to stay with the Mud Dock venue in future, after some suggestions that an alternative might be used. Meet from about 10.30am. For further information contact Gary Lovell, Tel: 0117 932 4633.
Saturday 6 November - Moulton Bicycle Club Stockport ride
25 mile ride starting as usual from Alice Roberts' house at 80 Torkington Road, Hazel Grove, Stockport. Arrive from 9.30 onwards for 10.30ish start heading out to Bollington for pub lunch stop. Further information from Peter Sinclair, Tel: 01625 573379, or Alice Roberts, Tel: 0161 285 1074.
November 7 : Moulton Day Meet at St Kilda pier Melway 57 K10
Michael Kater in Australia has sent us the following information about this ride: Meet from 10 am for a coffee at Dennys restaurant at the end of the pier, leave at 11 am to ride to Ricketts Point Cafe Melway 86 C8 for refreshments and Half Moon Bay to HMVS Cerberus. (Bathers optional) Return to St Kilda. A wide variety of Moulton bicycles will be present. All welcome. Michael Kater 03) 5344 8296 (RSD B183 Cardigan 3352) Email stackat@netconnect.com.au
Saturday 13 November - Origami Ride
The November Origami Ride is expected to be back at its usual location, the Tearooms at Meriden, arrive from 10.30 for an 11.00 start. For more information please see the web pages at http://www.whooper.demon.co.uk/origami, or contact John Pinkerton on 0121 350 0685.
29 November - 3 December - Portmeirion
The very popular autumn Folding Society gathering at Portmeirion will be taking place as usual - this will the fourth year. If you have been before, then you will know what to expect, and I'm sure you will be planning to come again this year. If you haven't been before, please give it a try, it's an ideal spot for an autumn/winter break with lots of good company, and we have had excellent weather every time so far, despite it being quite late in the year. This is a fairly informal event, and the booking of houses at Portmeirion is done by individuals. As explained in a previous issue of FSN, A to B have agreed to act as a clearing house in helping those who have booked houses find people to share them, or those who want to share to find people with space, so contact them if you need help in this respect. It's important that enough people book houses in time, and the place can fill quite quickly, so don't delay in making arrangements. You can contact A to B at post@a2bmagazine.demon.co.uk.
10 -12 March 2000 - Australian Bike Friday Club (ABFC), Bright
For more information on this event, contact Margaret Day, email mday@pickowl.com.au
June, 2000 -Vondelpark Amsterdam
Enno Roosink, bikenno@xs4all.nl , has sent the following message about this event in the Netherlands. The party is going to be like a fair with lots of activities and exhibitors of special bicycles, recumbents, folders and the like. Please have a look at www.velomondiale2000.nl for details. Please help me contact the Moulton Owners Club so we can send an invitation to come and join the party. All participants of our annual Bike Friday Meeting will be attending the Bicycle Party / Fair, to show people what an "Owners Club" means (not very common in the Netherlands for bicycles, maybe the Petersen and or tandem club ). The general idea is to ride mixed with the Moultons and the Bike Fridays. The BF meeting will be stretched over 2 weekends since we do expect some participants from abroad who like to stay for a longer period in the Netherlands ( since they spend a lot of money to come over) and make a holiday out of it. (weekend 1 : 17-18 June weekend 2 : 24 - 25 June) Please could you use your cycling network and do some promotion for me and the ENFB / Velo Mondiale Party!
CycleFest 2000 - Lancaster, 2nd – 8th August 2000
The bi-annual cycling feast will soon be coming around again, and it'll all be up and running from Wednesday 2nd to Tuesday 8th August at St Martins College, Lancaster, UK. Quite a bit has been planned already of course, and as usual there's a theme for the sessions - this year it's "Transmissions", and we already have some great speakers booked for this (Tony Hadland, Florian Schlumfp, Izzi Ureili et al) and some interesting new activities planned (50m sprints, midnight torchlight parade and BBQ etc). However, further ideas are always welcome. There will be announcements in Folding Society News, The Moultoneer and other publications in due course. The Cyclefest web pages are now available (http://www.whooper.demon.co.uk/cyclefest/index.html), and will be regularly updated as the event approaches. We hope to have a major folder/separable presence at Cyclefest 2000 - more about this later. If you have any queries concerning CycleFest, contact: John Bradshaw, Tel/Fax: 01524 384474 (day) or Tel: 01524 66658 (eve)
email: j.bradshaw@ucsm.ac.uk
---
Contributing material for FSN
We would very much welcome articles, photographs or any other material for inclusion in future issues of FSN, or on our web pages. Please send any material to The Folding Society at the address given below.
---
The Folding Society
email: foldsoc@whooper.demon.co.uk
Web: http://www.whooper.demon.co.uk/foldsoc
If you have any news or other information of interest to other members of the Folding Society, please email us at the above address.
If for some reason you wish to be removed from this mailing list, please send a message to this effect to the same email address.
All information given here is provided in good faith, but no responsibility can be taken for errors or for any consequences arising from the publication of this information.
Return to FSN index | Folding Society home page
---
Copyright (C)1999 Ferrets Anonymous
Last updated: 24 October 1999
URL: http://www.whooper.demon.co.uk/foldsoc/fsn/fsn038.html