The Folding Society
---
FOLDING SOCIETY NEWS
Issue 37 - 13 October 1999

---
Editorial
As you may have guessed, I went on my holiday in Scotland immediately after the last issue of FSN appeared; I was away for 11 days, and since my return I have been struggling to clear a backlog of post, email (280 emails!) and work. I'm afraid I still have not caught up, so that this will be a very short issue of FSN - I hope to get back to normal by 24th October, which is about when the next issue of FSN should appear.
As indicated in the last issue of FSN, I finally decided to take a Moulton on my holiday, as the suspension would be kinder not just to me, but also the rather large collection of photographic gear I was carrying. Having to fit everything into the rear bag was rather a constraint - the tripod travelled strapped to the top of the bag, and I also used a fairly large bum bag. This really ruled out the medium format camera outfit, and in the end I also used a rather lighter tripod than I had originally intended. As mentioned before, I had decided to book the bike on the train rather than fold/separate, since carrying a lot of luggage and a folded bicycle in the station is difficult, and in order to benefit from cheap fares I had to travel on specific trains, so that a folder did not give any extra flexibility in travelling on this occasion. The Moulton performed impeccably, as I would expect - a more detailed report will follow on the web pages and in the next issue.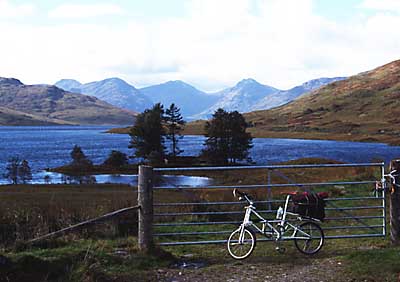 The Moulton takes a rest at the top of Loch Arklet on the way back from Inversnaid, where I was attending a photographic workshop

Although I did not take advantage of the ability to fold or separate during the holiday, the benefits of a Brompton were fully exploited the day after I got back from Scotland (Friday 8th), as at short notice I had to travel by rail to see a customer, carrying a notebook computer and various other paraphernalia. Since then the Moulton has been out by train to the Origami Ride at Milton Keynes on 9th, and the Brompton has been over to Coventry by train and has made a few local trips.
Thanks to those of you who have sent comments about tyres for the forthcoming article on that subject; I have been putting in some miles on Continental GP 406-rim tyres during my holiday. As yet the new Birdy tyre and the 16 inch Schwalbe Marathon tyres do not seem to be available here in the UK, and I will probably delay the article until I have had a chance to try them - or at least one of them.
Sales and Wants
There have been quite a number of additions to the list in the last few days, including an NS Moulton for sale. If you have a folder, separable, or accessories to dispose of, or you want to buy, you can use the Sales and Wants page (http://www.whooper.demon.co.uk/foldsoc/sandw.html). If you want to have something put on the list, just email us the details (mike@whooper.demon.co.uk) - there is no charge, but please let us know when it is sold so that we can take it off the list.
Letters
I have received quite a lot of letters from members while I have been away on holiday, but I have not had time to edit them for inclusion here, so they will be held over for the next issue of FSN.
Events
Rides for Folding enthusiasts in San Francisco
Fall Ride - October 16th
The ride will leave the San Francisco Ferry Building at the base of Market Street; arrive from 9.30am for a 10.00am start. The route will be Golden Gate Park to view the Camera Obscura. For more information, e-mail Tom Vogt (VeloVot@aol.com) or call (510-237-7380).
In 2000 there will only be two rides - the Spring (20 May) and Fall (7 October) rides. More information on these in due course.
Sunday 31 October - Moulton Bicycle Club 8th Troglodytes Ride
Meet at Ken and Barbara Newby's house 10.30 for 11.00 approx start at 3 Wesley Close, South Cave. 20 mile ride with pub lunch stop. Further details - Tel: 01430 422843.
Saturday 6 November 1999 - Mud Dock
It seems to have been agreed to stay with the Mud Dock venue in future, after some suggestions that an alternative might be used. Meet from about 10.30am. For further information contact Gary Lovell, Tel: 0117 932 4633.
Saturday 6 November - Moulton Bicycle Club Stockport ride
25 mile ride starting as usual from Alice Roberts' house at 80 Torkington Road, Hazel Grove, Stockport. Arrive from 9.30 onwards for 10.30ish start heading out to Bollington for pub lunch stop. Further information from Peter Sinclair, Tel: 01625 573379, or Alice Roberts, Tel: 0161 285 1074.
November 7 : Moulton Day Meet at St Kilda pier Melway 57 K10
Michael Kater in Australia has sent us the following information about this ride: Meet from 10 am for a coffee at Dennys restaurant at the end of the pier, leave at 11 am to ride to Ricketts Point Cafe Melway 86 C8 for refreshments and Half Moon Bay to HMVS Cerberus. (Bathers optional) Return to St Kilda. A wide variety of Moulton bicycles will be present. All welcome. Michael Kater 03) 5344 8296 (RSD B183 Cardigan 3352) Email stackat@netconnect.com.au
Saturday 13 November - Origami Ride
The November Origami Ride is expected to be back at its usual location, the Tearooms at Meriden, arrive from 10.30 for an 11.00 start. For more information please see the web pages at http://www.whooper.demon.co.uk/origami, or contact John Pinkerton on 0121 350 0685.
29 November - 3 December - Portmeirion
The very popular autumn Folding Society gathering at Portmeirion will be taking place as usual - this will the fourth year. If you have been before, then you will know what to expect, and I'm sure you will be planning to come again this year. If you haven't been before, please give it a try, it's an ideal spot for an autumn/winter break with lots of good company, and we have had excellent weather every time so far, despite it being quite late in the year. This is a fairly informal event, and the booking of houses at Portmeirion is done by individuals. As explained in a previous issue of FSN, A to B have agreed to act as a clearing house in helping those who have booked houses find people to share them, or those who want to share to find people with space, so contact them if you need help in this respect. It's important that enough people book houses in time, and the place can fill quite quickly, so don't delay in making arrangements. You can contact A to B at post@a2bmagazine.demon.co.uk.
CycleFest 2000 - Lancaster, 2nd – 8th August 2000
The bi-annual cycling feast will soon be coming around again, and it'll all be up and running from Wednesday 2nd to Tuesday 8th August at St Martins College, Lancaster, UK. Quite a bit has been planned already of course, and as usual there's a theme for the sessions - this year it's "Transmissions", and we already have some great speakers booked for this (Tony Hadland, Florian Schlumfp, Izzi Ureili et al) and some interesting new activities planned (50m sprints, midnight torchlight parade and BBQ etc). However, further ideas are always welcome. There will be announcements in Folding Society News, The Moultoneer and other publications in due course. The Cyclefest web pages are now available (http://www.whooper.demon.co.uk/cyclefest/index.html), and will be regularly updated as the event approaches. We hope to have a major folder/separable presence at Cyclefest 2000 - more about this later. If you have any queries concerning CycleFest, contact: John Bradshaw, Tel/Fax: 01524 384474 (day) or Tel: 01524 66658 (eve)
email: j.bradshaw@ucsm.ac.uk
---
Contributing material for FSN
We would very much welcome articles, photographs or any other material for inclusion in future issues of FSN, or on our web pages. Please send any material to The Folding Society at the address given below.
---
The Folding Society
email: foldsoc@whooper.demon.co.uk
Web: http://www.whooper.demon.co.uk/foldsoc
If you have any news or other information of interest to other members of the Folding Society, please email us at the above address.
If for some reason you wish to be removed from this mailing list, please send a message to this effect to the same email address.
All information given here is provided in good faith, but no responsibility can be taken for errors or for any consequences arising from the publication of this information.
Return to FSN index | Folding Society home page
---
Copyright (C)1999 Ferrets Anonymous
Last updated: 13 October 1999
URL: http://www.whooper.demon.co.uk/foldsoc/fsn/fsn037.html