The Folding Society
Cycle 2002 Show at the Business Design Centre
---
I'm not a great one for visiting shows, especially when it involves a trek to London. However, the advance information suggested that several important folder manufacturers would be represented, A to B would be present, and the r&m Frog and a new Airframe would be on show, plus a launch by AVC of their new distributorship for Bike Friday.
As usual, I took the Chiltern Line route to Marylebone from Birmingham Snow Hill - rather longer but much cheaper than the New Street-Euston route. Needless to say, the train was very full, but happily it ran on time. The Underground journey to Angel was very tedious - I followed the advice of my PDA and went to Baker Street, changed to the Bakerloo line to Kings Cross, and then the Northern line to Angel. This involved some long waits, and it was an hour after arrival at Marylebone before I finally reached the Business Design Centre. Unfortunately a complementary ticket had been delayed in the post (it was waiting for me when I got home!), so I had to pay the full entry fee on the door.
I'd never been to this location before, but it is quite attractive, although a bit difficult to keep track of your location in the rooms off to the side on the top floor.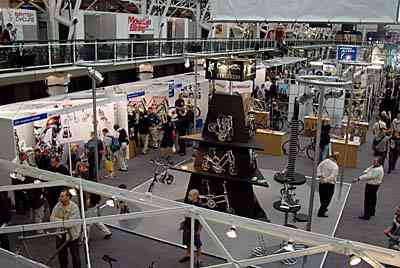 The show was relatively quiet when I visited on Friday in the late morning and early afternoon, which made moving around and inspecting the products a great deal easier. It was clear from the outset that this was going to be a worthwhile show to visit - a far cry from the noisy, all-mountain-bike affairs that most cycle shows seem to be nowadays. Naturally I concentrated on folders, but there was plenty else to look at as well.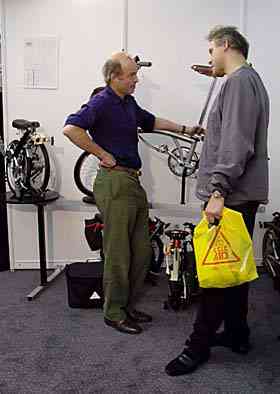 Of the established makes and models, Brompton had a good stand with all their products on show, and plenty of visitor interest. Various familiar faces were to be seen on the stand, and Andrew Ritchie himself was certainly there for at least part of the time. There were no new products on display (at least none that I saw), but at the side of the stand, neatly folded up and partly concealed were a number of machines which the stand staff had used to get to the event. I suspect Brompton was one of the few exhibitors whose staff personnel used the company's products to get to the show.

Other regulars at the show were Pashley, who included a single speed Micro on their stand, and Moulton Bicycles, who had a very fine collection of machines on display, including an old 'classic' Speedsix as well as current products. One of the New Series models was fitted with a front rack and bags, but Shaun Moulton warned that this was another prototype design, and one which will definitely not go into production, so NS owners look likely to have to wait a good deal longer for a front carrier system. The other exciting thing on show on this stand was the Bridgestone Moulton - yes, this was the UK launch of this model, and they will be on sale here in about 3 weeks time, apparently fitted with the new Shimano Capreo group set for small wheelers. The price has not yet been finalised, but seems likely to be of the order of £1500.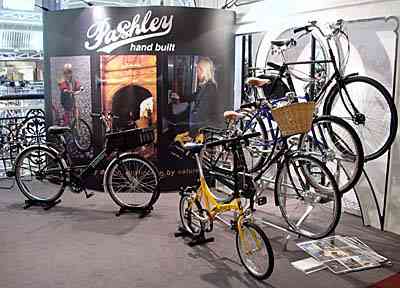 The Pashley stand, with a single speed Micro on display.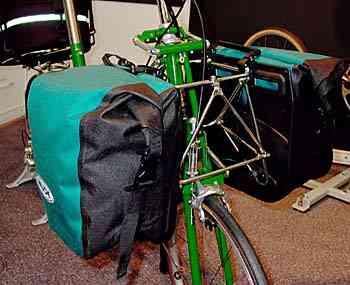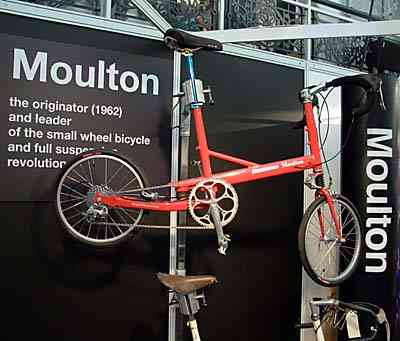 Above: The Moulton stand, with a prototype front carrier and bags for the NS (this will NOT go into production!), and the Bridgestone Moulton, which will very soon be available in the UK.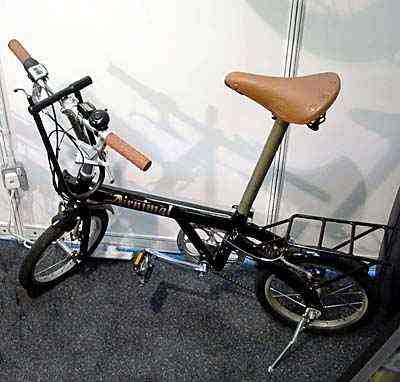 Richard Loke was also present with a good collection of Airnimals of various specifications, both folded and unfolded (http://www.airnimal.com) . Also lurking on the back of the stand was a miniature folder, which may become available at some point in the future. The stem is very Birdy-like - it probably comes from the same Taiwanese factory!

Making its first appearance for many years was the Aiframe - but although this bears a strong resemblance to the original Airframe, it has been completely re-engineered, and in particular the stiffness of the frame is reported to be much improved (see riding impressions at the end of this report). The fold is reasonably quick and compact - though it is tall and thin, rather than the squatter shape of the folded Brompton. Overall the volume is probably similar. It is a shade lighter than a Brompton, and not too difficult to carry, though the exposed chain means there is more risk of getting dirty when carrying it. A useful feature is that when folded it can easily be wheeled along on the front wheel, so the need to carry it around railway stations etc is reduced. Price will be about £650, and production machines should be available in about 3 months time. The machine certainly creates a favourable impression, but full judgement cannot be made without the opportunity to test it fully. Airframe are at http://www.airframebike.com.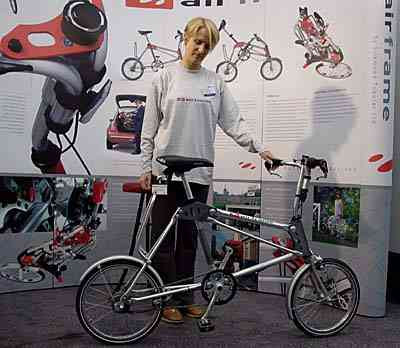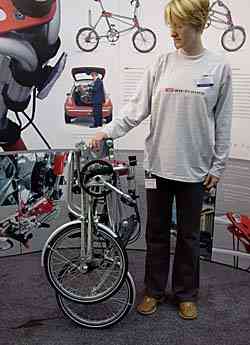 Above: The new version of the Airframe
Almost next to the Airframe stand was a stand with some Gekko folders (email sales@gablemere.co.uk) with a not entirely dis-similar frame style, which also folds via a large number of pivoted joints. The version on show was quite a heavy beast in steel, with only a single gear, but an alloy version with three gears is expected in a few months time, and this will probably be under 11Kg. There was even a tandem version of this frame on show! See the end of this report for riding impressions.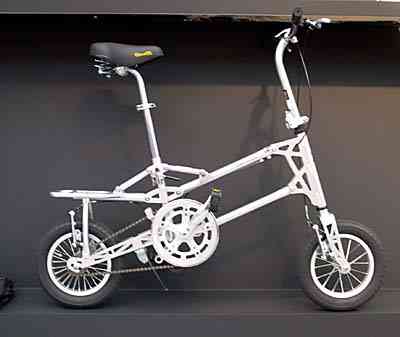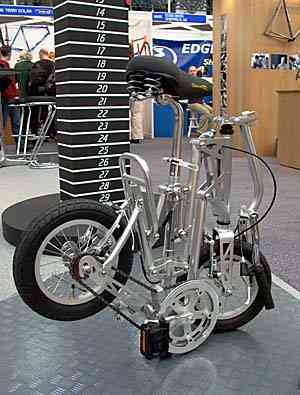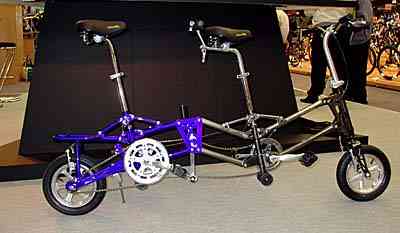 Above: Gekko
Avon Valley Cyclery (http://www.foldingbikes.co.uk) had a strong presence. To mark their appointment as distributors of Bike Friday in the UK, they had a good range of these models on show, but nothing unusual for those already familiar with the range. They also had several Dahons and Moultons on display, and the latter were attracting plenty of interest. Of most interest on this stand to the cognoscenti (ie me, though apparently not many others) was the new r & m Frog. This was finished in a rather excruciating shade of light green, and was posed partially in a 'lily pond', with associated sound effects. This was a static exhibit, so there was no opportunity to examine it closely or try riding it. However, despite the presentation (which I suspect is r&m's work, rather than AVC), it looks a serious machine, with front and rear suspension which are similar to the Birdy. The small diameter but large section wheels and tyres look the most questionable feature, and an opportunity to try the bike on the road is eagerly awaited.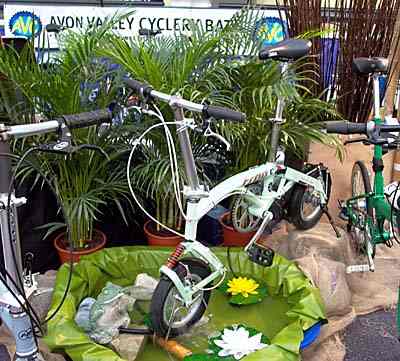 Above: The r&m 'Frog'
A number of other folders were on display, and there was also a diminutive electric device.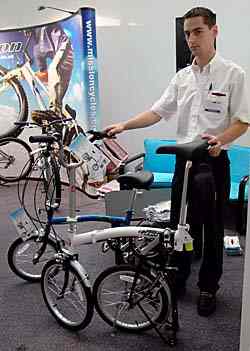 Mission had their rather Bromptonesque folder on display - just across the corridor from the Brompton stand!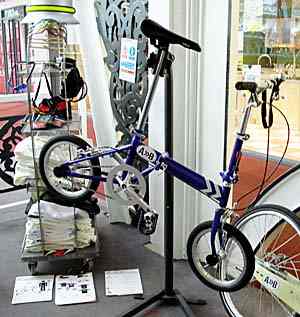 Despite the logo, this has nothing to do with A to B magazine!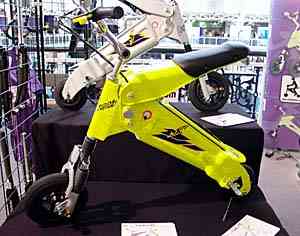 The wheel size of this small electric device - the City Mantis (http://www.slduk.com) looks rather a limitation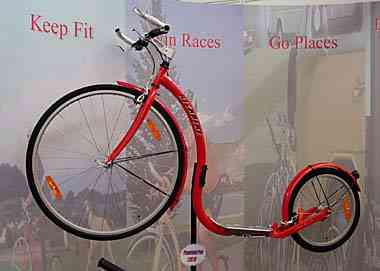 Also noted was a far from diminutive scooter, with full size cycle front wheel, and smaller rear wheel (http://www.vroomscooters.co.uk)!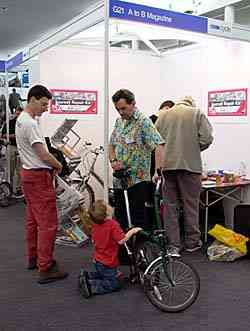 Finally, it was good to see A to B at the show and attracting plenty of interest on their stand. David and Jane Henshaw were ably assisted by Alexander - at least when he was not riding around the other stands on his LikeaBike!

Test rides
In the basement of the Design Centre there was a very small test circuit on which some of the bikes could be ridden. This was small flat oval, so it did not really give much chance to seriously evaluate the machines. Amongst those available for testing were a Brompton, Airnimal, Airframe and Gekko, plus the unusual Kickbike scooter with its large front and small rear wheel. I did not try the Brompton and Airnimal, as I already own them, but I did try brief outings on the Airframe, Gekko and Kickbike. The Airframe ran quite nicely, but I did get the impression of some flexibility in the frame - this may have been simply lack of familiarity with its handling, and the nature of the small test track. The four-speed Nexus hub changed nicely, and brakes seemed fine, but a small flat test circuit is no way to test a bike. The Gekko felt very short and upright, but surprisingly rigid and quite fun - rather reminiscent of riding a Micro, but without the excessive flexibility of the stem of the Micro. Again, this was a less than ideal test environment, and a crucial question of any design involving so many pivoted joints, whether Airfame or Gekko, is how well it stands up to extended use involving much folding and unfolding. The final test ride, just for the hell of it, was on the Kickbike. Starting off on this felt extremely strange, but once underway it felt more stable, and in the right circumstances I guess you could get up quite a speed on it, though in the cramped surroundings I didn't, and barely needed to apply the front or rear caliper brakes.
Around the show
I was pleased to be able to meet a number of old friends at the show. Apart from 'performers' such as Tony Hadland, Shaun Moulton, Dan Farrell, Richard Loke etc, other visiting folder enthusiasts who I encountered were Ray Racey, Paul Stobbs, Dave Minter and Susan Barlow.
Conclusions
A number of interesting new machines were on show - I'm not convinced that any of them offer serious opposition to the leading established products, but it is good to see that there is development going on, and certainly some of the new offerings have potential at the very least. I look forward to the opportunity to try some of these new machines more thoroughly in more realistic conditions in the not too distant future.
Although this was not one of the most convenient venues for me to get to, it was certainly well worth going, and if you are reading this and still have time to get to the show, it is well worth a visit.
---
Folding Society home page | Event reports page
---
Copyright (C)2002 Ferrets Anonymous
Last updated: 27 September 2002
URL: http://www.foldsoc.co.uk/cycle2002.html