The Folding Society
Buying a first folder
By Chris Patten, Ottawa, Canada
---
Editor's note: Chris is new to folders, and readers may find his comments useful. He lives in Canada, which affects the availability of some of the makes and models which are common in the UK and the rest of Europe.
Introduction
I recently bought a folding bike. A number of events added up to the purchase, and I learned a lot of about the folding bike market in the process. I wanted to share what I learned with others who might be interested in a 'folder.'
First, a bit of background on why I was looking at folding bikes. My decision was sparked by an interest in getting back in shape and doing some cycle-touring and camping. I bought my last bike, a full-size touring bike, 14 years previous - before I had a drivers license - and I hadn't used it much since, in large part because it wouldn't easily fit into my car. I was fortunate to sell that bike just days before buying the folder so it largely financed the folder purchase.
I actually owned a folder years ago - what I think was a 1960's Peugeot with a 3 speed internally geared hub I inherited from my parents. It was a tank and had a tendency of attempting to fold while being ridden! Folding bikes have come a long way since then.
The internet is your friend when looking for info on folding bicycles. Your first place to start is at the "The Folding Society." Read their FAQ's. I kept coming back to it at http://www.foldsoc.co.uk/. Some other sites I found had useful tidbits of info. It's extremely important to remember: where one site may ignore a particular brand or model, another may have info and vice versa.
http://nordicgroup.us/fold/
http://tinyurl.com/7e52x
http://www.bikeforums.net/forumdisplay.php?f=221
http://snipurl.com/garz
http://www.kinetics.org.uk/html/folding_bikes.shtml
http://www.bikesandtrailers.com/folding-bikes/
Where to find a folding bike
Geography is a large factor when looking for a folding bike - more so than with conventional bikes because of the comparatively small number of folders to non-folders. Depending on where you live, you may only have access to certain models. Some models are only available by mail order. In London, England, you'll probably find dozens of shops with Bromptons, Moultons, Birdy's and Bike Fridays. In London, *Canada*, you'll find Dahons, KHS, Giant and Norco folders.
Test riding prior to purchase was important to me so I eliminated any bikes I couldn't try in person. If I lived in a smaller town or hadn't taken the trip where I found the bike I ultimately bought, I might have taken a trip to the next nearest large city to try other models. As it happened, I lucked out.
First test rides
First of all, I eliminated some models that were available locally that lacked "must have" features to me. 20" wheels and a minimum of a 6 speed derailleur were musts - no 16" wheels or single speed models. Here's what I had a chance to ride:
1) Avenir Aluminum/2004 Dahon Impulse D6, 6 speeds. This is a Canadian re-branded 2004 Dahon (http://www.dahon.com/2004/impulsed6.htm ) http://snipurl.com/gbj5. Similar to the 2005 Helios P8 (but with 6 speeds not 8 and a few other substitutions) I took for a 15 minute urban ride in and out of traffic in downtown Ottawa, Canada. I was very impressed with the smoothness of this bike and the fit and finish of the build was superb. You may find similar bikes in different countries under different names. I believe Sweden has a model called "Yosemite," England the "Ridgeback" - both made by Dahon. Even Trek brand folding bikes (F200, F400, F600) are made by Dahon. A Google search for "Avenir folding bike" clued me in to the connection.
2) Giant Halfway; 7-speed, aluminium frame, unique mono-blade fork design, gorgeous folding latch. http://snipurl.com/gb8t. I was VERY impressed with the ride of this bike. Took this for a 15 minute ride in a hilly part of town. It struck me as having a bit lower gearing than I'd like but everything else about it was fantastic and I conceded that I could replace the chainring or rear cogs if I wanted higher gearing. It was about double the price of the Avenir/Dahon and I recall asking myself if this bike was really "twice as good" as the Avenir. Oddly, it doesn't have braze-ons for racks or accessories. I also learned there was a suspension version of this bike, the Halfway RS, which wasn't offered in North America. I felt a bit cheated by Giant's decision to limited my choice to a non-suspension bike. Foul! Let that be a lesson to Giant and all other companies: you can't hide *anything* from the consumer with the advent of the internet. ;)
3) Giatex stretching bikes. About a year before I seriously looked at a folding bike, I was at an airshow where Giatex bikes were being sold. I rode 16" and 20" wheel models for about 20 minutes each. I don't remember these as well as my recent test rides but I do recall I found them comfortable and solidly built. They don't "fold" as small as other models but they cost even less than the Avenir and I feel would have been a good value. I test rode another bike that I discuss below but first, some perspective.
Perspective
My frame of reference was my old GT Tachyon - basically a 700C ("700D" technically but close enough) road bike with drop handle bars, aerobar, rear aerodisc and a mix of Shimano 600 & 105 components. Everyone who rode it described it as a rocket ship.
All of the folding bikes (exception being one of the Giatex) had 20" wheels. I was pleasantly surprised at how well these small wheel folding bikes rode. Folding bike manufacturers have invested a great deal in designing bikes with comfortable geometries that minimize any disadvantages of small tires. I'm 6'0 and over 220lbs and none of the bikes I tested felt unstable or cramped. They're more manoeuvrable than full size wheel bikes and control inputs are smaller in order to make turns but this shouldn't be regarded as instability, simply different feel.
As Richard Ballantine writes in "The Ultimate Bicycle Book," people have toured across continents on folding bikes. I have no doubt about this. Small wheel folding bikes shouldn't be considered a handicap even if you want to do serious cycle touring.
The surprise decision
With cash in hand from the sale of the old bike, I was ready to walk in to my LBS (Local Bike Shop) and take a Giant Halfway home with me.
Coincidentally, I had a trip planned for a family reunion taking place about a 7 hour car drive away in London, Ontario Canada, with an intermediate stop to pick up family at about the half-way mark. I wasn't going to be able to use my bike while on the road so I tucked the money away and figured I'd make some phone calls while I was out of town.
At the midway stop, none of the LBS' had folding bikes. "But we can order you one!" Uh huh. That's nice. I suppose you'd want a deposit too? No thanks - I want to try before I buy.
On reaching London, I had much better results: every LBS had at least one folding bike.
One LBS in particular had a "new-old-stock" bike that I'd only read about but discarded as unavailable: a 2003 KHS Westwood. I'd read about the current KHS folders - the F20 and the Cappuccino - but discarded them because I didn't have access for test rides. All of the bike shops where I was visiting carried KHS so my options opened up. I went to the bike shop with the Westwood (note: the "Westwood" name is now used by KHS on a non-folding bike - the 2003 Westwood is similar to a 2005 Cappuccino but with 20" wheels, full suspension and CrMo frame). I thought I'd just take a quick ride and then go visit the other shops to try the F20 and Cappuccino. I didn't need to: the Westwood had me at the first ride. I planned on a 15 minute jaunt over some potholes, gravel, asphalt and grass but a freight train came between me and the LBS rolling by at walking speed so I got about 30 minutes on it. :).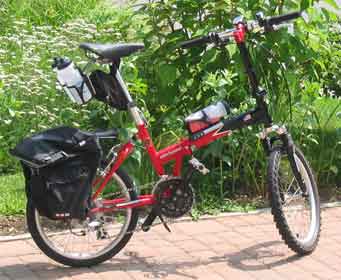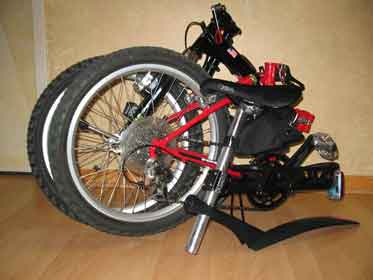 According to the shop, all the folding bikes they'd sold were in the price range of the Avenir/Dahon - about half the price of the Westwood. While it was a 2003 model, it was unused, had 16 gears, gorgeous paint (red and black are my favourite colours), full suspension, 20" wheels and braze-ons for racks and cages.
The stock seat on the KHS is made by Velo and was the most comfortable saddle I'd ever tried to date. I've since gotten my hands on a Brooks leather saddle which, after some very sore rides, has broken in and become my new favourite. I would still recommend the KHS comfort saddle to anyone who wants a maintenance free seat. (Brooks bike saddles, like good equestrian saddles, must be cared for.)
The metric double century
Well, not quite. I do have 200km on the KHS, but it's over a period of several weeks. I didn't realize how out of shape I was until I found myself struggling to do 10km straight. Now I'm up to 25+ and my goal is to do a metric double-century by the end of the season.
I should point out: this has nothing to do with the bike. My roommates have taken the bike out and confirm it can fly. I've had it up to 40km/hr on level ground but my legs and lungs give out quite quickly doing that. It could also stand to be geared *slightly* higher for that type of speed - replacing the front 44 chainring with a 50 perhaps. I can't imagine using the lowest gears ratio for anything as walking would be faster though perhaps up a huge incline?
I'm continually impressed with this bicycle.
I keep a seat-post bag installed that has my basic tool kit - spare inner tube, wrench, allen key set, patch kit etc - and a digital camera. I have one bottle cage installed on the braze-ons on top of the, uh "top/down/folding" tube and two more cages on a Minoura dual cage adaptor that bolts to the saddle rails a-la triathlon style. Easy reach to the rear bottles, similar motion to scratching an itch on your lower back. Putting the bottle back in the cage takes a bit more practice.
I replaced the stock 20x1.95 "semi-knobby" rear tire with a Vee-Rubber 20x1.50 touring tire. This made a noticeable difference for the pavement [road in UK English - Ed!] riding I do. I got this idea from Sheldon Brown at: http://www.sheldonbrown.com/tires.html#mixing (the Mixing/Matching Tires section).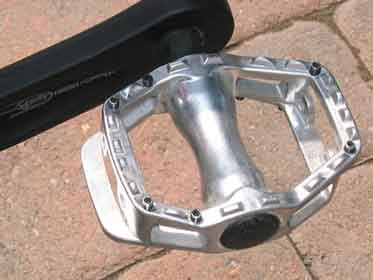 Stock pedals on this bike are small, non-folding platform pedals. They've grown on me though I suspect many people would rather have larger platforms or SPDs. They have a perimeter of little black "cleats" for lack of a better term - little replaceable pins around the edge similar to a golf shoe that aid in keep your foot on the pedal. I find them effective once you've adapted to the feel.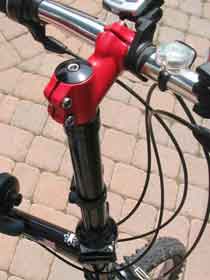 One thing I haven't entirely adapted to is fixed handlebar height. At 6'0", I have the seat adjusted to about an inch short of maximum extension. I find myself wanting to ride fairly upright but would like the bars an inch or three higher. The bike has a threadless stem so a stem extension is needed to raise the bars. I get by for now in a not-uncomfortable slightly forward riding position. I'll likely spring for the $20 vertical extender.

Summary
I wish I worked for a cycle magazine or owned a shop that specialized in folding bikes so I could spend more time with every model on the market and write 1st-hand, detailed reviews. I hope this short article helps in your search for the ideal folding bike.
If you can find a 2003 KHS Westwood, I highly recommend it. In fact, I recommend any of the bikes I tested recently with the Avenir/Dahon being an excellent value for the money.
I've been doing more reading online and found a number of people recommending the current KHS Cappuccino as having a comparable ride to the Brompton - at half the price. If you're in London England, Bromptons will be common. In London Canada, you'll find KHS but no Bromptons. Geography can be a huge influence: people singing the praises of one model or brand may not have been exposed to others. While the praise may be deserved, don't assume there aren't other options in your area.
Don't rely on hype about any one brand and don't let any salesman sell you what they have on hand without first looking elsewhere. You can always come back and you might find something better elsewhere, just as I did.
Set a budget for yourself, perhaps adding an extra $100 if you see something for a bit more that really grabs you.
Decide what features you can't live without and eliminate all bikes that don't have those features.
Above all, do your homework, test ride any bike you're considering and trust your own judgement.
Good luck and if you have a story of your own, consider sharing it!
Chris Patten
Editor's note
KHS have a web site at http://khsbicycles.com. At the bottom of the home page is a link to a list of international distributors, although it appears that the one given for England is incorrect.
---
---
Copyright (C)2005 Chris Patten
Last updated: 19 July 2005