The Folding Society
Report on the first Birdy weekend 24-26th May 2002
By Graham McDermott
---
The first official Birdy weekend organised by the Riese and Muller team promised to be an exciting affair, and it didn't take too much persuading for me to get Gary Lovell of Brompton fame to accompany me for the long train journey to Darmstadt.
We decided to journey by train as it brought back happy memories of a Folding Society journey to Amsterdam, also by Eurostar, when 20 folding types took their bikes aboard the train. This time there were only two of us: Gary with his Brompton (all folders were welcome) and myself with my Birdy Black. We both bagged our bikes, Gary using the Brompton bag, I using a big laundry bag, in which the Birdy fitted perfectly, and only cost £1 at the local market.
Our train journey took us from London Waterloo to Brussels, then onto Cologne and finally by local train to Darmstadt. At no time were there any problems with bikes on trains or going through customs at Waterloo.
We arrived on the Thursday before the official starting day, and even before leaving the rail station we saw a Brompton on the station concourse, much to Gary's delight. On Friday we spent the day exploring Darmstadt's shops, cafe's and bike shop (which did stock Birdys). Registration took place at a local Beer Garden (much to my delight!) and we met up with Dudley Arnold, also from England. We also saw our first Birdy Grey, which looked absolutely fabulous, and Gary took it for a number of test rides and was becoming very tempted. It was a fine place to gather, and people were soon looking at each other's Birdys and the various modifications owners had made. As always at these gatherings, it seemed that no two bikes were the same, as all had some "tinkering" done to them. There was a night ride planned, but as I didn't have lights, we decided to head back to our hotel and have a meal.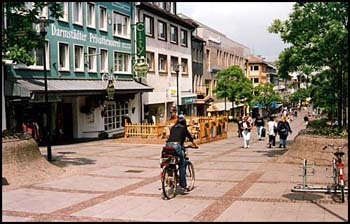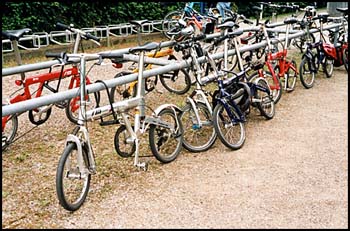 Above: Darmstadt, and the bike park at the beer garden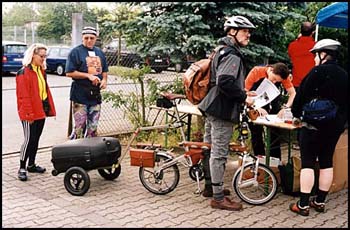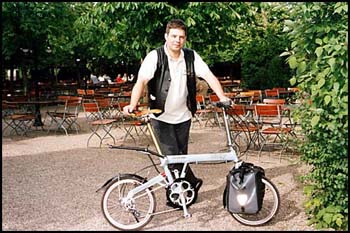 Above: Leather finish Birdy and Thomas with his 6 hour old Birdy Grey
Saturday: Up very bright and early for the 8.30am start at the factory for a cycle through the local forest tracks to Eberstadt, where we were to have a ride on a preserved steam train. They laid on a "goods wagon" for the bikes and again it reminded me of the train full of folders at Weymouth some years' ago. The train ride was fun and enjoyed by those aboard and those the train passed on the road. Many waves and smiles all around.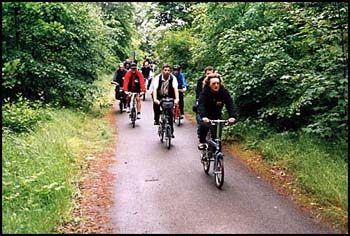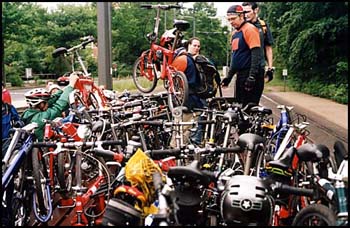 Above: In the forest and loading the bikes in the gueard's van
Following the train ride the riders split into groups for various rides to suit all abilities. Gunnar Fehlau, the MC as it were, detailed the various rides and Gary and I decided to join Ole Fehlau for a culture tour of the city's attractions and places of historical interest. This proved to be very interesting, the highlight for me being the Art Deco buildings. There was also an opportunity for the fitter riders to try out the bicycle race track at the Darmstadt football ground. I was beginning to find the cycling a little hard going, but put it down to me being rather out of shape. But at one stop I looked down and saw I had a broken spoke in my rear wheel, and that the rim was rubbing against the brake. Fortunately it was near the end our tour and I was able to struggle back to the factory where the bike was whipped out of my hands by a very helpful member of the R+M workshop team who fitted a new spoke and trued my wheel, for which I was very appreciative.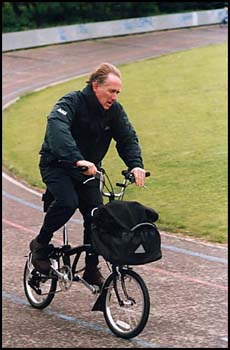 Above: Gary and his Brompton at speed on the race track
The cycling over and it was time to relax. There were tours of the factory lead by R+M, where we were given an insight into what goes behind the scenes from the factory floor to the offices above. Some prototype bicycles were on show, including the R+M Birdy Tandem, which I was told was sadly unlikely to go into production. After this it was time for a barbeque and music provided by the Riese und Muller-Band, consisting of Ulrike Fehlau, Frank Stefan Kimmel, Heiko Muller, Sven Rohwer and Markus Riese. They played a good range of blues and jazz and made for a most enjoyable end to the day.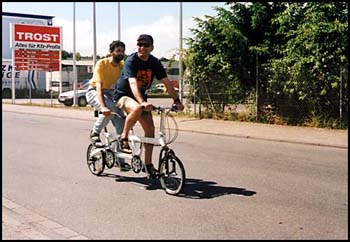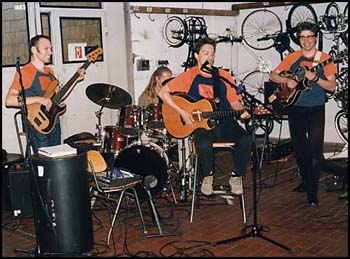 Above: The Birdy tandem and the r&m band
Sunday: Up betimes and off to the R+M factory again for the main event of the day: The Folding Bike Race. The riders had to start Le Mans style, run to their bikes, unfold them (tricky for some competitors), cycle 1km, fold their Birdy (or in one case Brompton), hand it to a waiting marshal, who passed to on to another marshal across a make shift desk, the bike then given to you, unfold and another 1km ride before going through the factory gates and folding again and sitting down at the point you started. The races were great fun, and a special mention must go to Gary. Largely due to the speed with which he could fold his Brompton, he tied in first place in his heat against a strong looking field. By the way, if anyone thinks that the Birdy takes an age to fold, then they should see Gunnar fold his Birdy. It probably takes 2 seconds. I am not exaggerating!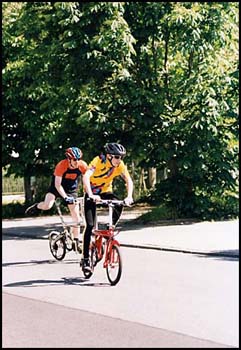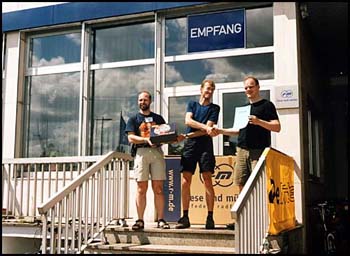 Above: Folder racing and the winner, Frank from Amsterdam, collecting his trophy
The races over and prizes awarded, the overall winner of the weekend was Frank from Amsterdam, who won a Rohloff Speed Hub, to the envy of the rest of us. With the ceremonies over, we finished on a high with a cycle ride again through the forest trails to the car-free Bergstrasse. One day a year this highway is closed to traffic and is opened up to cyclists and roller-bladers. This was great fun, with riders of all ages taking to the roads. Along the sides of the highway were areas for picnics, with beer tents and barbeques. As we passed through villages the roadside cafes were full of cyclist enjoying a coffee or something stronger.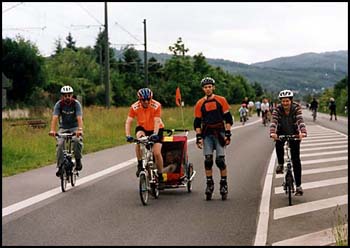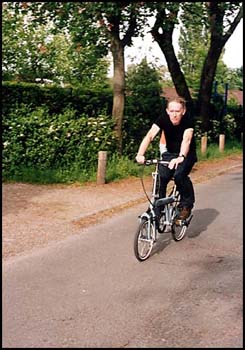 Above: Family ride, with Marcus on 'blades, and will Brompton fanatic Gary Lovell get a Birdy Grey?
This was the final event of a really wonderful weekend with over 50 Birdy owners present. Our thanks must go to all the R+M team for organising such a fun event. Plans are already in the offing for next year's gathering. The 10th Anniversary of the formation of Riese and Muller. It should be great fun. See you there.
Full version of the photographic gallery available here.
---
Folding Society home page | Folding Society Event Reports page
---
Photographs Copyright (C) Graham McDermott. Reproduction in any form and by any means without the express permission of the Copyright holder is forbidden.
---
Copyright (C)2002 Graham McDermott
URL: http://www.foldsoc.co.uk/birdywe1.html
Last updated 2 June 2002