The Folding Society
Airnimal
---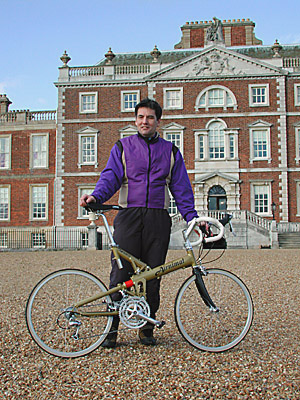 The original Airnimal Chameleon is a high performance bicycle which folds. Its features include an aluminium frame and 24 inch (520) wheels.
In the last quarter of 2004, two more models were added to the Airnimal range - the Joey and the Rhino. The Joey is a lower-cost machine - it looks similar to the Chameleon at first glance, but does not have rear suspension, nor the carbon fibre front forks, and a simple telescopic seatpost is used in place of the folding one of the Chameleon. If anything, it may be slightly more portable than the Chameleon, as the handlebar stem can be folded in more readily. Also, it's quite competitively priced for a high performance machine at around £600. The Rhino is a very different machine - though the general design and method of folding owe a lot to the other models. It is a full-suspension bike with 20 inch (406) wheels, typically equipped with knobbly tyres for off-road use.
News
Joey 507 Tyre Options
The 507 tyre used on some models of the Joey is not all that common, and we have had some enquiries about what width will suit the Joey. One of the options is the Schwalbe Marathon, but this is available in both 40 and 47 widths. The 507-40 version fits the Joey with no problems with clearance, and Airnimal Designs themselves generally have several hundred of these tyres in stock. As to the 507-47 Marathons, Airnimal tell us "although a number of customers have used this satisfactorily, we don't recommend it because the clearance is sufficiently tight that any small variations can cause conflicts between tyres and stay". There is also a VeeRubber tyre, and Airnimal are looking at a similar Kenda puncture protected tyre. [18/02/2008]
Report on the Airnimal Joey Sport
We now have a report on the Airnimal Joey Sport, kindly provided by Nick Hodges [29/06/2007].
A Fixed Gear Chameleon
Andrew Stewart has a most unusual Airnimal Chameleon - it is a fixed gear model. You can read about it HERE. [08/01/2007]
*** UPDATE *** - Andrew has updated his report since it was originally published here on 08/01/2007. Since he keeps a continually updated version on his own web site, we recommend that you use THIS LINK to his web site to access the report, rather than the link above to our original copy [18/06/2007].
More on the Rhino
Member Ian Hobson has a very detailed report on his blog relating to a recent trip he made with his Rhino. The relevant links are:
http://hobcot.blogspot.com
http://hobcot.blogspot.com/2006/06/airnimal-rhino-and-cycling-in-algarve.html
http://hobcot.blogspot.com/2006/06/5-algarve-cycle-rides.html
[01/07/2006]
Rhino pictures
Pictures of the Rhino, especially in folded form, are not very common, so we are grateful to Folding Society member James Mildenhall for posting a good collection on the web at http://jamesmildenhall.co.uk/photos/main.php?g2_view=core.ShowItem&g2_itemId=4089. These show the complete bike, lots of details, and the folded version. [30/04/2006]
More wheel options on the Joey
The Joey is now available not only in the 8-speed derailleur form (the Joey Sport, at £695), using the 520 version of the 24 inch wheel, but also with a 507 wheel (also classed as 24 inch, but taking rather more substantial tyres). The new 507-wheeled versions are:
Joey Commute - 8 speed Nexus hub gear £795
Joey Explore - 3x8 Dual Drive £899
Joey Expore Elite - Rohloff 14-speed hub gear £1495

Tyres which are available in the 507 size include some suitable for off-road use, as well as the Schwalbe Marathon and other road and slick tyres. [11/02/2006]
New tyres and hub gear options
The high-performance Schwalbe Stelvio tyre is now available in a size to fit the Chameleon and Joey (520).
The Black Rhino is now equipped with the 14-speed Rohoff hub gear, as is the Explore model of the Joey. The Joey can also be obtained with either the original 8-speed derailleur system, or with the Shimano Nexus 8-speed hub gears. [09/02/2006]
Articles, tests etc
---
If you have any news or information relating to Airnimals, please email us at airnimalsig@foldsoc.co.uk. We would particularly like to hear more from owners about the Joey.
---