The Folding Society
The Dahon Mu P8
By Paul Franklin
First published 12 May 2009
---
Contents
---
1. Introduction
Dahon is probably the largest specialist folder company in the world, and has also been in the business for a long while. Its appeal to me was originally the wide range, in terms of both type and price – from relatively cheap, simple mounts to ultra light commuting folders, 'mid-range' general purpose machines, sporty and touring models, plus mountain bikes. Available wheel sizes cover 16, 20 & 26 inches and even 700Cs. It should also be noted that many other manufacturers use Dahon to produce their limited ranges of re-badged folders, which surely indicates that they are regarded as knowledgeable and reliable.
Dahon regularly improves its existing models, with updates every year and some new models. The subject of this test, the Mu P8, was a new model for 2007, around the middle of the price range. It uses the exact same frame as the vaunted Mu SL, a far more costly option, but utilises their P range of components – good quality, but sensibly priced.
I have only ridden a few folders over the last two years, and they all felt soggy, imprecise and heavy – which is why I didn't buy at that time! Then my commute changed, making a folder a really useful option, so I researched on this site and elsewhere on the internet. I read many posts on numerous models, spoke with several dealers across the country by telephone, and the Mu came over as a good choice. I finally made the leap of faith and ordered the P8 without having ridden it.
Although we are in 2008 [when this report was written : Ed], I sought a 2007 model at a good price. I purchased from Rutland Cycling and secured a substantial discount. The only changes for 2008 are a different (slimmer) rear changer, a different frame hinge, and a less attractive paint colour, so in my view there was no contest!
2. Specification
The Dahon web site gives a full specification of both the 2007 & 2008 models. This is for the model I have:
SPEEDS 8
GEAR INCHES 32" - 93"
DISTANCE: SEAT POST TO HANDLEBAR Min: 610mm (24") Max: 640mm (25.2")
DISTANCE: SADDLE TO PEDAL Min: 710mm (28") Max: 980 mm (38.6")
FOLDED SIZE 35 x 64 x 77 cm (13.78" x 25" x 30.3")
WEIGHT 11.1 kg (24.4 lbs)
FOLDING TIME 15 seconds
SUGGESTED RIDER HEIGHT 142 cm - 193 cm (4'8" - 6'4")
MAX RIDER WEIGHT 105 kg (230 lbs)
FRAME P Series, 7005 butted aluminium alloy, custom-drawn Sonus tubing, forged lattice hinge, ViseGrip technology, replaceable hanger
FORK Dahon integrated, patented Fusion™ technology
HANDLEPOST Radius Telescope™ adjustable, patented Fusion™ technology, forged aluminium, patented InSide™ lock
HANDLEBAR Ritchey, 6061-T6 aluminium, straight
HEADSET Dahon Fusion, Zero stack, cartridge, sealed
GRIPS BioLogic™ Ergo, AirFlo™ design, reflective end plugs
SADDLE BioLogic™ Airflow, Mojo Groove design
SEAT POST BioLogic™ Zorin PostPump
SEAT CLAMP QR Dahon Turtleneck clamp
BRAKES Kinetix SpeedStop V brakes, stainless flex noodle, stainless link and bolts, "SilentGrip" ceramic brake pads
BRAKE LEVER Avid FR5
BRAKE CABLE & HOUSING Dahon LiveWire, SIS housing, slick cable
FRONT WHEEL Kinetix Comp, 20H radial laced, ultralight 58 g. cartridge bearing hub, CNC machined doublewall rim
REAR WHEEL Kinetix Comp, 28H radial/2 cross lacing, Kinetix road hub, CNC machined doublewall rim
SPOKES Stainless steel 14G, brass nipples
TYRES Dahon Special Edition Schwalbe Marathon Racer, 85 psi, Qualifier Compound casing, RaceGuard puncture protection, Reflex
SHIFTER SRAM 3.0 Twist Comp, SRS technology, 8 speed
REAR DERAILLEUR SRAM X7
CASSETTE Shimano HyperGlide 8 speed, 11-32T
HOUSING Dahon LiveWire, SIS-SP 4mm housing
CRANKSET Sugino XD, cold-forged 6061 cranks, 2014-AL chainring, integrated chainguard
BOTTOM BRACKET Cartridge, sealed bearings
CHAIN KMC Z82
PEDALS Suntour folding, non-slip
CLIP SYSTEM Magnetix™ system
KICKSTAND Aluminum, Wheel Reflectors and a Reflective trouser clip
3. Frame
The frame and forks of the Mu are aluminium. The main tube is a patented Dahon section, like a tall oval, with the rear chainstays being very slim and tall. This gives a very strong frame for road shocks, and contributes to the stiff feel to the bike. The frame seems well made and solid, with no obvious flex anywhere in the main frame (see comments later about flex in the stem and handlebars). Folding is via a simple mid-frame hinge, as on most Dahons, and the handlebars fold down - see section 7 for more on folding.
The quoted weight of the P8 version is 11.1Kg (just over 24 pounds). When removed from the box, it certainly felt light, especially as it already has the mudguards and rear rack fitted. It does feel a light machine, as I have now tried several other compact folders to compare it with.
The Mu P8 uses a large diameter seat-post topped with a standard type of saddle mounting, but with the ingenious Dahon built-in pump. The saddle is easily and positively adjusted for fore and aft movement. The seat post itself is marked at 1cm intervals, which makes it slightly easier to set the right height when unfolding – although the marks are somewhat difficult to read. The saddle on the P8 is a 'Biologic Airflow'– a tad wider than a road saddle, and a little softer. This works well with the frame geometry and stiffness to iron out a good deal of road surfaces in comfort.
The general quality of the standard equipment of the Mu P8 seems very good.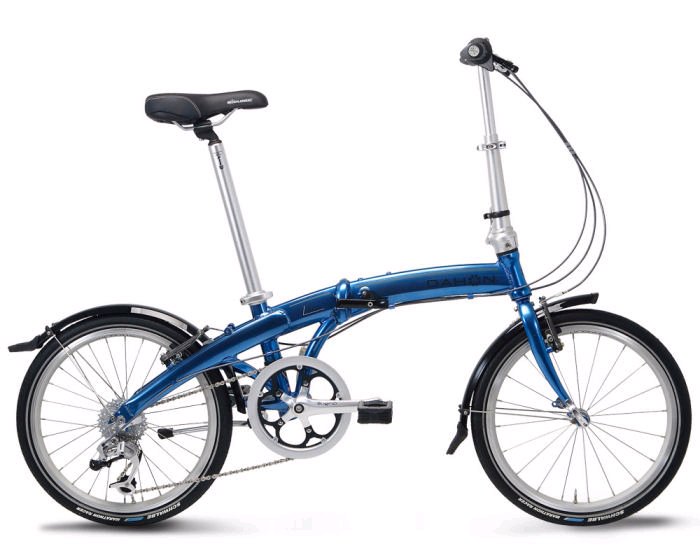 The 2007 model, in a fetching Sky Blue!
Unusually for compact folder, the main frame has a set of bosses to take a bottle cage and/or a mini-pump. Hurrah! The lack of such bosses is annoying, particularly on a machine like this, which tends to encourage one to do more than a simple commute. The mounting holes have plastic plugs in a grey colour, which prevent water ingress until you choose to use them.
Mudguards are standard – they are black, quite deeply curved, and perfectly suit the Marathon Racer tyres. Clearance between the mudguard and tyre is good, so there should be no problems of the wheel getting jammed in muddy conditions, which can happen with certain machines. Mudflaps are fitted to both mudguards, and riding in extremely wet conditions I have not suffered water hitting my back, nor any water thrown off the front tyre onto my shoes or legs, except when going through deep standing water too quickly!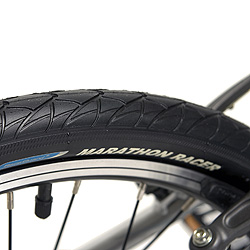 This rear rack was/is included in the UK spec. It can be used for some panniers, but you would need to check for fit and clearance over the rear changer, and heel clearance.
I use an Altura Urban 15 laptop pannier, fitted on the right side (the frame folds to the left), after a little persuading of the rack. This obviously adds to the carrying weight, but lowers the bike's and my own centre of gravity for safety and stability.

4. Gears
I have been used to (spoiled by) a 24-speed MTB for some time. However, I do like a gear I can push on, i.e. slightly 'taller' than the norm. Hence, when I have commuted with the MTB, I have simply used the largest chainwheel and used only the rear changer. This is exactly what I now do on the Mu. The gear range (32" – 93") translates to 290%, wide enough for almost anybody and perfect for me. In fact the upper five speeds cover 98% of my riding. The change is slick, snappy and comfortable, even in winter gloves. I must bring the grips to your attention: I have recently fitted full, boltable Biologics to my MTB, which after fine tuning their angle has finally solved my aching wrists after any lengthy rides. Those fitted on the Mu are a great compromise – they are tight on the bars, but can be persuaded to move if you really want to. The support for the palm/ball of the hand is another small factor in the overall comfort which is a highlight of the Mu P8
5. Brakes
The Mu P8 has V-brakes, marked 'Avid' (a well-known make), and very nicely finished - no slack, adjustable for reach, and with cable adjustment in the levers. The brakes seem excellent - good feel, just the right amount of travel, progressive braking and enough 'bite' when you need to stop quickly. In my travels across Central London, I have needed to compensate for some atrocious driving (!), but so far have found the braking to be very impressive, and significantly better than on other compact folders I have since tried. Not quite disc levels, but not far behind. Last week, a minibus failed to give way at the markings, continuing directly into my path, prompting an expletive and an emergency stop. Fortunately, the Mu didn't impact, despite my first impression.
6. Wheels and Tyres
The Mu uses a 40 x 406 sized wheel, with 20" x 1.5" tyres. Standard fitment is the Schwalbe Marathon Racer, which appears to be a very high quality tyre. These are narrower than most BMX or other 20" models, & are recommended to be run at up to 85psi, which is easily achieved, using the on-board seat-tube pump (max 110psi).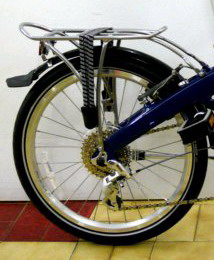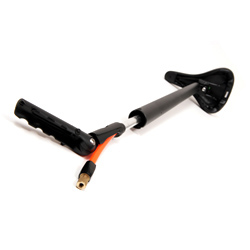 The combination of these wheels and tyres is enhanced by the stiff, light frame, giving a sprightly feel off the line. A few well-muscled cycle couriers have been quite surprised by my capabilities on green lights (even if they do trounce me over the next mile). The tubes are fitted with Presta valves, which are slightly uncommon, so I'd advise keeping a tube on board. I will be experimenting with Slime-filled tubes, too.
7. Folding and unfolding
The folded size of the Mu P8 is quoted on Dahon's website as 35 x 64 x 77 cm (13.8" x 25" x 30.3"). This is quite compact (aided by the small wheels and short wheelbase), though still larger than a Brompton, but smaller than most other folders. The folded size of the Mu is not likely to be a problem for most people, & it is quite neat and self-contained once folded, with few projecting parts, so you would probably not need to bag it on a tube, etc.
As with all Dahons, the folding process is quite simple and quick, and it does not much matter which order you do the folding operations in, nor does it matter what gear the bike is in (generally I put it in a mid-range gear). Basically the steps are:
Raise the handlebars so that when they are folded down they will be below the centre of the front wheel, or possibly lift them out altogether for the most compact fold (quick release)
Fold down the handlebar stem (locking safety ring and quick release)
Fold the bike about the central hinge (locking safety catch and quick release)
Lower the saddle (quick release seat-post)
Fold the pedals (push inwards and twist up/down) - not always needed
The folded frame is held together by a moderately substantial magnetic catch, which is very useful. If you don't carry out step 1 above, you will not be able to bring the two parts of the frame quite together and engage the magnetic 'catch'.
The bike can be stood stably in two positions:
a) on the tripod formed by the two wheels and the bottom of the seat-post. Note that the small plastic lugs on the sides of the pump could be damaged if care is not taken in this position.
b) with both wheels on the ground, tip/rotate the bike backwards until the rear tip of the rack touches the ground to form another tripod. The rear face of my Urban 15 pannier performs the same function.
When folded, the chain is on the outside of the package. Once folded, carrying the bike is not too difficult. The best position in terms of grip and balance is to hold the bottom tube, beside the chainwheel. This sometimes dirties the back of your hand, but is a comfortable lift.
Unfolding is the reverse of the folding process, and is also easy and quick.
8. On the road
During the test period (so far), I've used the Mu for three different types of ride:
Short rides into town to visit cash machines or the PO Sorting Office.
Train assisted commutes (4Km to station, train, 7Km from Marylebone to East London, using less frequented roads recommended on the Transport For London maps. The return journey is the reverse, giving a total of 22Km).
Leisure ride largely on canal paths – reasonable surface – in both wet (not muddy) and dry conditions, about 35 - 40Km.
On the trains I always fold the bike; for my purposes, I find the folding is convenient and the folded size fine, even on packed rush-hour trains, where only the Brompton has an edge.
Overall, the first impression of riding the Mu is the one which persists – the nippy and responsive frame is complemented by the tyres, wheels and saddle, which together provide a good level of smoothness and ride quality. The bike rolls quite freely, making it appear easy to press on and encouraging a pro-active, even assertive style (essential for survival in London!). I find myself humming a tune and smiling at other road users a good proportion of the time.
The riding position is generally quite good, although more upright than my MTB. The wheelbase is quite long, but with the saddle slid right back and the bars lowered somewhat to suit me, I am comfortable even at nearly six feet tall. The saddle itself proved quite comfortable, in all conditions, including the slightly rough towpath. The handlebar grips are superb – see above.
I have not detected any frame flex in any conditions. However, some flex/slack certainly developed in the handlebar/stem system on one cross-town trip. This was due to the stem folding cam bolt gradually loosening, leading to a wobbly feel to the bars! Once on the train, an 8mm spanner corrected this, but three days later it re-appeared. This time, a dose of LocTite was added, since when it has been fine. All of the other quick releases were adjusted at the pre-use service, done at my local dealer, and with a quick tweak to the stem extension, they are all firm after three and a half months of use.
So, aside from tweaking the gear and brake cable adjusters, I have had no work to do on what appears to be a well-designed, well-engineered folder. I am now looking forward to a winter of use, enhancing my fitness, health and my carbon foot-(tyre-?)print, helping my finances and shortening my journeys (compared to buses or underground journeys) – all at the same time!
9. Contacts
Dahon - http://www.dahon.com
Dahon UK - http://www.dahon.co.uk
---
Test reports | Folding Society home page