The Folding Society
The 2006 Dahon Jack
By Michael Alan Jones
3 January 2007
---
I got a 2006 Dahon Jack for Christmas, and took it for my first ride today. I have to say, it is pretty impressive, and solid. I folded it up and stuck it in the back of our work van, for a business "day-trip" today. Folded, it took up about as much space as a hard suitcase. When I got there, I simply pulled it out, flipped it around and locked it together, and tightened the stem to the headset with the included Y wrench, all in about nine seconds. I don't bother to take the seat post out of the seat tube; I just leave it in there.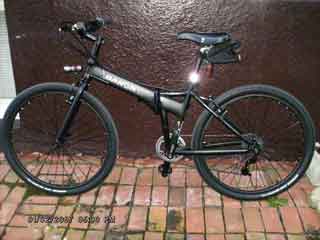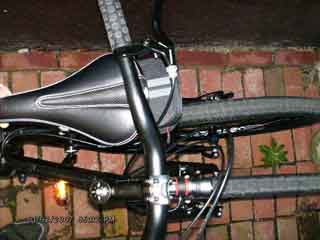 The thick and juicy cucumber-sized Schwalbe Big Apple tires will suck up the bumps, gravel and cracks almost like suspension forks. As an urban commuter bike, this really makes for a smooth ride. The light weight frame and components are like riding air. Obviously, compared to an aluminum/carbon racing bike, it is not as light, but compared to a cruiser/hybrid/MTB/older steel bike, it is much lighter and thus, effortless to propel. I found myself going really fast after a while, almost like on a racing bike. I went through the seven gears pretty fast.
The Dahon Jack is not a "strange" looking bike - it is a full-size bike, with full-size 26" tires, that just happens to fold.
The SRAM grip-shifters scared me at first - I have only had lever or rapid-fire shifters before, and I thought I would inadvertently shift gears, simply by gripping the bar. This doesn't happen. As a matter of fact, for some people, these might be better, because you don't take your hand off the grips at all; you simply rock your index finger and thumb to shift gears. Nice.
I like not wondering about which chain ring I am on - there is only one chain ring. Plus, the included bash guard keeps your pants out of the chain ring. The seat is a nice cushy WTB seat, like the one that came with my high-end MTB. I am only 5'6", and the lowered top tube on this 16" frame model is very easy to mount and go.
One thing I noticed was that the low end (granny) gear was not so "granny". I had some difficulty riding up some really steep hills. I was able to make them, but I had to put quite a bit of effort into it. When I talked to a bike dealer that sells Dahons, he warned me about the granny gear, and he was right. He said that this bike would be hard to ride on mountain trails, because it only has seven gears total.
I would not take this bike on a difficult mountain bike trail, even with MTB tires installed, because I am sure that it would be nearly impossible to pedal up very steep hills. Further, without any suspension on the front or rear (this is what you call a rigid bike), the tires, frame and rider will absorb all of the impact. On rocky downhill runs, log jumps or technical sections, I would not expect to fare well, and so I will not subject this bike to such exposures.
However, it is a light bike, and rides well on flowing ground, so a smooth trail ride like an absolute beginner trail or a family trail would probably be navigable on this bike, with the right tires. Remember - this is not a mountain bike, don't treat it like one, or think that it will be able to "tough it out".
For the first ten minutes riding, I stared at the folding lock lever, wondering if it was going to come off or become loose while I was riding, then I forgot about it - I am sure that it won't. It seems pretty secure, and Dahon has been making bikes like this for years.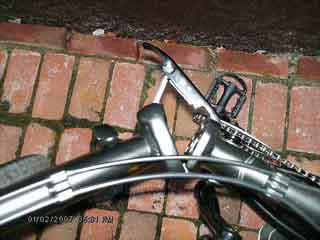 I bought this bike because it is a folding bike. It folds very quickly, and it unfolds very quickly. If you remove the tires, the seat (with the seat post attached, via the quick-release seat lever), and the handlebar, it can fold up really compactly, but you don't have to do all that - even simply flipping the lever and folding it in half, without repositioning anything else reduces the size dramatically. That might be all you need to do.
Another thing that you can do with this bike that I like - if you fold it in half, you can stick a Kryptonite cable through both tires, the frame and the seat rails, locking it to a stationary object, like a bike rack/rail, and feel fairly secure about it (for a while anyway). You might be able to get a U-bolt lock around both wheels, the frame and a rack, I guess. I recommend you have a lock with this bike [well, really, any bike] because it looks really cool, and I think people might want to steal it. My wife thought it looked like a "secret agent man" bike.
I really enjoy this bike, and the freedom it gives me, to always have a bike to ride on trips. We do a lot of business trips, i.e., 2-3/month, and I always tried to find room for my bike, and rarely did. So I went without cycling for the whole weekend. Well, no more. As a matter of fact, we have a big trip two weeks from today, and I will be cycling!
Think about this: say you always have it folded up in the back of your vehicle, and your significant other wants to take your in-laws shopping at the outlets mall. You can take it out and cycle for a couple of hours in that strange town while they shop their socks off. Have to take your car in for service? Hey, cycle around for a while, as they work on your car. Leave it in your trunk, and ride it at lunch for an hour (if you have a shower at work, I guess).
Folding bikes are cool.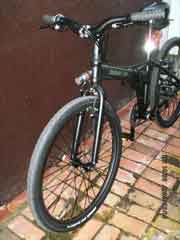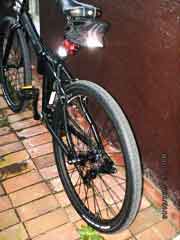 ---
Editor's comment: TNSTAAFL - There's no such thing as a free lunch! I too like a single chainring system for its saving in weight and reduction in complexity, but it does unfortunately inevitably mean that the gear range is limited. We have heard from a number of owners of 26 inch-wheeled Dahons, and published reports on them, and the majority of owners seem, like Michael, to be very pleased with them.
---
Folding Society homepage | Dahon web pages | Dahon UK
---
Copyright ©2007 Ferrets Anonymous
Last updated: 5 January 2007