The Folding Society
Test Report: Birdy – Brompton – Bike Friday
By Andreas Rusch
First published 20 August 2009
---
Editor's preface: It is several years since we published our own comparison reports covering these folders, so an alternative view, covering more recent models is very welcome. This is the first of three articles by Andreas Rusch, and as will become clearer in the later articles, Andreas is a strong rider, who races and undertakes some quite tough rides, and some of his comments on the relative merits of these three folders reflect this - for example, his wish for higher gearing (personally I and some others usually want lower gearing, but in my case that can be put down to age and lack of fitness!).
---
Since I have quite an extensive stable of bicycles and also folding bicycles I would like to share my experiences with three different types of folding bicycles. I guess I am one of the very few persons who acquired three different folders and cycled many kilometers on them.
The first folding bike I bought was the Birdy Red in 2000. It gave faithful service on many training rides and excursions. I also did the Trondheim-Oslo race with it. Then I got a Brompton, because I simply could not resist a special offer from Voss Spezialrad. Lastly my wife convinced me that a high performance folding bike is a must for vacations. Therefore both of us got made-to-measure Bike Fridays. However this also meant that I had to sell my Birdy. There simply was not any need between an excellent folder (Brompton) and a high performance bike (Bike Friday). The Birdy is good in all aspect but does not excel in any. We were also somewhat running out of storage space, since ten bicycles for two persons might be considered a little bit excessive.



Birdy

Brompton

Bike Friday

Model

Birdy Red

RD3, black

Pocket Gnu, yellow

Model year

2000

2006

2007

Price

1300€

1000€

3500€

Front suspension

Rubber block

None

White Brothers

Rear suspension

Rubber block

Rubber block

None

Brakes

V-Brakes

Calliper

Disc (V-brakes might be preferable for a folding bike that gets kicked around)

Gears

9 speed

3 speed hub

14 speed Rohloff

Performance

About 10% slower than a real racing bike, however the fixed handlebar set up does not allow a perfect aerodynamic position.

Well maintained gravel paths are possible.

After all it is a commuter's bike, but astonishingly fast. I miss the front suspension on bad roads e.g. cobblestones.

The brakes are somewhat weak.

This is a fast machine. With appropriate tyres it is really fast on the road. Knobbly tyres make it suitable for medium off-road use.

How does it fold?

You will not fold it, if not necessary. Quite often the chain fell off (also before changing the derailleur).

Folding is a pleasure. The resulting package is extremely small.

You will not fold it unless necessary.

However it can be disassembled to fit into a standard sized suitcase.

Use

Training camps, touring, commuting, Trondheim-Oslo

Commuting, business trips, training, 1 day tours up to 200km

Training, annoying guys on racing bikes, Trondheim-Oslo, across the Alps

Anything I would do differently next time?

Maybe Rohloff

Go for the Titanium version and dynamohub directly

Somewhat undecided on disc brakes vs. V-brakes (superior braking performance vs. bent discs)
Here is an attempt to show the merits of each bicycle with in the form of a graph: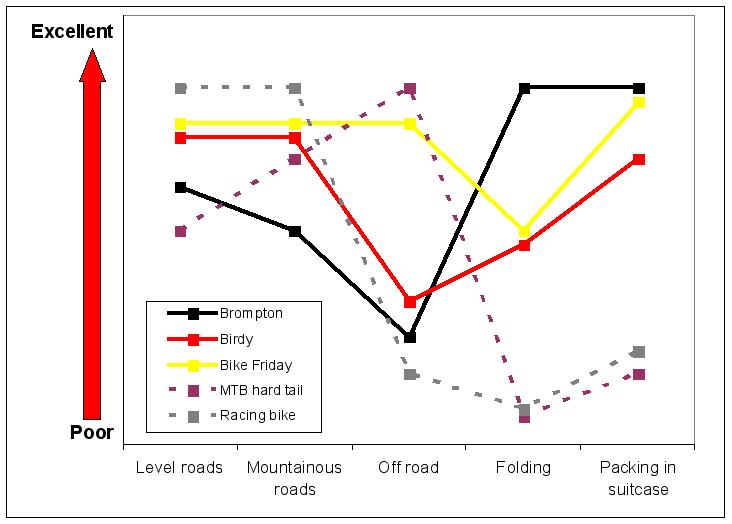 Some comments on wear
I have not observed any special wear out on any of the folders above. However it is typical for folders that some parts must be replaced earlier than for standard bicycles:
Tyres (smaller circumference)

Cables (just more bending when folding)
Extras and modifications
I would also like to share my experiences with the extras and modifications of the different folders.
Birdy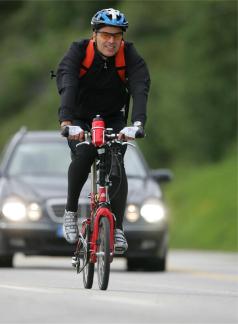 Mudguards: ok, however I could not mount the front mudguard. I think they changed the design in the meantime

Rear carrier: ok, make sure that your heels do not touch the luggage

Front luggage carrier: works fine

Birdy bag (attached to the frame next to the bottom bracket): very good idea

Kick stand: ok

Gears changed to 9 speed 11-23: the standard gearing was too low for me.

Dura Ace derailleur: my excuse, it was on sale. The chain fell off more often when folding due to its small cage, but shifting gears was a dream!

Tune quick release: certainly abs olutely unnecessary…

Clipless pedals: highly recommendable for efficient pedaling

Suitcase: ok. It was crashed by airline luggage handlers, but this is certainly not the fault of the suitcase.

Birdy bag: nice cover

Rucksack: was sold, did not like it. I consider a standard rucksack with the Birdy cover much more convenient.
Brompton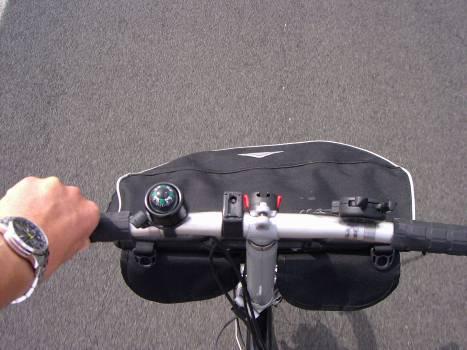 Dynamo hub: expensive and excellent

Edelux front light: very, very expensive and very bright

S-bag: The Brompton luggage system is highly recommendable.

Suitcase: ok

Birdy bag: easy fit since a little bit oversized

Rubber block strengthened with Jubilee clip: without the clip the block was too soft for me

Bottle cage with klick-fix: something to drink from when touring, works fine.

Brooks ATB saddle: My bottom simply likes Brooks and it looks cool.

Bell with compass: I love it

Pentaclip: good clamp to mount the saddle

Titanium seat post: I bent the original one with my Topeak carrier (see below)

Topeak carrier to be mounted on the seatpost: works fine. Carrying loads up to 20kg and overtightening the quick release was certainly not a good idea, the seat post was buckled afterwards and I could not slide it down any more.

MKS quick release pedals: high quality pedals. I do not think that they are really required, because I almost never remove the left pedal. I also added straps.

I also exchanged the screws for allen head ones made of stainless steel
Bike Friday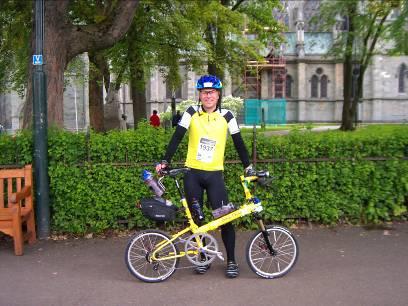 Front chain ring of 71 teeth: the original gearing was just too low. You have to see it to believe. I get astonished stares, after all it is almost as big as the wheels!

Brooks professional saddle: fits my bottom

Bottle cages behind saddle

Click fix saddle bag: really convenient

Clipless pedals: highly recommendable for efficient pedaling

Kick stand: ok (not shown on photo)

Suitcase: ok
---
Editor's comments
The front forks and mudguard mountings have changed (more than once I think), which probably explains the problems with mounting mudguards. I am on my third Birdy, and the mudguards I bought at the same time as the bike in each case have always fitted, though the early one which mounted only at the top wobbled about alarmingly.
The Pocket Gnu is one of the Bike Friday models more aimed at off-road riding. For fast road riding and even light/medium touring, the Pocket Rocket models might well be more appropriate - much lighter, and the larger wheels (451 in place of 406) raise the overall gearing, if that is what you want. Reflecting their intended use, they are available with 'pure' derailleur gearing rather than the Rohloff or a hybrid derailleur/hub ('3x8') system. The Airnimal Chameleon is an alternative folder for this type of use.
Strong riders and particularly those who race, like Andreas, prefer higher gearing, but of course some riders prefer lower gearing. I've generally preferred to lower the gearing, even for the 100Km Brevet Populaires I have ridden (for which I found the Bike Friday Pocket Rocket, Bike Friday New World Tourist and Airnimal Chameleon the most suitable, though none of these fold very easily; my SP Brompton [7-speed derailleur gears and V-brakes] also works well for me on such rides, and is as portable as a standard Brompton).
---
Test reports | Folding Society home page

---
Copyright ©2009 Andreas Rusch
Last modified 23/9/2008